VIETNAM BUSINESS NEWS NOVEMBER 30
Transport sector records surge in passenger volume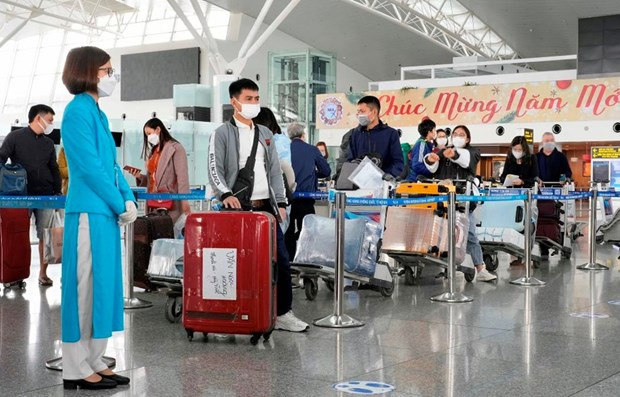 The transport sector has sold 3.35 billion passengers in the past 11 months, a surge of 48.7% year on year, according to Chief of the Office of the Ministry of Transport Nguyen Tri Duc.
The aviation sector led in the growth rate with an increase of more than 218%. It was followed by the railway sector with a rise of over 198%, and the maritime sector with nearly 58%.
Road transport also posted a rise of nearly 48%, while that of the waterway sector was 43.5%, the official said.
In November alone, the passenger volume was estimated at 283.6 million, up 132.3% year on year.
Meanwhile, in the month, about 1.832 billion tonnes of goods were transport, a rise of 24.6%. Maritime sector recorded highest growth rate of freight transport with an increase of 29.2%. Waterway transport came second at nearly 29%, while that of road transport was 23%, railway 3.6% and airway 2.9%.
Vietnam named among leading sources of seafood supply for US
In the first nine months of 2022, Vietnam was the third largest seafood supplier for the US in terms of volume and the 5th largest in value, data from the US National Marine Fisheries Service showed.
Accordingly, between January and September, Vietnam shipped 244,4000 tonnes to the US market and earned 1.78 billion USD, up 14% and 33.1% annually, respectively.
Vietnam's share in the US's total seafood imports, meanwhile, increased to 9.6% from 8.4% of the same period last year.
Currently, shrimp is the fishery product that recorded the highest import volume and value in the US, with Vietnamese shrimps accounting for nearly 10% of the market share.
Vietnamese investment overseas hits over US$474 million
Vietnam's outbound investment, including both newly-registered and adjusted capital, exceeded US$474.1 million during the past 11 months, equivalent to approximately 70% of the figure recorded in the corresponding period last year, reported the Ministry of Planning and Investment.
Of the total amount, over US$395.81 million was poured into 101 new projects, representing a 1.6-fold increase in terms of the value year on year, while more than US$78.3 million was added to existing ones, equivalent to 18.1% of the figure from the same period last year.
Vietnamese businesses invested abroad in a total of 14 industries throughout the reviewed period. The processing and manufacturing industry took the lead with nearly US$236.4 million, followed by real estate, mining, wholesale, and retail.
Vietnamese investments were largely channeled into 27 countries and territories, with Singapore becoming the largest recipient at nearly US$79.5 million, followed by Laos, the United States, Germany, and the Netherlands.
As of November 20, the country had 1,604 valid investment projects overseas totaling nearly US$21.68 billion.
Air transport volume rises sharply over 11-month period
The aviation sector leads the way in terms of the growth rate of transport volume with an increase of 218%, according to the Ministry of Transport on November 30.
This is followed by the railway sector, up 198%, the maritime sector, up 58%, the road sector, up 48%, and the waterway sector, up 43.5%.
The initial 11 months of the year saw the passenger transport volume reach 3,350 million people, up 48.7% over the same period from 2021.
In November alone, approximately 283.6 million passengers joined transport services, up 132.3% year on year.
Meanwhile, freight output was estimated to be at 1,832 million tonnes in the 11-monh long period, marking a year-on-year increase of 24.6%.
The maritime sector led the way in the growth rate of freight transport with an increase of 29.2%, followed by the waterway sector, up 29%, the road sector up 23%, the railway sector, up 3.6%, and the aviation sector, up 2.9%.
Ambiente Frankfurt 2023 helps VN firms penetrate German market
Ambiente Frankfurt 2023, scheduled to run from February 3 to 7, 2023, is anticipated to create an array of fresh opportunities for Vietnamese businesses seeking to make further inroads into the German market.
Fifty-five Vietnamese businesses are expected to showcase their products at the fair in Frankfurt together with more than 4,000 other exhibitors from across the globe.
The event will introduce a variety of consumer goods, including furniture, interior decoration, housewares of all kinds, glass, ceramics, gifts, jewelry, handicrafts, and festival decorations that are among Vietnamese export items.
Julia Uherek, vice president of Consumer Goods Fairs at Messe Frankfurt Exhibition, revealed that Vietnamese goods have become increasingly popular with German consumers through the annual fair.
The number of orders that local businesses have received through the fair thereby accounts for roughly 70% of Vietnamese handicraft export orders, she said.
Many major Vietnamese brands, including Minh Long Co, Ltd, Manh Dan Ceramic Co, Ltd, and Duc Thanh Wood Processing Joint Stock Company, have greatly impressed German and EU partners at the previous events, she added.
Agro-forestry-fishery exports in 11 months outpace last year's record
Agro-forestry-fishery exports stood at about 49.04 billion USD in the first 11 months of 2022, higher than last year's record of 48.6 billion USD, the Ministry of Agriculture and Rural Development (MARD) said.
The 11-month export rose 11.8% year on year while imports increased 6.9% to some 41.22 billion USD, resulting in a surplus of 7.82 billion USD – up 47.8%.
That made up a total trade of 90.26 billion USD, rising 9.5% year on year, statistics show.
Between January and November, key agricultural products brought home more than 20.73 billion USD, up 6.6%; main forestry products 15.59 billion USD, up 8.2%; fishery products 10.14 billion USD, up 27%; and animal farming 361.4 million USD, down 8.4%.
So far, the agricultural sector has seen eight products and groups of products with export value of over 2 billion USD each, namely coffee, rubber, rice, vegetables and fruit, cashew nut, shrimp, tra fish, and wood products.
Asian markets accounted for 44.7% of Vietnam's total exports, Americas 27.4%, Europe 11.3%, Oceania 1.7%, and Africa 1.7%.
The US remains the biggest buyer of Vietnamese goods, with 12.3 billion USD, making up 25% of total shipments. It is followed by China (9.3 billion USD, 18.9%) and Japan (3.9 billion USD, 7.9%).
The MARD said agro-forestry-fishery imports are estimated at over 41.22 billion USD during 11 months, increasing 6.9% from a year earlier.
That includes more than 25.21 billion USD worth of key farm produce, up 3.9%; 2.5 billion USD of fishery products, up 39.7%; 2.89 billion USD of forestry products, up 4%; and over 3 billion USD of animal products, down 3.2%.
More than 90% of consumers prioritise locally-made products
More than 90% of consumers said that they prioritise made-in-Vietnam commodities when making a decision on the purchase of anything, according to the steering committee for the Ministry of Industry and Trade (MoIT)'s "Vietnamese people prioritise made-in-Vietnam products" campaign.
The committee said that Vietnamese commodities have made up 90% of the goods sold in retail outlets owned by domestic enterprises and 60-96% of the foreign supermarkets in Vietnam.
In traditional retail channels, the rate of Vietnamese goods in markets and groceries is at least 60%. Particularly, since the COVID-19 pandemic broke out, 76% of the Vietnamese consumers have preferred domestic products, especially those with guaranteed quality and health benefits.
Up to 75% of the consumers have recommend family members and friends to buy locally-made products.
Boosting labour productivity key to economic development

Viet Nam placed great importance on improving its labour productivity, said policymakers and economists during a conference in Ha Noi yesterday.
Productivity remained a key priority of the country's labour strategy, widely regarded as a cornerstone for economic development and sustainability, they said.
Economists urged policymakers to regularly conduct comprehensive reviews and studies of the current systems to identify shortcomings and limitations and quickly address them to help improve the quality of the Vietnamese labour force.
They called for a national survey on workers' productivity across the country and in all economic sectors and industries to establish a database for future objectives and policies in the coming decades.
Deputy minister of planning and investment Tran Quoc Phuong said Viet Nam had started a process to move away from a resource-extraction, low-cost labour economic model to one that employs sophisticated modern technologies.
Phuong stressed the importance of building an advanced and highly-skilled labour force in order to realise the country's modernisation and industrialisation objectives, as well as a key pillar of a dynamic and innovation-based economic model in the future.
Dang Duc Anh, deputy head of the Central Institute for Economic Management (CIEM), said in recent years Viet Nam's labour productivity has seen significant progress. In the last ten years (2011-21), productivity went up from VND70 million (US$2,830 in 2011's exchange rate) to VND172 million ($6,950 in 2021's exchange rate) per year, a nearly 250 per cent increase. Productivity had steadily improved at an average rate of 6 per cent annually.
However, Vietnamese workers still trailed behind their regional peers, with the gap getting larger in certain cases. This was particularly true in the industrial and construction sectors, where the country still pursued a labour-intensive model with little room for added value.
In other sectors such as agriculture, aquaculture and forestry, the gap was often difficult to observe because of rapid sectoral growth thanks to effective restructuring in recent decades.
Meanwhile, highly-skilled workers tended to mostly concentrate in and around major economic hubs such as HCM City, Ha Noi, Binh Duong, Ba Ria-Vung Tau and Bac Ninh, which had not been able to create a ripple effect to help modernise neighbouring cities and provinces.
Dr Vo Tri Thanh said major hurdles to boosting productivity included sub-par management, inadequate capital and a lack of consistency in technology.
Economists called for the quick implementation of a national programme on improving labour productivity as the backbone to boost Viet Nam's capacity to compete in the international market and economic resilience. Viet Nam has set a target to maintain a productivity growth rate of 6.5-7 per cent annually in the 2020-30 period.
CPI rises 4.37 per cent on petrol prices

The Consumer Price Index (CPI) this month increased by 0.39 per cent compared to the previous month, the General Statistics Office (GSO) reported.
This month's CPI grew by 4.37 per cent over the same period last year.
CPI in 11 months of this year on average increased by 3.02 per cent over the same period last year; while core inflation rose by 2.38 per cent.
GSO pointed out that the increase in CPI in the first 11 months of this year was attributed to gasoline prices, which were adjusted 31 times from the beginning of the year.
On average, in the first eleven months of this year, domestic gasoline prices rose by 31.76 per cent compared to the same period last year.
Domestic gas prices fluctuate according to world gas prices, gas prices in 11 months of this year increased by 12.76 per cent year-on-year.
The COVID-19 pandemic was under control, and the demand for eating out grew, so the average price of meals outside the home in 11 months increased by 4.78 per cent over the same period last year.
Housing and construction materials rose by 2.75 per cent.
Domestic rice prices increased in line with export prices, making rice prices in 11 months rise by 1.2 per cent year-on-year, causing the overall CPI to grow by 0.03 percentage points.
Prices of food items in the first 11 months grew by 1.32 per cent over the same period last year.
Along with that, the price of educational services grew by 0.47 per cent because some provinces and municipalities increased tuition fees for the 2022-2023 school year.
Besides the reasons for the increase in CPI, there are a number of reasons for the decrease in CPI in 11 months such as decreasing pork price.
The pork price declined by 12.22 per cent year-on-year due to the good control of African swine fever and guaranteed supply.
GSO also pointed out that core inflation increased by 0.43 per cent this month compared to the previous month, by 4.81 per cent compared to the same period last year, higher than the average CPI.
High price of fresh food is the main factor restraining CPI growth rate this month.
The average core inflation in the first 11 months increased by 2.38 per cent over the same period last year, lower than the general average CPI, which reflects the fluctuations in consumer prices mainly due to food prices and gasoline and oil prices.
Six social enterprises awarded funding at SIF's global programme
Six innovative regional businesses that champion social change received funding of up to S$20,000 each to help them scale up their businesses.
The winners were selected after 15 teams – comprising 26 changemakers – gathered virtually for Pitching for Change, the finale and closing event of the Singapore International Foundation's (SIF) Young Social Entrepreneurs (YSE) Global 2022 programme.
The 15 teams were selected from a pool of 46 social enterprises, comprising 93 youths and 11 nationalities who had all taken part in the programme's workshop in June. These shortlisted teams included youths from China, India, Indonesia, Laos, Malaysia, Singapore, South Korea, Thailand, and Viet Nam.
At the finale, they presented their business plans and ideas to a panel of judges comprised of industry experts and consultants from the impact investment and social service sectors.
The teams showed the judges how they aimed to make a sustainable impact with their businesses and addressed issues in areas such as mental healthcare, inclusivity, environmental sustainability, and education.
The six winners were chosen based on the impact and scalability of their business ideas, as well as the commitment level of team members. They include: Anahat For Change Foundation (India); Kura Kura (Singapore); Mengayu (Indonesia); Ripple Community (Malaysia); Symbionic Tech (India); and The Green (Laos and South Korea).
Going green creates competitive advantage for exports: forum
Shifting to green production and exports would help businesses improve their competitiveness and catch up with global market trends, the 2022 Vietnam Export Promotion Forum has heard.
Speaking at the forum in HCM City on Monday, Minister of Industry and Trade Nguyen Hong Dien said green growth and circular economy were becoming global trends as part of efforts to reduce greenhouse gas emissions and achieve carbon neutrality.
Major import markets were imposing high taxes on products with large "carbon footprints" and many developed economies had set stricter environmental regulations for imports, he said.
So exporting countries like Viet Nam needed to change their mindset to pay more attention to the "greenness" of their supply chain and trade, he said.
Viet Nam has issued mechanisms and policies to encourage the development of a green economy, a circular economy and an environment-friendly economy.
However, global trade was under pressure due to geopolitical tensions, inflation, disruption risk in supply chains and others, he said.
This required closer and more effective co-ordination between ministries, sectors, localities and industry trade groups and Vietnamese trade offices abroad to update information about markets and new regulations and policies in other countries, he said.
Truong Dinh Hoe, general secretary of the Viet Nam Association of Seafood Exporters and Producers, said many enterprises had adopted the strategic shift towards green development to better meet the requirements arising from regulations, laws and standards related to the environment, competition and markets.
Bartosz Cieleszynski, deputy head of the trade section of the EU Delegation to Viet Nam, said: "It is without a doubt that Viet Nam can reap many benefits from application and promotion of green technologies. Trade in green tech and sustainable products has become a prevailing trend in developed economies.
Viet Nam a focus for Korean technology enterprises

Viet Nam is a potential young market and we will certainly promote development here in the near future, said Jun Kwon, Director of Meta Planet Company.
He made the statement at the "Technological Investment Co-operation between Viet Nam and South Korea" held in Ha Noi on Monday.
As one of the businesses of the Korea NFT Content Association coming to Viet Nam to seek cooperation and investment opportunities, he has seen many attractive opportunities in this market. With the advantage of developing NFT and metaverse-related projects, Meta Planet is ready to conquer and expand investment to Viet Nam.
Choi Kang-Yong, currently chairman of NBN, the No 1 Blockchain news channel in South Korea, said that not only in Korea or Viet Nam but there was a global event going on, which was the transition towards Digital Assets. "With the 4th industrial revolution, blockchain technology is now under heavy focus and is the centre of the business revolution."
The cryptocurrency market in South Korea is valued at US$23 billion with more than 7 million users trading every day. The global market is now at the level of $900 billion.
He added that under this global environment, the seminar was not just an economics discussion, but an event to promote and foster global partnerships between Viet Nam and South Korea and incubate the Digital Asset Economy and Metaverse World beyond the two countries. "The financial market will continue to see changes; thus we hope that the cooperation will create a premise for solid ties in the future."
He said the biggest thing expected from the discussion between VBA and Korean partners was experience in two issues of training and law. South Korea had a blockchain boom and NFT applications were heavily promoted in the entertainment sector and art applications which Viet Nam could study.
Asian investors still on lookout for deals
Having been the dominant players in Vietnam's merger and acquisition market for years, new activities from Japanese, South Korean, and Singaporean investors are demonstrating that interest in the fast-growing market remain unchanged.
Last week, Masataka Yoshida, CEO of RECOF Vietnam Co., Ltd., pointed out that Japanese companies are still trying to ink strategic deals with Vietnamese companies. "Over the past 5-6 years, Vietnam has been ranked second among M&A destinations for Japanese investors in Southeast Asia, behind Singapore. In terms of the number of transactions, there are many deals that are not yet announced, so it is very difficult to compare. However, the size of Japanese deals in Vietnam has become bigger than that of 5-6 years ago."
Looking at recent moves, Cool Japan Fund has chosen to contribute around $10 million to 4P Holdings, the company that owns and operates a popular network of 4P's pizza restaurants. The move is part of the fund's strategies to tap into Vietnam's lucrative food and beverage market. Meanwhile, Japanese gas distributor Toho Gas has signed a strategic investment cooperation agreement with Phuc Sang Minh Trade Engineering Services to scoop up 40 per cent of the Vietnamese gas distributor.
Other notable M&A deals involving Japanese investors are also expected to take place in the coming time, including Sumitomo Mitsui Banking Corporation's acquisition of SmartNet in a deal worth $9.36 million.
According to data by RECOF, Vietnam ranked 10th in the world in terms of the number of M&A transactions involving Japanese investors in the first 10 months of 2022. Among Southeast Asian countries, Vietnam is trailing behind Singapore and Indonesia, but the country is far ahead of Thailand, the Philippines, and Malaysia. Japanese investors have been slow to return to the market after the pandemic, but are now catching up, despite the volatility in the global financial market and growing geopolitical tensions.
Likewise, South Korean investors remain active in Vietnam's M&A market. Pharmacity, one of the largest chains of pharmacies in Vietnam, has joined SK Group with the aim to enter Southeast Asia's rapidly expanding retail and healthcare markets.
Meanwhile, SK Group's member SK E&S inked a deal to acquire a 99.99 per cent in New Renewable Energy JSC No.1, a unit of Gia Lai Power Electricity JSC, with an estimated value of $37.5 million. The deal will pave the way for SK E&S to penetrate Vietnam's renewable energy market.
South Korean financial groups are also making combined investment of billions of US dollars into Vietnamese partners as they are upbeat about the country's long-term outlook. In May, South Korea's Shinhan Financial Group concluded a strategic agreement to take a 10 per cent stake in Vietnamese e-commerce company Tiki. In April, Hana Financial Investment Co. Ltd., scooped up 35 per cent in BIDV Securities with a total transaction value of nearly $117 million.
She added that some $370 million was poured into Vietnam through M&A deals by South Korean investors in the first 10 months of 2022.
Meanwhile, Singapore is among the most active foreign buyers this year with a number of sizable deals, such as the $50 million deal between Vietnamese e-commerce solutions provider OnPoint and an indirect subsidiary of Singapore's Temasek. The investment, which focused on Vietnam's rapidly expanding e-commerce sector, marked the region's largest private fundraising round for e-commerce enablers in the last five years.
In addition, Singaporean venture capital (VC) funds have set up a stronger footprint in Vietnam by making investments into home-grown startups. Last week, Vietnamese electric motorbike startup Dat Bike announced that it has wrapped up $8 million investment in a new funding round led by Singapore-based Jungle Ventures.
GSR Ventures and Delivery Hero Ventures also participated in the round, along with Wavemaker Partners and Innoven Capital. In August, Jungle Ventures also led an $8.5 million investment in local healthcare and insurance platform Medici, in its Series A funding round.
Meanwhile, Golden Gate Ventures, a Singapore-based VC fund, is establishing two offices in Vietnam to invest in the nation's rising tech industry, which it believes could catapult Southeast Asia's next phase of growth. Another VC fund, Quest Ventures, is also partnering with Enterprise Singapore to run a GIA acceleration programme to support Singaporean tech startups and small- and medium-sized enterprises in entering Vietnam.
Pham Duy Khuong, managing director of ASL Law, said, "It is difficult to predict the trends in 2023. Still, Vietnam remains appealing for investors from Japan, South Korea, and particularly Singapore."
Source: VNA/SGT/VNS/VOV/Dtinews/SGGP/VGP/Hanoitimes