VIETNAM BUSINESS NEWS SEPTEMBER 11
Vietnam learns about collective economy models in Israel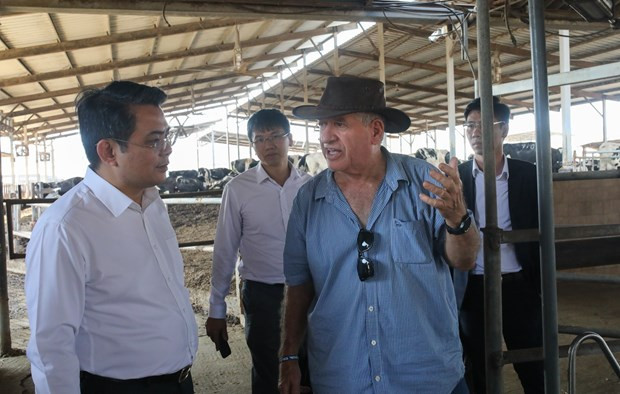 The Vietnamese delegation visit a dairy farm in Nahalal, a moshav in Israel. (Photo: VNA)
A delegation of the Ministry of Planning and Investment paid a visit to Israel from September 4 to 9 to learn experience in developing the collective economy and cooperatives there.
The delegation was led by Director of the ministry's Agency for Cooperative Development Phung Quoc Chi, who is also head of the compilation group for the draft revised Law on Cooperatives. Some members of the compilation group from the National Assembly Office and the ministry also joined the delegation.
The officials had working sessions with the Ministry of Economy and Industry, the Ministry of Agriculture and Rural Development, the Kibbutz Federation, and the Agriculture Research Organisation of Israel to learn about management mechanisms for the collective economy and cooperatives, such models as Kibbutz (a model in which members own common assets and work together) and Moshav (a model similar to Kibbutz but its members possess their own assets), and rural residential clusters.
They also visited some outstanding Kibbutz examples to gain an insight into their production and business models, relations between executive boards and members, and models for the distribution of products, services, income, and other interests.
Green production - direction for sustainable rural development
Green production models have taken shape in rural areas in recent years to meet the growing demand for public health.
The COVID-19 pandemic has wreaked havoc on every aspect of society for two years, but the agriculture sector has proved its role as a pillar of the economy and guaranteed national food security.
Vietnam is now one of the world's leading agro-forestry-fishery exporters, with over 48 billion USD in export revenue last year. It has defined green production as the direction for sustainable development of agriculture.
Nguyen Duc Chinh, owner of Gen Xanh farm in Hanoi's Phuc Tho district, said plant protection products and chemical fertilizers may lead to acute or chronic toxicity, so he decided to switch to organic methods.
Aware of the importance of nutrition and food safety, Hung Vuong General Hospital, based in northern Phu Tho province, has developed a 20ha farm producing clean, safe vegetables, pork, chicken and fish to serve patients, caregivers and hospital staff.
Nguyen Van Hoc, Chairman and General Director of Hung Vuong Hospital, said though the scale of the farm is still modest, its effectiveness has been recognised by other private hospitals, doctors, and patients. Similar models at different levels have come into being in Phu Tho and Tuyen Quang provinces, and also been applied by many hospitals nationwide.
Vietnam welcomes over 1.44 million int'l arrivals
Vietnam has welcomed more than 1.44 million international arrivals in the first eight months of 2022, a 13.7-fold rise from a year earlier, thanks to the reopening to foreign tourists and the resumption of international air routes, data showed.
Of the international arrivals, some 88 percent came to Vietnam by air, up 18.5 times, while some 12 percent by road.
Asian visitors made up the majority with nearly 997,000 arrivals, accounting for nearly 70 percent of the total. Notably, the number of visitors from the Republic of Korea surged 17.6-fold year on year to make this Northeast Asian country the biggest source of international arrivals of Vietnam.
The General Statistics Office noted in August alone, international arrivals reached 486,400, increasing 38% from July and 52-fold year on year.
Party leader chairs meeting on important projects
Members of the Party Central Committee's Politburo and Secretariat gave opinions on a number of projects during their meeting on September 9-10 under the chair of Party General Secretary Nguyen Phu Trong.
The projects include those on building and perfecting the rule-of-law socialist State of Vietnam in the new period; stepping up the national industrialisation and modernisation until 2030 with a vision to 2045; reviewing the 10-year implementation of the Politburo's Resolution 10 dated January 18, 2002 on promoting socio-economic development and ensuring national defence and security in the Central Highlands and Conclusion 12 dated October 24, 2011 on the continued implementation of Resolution 10..
They also discussed the reviewing of implementation of the Politburo's Resolution No.53-NQ/TW, dated August 29, 2005, on promoting socio-economic development and ensuring national defence and security in the southeastern region and the southern key economic region by 2010 with orientations towards 2020, along with Conclusion No. 27-KL/TW, dated August 2, 2012, on the continued implementation of the resolution.
Addressing the meeting, Party General Secretary Nguyen Phu Trong highly valued the opinions of participants, which were carefully prepared with high sense of responsibility.
He assigned relevant agencies to acquire the ideas of the Politburo and relevant agencies to complete the projects and make a report to the Politburo, so that the report can be submitted to the sixth plenum of the 13th Party Central Committee.
The agencies were also asked to perfect and issue the Politburo's resolutions on promoting socio-economic development and ensuring national defence and security in the southeastern region and Central Highlands, enabling relevant sectors and localities to implement them./.
Vietnam eyes FDI attraction opportunities
Many large firms have shown their interest in Vietnam, and the country is looking at its chances to welcome large-scale foreign direct investment (FDI) inflows.
A delegation of 25 member companies of the Automotive Component Manufacturers Association of India (ACMA) has paid a business trip to Vietnam to explore the country's investment and business opportunities. ACMA groups 800 makers of auto parts and components that contribute more than 85% to the revenue of the Indian auto industry.
Yuvraj Kapuria, President of YBLF - a member of ACMA, said that ACMA wants to cooperate with businesses in the Vietnamese automobile industry to jointly explore new markets through all forms of cooperation.
Recently, Yerkin Tatishhev, founder and chairman of Kusto Group, also visited Vietnam after a three-year hiatus due to the COVID-19 pandemic. Following a 10-day trip with many meetings with Vietnamese officials and businesspeople, Tatishhev plans to expand investment in Vietnam, after having invested more than 1 billion USD in 10 projects in Vietnam over the past 15 years. Kusto Group's two fields of interest are social housing and infrastructure projects.
Kusto Group is likely to invest up to hundreds of millions of USD in Vietnam in the near future if projects meet the group's criteria and business philosophy.
The southern province of Binh Duong was among the places Tatishhev visited to look for investment opportunities. A few days ago, Robert Wu, Chairman and CEO of Sharp Corporation (Japan), also paid a visit to this locality.
Wu said that his firm will continue to expand production and business facilities in the southern industrial hub. He noted that Vietnam's economy is expected to accelerate after the pandemic, while the Vietnamese government is also giving more incentives to foreign businesses.
SK Group, a company from the Republic of Korea (RoK) - has even bigger ambitions in the Vietnamese market.
During an online exchange with Minister of Planning and Investment Nguyen Chi Dung and Minister of Industry and Trade Nguyen Hong Dien in mid-August, Chey Tae-won, Chairman of SK Group, said the group is considering conditions to invest in hydrogen projects in the Mekong Delta and high-tech projects using clean energy in Vietnam.
As the second largest corporation in the RoK, SK Group has inked many large investment deals in Vietnam, including pouring 470 million USD to buy a 9.4% stake in Masan Group, 1 billion USD to get a 6% stake in Vingroup, and 340 million USD into TheCrownX. According to some sources, it is most likely that SK will inject capital into the Pharmacity drugstore network in Vietnam.
Deputy Director of the Department of Foreign Investment under the Ministry of Planning and Investment Nguyen Anh Tuan attributed the results to Vietnam's good control of the COVID-19 pandemic, its advantages in terms of human resources and domestic market, and the determination to improve the investment and business environment.
However, Minister of Planning and Investment Nguyen Chi Dung said Vietnam needs to do more to tap FDI opportunities, including designing a proper response policy and preparing land, resources, personnel and infrastructure.
Intellectual property protection helps promote farm produce
Various measures have been rolled out to boost Vietnam's agricultural sector's growth towards higher productivity, better quality, stronger competitiveness and sustainability.
One of the solutions highlighted is promoting the intellectual property rights for areas associated with agricultural products.
This is a tactic used by many countries to limit unfair competition and improve product value.
According to a representative from the National Office of Intellectual Property of Vietnam, products that carry protected geographical indications (GI) will create confidence among consumers about their origin and quality.
Within the framework of the Intellectual Property Development Programme for 2016-2020, Luc Ngan litchi has become the first GI product Vietnam protected in Japan, the earliest among the three products registered for GI protection in this country.
In addition to Luc Ngan litchi, Binh Thuan dragon fruit has also officially been protected as a GI in Japan.
Yen Bai, Ha Giang, Thanh Hoa, and Ben Tre are among localities with high number of products protected by GIs.
Domestic firms show strong capacity in making use of CPTPP
Over three years since the Comprehensive and Progressive Agreement for Trans-Pacific Partnership (CPTPP) took effect, Vietnam's exports to member economies, especially Canada, Mexico and Peru have significantly increased, showing high adaptation capacity of domestic firms.
Statistics showed that last year, Vietnam enjoyed growth in exports to all CPTPP markets, including Singapore, Malaysia, Japan, Australia, Canada, Mexico and Chile.
In the first seven months of this year, the figure reached 31.47 billion USD, up 21.43% year on year, accounting for 14.48% of the country's total export revenue in the period.
According to To Hoai Nam, Vice President and Secretary-General of the Vietnam Association of Small and Medium Enterprises, over the past three years, Vietnamese firms have shown their strong capacity to adapt to the new normal situation and make full use of CPTPP to increase their exports.
However, he stressed the need for domestic businesses to be more active in thoroughly studying the market, consumers' culture as well as the standards and technical barriers of the CPTPP economies, especially regulations on origin, while improving their products' quality by investing more in production technologies.
Tran Thanh Hai, Deputy Director of the Import-Export Department under the Ministry of Industry and Trade, said that the ministry has launched a support programme to help businesses take advantage of free trade agreements, including the CPTPP.
In addition, the ministry will continue to popularise commitments as well as rules related to origin, he said.
Hai said that the ministry will also strengthen export promotion activities on the digital platform, while supporting enterprises to avoid the risk of being imposed trade remedies when exporting goods to CPTPP markets.
Forum discusses solutions to promote sustainable travel
Deputy Prime Minister Vu Duc Dam has ordered local authorities to accelerate the implementation of relief packages to support struggling labourers, and small and household businesses in the tourism industry.
Speaking at the tourism forum 'Recovery and Development Solutions for Sustainable International Tourism' held on September 8, Dam said that domestic and foreign tourism in Vietnam has seen a positive rebound since mid-March when the country fully opened international tourism.
The Ministry of Culture, Sports and Tourism must review policies and mechanisms to put the tourism industry on a more sustainable path after two years of stagnation due to the global pandemic, Dam said.
The ministry needs to work with businesses and associations to propose breakthrough solutions to promote tourism as one of the nation's top economic activities, he said.
Tourism businesses also need to get involved in the training of human resources, he said.
The linkage between businesses, associations, local authorities and countries in the region on the basis of mutual benefit should be strengthened.
Development of green tourism and digital transformation are essential solutions to the sustainable development of the tourism industry, he said.
Zoritsa Urosevic, the World Tourism Organisation Executive Director, said, "Vietnam is taking clear steps to accelerate the recovery of tourism.
PV GAS affiliate opens LPG extraction, filling station in Khanh Hoa
The Petrovietnam LPG Joint Stock Company (PV GAS LPG)'s southern branch, an affiliate of the PetroVietnam Gas Joint Stock Corporation (PV GAS), has officially put into use a liquefied petroleum gas (LPG) extraction and filling station in the central province of Khanh Hoa.
The station, covering over 7,000sq.m in the Dien Phu VCN industrial cluster of Dien Khanh district, has total extraction and filling capacity of 1,000 tonnes of LPG each month.
It became operational after six months of construction.
A forum discussing Vietnam's business environment was held in Japan's prefecture of Kanagawa on September 9.
In his opening speech, Governor of Kanagawa prefecture Kuroiwa Yuji expressed his delight at welcoming representatives from Vietnamese localities and local Japanese firms to the event to learn about Vietnam's business potential, thus further promoting investment in Vietnam in fields of Kanagawa's strengths.
Vietnamese Minister Counsellor in Japan Nguyen Duc Minh, for his part, said the Vietnamese Government always attaches importance to attracting investment from Japanese small- and medium-sized enterprises in fields of Vietnam's interest such as supporting industry and hi-quality agriculture.
Meanwhile, the Japanese Government also actively supports Japanese investments in Vietnam, considering the country an attractive market with advantages such as political stability, vibrant economy and young population.
Ordinary citizens face higher risk in buying corporate bonds
Ordinary citizens face higher risk in the current stock market environment, said the Ministry of Finance in a recent report released after a number of recent high-profile corporate scandals.
A number of firms, in recent years, have deliberately promised higher-than-market interest rates to lure people. The ministry said there has been an increase in activity by investment consultant firms and financial institutions to approach and convince a large number of people to put their savings in corporate bonds and stocks.
Some individuals have been advised to take advantage of legal loopholes to sign investment contracts with securities firms to purchase private offerings, which is prohibited by laws.
A major vulnerability, according to the report, was their lack of capacity to conduct in-depth analysis and risk assessment in buying corporate bonds and stocks. The ministry advised potential investors to carefully study bond issuers' business performance, and the demand for their products and services before putting money down.
While some high-quality corporate bonds are considered relatively safe and conservative investments, investors who buy a corporate bond are effectively lending money to the company. It's important to remember that it's not a saving account and ultimately it's the sole responsibility of bond issuers to repay. Citizens face the risk of losing part or their entire savings should the bond issuers default or struggle financially.
In addition, financial institutions and securities firms only act as middlemen in providing their services to both bond issuers and citizens for commission fees. They are in no way responsible for repayment should the issuer default due to reasons such as insolvency or bankruptcy.
Even in the case of guaranteed bonds, citizens have been advised to look into if and how much the guarantee covers their investments.
It's also recommended that citizens make inquiries into bond issuers' collateral to gain a better understanding of how their investments may be recovered in case issuers were forced to default. In Vietnam, a large portion of collateral consists of issuers' real-estate properties, development projects and stocks. As such, not all of them may be cashed out quickly or at all in the event of a market shock. In some cases, they will not be able to recover citizens' investments in full.
The ministry said a common pitfall that must be avoided at all cost was buying high-yield bonds without looking into issuers' business performance and collateral while also not spending time to understand in full the issuers' terms and conditions.
Agribank has ratings upgraded by Moody's
Credit rating agency Moody's has upgraded the long-term local and foreign currency deposit and issuer ratings of the Vietnam Bank for Agriculture and Rural Development (Agribank) to Ba2 from Ba3, and changed the outlook to stable.
Agribank is now the largest Vietnamese bank in terms of capital mobilisation market share, and the second biggest in assets. It is a key player in investment in agriculture, farmers and rural areas where loans account for nearly 70% of the total.
As of June 30, 2022, its total assets had reached 1.77 quadrillion VND (76.2 billion USD), while the combined capital hit 1.62 quadrillion VND and the total outstanding loans were valued at 1.39 quadrillion VND.
Recently, it launched Agribank Digital model to bring more conveniences to clients.
On September 6, Moody's also upgraded Vietnam's long-term issuer and senior unsecured ratings to Ba2 from Ba3.
Amid complicated developments in the world in the past eight months, Vietnam is the only one in Asia-Pacific and one of the four countries globally to have ratings upgraded by Moody's since early this year.
According to the Finance Ministry, the upgrade to Ba2 reflects the assessment by Moody's that Vietnam's economy has greater resilience to external macroeconomic shocks that are indicative of improved policy effectiveness./.
Vietnam seeks ways to attract more tourists from India, Middle East
The Vietnam National Administration of Tourism (VNAT) and the Department of Tourism of Ho Chi Minh City held a seminar on promoting Indian and Middle East tourism on September 9 within the framework of the 16th Ho Chi Minh City International Tourism Expo (ITE HCMC 2022).
Statistics from Google Trends showed that the number of searches about Vietnam from the Indian market has been increasing. This reflects the demand from India, which has a population of more than 1.3 billion and will become the most populous country in the world by 2023 with more than 1.4 billion people.
By the year-end, there will be 21 direct air routes, with over 60 flights per week, connecting Vietnam with India.
There are also direct flights linking Vietnam's major cities such as Hanoi, Da Nang and Ho Chi Minh City with the capitals of Middle East countries.
VNAT Deputy General Director Ha Van Sieu said that India and the Middle East are considered potential markets that need to be prioritised in the Vietnam Tourism Development Strategy by 2030.

To attract more tourists from the Middle East and India, some experts and businesses participating in the seminar suggested that the Vietnamese tourism industry should regularly organise large-scale international tourism fairs and invite tour operators from Middle Eastern countries to attend; intensify communications about Vietnam's tourism sector such as broadcasting videos on regional television channels, and through travel bloggers and key opinion leaders, and join international tourism expos in the Middle East.
Firms urged to enhance knowledge, capacity to cope with trade investigations from the UK

Vietnamese exporters to the UK market should enhance their knowledge and capacity to cope with trade remedy investigations as the demand for using trade defense tools by the UK is anticipated to increase along with the rapid growth in trade revenue promoted by the enforcement of the UK- Viet Nam Free Trade Agreement (UKVFTA).
According to the Ministry of Industry and Trade, although Vietnamese enterprises have taken the opportunities arising from the UKVFTA to expand exports to the UK, the potential of cooperation in trade between the two sides remains huge as Viet Nam's export value to the UK currently accounts for a modest 0.88 per cent of the UK's total imports.
Chris Milliken, Vice President of the British Chamber of Commerce in Viet Nam, believes that bilateral trade cooperation will be further advanced because the structures of import and export goods of the two countries are complementary rather than competitive.
2021 saw impressive growth in the two-way trade despite the COVID-19 pandemic, as it reached US$6.6 billion, a rise of 17.2 per cent over 2020, making the UK the third largest trade partner of Viet Nam in Europe and ninth in the world.
Viet Nam's exports to the UK were nearly $5.8 billion last year, up 16.4 per cent. In the first seven months of this year, Viet Nam's exports to the UK were estimated at nearly $3.5 billion.
The UKVFTA is one among 15 FTAs Viet Nam have participated in. Facing trade remedy lawsuits is unavoidable because trade remedies always accompany international economic integration, according to the Trade Remedies Authority of Viet Nam.
Source: VNA/SGT/VNS/VOV/Dtinews/SGGP/VGP/Hanoitimes