The average duration for customs clearance for exports last year stood at 38.4 hours, a decline by 57.38 hours compared to 2019, according to a survey of an inter-sectoral working group.
The cost for such procedures averaged 338 USD, falling 81.72 USD against 2019.
Meanwhile, the time for imports was 54.8 hours, a drop of 48.88 hours. Total cost for the procedures hit 313.17 USD, plunging 256.41 USD.
Document digitalisation is among important reasons that help businesses save time and costs for customs clearance for cross-border trade.
The deployment of the Vietnam Automated System for Seaport Customs Management (VASSCM) also facilitates port-related activities.
According to the General Department of Vietnam Customs, import and export documents in 2020 amounted to 6.75 million and 6.98 million, respectively.
Trading across borders indicator set is part of the World Bank's annual Doing Business rankings since 2001.
The set assesses the efficiency of trade processes related to control agencies, customs and border authorities, among others./.
 Banks slash US$386 million in interest rates in July-August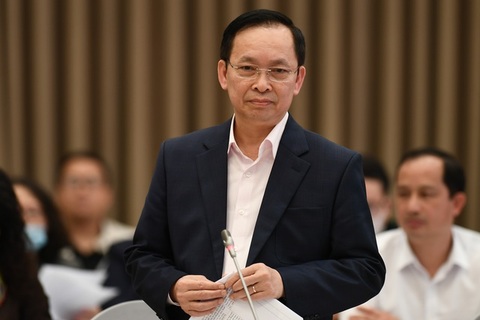 Dao Minh Tu, deputy governor of the State Bank of Vietnam.
Commercial banks have slashed more than VND8.8 trillion (US$386 million) in interest rates from July 15 to August 31 in support of businesses that have been severely affected by the novel coronavirus, said the State Bank of Vietnam on Wednesday.
Since the beginning of 2020, the SBV has cut interest rates three times in an effort to help businesses gain access to more affordable financing and get back on their feet. As a result, the average interest rate among the country's banks has declined by 1.55 per cent compared to pre-pandemic levels.
According to the SBV, the banks have slashed VND26 trillion in interest rates from January 2020 until the end of August 2021.
This is in accordance with Government Decree 63/NQ-CP, which called on 16 large commercial banks: Vietinbank, Vietcombank, Agribank, BIDV, MB, Buu Dien Lien Viet, TPBank, VIB, ACB, SeABank, SHB, HDBank, MSB, VPBank, Techcombank and Sacombank to show support for the business community.
In response, the banks have pledged to slash over VND20 trillion in interest rates for businesses affected by COVID-19 by the end of the year. The big four - the country's four largest State-owned commercial banks Vietinbank, Vietcombank, Agribank, BIDV - will continue to roll out a support package worth VND4 trillion in interest and banking fee cuts for cities and provinces with social distancing measures in place.
The SBV has been keeping an eye on commercials banks and other financial institutions to make sure they'll make good on their promises to support businesses, said SBV's deputy governor Dao Minh Tu.
Total credit to the economy was reported at VND9.87 quadrillion, a 7.42 per cent increase from the end of 2020. Credit growth has been recorded across the majority of domestic industries with agriculture, export, supporting and hi-tech industries the most robust.
Meanwhile, the SBV has continued to implement additional measures to support businesses including interest cuts, postponement of payments, maintaining credit rating and debt restructuring.
The SBV has approved a cash injection for the Vietnam Bank for Social Policies (VBSC). The cash injection has allowed nearly 750 firms to keep over 112,000 workers on the payroll, said the VBSC. By the end of August, the bank has rolled out VND382 billion in loans across the country.
Notably, the SBV said it has completed a process of refinancing for SeABank, MSB and SHB. The banks have also been given the green light to grant Vietnam Airlines - the country's flag carrier - loans.
In the coming months, the SBV's top objectives are to prioritise the recovery of key sectors of the economy, tighten control of credit in high-risk areas and support the business community. 
Foreign investment into Vietnamese start-ups expected to rise despite COVID-19
Foreign investment into Vietnamese startups is predicted to increase although the COVID-19 pandemic has left negative impacts on the economy, according to experts.
HSBC Bank Vietnam announced that it has supported General Atlantic and Dragoneer Investment Group in co-leading a 250 million USD in Series B funding round in VNLIFE Corporation Joint Stock Company (VNLIFE), a leading technology company pioneering the development of Vietnam's digital ecosystem.
This is considered the largest capital raising deal revealed in the venture capital market in Vietnam recently. The injection of capital is expected to accelerate the growth of VNLIFE's existing businesses and support its development of new platforms and technologies to better serve its merchant partners and Vietnamese consumers.
Similarly, VinaCapital Ventures (V2), the technology investment platform of VinaCapital Group, said it has invested in GlobalCare, an insurtech company that provides solutions for the sale and administrative processes of insurance agencies and business partners selling non-life insurance policies.
Founded in 2017 by Dinh Thi Ngoc Niem and her co-founder, Hang Minh Loi, GlobalCare's distributors and agencies, including 3,000 distributors to online transaction points and other leading service sharing platforms, provides a variety of insurance products for customers to choose. It also offers a complete technology solution for more than 10 major distribution channels and 200,000 insurance agents.
The terms of the investment were not disclosed but based on GlobalCare's contributions to the insurance industry and V2's investment history, the transaction value is expected to reach millions of dollars.
Earlier in August, Loship, a delivery startup in Vietnam, announced that it successfully raised 12 million USD in Pre-Series C round, bringing the company's valuation to over 100 million USD.
This round of financing was jointly led by venture capital firm BAce Capital backed by Ant Group and investment unit of Sun Hung Kai Co. Lt., an investment company listed in Hong Kong. The money will help Loship increase its presence in five key markets including Ho Chi Minh City, Hanoi, Da Nang, Can Tho and Bien Hoa.
Don Lam, General Director of VinaCapital Group, said that seeing the development trend of the Vietnamese startup community, the Group established VinaCapital Ventures to take advantage of its experience, financial background and partner network to support startups.
According to Hoang Duc Trung, CEO of VinaCapital Ventures, every year VinaCapital Ventures evaluates hundreds of potential investment opportunities either through partners such as Zone Startups, which have invested in Fundiin or cooperated with other entities. Even during the COVID-19 pandemic, they were always busy finding and evaluating potential startups and finalising investment deals, he said.
Tim Evans, General Director of HSBC Vietnam agreed, saying that startups are expected to thrive after the COVID-19 period in Vietnam.
HSBC would continue to connect foreign investors with potential Vietnamese technology companies, regardless of the funding round they are in, to create more and more new "unicorns" for Vietnam. This is part of HSBC's strategy to support foreign investment, both directly and indirectly.
According to HSBC, in recent years, Vietnam has emerged as a startup hub, catching up with regional countries like Indonesia and Singapore.
With a young intellectual population, high internet coverage and smartphone usage, and the support of the Government, Vietnam would continue to maintain its position as an attractive destination for both investors and technology companies, it said.
 
According to the Vietnam Innovation and Tech Investment Report 2020 released by the Vietnam National Innovation Centre (NIC), though Vietnam's tech investment landscape experienced an inevitable hit due to the COVID-19 pandemic, Vietnamese entrepreneurs have done their best with available resources during an unprecedented time. Challenges could always be interpreted as opportunities that welcome the birth of new disruptive business models.
"With efforts from the government to promote digital economic growth and create a favourable business environment to attract foreign investment, Vietnamese startups will have many opportunities to make a breakthrough as investment activities progressively resume at the normal pace," it said.
Commenting about the startup market prospects in Southeast Asia, Singapore's Golden Gate Ventures said more startups will emerge in the region by the end of the decade, with the number of companies announcing initial public offering (IPOs) expected to surpass 300 by 2030.
Among them, Vietnam is considered a "rising star" in the region and will emerge as the third largest startup ecosystem in Southeast Asia by 2022 with more venture capital funds in the region pledging to pour early-stage capital into local startups, according to Golden Gate Ventures./.
Shares move up with strong divergence among large-caps
Shares narrowed gains towards the end of the trading session on Thursday but still managed to post slight gains, witnessing a large divergence among large-caps.
The VN-Index on the Ho Chi Minh Stock Exchange inched up 0.15 per cent to end the session at 1,352.76 points.
The index had closed Wednesday trade at 1,350.68 points, up 0.81 per cent.
Some 997.6 million shares worth nearly VND23.3 trillion (US$1 billion) were traded on the southern exchange.
The afternoon session witnessed a wide divergence among large-caps' prices.
The blue-chip share tracker VN30-Index climbed 0.34 per cent to 1,458.23 points.
Fourteen of the 30 largest stocks by market valuation and trading liquidity increased while 13 decreased. Three stayed unchanged.
Stocks in the "Vin" family gained and supported the overall market, with notable gainers of Vingroup (VIC), Vinhomes (VHM) and Vincom Retail (VRE).
A series of residential real estate stocks suddenly dropped in the afternoon and pressured the indices, including Novaland (NVL), Phat Dat Real Estate (PDR), Ha Do Group JSC (HDG), Investment and Construction Development Joint Stock Corporation (DIG), Hudland Real Estate Investment and Development JSC (HLD) and Phuc Hung Holdings JSC.
Many other blue-chips also sufffered selling pressure such as insurer Bao Viet Holdings (BVH), Vibank (VIB), Masan Group (MSN), Vinamilk (VNM) and Techcombank (TCB).
"The market maintained the tug-of-war trend around 1,350 points in today's session. Market breadth turned negative with liquidity rebounding, showing short-term profit-taking pressure at the psychological 1,350 points," said BIDV Securities Co.
"Foreign investors were net sellers on both HoSE and HNX. With the above trend, the market is likely to still accumulate around 1,350 points until the investment cash flow differentiates to welcome the third quarter business results," it said.
Foreign investors' net sold VND374.0 billion on HOSE, including Hoa Phat Group (HPG) with VND89.8 billion, Kinh Bac City Development Share Holding Corporation (KBC) with VND69.0 billion, and Duc Giang Chemicals Group (DGC) with VND59.1 billion. They were net sellers on HNX with the value of VND34.07 billion.
On a sector basis, the Vietnamese stock market was driven by the real estate, securities, healthcare and retail sectors.
Their sector indices rose between 0.05 per cent and 3.91 per cent, data on vietstock.vn showed.
On the other side, losers included insurance, technology, logistics, rubber production, food and beverage, wholesale, food and beverage, construction materials and banking sectors.
Foreign investors net bought VND881.19 billion on the HOSE, including Vingroup (VIC) (VND937.96 billion), Vinamilk (VNM) (VND36.43 billion) and Masan Group (MSN) (VND6.73 billion).
The HNX-Index on the Ha Noi Stock Exchange (HNX) lost 0.66 per cent, to 361.02 points.
During the session, some 199 million shares were traded on the northern market, worth nearly VND3.4 trillion.
Eight-month exports to Australia record surge
Vietnam's exports to the Australian market during the past eight months of the year increased by 18.7% to reach over US$2.77 billion compared to the same period from last year, according to statistics released by the General Department of Vietnam Customs.

Phones and components see the highest export turnover to Australia (Photo:nhipcaudautu.vn) 
August alone saw exports to this market endure a slight decline of 4.5% to US$349.3 million compared to July.
Most notably, phones and components recorded the highest export growth, with turnover reaching US$435.4 million, thereby accounting for 15.6% of the total export turnover to the demanding market, whilst representing an annual fall of 8.8%.
Furthermore, the group of computers, electronic products and components ranked second in turnover with over US$319 million, marking a year-on-year rise of 9.5%, followed by footwear with US$228.4 million, and garments and textiles with US$227.5 million.
Moreover, gems and precious metal exports expanded by 95.8%, whilst electric wires and cables rose by 98%, cameras, camcorders and components saw a boost of 148.9%, and clinker and cement went up by 87.9%.
In contrast, exports of a number of commodity groups to Australia, such as cashew nuts, coffee, and raw materials for textiles, along with leather and footwear, experienced a downward trajectory throughout the reviewed period.
Elsewhere, farm produce exports to Australia during the first half of the year enjoyed strong growth.
Tourism sector expects to revive operations soon: Minister
The Ministry of Culture, Sports and Tourism (MCST) is looking forward to quickly resume operations of the tourism industry which was battered by the COVID-19 pandemic, Minister of Culture, Sports and Tourism Nguyen Van Hung has said.
Speaking at an online forum on the impacts of COVID-19 on September 22, he said the ministry would soon submit a tourism planning scheme to relevant authorities for approval, adding that the planning scheme is a task and also a solution of the tourism industry. 
The Vietnam National Administration of Tourism (VNAT) was asked to work with localities to upgrade tourism products with the goal that each province and city have a unique one as well as connecting tourism products to create highlights for traveling activities, Hung said.
The minister requested the  VNAT to quickly put into operation a website that the Vietnam Tourism Advisory Board had done before.  Localities were directed to digitalise destinations and put them on cyberspace. 
It was necessary for localities that COVID-19 have been put under control,  connect with tourism associations and businesses to organise promotion and investment forums and conferences to revive tourism, he said.
Hung emphasised the need to focus on the domestic market and then on the international market when conditions allow. He also underscored the importance of quickly utilising the development assistance fund to increase resources for tourism promotion to enhance its efficiency.
VNAT General Director Nguyen Trung Khanh said, to prepare for the recovery of tourism activities in the new context, the MCST has issued a plan, focusing on six key tasks and solutions, including strengthening communications activities and promotion of tourism.
The communications and promotion would contribute to ensuring the successful implementation of the pilot plan to welcome back international visitors to Kien Giang province's Phu Quoc island city, he said.
The industry would prepare to gradually expand to other destinations throughout the country, continuing to deploy communications activities and stimulate tourism demand based on inheriting the "Vietnamese people travel in Vietnam" and "Vietnam tourism - a safe and attractive destination" programmes.
The VNAT  suggested that the Government have a separate policy on COVID-19 vaccination for some key tourist centres, creating a safe environment so that domestic tourism can be restored and attract international tourists to Vietnam.
In 2020, the international tourism industry was affected by the COVID-19 pandemic, witnessing a sharp decrease of 73 percent in the number of international tourists worldwide, according to the World Conference on Tourism Cooperation and Development held in Beijing.
According to a report by the MCST, the number of tourists has been decreased sharply due to the impact of the COVID-19 pandemic. Last year, the number of international visitors to Vietnam declined by 80 percent compared to 2019's figure while the number of domestic tourists fell by 34 percent. The gross revenue of tourism decreased by 59 percent in the period.
In the first eight months of this year, the number of domestic visitors reached 31.2 million, falling by 5.5 percent year-on-year. The gross revenue of domestic tourism hit 136.52 trillion VND (6 billion USD)./.
Vegetable seed shops grow strong thanks to social distancing
More than a month since Ha Noi implemented social distancing, Khanh Ngoc turned a small balcony in her apartment into a vegetable garden for her family.
Calling it her "cloud garden", Ngoc said she paid about VND2 million (US$93) to install the garden in her 8th-floor apartment in Thanh Xuan District.
Ngoc told Viet Nam News: "I grow some spinach, onions and some herbs like coriander. Every morning, my husband waters the plants and picks them, and in the afternoon I work on the soil. We learned how to use fertiliser and water, so vegetables grow very quickly."
Since the end of July when a lot of the city's residents were encouraged to stay home to avoid spreading COVID-19, they took advantage of balconies, front yards and even rooftops to be able to provide vegetables for their families.
Ngoc is not the only city gardener using a small area to grow vegetables. Nguyen Linh Dan, 22, who lives on Doi Can Street in Ba Dinh District, also grows vegetables on a 5-metre corner of her sixth floor flat, meaning she doesn't need to buy produce from a store.
Dan said: "I had to carry 30kg of soil from the first to the sixth floor, however, it means I can have fresh vegetables of my own. The local market is recently closed due to COVID-19 cases, but I don't need to worry about food. I have my garden."
"I find growing vegetables and flowers during the pandemic very effective at reducing stress, and having something to eat. Moreover, people also have more knowledge about gardening and agriculture," she said.
As more and more households in big cities try growing vegetables on terraces and balconies, companies selling vegetable seeds and gardening equipment have seen a boom in business.
Seed seller Pham Thi Huong, in Quoc Oai District, Ha Noi, said the number of customers buying vegetable seeds has skyrocketed, adding that sweet potato seeds are the best-selling product in the past week.
"I had 60 to 80 orders of seeds per day before social distancing, now this has increased to 300 bags per day in August and September," Huong told Viet Nam News.
Huong used to pay more than VND10 million to rent a store on Hoang Hoa Tham Street, now she sells all her goods online.
She said: "The pandemic helps me save money. I don't need to pay rent and can stay home, marketing my items online and taking care of my family."
As a big seed supplier in District 12, HCM City, Hoang Tuyet Loan said her revenue has doubled during the fourth wave of the pandemic. Currently, every day, she distributes 1,000 - 1,200 bags of vegetable seeds to all provinces and cities across the country.
As the city has been isolated, Loan also switched her business totally online, saying: "We distribute and sell through e-commerce platforms and our fanpages."
Loan said vegetable seeds such as lettuce and herbs are most sought after by customers, because these are short-term plants that are easy to grow and care for. The price for each bag of seeds usually ranges around VND10,000.
Though there is not a data for the increase in the local market for gardening supplies in Viet Nam, the global business-to-business (B2B) e-commerce platform Alibaba Group published "The Home & Gardening Industry Trends" report, mentioning that while the pandemic distances communities physically, it simultaneously opens doors for Vietnamese SMEs to explore their potential with global opportunities via online exporting.
The report revealing a tendency in which people feel more comfortable working from home, saying the trend has created significant changes in the Home & Gardening category's purchasing volume, which was valued at over RMB1 trillion (US$154 billion), a 10 per cent year-on-year growth on the e-commerce platform and 90 per cent contribution to the sector growth, with some Vietnamese SMEs have succeeding on Alibaba.com in the home and gardening categories. They include Vixemco and Veritas Vietnam (Veritas) with their impressive performance since joining the platform earlier this year. 
Japan increases investment in Vietnamese market despite COVID-19 challenges
Despite facing a range of adverse impacts caused by the COVID-19 pandemic, several foreign investors have maintained their investment in the Vietnamese market, with Japan being the only major investor to increase its capital in the country.

Ta Duc Minh, Vietnamese trade counselor in Japan, said the East Asian nation is currently the fourth largest Vietnamese trading partner with a total two-way trade turnover reaching US$40 billion.
During the opening seven months of the year, mutual import-export turnover surged by 11.9% to reach US$24.5 billion against the same period from last year
Japan represents the second largest foreign investor with 4,690 projects capitalised at US$62.9 billion, thereby accounting for roughly 16% of the total foreign investment capital in the nation.
Among 92 countries and territories investing in the country during the initial eight months of the year, Japan has an investment capital exceeding US$3.2 billion,  accounting for 16.8% of total investment capital, and representing an annual rise of 94.9%, behind only Singapore.
Most notably, only the East Asian nation is moving to increase investment capital in the country, while other major partners like Singapore and the Republic of Korea have tended to reduce investment capital amid COVID-19 challenges.
Minh elaborated that while the global economy is seeing a strong wave of M&A on a large scale, the M&A market domestically has also become bustling with major deals, thereby turning the nation into the leading M&A destination in Southeast Asia.
Amid the trend of shifting production out of China which began back in mid-2020, several foreign investors, including Japanese financiers, have selected the Vietnamese market as a destination to redirect their focus, largely due to its political stability and positive economic growth, despite the COVID-19 pandemic impacting the world economy.
The Vietnamese M&A market continues to be led by investors from four countries, including Japan, the Republic of Korea, Thailand, and Singapore.
According to experts, the size of the Vietnamese M&A market this year will be between US$4.5 billion and US$5 billion, with a specific focus on fields such as consumer goods, retail and real estate, industry and agriculture.
As a means of attracting more foreign investors, apart from fine-tuning the legal system and improving the local investment climate, the nation needs to be more flexible in taking pandemic prevention measures. This can be done by accelerating vaccinations for employees, reducing taxes for enterprises to stabilise production, while resolving issues regarding logistics and supply chains, said Minh.
In order to minimise the adverse impacts of the pandemic, the Government should also consider relaxing social distancing measures, while simultaneously creating favourable conditions for experts and foreign investors to return to the country to work and survey the investment climate, the Vietnamese trade counselor added.
Viet Nam-based NFT game project raises US$1.7 million
HeroVerse, a Viet Nam-based NFT game project built on blockchain technology, has successfully raised US$1.7 million from leading blockchain and NFT investment funds including DaoMaker, x21, AU21 Capital, Raptor Capital and IceTea Labs.
Developed by Hiker Studio, the game is built on combining the match-three puzzle (connecting similar items to score points) and role-playing game (RPG). These two factors ensure that the game is easy to play and suitable for many players, while still ensuring an attractive tactical element.
Nguyen Tuan Huy, Founder and CEO of Hiker Studio, said HeroVerse is one of the few NFT games with beautiful graphic design, with each character (hero) designed in 2D and 3D.
Ta Son Tung (featured on Forbes 30 Under 30), a Business Advisor at HeroVerse, said: "HeroVerse inherits the advantage of the long-standing Match-3 puzzle genre, which saw $6.8 billion in revenue in 2020. Meanwhile, the NFT Game market is attractive as the total transaction value continuously increases and is expected to grow further."
Heroverse is expected to launch Initial DEX Offering (IDO) on two leading platforms - Red Kite and GameFi. The IDO will start on September 23. HeroVerse is expected to follow the success of Axie Infinity.
Earlier in mid-May 2021, Sky Mavis, "father" of the game Axie Infinity, announced that it had raised $7.5 million in a Series A funding round, led by Libertus Capital, a British venture capital fund.
Statistics showed that the total value of NFT transactions on Blockchain platforms increased sharply, reaching $1.23 billion and $1.24 billion in the first and second quarters of 2021. The total market capitalisation of NTF Games reached $7.63 billion in 2021, a sudden increase of 2,300 per cent compared to 2017. 
Novaland issue another 500 billion share-backed bonds
 Novaland (NVL) has just approved a resolution on mobilising 500 billion bonds, which are backed by NVL shares owned by NovaGroup or other legally owned assets.
On the stock market, NVL shares moved sideways at VND103,000 per share after a strong rally. Since the beginning of the year, Novaland has continuously mobilised share-backed bonds as its share prices rose strongly.
Statistics show that Novaland has raised funds by issuing about 10 trillion bonds since the beginning of the year.
Most recently, Residence Development and Investment JSC also attracted VND2.5 trillion (US$109.6 million) through five lots of ordinary, non-convertible bonds. Of which, a lot of bonds with collateral of NVL shares and future-formed assets, which are 130 real estate projects under the Ocean Valley Tourism Complex (NovaWorld Phan Thiet).
Novaland is not the only property developer issuing share-backed bonds. The second-quarter report of SSI Research showed that the ratio of using shares to secure bond issuance in real estate companies continued to climb sharply.
Notably, up to VND29 trillion of real estate bonds were fully secured by shares or without collateral. If combining real estate bonds that are partially secured by shares, the amount was nearly VND60 trillion, accounting for 64 per cent of the total amount of real estate bonds issued in the first six months of the year.
For the whole market, about 9.3 per cent of the issued bonds were fully secured by shares, equivalent to more than VND19.4 trillion.
Share-banked issuance is only valid when the company's share prices are in the bull market and at a high price. And the market price must be in line with the businesses' situations. 
Vingroup Signs Memorandum of Understanding with Google Cloud
Vingroup and Google Cloud have signed a Memorandum of Understanding (MOU) to support Vingroup's ongoing digitization and innovation strategy.
The MOU agreement was signed this week in New York City, on the sidelines of President Nguyen Xuan Phuc's diplomatic trip to the United States. The agreement sees Vingroup and Google Cloud collaborating closely as strategic partners, to drive the group's digital transformation.
Specifically, Google Cloud will help Vingroup to advance its Cloud-based services and identify opportunities to apply cloud-based machine learning, artificial intelligence, and smart data analytics technologies across Vingroup's varied lines of business.
Nguyen Viet Quang, Vice Chairman and CEO of Vingroup and Thomas Kurian, CEO of Google Cloud signed the MOU.
Nguyen Viet Quang said, "This MOU with Google Cloud builds on our successful on-going relationship with Google. This new step forward in our partnership will see us working closely to explore new opportunities to digitize, not only the way we engage our consumers, but also how Vingroup enhances its resilience, agility and executes its global expansion plans."
"Google Cloud is uniquely positioned to help Vingroup drive its growth strategy, with our innovative and trusted industry solutions and vertical expertise. We look forward to our expanded collaboration, and to supporting Vingroup as it continues to play a leading role in the long term success of Vietnam's digital transformation," said Thomas Kurian, CEO of Google Cloud.
This partnership with Google Cloud is one of Vingroup's major achievements in acquiring the latest technologies, streamlining its products and services development, as well as enhancing customer experience.
As the largest private conglomerate in Vietnam, Vingroup is currently doing business in three core sectors namely technology, industry and services. In all sectors it has participated in, Vingroup is always a pioneer that leads market trends and creates world-class products and services of Vietnam.
Google Cloud accelerates organizations' ability to digitally transform their business with the best infrastructure, platform, industry solutions and expertise. We deliver enterprise-grade solutions that leverage Google's cutting-edge technology – all on the cleanest cloud in the industry. Customers in more than 200 countries and territories turn to Google Cloud as their trusted partner to enable growth and solve their most critical business problems. 
GII 2021: Viet Nam leads the group of countries with the same income level
Viet Nam has ranked 44th out of 132 countries and economies in the Global Innovation Index (GII) and maintains its leading position out of the 34 lower-middle income economies.
The GII annually ranks 132 economies on their innovation ecosystems, highlighting both their strengths and weaknesses. Since its inception in 2007, the GII has become a cornerstone of economic policymaking. An increasing number of governments around the world analyse their GII results and shape policy in response.
The results of the 2021 Global Innovation Index were announced by the World Intellectual Property Organisation (WIPO) on Monday.
Along with Turkey (41st), India (46th) and the Philippines (51st), Viet Nam is one of four low-middle income countries assessed by WIPO as closing in on the higher tiers of the innovation index.
According to WIPO, all four Asian economies have raised up the ranks by an average of 22 positions over the past decade; Viet Nam has risen from 76th place in 2012 to 44th this year.
"Beyond China, these four particularly large economies together have the potential to change the global innovation landscape for good," commented WIPO in the report.
The 2021 GII report notes that 19 economies are performing above expectations, relative to their level of development. Amongst them, Viet Nam, India, Kenya, and the Republic of Moldova hold the record for overperforming in relation to their level of development, for the 11th year in a row.
Ranked highest amongst the lower-middle income countries, Viet Nam scored above the group average in all seven of the GII's pillars of scoring. Highlighting Viet Nam's upward trajectory, Viet Nam even scored higher than the group average in the upper-middle income bracket in Market Sophistication, Business Sophistication, Knowledge and Technology Output and Creative Output.
For the 11th year in a row, Switzerland has topped the GII rankings, followed by Sweden, the US and the UK. All four countries featured in the top four last year too. 
Hanoi to host Taiwan Textile Roadshow next month
Garment products from Taiwan (China) will be showcased at the Taiwan Textile Roadshow held in Hà Nội from October 6-7 at the Hà Nội International Exhibition Centre at 91 Trần Hưng Đạo Street.
The event will be co-organised by the Bureau of Foreign Trade, Ministry of Economic Affairs (Taiwan), Taiwan Textile Federation (TTF) and the Việt Nam National Trade Fair and Advertising Company (Vinexad) under both direct meetings and via online platforms. It aims to strengthen co-operation between Vietnamese and Taiwanese enterprises in the textile and garment sector.
There will be 12 Taiwan textile manufacturers participating in the event via Zoom, exchanging experience with and introducing products to Vietnamese enterprises with interpretation support.
Taiwanese enterprises will introduce techniques to produce fabric using dyeing treatments that can reduce the impact on the environment. They have also applied innovative technologies in production to produce fabrics with many outstanding features such as fabric from recycled plastic, warp-print fabric, antibacterial fabric, UV protection fabric, cooling and multi-functional fabric.
In 2020, Taiwan's largest textile and garment export market was Việt Nam, with an export turnover of up to US$1.9 billion and accounting for 25.3 per cent of Taiwan's total export turnover of textiles and garments. The top five export markets, including Việt Nam, mainland China, the United States, Indonesia and Hong Kong, account for 60.3 per cent of Taiwan's total apparel exports.
Taiwan's largest and second-largest sources of textiles in 2020 were mainland China and Việt Nam, accounting for 43 per cent and 14 per cent of total textile imports and valued at $1.46 billion and $467 million, respectively. The main import items from mainland China and Việt Nam were clothing and accessories. 
Reference exchange rate down 5 VND on September 24
The State Bank of Vietnam set the daily reference exchange rate at 23,134 VND/USD on September 24, down 5 VND from the previous day.
With the current trading band of /- 3 percent, the ceiling rate applicable to commercial banks during the day is 23,828 VND/USD and the floor rate 22,439 VND/USD.
The opening hour rates at commercial banks slightly fluctuated.
At 8.25 am, Vietcombank listed the buying rate at 22,630 VND/USD and the selling rate at 22,860 VND/USD, unchanged from September 23.
BIDV increased both rates by 5 VND, listing the buying rate at 22,665 VND/USD and the selling rate at 22,865 VND/USD.
Similarly, Vietinbank listed the rates at 22,645 VND/USD (buying) and 22,865 VND/USD (selling), up 5 VND against the previous day./.
ASEAN Regional Mine Action Center launches FOA group
The ASEAN Regional Mine Action Centre (ARMAC) launched the Friends of ARMAC (FOA) group in both in-person and virtual forms on September 23, with the participation of about 120 delegates.
The FOA is an initiative raised by then Vietnamese Ambassador to Cambodia Vu Quang Minh when Vietnam assumed Chair of ARMAC Steering Committee 2020, with an aim to bolster the centre's image and prestige and attract more resources for its activities in the future.
More than 50 agencies, organisations and businesses have signed up to become friends of ARMAC, including those from Vietnam.

Addressing the launch ceremony held at the Embassy of Vietnam, Minister of Foreign Affairs and International Cooperation of Cambodia Prak Sokhonn spoke highly of the idea to foster contributions to humanitarian aid in handling unexploded ordnances.
As a country that heavily suffered from consequences of war-time bombs, mines and explosive remnants of war (ERW), Vietnam appreciated ARMAC's contributions for an ASEAN and a world free of bombs and mines, said Chargé d'affaires at the Vietnamese Embassy in Cambodia Lai Xuan Chien.
He added that Vietnam has called on its businesses to join in the centre's efforts.
ARMAC is a centre of excellence under the ASEAN Security Cooperation to encourage efforts to address landmines and ERW for interested ASEAN member states. Inaugurated on May 25, 2016, the centre aims to collectively tackle the humanitarian aspects of landmines and ERW through an integrated approach of experience sharing, skills training, and other capacity building activities.
Vietnam contributed 10,000 USD to the centre's activities in 2020./.
PV Gas, US corporation move to implement Son My LNG port warehouse project
The PetroVietnam Gas Joint Stock Corporation (PV GAS) and US-based AES Corporation signed a joint venture agreement on the establishment and operation of Son My LNG port warehouse limited company in New York on September 22 (local time).
The signing ceremony was witnessed by President Nguyen Xuan Phuc who is on New York to attend the general debate of the 76th session of the United Nations General Assembly (UNGA).
The joint venture agreement was based on the main terms of the joint venture contract of Son My LNG (liquefied gas) port warehouse project signed in October 2020.
The Son My LNG port warehouse is one among a series of LNG power projects in the south central province of Binh Thuan, with an estimated total investment of 1.31 billion USD, and a capacity of 3.6 million tonnes a year in the first phase and up to 9 million tonnes in the next phase.
The port will receive, process and supply LNG reprocessed as fuel for Son My 1 and Son My 2 power plants, expected to be put into operation by the end of 2025.
Speaking at the signing ceremony, President Phuc said that the project has drawn attention of both Vietnam and the US.
The two corporations' formation of the Son My LNG port warehouse limited company to carry out the construction of the Son My LNG port warehouse project will contribute to ensuring reprocessed LNG to serve power demand of the key southern economic zone in particular and Vietnam in general.
The signatories pledged to conduct procedures to put the company into operation in November./.
Vietnamese cashew nuts to be introduced in Australia
Australian people will have a chance to taste Vietnamese cashew nuts in a programme which will be held by the Vietnam Trade Office in Australia from September 25 – October 2.
Vietnamese exporters of cashew nuts will be also introduced at the event.
According to statistics from the General Department of Vietnam Customs, the country earned 1.65 billion USD from shipping over 273,000 tonnes of cashew nuts abroad in the first six months of 2021, up 10.8 percent in value and 21.8 percent in volume year-on-year.
The country remains the world's leading cashew exporter, but falling export prices are likely to lower profit margins./.
President hosts CEO of US's Quantum Group
President Nguyen Xuan Phuc received Arun Savkur, CEO of the US's Quantum Group on September 22 in New York (local time), witnessing the handover of the cooperation agreement between the group and a Vietnamese joint venture.
The joint venture was established between the Kinhbac City Development Holding Corporation (KBC) and the Saigon Telecom Technology Joint Stock Company (SAIGONTEL).
At the reception, Savkur said based on its resources and financial strengths, Quantum is committed to making contribution to Vietnam's development, initially with a series of projects worth 20 - 30 billion USD in total.
Quantum wishes to make large investments across many important fields in Vietnam and to cooperate with Vietnamese partners to build a healthcare system combining the western high technology and the eastern traditional medicine, the CEO said.
He added his company intends to channel capital into building a technology centre for COVID-19 vaccine production in Vietnam.
Praising the US group's potential and achievement worldwide, President Phuc said they are long-term and strategic projects in Vietnam, and hoped Quantum to promote those on biotechnology research in caring and protecting people's health.
The official requested Vietnam's ministries of Planning and Investment, Industry and Trade, and Construction assist Quantum and the KBC and SAIGONTEL in successfully implementing their projects in Vietnam.
He stated Vietnamese ministries, sectors and localities will create best conditions possible in terms of administrative procedures and business climate for Quantum to soon launch its investment projects.
Phuc said he wanted Quantum, as a capital contributor of Pfizer, would push the vaccine producer to continue its cooperation in the supply of COVID-19 vaccines to Vietnam.
The State leader highlighted the robust growth of Vietnam – US ties across all spheres and said he believes based on the experience and capacity of and cooperation achievement between Quantum, KB, and SAIGONTEL, the joint venture's new investment projects will reap further successes in the future./.
Source: VNA/VNS/VOV/VIR/SGT/SGGP/Nhan Dan/Hanoitimes  

Vietnam, US step up cooperation in agriculture