VietNamNet Bridge – The Vietnamese government and international partners will mobilise all resources to overcome the consequences of unexploded ordnance (UXO) left over from the war, according to Don Tuan Phong, Vice President of the Vietnam Union of Friendship Organisations (VUFO).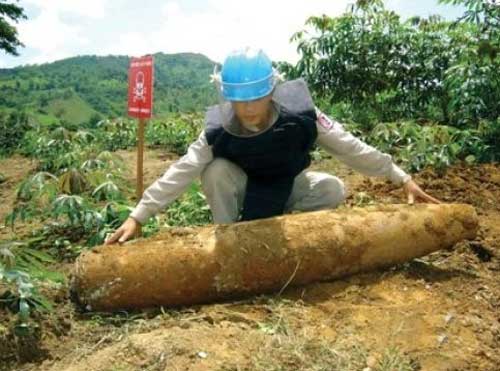 An old bomb was found in Gio Linh District, northern Quang Tri Province on May 1, 2011. (Photo: Tuoi Tre)
He noted that many organisations had joined Vietnam in the endeavour over the past 20 years, contributing 10-15 million USD every year.
The organisations also assisted the country in drawing charts of areas polluted by UXOs as well as building a database on bombs, mines and other ordnance, he added.
According to Sean Wetherill, Managing Director of the US Government through the Mines Advisory Group (MAG) in the central province of Quang Binh, the pollution caused by UXOs in Vietnam remains serious, especially in Quang Binh, which was hard hit by bombings during the Vietnam War.
MAG is an international humanitarian organisation operating in mine clearance. It works actively to ensure safety for production and people living in localities plagued by UXOs in Vietnam.
Over the past ten years, MAG detected and cleared almost 1,834,000 sq. m of land in Quang Binh. The group also defused more than 71,300 devices in the locality. However, there is still a huge number of UXOs left from the war in the province.
Tran Van Phung, leader of MAG's community communication team, said his organisation gives priority to clearing areas that are confirmed to contain ordnance.
The team also focuses on clearing mines in areas on which local authorities plan to build schools, health stations and other community facilities.
The consequences of UXOs left over from the war still exist nationwide, especially in the northern central provinces.
According to preliminary statistics, since 1975, mines and UXOs have claimed more than 40,000 lives and left about 60,000 injured, mostly rural people and children.
Apart from threatening lives, the situation has also seriously affected the country's socio-economic development. Vietnam spends thousands of billions of dong each year on mine clearance, emergency aid, treatment and assistance, re-integration and resettlement of the victims of UXOs.
In April 2010, Prime Minister Nguyen Tan Dung approved the National Action Programme on Settling Consequences of UXOs (known as Programme 504) for the 2010-2015 period with the aim of mobilising domestic and international resources to reduce ordnance to speed up UXO clearance.
The volume of mines and UXOs left by the war is now estimated at 800,000 tonnes, contaminating over 20 percent of the country's land.
The Steering Committee of Programme 504 set to clear UXOs entirely in the six central provinces of Nghe An, Ha Tinh, Quang Binh, Quang Tri, Thua Thien-Hue and Quang Ngai in the next five years.
To realise the goal, the Vietnamese government is expecting participation and assistance from international organisations as well as foreign non-governmental agencies.
Source: Vietnam Plus