Vietnam c.bank responds to US's latest forex exchange report

The State Bank of Vietnam (SBV) said it will continue coordinating with concerned Vietnamese ministries and agencies to communicate with the US regarding the US Department of Treasury's latest report
on macroeconomic and foreign exchange policies of major trading partners of the US.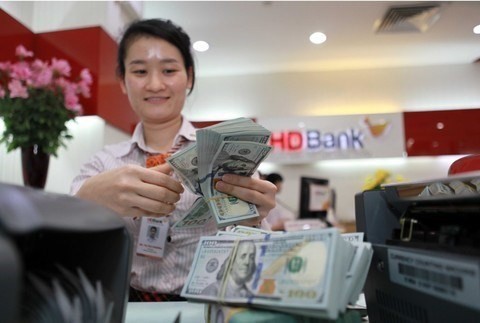 Foreign currency exchange at the Ho Chi Minh City Development Bank.

The report placed Vietnam on the monitoring list on currency practice along with China, Japan, the Republic of Korea, Germany, Italy, Ireland, Singapore, Malaysia and Switzerland.
The SBV noted it will also continue implementing monetary policies to control inflation, maintain a stable macro-economy, support economic growth and flexibly manage the forex rates in line with market developments and the monetary policies' objectives, so as to not create unfair competition in foreign trade.
According to the SBV, the US Department of Treasury on January 14 issued a Semiannual Report on Macroeconomic and Foreign Exchange Policies of Major Trading Partners of the US which establishes a Monitoring List of countries that merit close attention to their currency practices and macroeconomic policies.
In the report, the department reviewed 20 major US trading partners with bilateral goods trade with the US of at least 40 billion USD annually against the thresholds it has established for the three criteria – a significant bilateral trade surplus with the US at at least 20 billion USD, a material current account surplus at at least 2 percent of GDP, and persistent, one-sided intervention occurs when net purchases of foreign currency are conducted repeatedly, in at least 6 out of 12 months, and these net purchases total at least 2 percent of an economy's GDP over a 12-month period.
This is the second time Vietnam has been named in the report. The country was first mentioned in the May 2019 report as it met two criteria on bilateral goods trade with the US and a material current account surplus.
The January 2020 report keeps Vietnam on the list even though it only met one criterion on goods trade surplus with the US, which continues to rise significantly to reach 47 billion USD over the four quarters through June 2019. Over this same period, Vietnam's current account balance steadily narrowed, to 1.7 percent of GDP while net purchases of foreign exchange were 0.8 percent of GDP, it adds.
The report also concludes that during the period, no major trading partner met all three criteria to be labelled a currency manipulator. VNA

The State Bank of Viet Nam (SBV) will be consistent in regulating monetary policies according to market developments, with no aim for an unfair competitive edge in international trade.  

When the State Bank of Vietnam (SBV) late last week slashed the dollar purchase price, the greenback prices quoted by commercial banks were adjusted immediately.