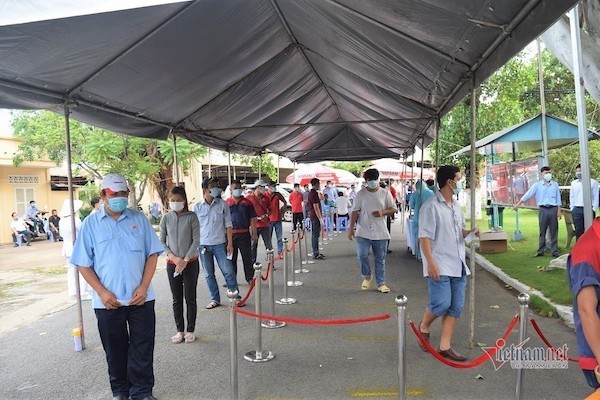 Workers need to have tests
First, Chinh allowed businesses to import vaccines, signing introduction documents for tens of businesses.
Most recently, the encouragement of enterprises to import vaccines, buy equipment, machines, Covid-19 treatment drugs and materials for pandemic prevention and control, and the encouragement to produce vaccines and drugs domestically have been included in Resolution 105.
This is a big step forward that calls on enterprises to join hands with the Government to fight the pandemic amid a global vaccine shortage, and as vaccine manufacturers only negotiate with Governments.
As a result of the new policy, some businesses, including Van Thinh Phat, VNVC and Vimedimex, have recently brought millions of vaccine doses. Meanwhile, Vingroup has bought Covid-19 treatment drugs.
Many enterprises have kicked off their vaccine and medicine production projects as per the spirit of the Resolution 105.
With the spirit 'taking people as the root', the Prime Minister put forward a new policy – turning every ward and commune into a fortress, and every person into a soldier in the battle against the pandemic.
The world's scientists affirm that the SARS-CoV-2 virus will last, so fighting the pandemic must be "the battle of the whole people", and "the people must be at the center" alongside with the Government to make prevention and control work effective, successful and sustainable.
The Prime Minister's approach is consistent. In the newly released Resolution 105, he asked the Ministry of Health (MOH) to 'take one more step forward' by issuing legal documents guiding enterprises, cooperatives and business households to buy biological and testing equipment, perform self-testing and recognize testing results in September.
The move has met the expectations of many localities, enterprises and people. Many private medical establishments have been licensed to provide testing services after the removal of many obstacles.

With the spirit 'taking people as the root', the Prime Minister put forward a new policy – turning every ward and commune into a fortress, and every person into a soldier in the battle against the pandemic.
Bac Giang has instructed its workers to do rapid antigen tests. HCM City has also allowed people to do tests themselves and use the testing results in pandemic prevention and control. No institution has been found trying to hide their health conditions and their workers.
Cutting production costs
The Logistics Enterprises' Association complained that when vehicles from other provinces reach the Mong Cai international border gate in Quang Ninh province to deliver import/exports with China, drivers have to test three times, including two PCR and one rapid antigen tests.
The regulation that drivers have to test three times for every shipment puts a heavy burden on enterprises and drivers in terms of financial conditions, operation and health.
As drivers are required to have PCR test for the third time before leaving Mong Cai border gate area, they have to wait until late in the evening or early the next morning to get testing results, though they finished deliveries during the day.
According to the estimates of 14 enterprise associations, the cost for a PCR test is VND700,000-800,000, or $35. As such, an enterprise with thousands of workers will have to pay billions of dong for every testing campaign.
As a result, 14 associations have asked the Government to add the expenses on testing kits into the list of products subject to price stabilization, and to allow medical institutions to sell testing kits at competitive prices.
This is believed to be one of the important solutions to force testing fees down, thus allowing people and enterprises to save money.
Some analysts estimate that once the regulations in the Prime Minister's Resolution 105 are implemented, enterprises will be able to save 70 percent of testing costs.
With 800,000 drivers transporting goods and millions of workers in key industrial production zones who have to have tests every three to five days, the policy will have special significance and it is no less valuable than any Covid-19 relief package the Government has launched so far.
HCM City is considering allowing testing campaigns for workers with green cards to be implemented flexibly by institutions and business depending on their operations.
As for workers with green cards (have at least one injection shot), it is advisable to arrange them to work in positions with lower risks. The workers need to have tests more regularly.
Now more than ever, people and businesses need to be given the right to take initiative in fighting the pandemic and in doing tests. It would be better to sell testing kits at drugstores as other countries do to ease the burden on the Government. 
Tu Giang

Hanoi is ready to listen to recommendations and adjust plans for COVID-19 prevention and control as restrictions are eased in the capital city.

Hanoi needs to find solutions to prevent the coronavirus from spreading and causing overloading of the healthcare system.