Vietnam confirms 71 new COVID-19 infections
Vietnam reported 71 more COVID-19 infections, including one imported case, in the last 12 hours to 6am on June 15, according to the Ministry of Health.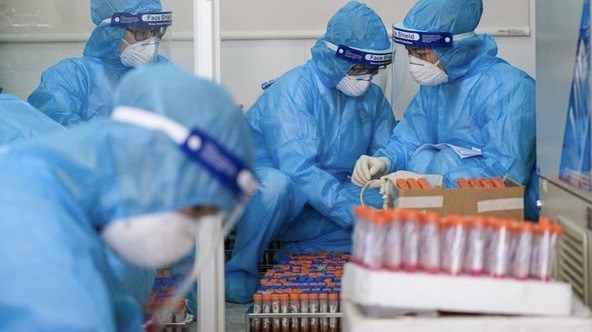 Health workers are preparing samples for COVID-19 testing (Photo: VNA)
Among the locally-transmitted cases, 28 infections were detected in Bac Giang province, 23 in Ho Chi Minh City, and 19 in Bac Ninh province.
The figure raised the national tally to 10,881, including 9,238 local infections and 1,643 imported cases. The number of cases since the fourth COVID-19 wave hit the country on April 27 was 7,668.
The ministry said as many as 4,236 patients have been given the all-clear from coronavirus SARS-CoV-2 so far, while the death toll was 61.
Among active patients undergoing treatment in hospitals, 431 have tested negative for SARS-CoV-2 once, 72 twice and 73 thrice.
Twenty-three provinces have gone through 14 consecutive days without new cases.
As many as 182,462 people who had close contact with COVID-19 patients or entered Vietnam from pandemic-hit regions are currently quarantined across the country, including 2,045 in hospitals, 36,846 in concentrated quarantine establishments and the remainders at their places of residence.
On June 14, an additional 45,328 people in 19 provinces and cities were vaccinated against COVID-19. Over 1.5 million doses of COVID-19 vaccines have been injected to date. The number of people fully got two shots was 59,608.
Two more COVID-19 related deaths reported in Vietnam
Health authorities on June 14 afternoon reported two more deaths relating to COVID-19 – two female patients with critical underlying health conditions.
The country's 60th death was Patient No 8,512 in northern Bac Ninh province. The 87-year-old woman tested positive for SARS-CoV-2 on June 4 and received treatment at Bac Ninh Province General Hospital's Intensive Care Department for high blood pressure, heart failure and Parkinson's disease.
She was transferred to the National Hospital for Tropical Diseases on June 7 because of her worsening health condition. She required endotracheal intubation, ventilator, dialysis and intensive care.
Due to the rapid progression of her infection plus her serious underlying medical conditions and poor health, the patient responded very poorly to treatment. She reportedly died on June 13.
The 61st death was patient No 4,731 in Hanoi's Dong Da district. The 60-year-old woman suffered from Non-Hodgkin's lymphoma since 2019. She received treatment at National Cancer Hospital's Tan Trieu Facility since April 2021.
After she was tested for SARS-CoV-2 on May 19, she was transferred to the National Hospital of Tropical Diseases.
Since May 31, she needed endotracheal intubation because of lung damage. She died on Sunday with cause of death registered as septic shock, pneumonia caused by SARS-CoV-2 and invasive Aspergillus infection./.
Source: VNA

The national COVID-19 vaccine fund has received more than 4.85 trillion VND (211.35 million USD) worth of donations from 291,818 organisations and individuals as of 5pm on June 13, according to the fund's management board.