VietNamNet Bridge – Domestic and foreign experts discussed the challenges of caring for the elderly during a conference early this week.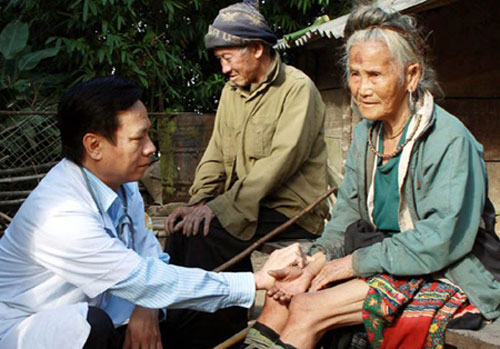 A doctor examines elderly people in Lang Cheu Commune, Bac Yen District in the northern province of Son La. Elderly people make up nearly 10 per cent of Viet Nam's population, posing an increased challenge for the country.
Viet Nam's health sector will face an increased burden as the population ages, as healthcare services for the elderly are severely lacking, said Nguyen Van Tan, Deputy Director of the Health Ministry's General Office for Population and Family Planning.
There were more than 8.6 million elderly people (defined as 60 years old and above) in 2011, accounting for nearly 10 percent of Viet Nam's population, while the rate of over 65-year-olds was 7 percent and is predicted to rise rapidly to 14.75 percent by 2039. Older Vietnamese people mainly live in rural areas and over 70 percent of them must earn their living themselves.
Medical expenses for this group, which account for 50 percent of the nationwide total, are 7-10 times higher than those of young people, according to Pham Thang from the National Geriatric Hospital. The elderly often suffer from diseases such as high blood pressure, diabetes and cancer and need to be treated for the rest of their lives.
Viet Nam issued the Law on the Elderly in 2009, in addition to establishing the National Committee on Ageing and launching a national action programme.
Participants suggested that Viet Nam set a long-term strategy to slow down the ageing population and maintain an appropriate birth rate, while diversifying healthcare services for the elderly.
French models of caring for the elderly in hospitals and rest-homes were also introduced at the conference.
VNS/VNN