Vietnam embraces digital transformation, online teaching in education sector
Thai Van Thanh, director of the Nghe An Education and Training Department, said if there are favorable conditions, online teaching will bring big benefits, especially in remote areas.
Favorable conditions includes facilities. Many different resources are needed so that students in more disadvantaged areas can have computers and smartphones for online study.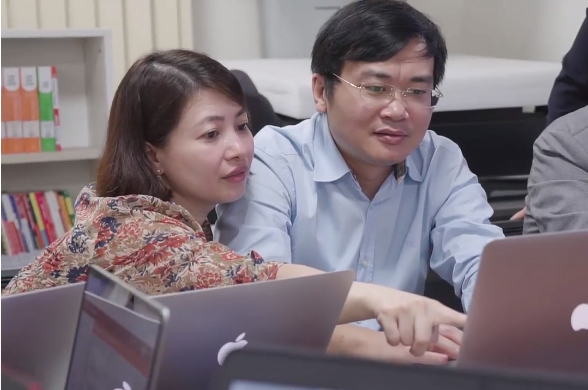 "About 80 percent of students in Nghe An studied online in the last months. The other 20 percent included students in remote areas where the internet still cannot reach and students from families with unfavorable conditions."
The solution Nghe An province chose was to promote study via television. The provincial authorities have been trying to mobilize non-state resources, giving poor students old smartphones and a free internet connection.
Meanwhile, VNPT and Viettel, two of the three largest mobile network operators, have been making every effort to expand internet coverage to mountainous hamlets, so that students can have access to online study.
Nguyen Son Hai, director of the Information Technology Agency, said that online teaching will be effective only if there are sufficient favorable conditions.
"The conditions to ensure effective online teaching include information infrastructure and terminal devices. Students and teachers must have computers or devices with an internet connection," Hai said.
Besides, teachers need to be well trained in teaching online, and students need to be guided on how to participate in online classes and online teaching activities.
Also, there must be instructions on how to organize online classes, and how to examine and assess students' abilities and recognize online teaching results.
Hai said the Ministry of Education and Training (MOET) has joined forces with the Ministry of Information and Communications to call on technology firms to support and sponsor technology infrastructure, and an internet connection and software to help promote online teaching.
More than 80 percent of schools have organized online teaching at different levels, depending on their local conditions.
Two months ago, at a forum discussing education in the post-Covid-19 period, MOET Minister Phung Xuan Nha said his ministry has been collecting videos made by teachers in recent months to create an online digital repository.
There have been four national competitions on designing e-lesson plans, while tens of thousands of teachers have contributed high-quality lesson plans. MOET believes that when Covid-19 ends, the education sector will be able to organize classes using technology, especially online teaching.
Affirming the important role of IT in education, Rector of the Hanoi University of Social Sciences and Humanities Pham Quang Minh said the school has begun applying blended learning (both online and offline) and has added Digital Literacy to the training curriculum for information management majors. 
Ngan Anh

Vietnam has been warned of great challenges when developing online teaching, but it believes that these can be overcome.

General schools and universities have organized online teaching for the last six months because of Covid-19. However, even when the pandemic ends, online teaching will still continue.