Vietnam ensures tourist safety amid coronavirus

Tourism agencies based in Hanoi have been asked to cancel tours to areas affected by novel coronavirus (COVID-19) and refuse tourists from those affected zones.
The request is one measure taken by authorities in Hanoi to ensure the safety of tourists during the epidemic.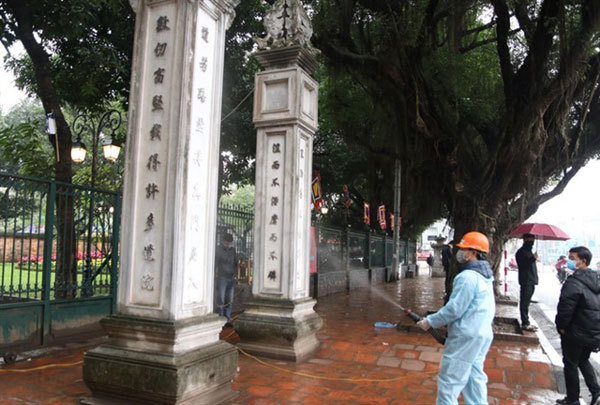 Many tourist attractions in Hanoi like the Temple of Literature are sprayed with antiseptic during the spread of COVID-19. — Photo tienphong.vn

In addition, agencies are requested to keep track of the health and itineraries of visitors so prompt reports can be made for any suspected cases of the virus.
Speaking at a press conference held by Hanoi Party Committee, vice director of Hanoi's Department of Tourism Tran Trung Hieu demanded that tourism agencies take steps to prevent the epidemic from tourists and employees working in hotels, tourism destinations, vehicles, restaurants, recreation centres and offices.
The prevention measures include spraying antiseptic, distributing free masks, placing antiseptic solution in public places and reception areas, reminding tourists and employees to wear masks and wash their hands.
Organisations, travel agencies and accommodations must strictly ensure safety of tourists from China and affected areas who have not yet returned to their countries after the tours.
Tourism agencies and enterprises have to update and report to the Department of Tourism twice a day, before 10am and 4pm, to constantly keep track of the epidemic.
Hanoi's Department of Tourism will inspect and supervise prevention and control at tourism destinations and accommodation in the city.
The department also directs related units to support tourists via phone number 1800556896 that is available 24/7, and information booths which receive feedback and proposals related to COVID-19 prevention from both citizens and tourists.
According to the department, travel agencies and enterprises in the city have proactively followed directions from local authorities, joining efforts to prevent and control the spread of novel coronavirus by cancelling tours to affected areas, refusing bookings by tourists from affected zones and regularly updating information about the disease in Vietnam, particularly Hanoi to promote awareness.
The tourist sites have been enhancing sanitation and providing hand sanitiser at entrances for both visitors and passers-by. Staff at the tourist sites have always been ready to respond to hotlines and inquiries at the information centres.
All employees at tourist attractions have been equipped with knowledge and skills to self-protect and support tourists against COVID-19, including sanitation, wearing masks and reminding others to wear masks before entering the sites.
According to a report by Hanoi's Department of Tourism, it is estimated around 20,000 international tourists cancelled tours to Hanoi and over 15,000 Vietnamese tourists cancelled tours abroad, mainly to China, and over 19,000 domestic tourists cancelled tours to Hanoi from January 24 to February 17.
At the same time, tourist transportation firms have reduced capacity from 40 to 60 per cent.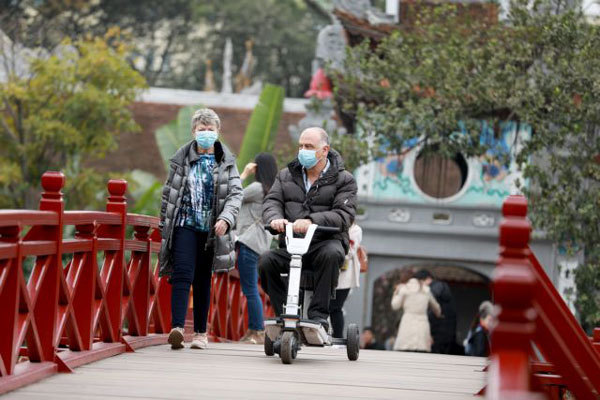 Tourists wear masks visiting Ngoc Son Temple in Hanoi. — VNA/VNS Photo Truong Vi

Safe travel criteria
As stated by the Vietnam National Administration of Tourism, Ministry of Culture, Sports and Tourism, four inspection groups will be established to travel to provinces and cities including Quang Ninh, Lao Cai, Thua Thien-Hue and Da Nang.
The groups with collaborate with local authorities and travel agencies to get hold of the situation. Simultaneously, they will collect feedback about difficulties of tourism enterprises and proposals by local authorities, from which the administration will issue solutions and proposals to the Government to deal with such difficulties and boost the tourism sector after the epidemic ends.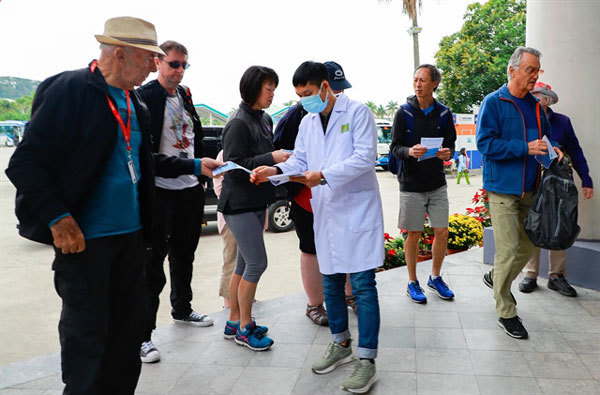 Staffs from the Centre for Disease Control distributes leaflets about COVID-19 to tourists visiting Ha Long Bay. — VNA/VNS Photo

Minister of Culture, Sports and Tourism Nguyen Ngoc Thien has directly worked with the Vietnam National Administration of Tourism and emphasised the need to develop a set of safe tourism criteria to ensure the safety of tourists during their stay in Vietnam.
"This is an urgent requirement in accordance with the actual situation in order to accelerate the recovery of tourism," he stated.
The safety criteria focus on transportation, border gates, sightseeing spots, recreation centres, shopping centres and accommodation to ensure safety for tourists.
On the other hand, communication needs to be strengthened to affirm that Vietnam is always a safe and friendly destination for all tourists.
The minister also directed the Vietnam National Administration of Tourism to continue perfecting the application on mobile phones about safe destinations and building plans for promotion activities and market recovery, particularly in key markets.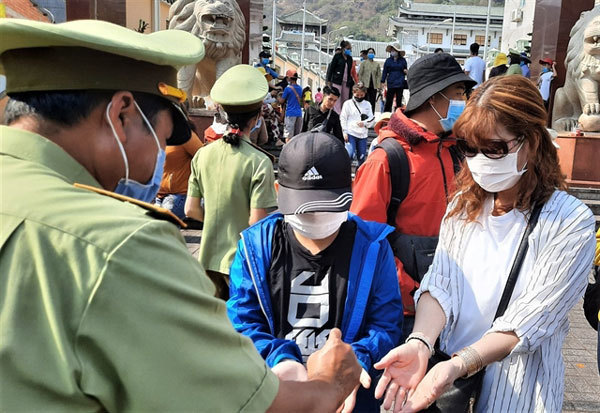 Tourists to Ba Chua Xu Temple in Chau Doc City, An Giang Province are provided with free hand sanitiser before entering the relic. — VNA/VNS Photo Thanh Sang

Earlier, a conference had been organised by Vietnam National Administration of Tourism discussing solutions for tourism sector to cope with the virus.
The solutions include exploiting key and potential markets with convenient transportation and rapid growth like South Korea, Japan, Taiwan and ASEAN countries, in addition to restructuring the markets of international tourists to Vietnam. — VNS
Minister of Culture, Sports and Tourism Nguyen Ngoc Thien has stressed the need to develop a set of travel safety standards to develop the tourism sector, which has suffered since the outbreak of COVID-19.

Tourism operators in HCMC are set to offer promotions to attract tourists after the Covid-19 outbreak.