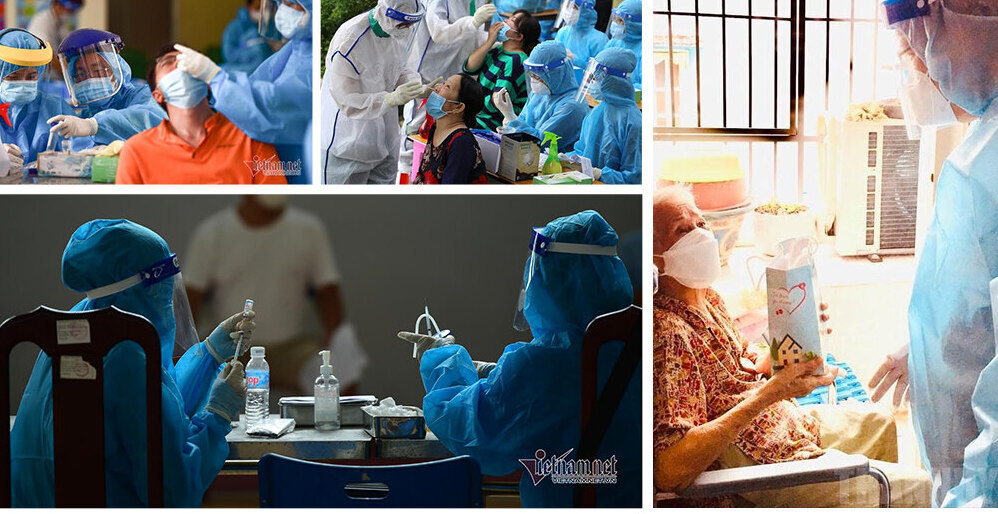 In his closing remarks at the fourth Party Central Committee's plenum on October 7, Trong stressed that it's necessary to implement feasible plans to prevent and control the pandemic, and effectively remedy the consequences caused by the outbreak.
Prior to that, on September 25, at the online session of the National Committee for Covid-19 Prevention and Control with 63 cities/provinces, 705 districts, towns and 10,400 communes/wards, Prime Minister Pham Minh Chinh summarized lessons mentioned by the participants.
The committee and local authorities agreed on shifting from a 'zero Covid' strategy to 'safe and flexible adaption and effective control over the pandemic', recovering the economy when fighting the pandemic.
Vietnam will continue to pursue the 5K (in Vietnamese: Khau trang – facemask, Khu khuan – disinfection, Khoang cach – distance, Khong tu tap - no gathering, Khai bao y te - health declaration) message + vaccine and drugs + technology + people's awareness of testing, quarantine and treatment, as well as the harmonious combination of prevention and attack, the smallest possible isolation areas, faster testing and flexible operations.
The 'purposeful distancing' lesson
The Prime Minister's official telegram to localities about measures to fight Covid-19 has the message of turning communes/wards/towns into 'fortresses' and turning people into 'soldiers' in the fight against the pandemic.
The clear message of the Prime Minister's instructions is that localities must implement purposeful social distancing, which means they must set detailed targets when imposing distancing campaigns.
Social distancing must be implemented within the smallest possible spheres (hamlets, residential quarters). This is a turning point in Vietnam's actions to fight the pandemic. Localities won't isolate entire districts or provinces when positive Covid-19 cases are found as they did in the past.

Vietnam will continue to pursue the 5K principle + vaccine and drugs + technology + people's awareness of testing, quarantine and treatment, as well as the harmonious combination of prevention and attack, the smallest possible isolation areas, faster testing and flexible operations.
When imposing lockdowns, localities must strive to control the pandemic as quickly as possible, within 14 days and drastically apply necessary measures to reach that goal.
Ha Nam province has been cited by Chinh as a good example of pursuing the strategy set by the national committee.
Ha Nam Province's Chairman Truong Quoc Huy stressed the importance of testing in areas with high risks, saying that the testing campaigns helped discover 99 cases. Carrying out tests at a lightening speed, faster than the virus spreads, plays a decisive role in fighting the pandemic.
Huy also mentioned the experience on localizing hotbeds. At first, the province intended to impose social distancing on the entire city of Phu Ly with 180,000 people.
However, he was warned by the Prime Minister that large-scale isolation would arouse difficulties in goods circulation and food supply to people. Finally, the local authorities decided to isolate some places only after an urgent night meeting. In a ward with 12,000 people, only one alley with 36 households and 100 people was isolated.
Testing must be faster than virus spread
When the outbreak occurred in HCM City, the local authorities decided that it was necessary to carry out large-scale testing campaign. The decision then faced opposition from some people, who believed it was unnecessary and too costly. However, the results have shown that it was a right decision.
On September 11, Minister of Health Nguyen Thanh Long said at a meeting that if Hanoi had not organized large-scale testing, it would have had hundreds of thousands of infection cases.
After three lockdowns, Hanoi Mayor Chu Ngoc Anh signed a decision on testing 100 percent of people in the city from September 6 to 12.
With support from neighboring provinces, Hanoi fulfilled the testing campaign and gave 600,000 vaccination jabs a day, paving the way for the loosening of lockdown.
Kien Giang Party Committee Secretary Do Thanh Binh on September 25 said that after being criticized by the PM, the province immediately implemented five important tasks as instructed by PM to fix problems.
The province conducted large-scale testing, with a focus on communes/wards/towns with high and very high risks in five districts and cities within five days and through three campaigns.
Thanks to drastic measures, it has controlled the situation, re-considered the risk levels and decided to change the status by region since September 20.
Safe adaptation
In treatment strategy, Vietnam made a turning point when, instead of bringing all positive cases to medical units, it let asymptomatic patients and patients with mild symptoms stay at home and be treated with drugs delivered to them. The new strategy has helped ease overloading at healthcare facilities.
According to HCM City Vice Mayor Duong Anh Duc, the city has shifted to paying higher attention to treatment at grassroots level, timely treating newly discovered positive cases, quickly organizing tests and delivering drugs, giving psychological advice and instructing patients about how to take care for themselves.
According to Duc, the flexibility in treatment has helped ease the rate of patients becoming more severely ill or dying, and has mitigated the pressure on concentrated quarantine zones and field hospitals.
To implement the new strategy, the city has established 531 mobile clinics, strengthened counseling and monitored positive cases from a distance via Switchboard 1022, and improved the performance of the 115 emergency service. 
Bao Van

Hanoi's strategy of quickly isolating areas where positive cases were found and carrying out testing campaigns at "lightening speed" helped prevent the spread of the virus.  

Having struggled with Covid-19 for two years, Vietnam has step by step controlled the outbreaks. The reduction in the number of infections and deaths shows that the country is on the right track.