Vietnam establishes airborne security force to prevent terrorism and illegal interference
The Ministry of Public Security has officially established the Airborne Security Department, which is responsible for preventing and combating terrorist attacks and unlawful interference to ensure aviation security in Vietnam.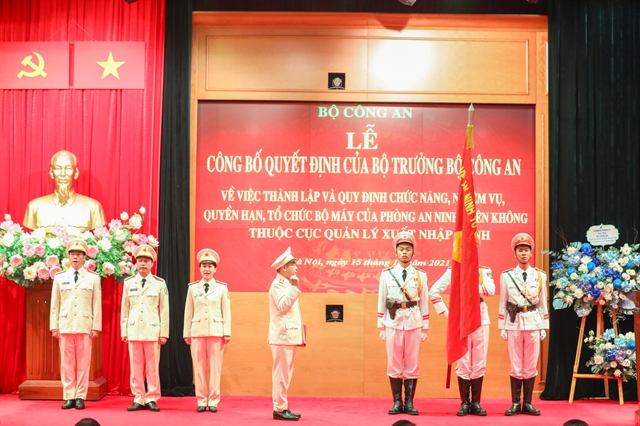 Lieutenant Colonel Phan Huy Van,head of the newly-established Airborne Security Department took the oath of office on Monday in Hanoi.
According to the ministry's Department of Homeland Security, Vietnam has not recorded evidence of intentions to commit terrorist acts, especially suicide attacks, by terrorist organisations in the country.
Southeast Asia, with more than 300 million Muslims, is emerging as a source of manpower for radical Islamic terrorist organisations. This puts representative organisations of the United States and Western nations on counterterrorism coalition in Vietnam at risk of being attacked by international terrorist organisations.
Although aviation security has been improved, there are potential risks of unlawful interference in civil aviation, it said.
There are still specimens and dangerous objects which remained undetected during aviation security screenings annually. Vietnam has received a request to deploy airborne security forces when opening a direct flight to the US.
After the Government issued Decree No. 922015 on October 13, 2015 on aviation security, the Ministry of Public Security directed the Border Security Department under the General Department of Security (now the Immigration Department) to build a scheme on airborne security force.
The Immigration Department has coordinated with ministries and agencies to complete the tasks and reported to the ministry for approval in early 2020.
The Airborne Security Force would be in charge of preventing and combating terrorism, unlawful interference to ensure flight security of Vietnamese airlines. It would collect, synthesise, analyse, evaluate and forecast the situation related to acts that threatened the security and safety of Việt Nam's civil aviation.
In addition, this force would give advice and propose the Immigration Department on guidelines and plans to proactively detect acts of terrorism.
It would take responsibility to coordinate with the flight crew in handling unlawful interference or unexpected situations. It would be allowed to use weapons or technical means in order to neutralise illegal acts of interference against the aircraft according to the provisions of law. It would also coordinate with airlines and functional forces at home and abroad to solve problems related to security on aircraft.
In special cases, the Airborne Security Force would require the Immigration Department to suspend flights when there were possibilities of terrorist attacks or unlawful interference.
This force would coordinate with the Ministry of Public Security and the aviation industry to escort people who were extradited or serving prison sentences from abroad to Vietnam and vice versa, expulsed foreigners, Vietnamese deported people or those wanted by Interpol.
The Ministry of Public Security would be in charge of recruiting and training officers to deploy security forces in the air on flights and routes, it said.
Source: VNS