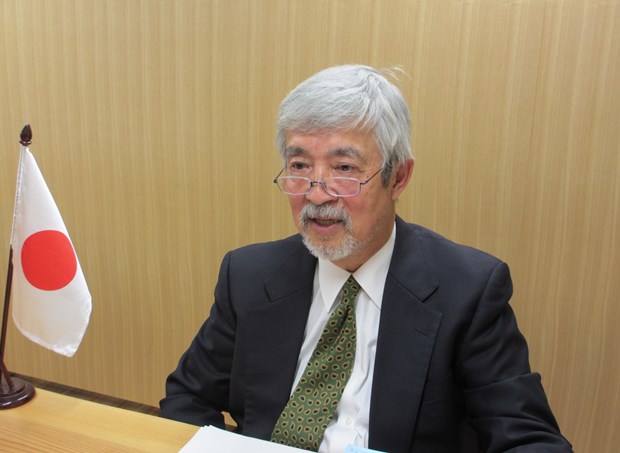 Director of the Vietnam Economic Research Institute Hiroyuki Moribe gives an interview to the Vietnam News Agency 
In an interview with a Vietnam News Agency correspondent in Japan, he said Vietnam had responded well to the pandemic by deciding to hold the ASEAN Summit via video conference.
As ASEAN Chair, it assumed the burden of responsibility for leading the bloc in outlining measures to address a wide range of important issues, he said, adding that many countries have lauded Vietnam's coordination capacity in organising the summit, which involved the participation of powerful nations such as China, Japan, and the Republic of Korea.
Hailing the theme of ASEAN 2020 - "Cohesive & Responsive" - Moribe said it was suitable with the circumstances and the summit, which saw parties adopt the ASEAN Comprehensive Recovery Framework to cope with the outbreak.
Though COVID-19 drove many nations to carry out a "country first" policy, Vietnam maintained the uninterrupted operations of production supply chains and promoted the signing of a number of free trade agreements.
The ASEAN Chair 2020 also maintained stability amid fierce competition between the US and China, and thanks to its performance, the country will attract more foreign investment in the time ahead, he said.
Other sectors will be also promoted, as there have been so few coronavirus cases in Vietnam, he added.
Touching on the Regional Comprehensive Economic Partnership (RCEP), Moribe said the pact was signed without the participation of India - a regional country with a large population.
India's return to the RCEP would bring substantial benefits to ASEAN countries, he believes, since it will be much easier for the bloc to control the trade pact.
China, a member of the RCEP, is thought to gain a bigger market share and have an increasing influence over ASEAN in the future, so how ASEAN member states maintain relations with the country is of utmost importance.
He expressed a hope that Vietnam and other ASEAN states would work closely with Japan to create a free trade agreement that brings more benefits to ASEAN. He suggested that Hanoi, where the RCEP was signed, can be a good choice to house the RCEP headquarters.
Regarding the response to an increasingly complex international environment due to political-geographic competition between powers and also the pandemic, he suggested that together with the US and China, ASEAN, as a global hub of developing economies, be more proactive in identifying measures to resolve global issues.
The bloc needs further cooperation with China, Japan, and the Republic of Korea to reduce greenhouse gas emissions and promote digital transformation, he said, adding that links with powerful countries, coupled with solidarity and unification, would shape ASEAN's influence./.VNA