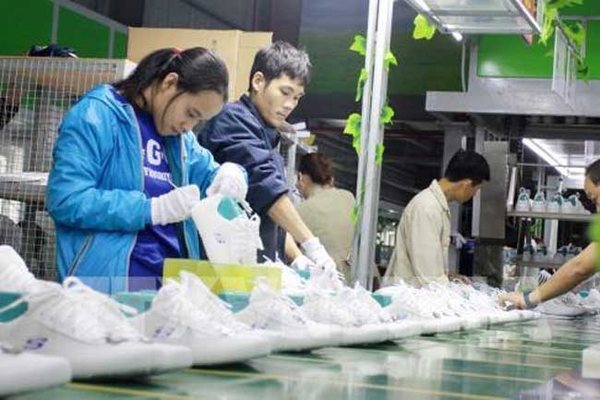 Workers manufacture shoes at Phuc Mau Co., Ltd, in the northern province of Thai Binh. Leather and footwear exports are expected to exceed US$22 billion this year -
A 2019 breakdown of Vietnam's worldwide exports shows US$18.3 billion from footwear and US$3.75 billion from handbags, wallets, suitcases, hats and umbrellas expected for the whole year.
Officials note that the increase in leather exports is largely due to foreign investment from China to Vietnam, as a result of the U.S.-China trade war, along with benefits for Vietnamese exports coming from the free trade agreements it has signed.
However, the sector has faced challenges to meet the target. The lack of input materials for the sector has forced Vietnam to make significant expenditures on material imports, hindering the development of local supporting industries and the fulfillment of commitments on product traceability.
Moreover, labor productivity in the sector is low. A Vietnamese worker can make three to four pairs of shoes per day, while a Chinese worker can produce seven to eight pairs.
The sector's added value and foreign currency revenue remain low as well. Domestic firms produce only one-fifth of the total footwear product volume, while the remainder is manufactured by foreign-invested firms.
According to the General Department of Vietnam Customs, Vietnam exported US$10.36 billion worth of footwear and US$2.14 billion of handbags, wallets, suitcases, hats and umbrellas in the January-July period, a respective increase of 12.9% and 10.6% over the same period last year.
In total, leather goods and footwear generated US$12.51 billion in export revenue in the period, up 12.5% year-on-year, well above the country's overall export growth of 7.8%.
This growth was impressive, compared with the target, and meaningful to more than 2,000 enterprises operating in the sector with over 1.5 million workers. The results helped Vietnam rank third in terms of production volume and second in exports.
In the seven-month period, 44 import markets of Vietnam's leather and footwear products reported export turnover of over US$10 million each, including 15 markets reporting export revenue of more than US$100 million each. Many markets posted significant growth, such as the United States, China, Belgium, Japan, India and Canada. SGT

China is the largest export market of Vietnam, accounting for 27 per cent of the country's total export turnover.
Businesses are optimistic about the prospects of the two largest export markets, the US and China, after the Chinese yuan for the first time fell from the 'red line' since 2008 to 6,9225 yuan per dollar.