Vietnam expects the switch in education workforce

Vietnamese teachers currently spend too much time on administrative tasks instead of focusing on teaching which restrains the country's education sector from unleashing its potential.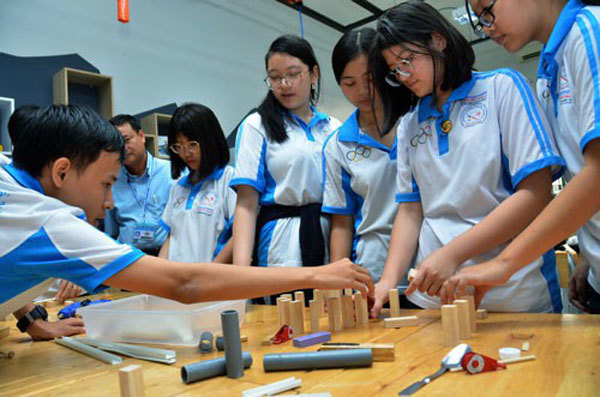 STEM education. (Illustrative image -- File photo)
An innovative approach which puts students at the forefront with teachers and other professionals supporting them will ease the burden on school staff and better cater for children.
The warning was voiced by experts as details of the report "Transforming the Education Workforce: Learning Teams for a Learning Generation" was released in Hanoi on Wednesday.
Issued by the Education Commission, a global initiative working towards Sustainable Development Goal 4 – ensuring inclusive and quality education and promoting lifelong learning for all, provides innovative visions for concreting, diversifying and reshaping an education workforce with an aim to offer inclusive and high-quality education for all students.
According to the report, quality of teachers is key to improving standards but many countries, including Vietnam, are facing limited access to resources to improve their capacities and apply technology.
Amy Bellinger, leader of the Education Workforce Initiative – the Education Commission's body in charge of the report, suggested three interactive visions which would help to tackle urgent challenges and ultilise opportunities for positive changes, especially in developing and low-income countries.
The first vision involves the enhancement of existing systems which aims to professionalise education workforce through processes of recruitment, capacity development and management.
The improvement of initial teacher training standards was also stressed as the core solution to raise learning results.
The second vision touches upon the development of learning teams which consist of professionals including qualified teachers, trainee teachers and welfare professionals of all levels – classrooms, schools, districts, nations and beyond – aiming to boost students' inclusion.
"This means the diverse needs of children can be met and teachers can focus on teaching and have greater support. It takes a team to educate a child," explained Bellinger.
"Using a learning team approach is about investing in social capital as well as a human capital in the education workforce," she added.
The third vision, on a larger scale, emphasises the need of transforming an education system into a learning system.
A learning system, the report suggests, gathers networks of educators and professionals, interdisciplinary partnerships and data sharing system.
"Most education systems were designed during the Industrial Revolution to bring education to the masses," said Ju-Ho Lee, the initiative commissioner.
"Now, more than 150 years later, we need an education workforce and system that can respond to the rapid changes in today's world – demographic shifts, environmental changes, scientific advances and technology innovation."
Although Vietnam outperformed many high-income countries in the Programme for International Students Assessment, the country's thriving economy is asking for different types of skills and innovations, the Education Commission Director Liesbet Steer suggested.
Vietnam's application
The National Assembly has approved the 2019 Education Law which formalise the expenditure of 20 per cent of the State budget for education and training activities.
According to Ta Ngoc Tri, deputy director of Deparment of Primary Education, any primary and secondary school teachers will be required to hold at least one university bachelor degree. The rising standard is expected to ensure the switch from the education based on a general curriculum to the education individualised for each students.
The general educational curriculum unveiled in December 2018 places a focus on STEM education through the learning-by-doing approach.
Ministry of Education and Training in collaboration with the US-based Arizona State University is now working on the "high tech, high touch learning" which experiments and analyses how adaptive and active learning can free up teachers' time and help them focus on developing students' ability of discussing, project building, problem solving and other soft skills.
Nguyen Quy Thanh, director of University of Education under Vietnam National University – Hanoi, said the approach had been applied for trainee teachers and piloted in teaching mathematics and literature for tenth graders.
"Normally, there are from 50 – 60 students in a classroom, making it possible for a teacher to monitor them all. We are developing an AI-integrated system which helps teachers assess students to offer them constructive consultations and advice based on their needs," he said. "Without technology application, it is impossible to provide personalised education."
In order to push forward the country's education quality, it was also essential to develop capacity, leadership, commitment and growth mindset among teachers-to-be, Thanh said. He also cited the cheating scandal in the 2018 National Examination in three mountainous northern provinces of Ha Giang, Son La and Hoa Binh which involved many educators and officials as "the bitter experience showing that if we do not pay right attention to promote education workforce it can bring out negative results".

Education experts have warned that new policies would lead to the mass production of bachelor's and master's degree holders.

Upgrading higher education quality rrequires restructuring the university system and shutting down low-quality establishments, experts say.

Local and foreign investment is being poured in greater volumes into Vietnam's education sector given the interest among Vietnamese people in quality education.
VNS