Vietnam fears it may lose qualified workers to ASEAN countries
VietNamNet Bridge
- Labor experts have warned that Vietnam would have to fight against a brain drain when it joins the ASEAN Economic Community (AEC), slated for 2015.
VietNamNet Bridge - Labor experts have warned that Vietnam would have to fight against a brain drain when it joins the ASEAN Economic Community (AEC), slated for 2015.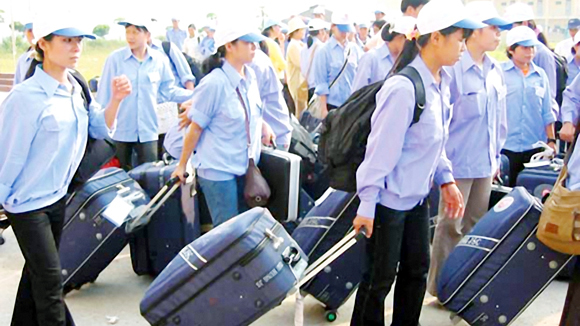 Nguyen Dinh Quang, director of a small business that makes chemicals in Hanoi, complained he could not find anyone for the post of chief accountant, though he offered a "relatively attractive" monthly salary of VND10 million a month.
"In general, qualified workers do not want to work for small businesses," he said, adding that his business plan has been upset because of the lack of qualified personnel, including marketing and production directors.
Pham Dinh Doan, chair of Phu Thai Group, noted that the low quality of the labor force is a headache to Vietnamese businesses, most of which are small and tiny.
"The Vietnamese workforce quality is low, while qualified workers prefer working for multinational groups," he noted.
A recent survey in HCM City found that the labor shortage is most serious in industry. Sixty-seven percent of businesses in the field said they could not find qualified managers.
Meanwhile, 51 percent of businesses in the service sector said they lack high-quality managers. All businesses said they have to spend time to retrain their workforce after the recruitment, because the skills the workers receive from schools are not good enough to satisfy the requirements.
The director of a HCM City-based company said he has lost three key managers just in the last three years. One has left Vietnam for the US, while the others have shifted to work for foreign invested enterprises to receive higher salaries.
The director went on to say that the situation would be even more serious in the time to come, when the single ASEAN labor market is set up within the framework of AEC.
Doan estimated that about 20 percent of Vietnamese workers have high skills and qualifications. He warned that the 20 percent would leave for other ASEAN countries which all need good workers.
Nguyen Duc Thanh, director of the Center for Economics and Policy Research, noted that Singapore and Thailand are 'magnets' that will lure the best workers in the region.
A report showed a high 15-25 percent qualified-worker displacement proportion in Vietnam. The proportion is especially high, at 30 percent, for hotel managers and pharmacists.
Meanwhile, Mark Billington, regional director of ICAEW (Institute of Chartered Accountants in England and Wales), noted that Vietnam still does not have any long-term human resource development policy to retain talents.
While many other regional countries including Singapore and Thailand have begun applying the human capital management, most Vietnamese businesses are still busy with managing personnel and human resources in accordance with profiles, and salary and bonuses.
Tran Thuy