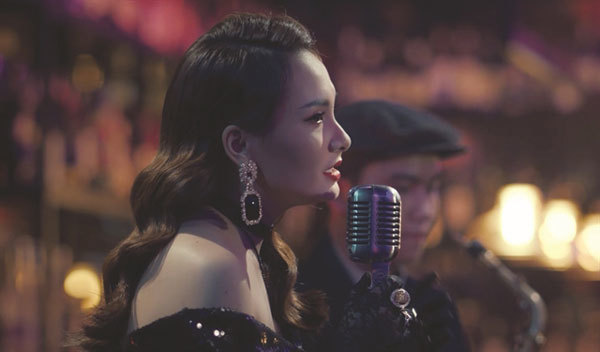 A scene in Đôi Mắt Âm Dương (Eyes of Evil), a horror comedy production by Nhat Trung to be released during Tet, which falls on January 24. (Photo courtesy of the producer)
Leading film companies Thien Ngan (Galaxy) Studios and Phuoc Sang Film now must compete with newcomers, Vietnamese-American producers Luu Huynh and Quang Huy.
Thien Ngan and producer Nhat Trung said their Đôi Mắt Âm Dương (Eyes of Evil) is expected to be successful because of its horror theme. The large cast of famous performers will also help to sell more tickets.
The film depicts the lives of beautiful women who are hunted in a house in Da Lat. Their lives and deaths are secret until they go toward the light.
To guarantee the film's success, producer Trung invited Quoc Truong and Bao Thanh, who are both involved in theatre, film and TV shows, to play leading roles.
People's Artist Ngoc Giau and comic actress Thu Trang are also featured.
The trailer for Đôi Mắt Âm Dương attracted more than 25,000 views on YouTube after its release this week. It is expected to become a blockbuster during the holiday season.
"I predict that horror comedy films will be big hits with youngsters who are looking for more entertainment," said the film's producer and director Trung.
The film's biggest competitor, 30 Chưa Phải Là Tết (Tết Has Not Come Yet), is a comedy featuring famous actor Truong Giang in a leading role. The film highlights love and traditional family values.
"I hope the film will hit record ticket sales this Tet," said the film's producer and director Quang Huy.
Huy spent a big sum to invite comedian Giang because he thinks the actor "is a big name to lure audiences to my film", he said. "I used 3D technology in my film because I wanted to add something different to a market dominated by Hollywood and Korean films."
30 Chưa Phải Là Tết features kung-fu action scenes and funny dialogue.
Both Đôi Mắt Âm Dương and 30 Chưa Phải Là Tết will be released on January 24, the first day of Lunar New Year.
Unlike Trung and Huy, Vietnamese-American producer and director Luu Huynh faced challenges in releasing his comedy Tiền Nhiều Để Làm Gì ( Mo' Money, Mo' Problems) for Tet.
"We had to work hard to make a deal with cinemas and film distributors to show our film in cinemas during the holiday," said a representative of the film's producer, Phuoc Sang Films.
"During the first few days of the holiday, cinema owners find it hard to decide screening schedules, but we filmmakers want our productions to be screened at all cinemas to earn decent profits."
Tiền Nhiều Để Làm Gì stars comic actor Hiep Ga and fashion model Ha Viet Dung in leading roles, which is expected to lure their fans to cinemas.
Meanwhile, BHD, a leading film company and distributor, hired a youthful and attractive cast for its film, including Kha Ngan, Hoang Yen Chibi and Quoc Anh.
The love story, Bí Mật Của Gió (Secret of the Wind), is directed by Nguyen Phan Quang Binh.
Director Bình became famous after his film, Cánh Đồng Bất Tận (The Floating Lives), won Silver Kite awards for Best Feature Film and Best Leading Actress at the Viet Nam Film Festival in 2010.
Binh spent five years to compete Bí Mật Của Gió. "I wanted to improve myself before starting a new project," said Binh, in a recent interview with local media.
Tiền Nhiều Để Làm Gì and Bí Mật Của Gió will be released after Tet, on January 30.—VNS
By Thu Anh

During the upcoming Tet holiday, cinemagoers will be able to enjoy not only comedies but also a horror movie that will be released on the first day of the Lunar New Year.

The Friends of Vietnam Heritage (FVH) will host a screening of the Vietnamese comedy movie Về Quê Ăn Tết (Going Home for Tet) by director Nguyen Hoang Anh on Sunday.