Vietnam, foreign airlines suspend flights to South Korea on epidemic fears

Both Vietnamese and foreign airlines have suspended flights to South Korea until March as a precaution against the spread of the COVID-19 epidemic.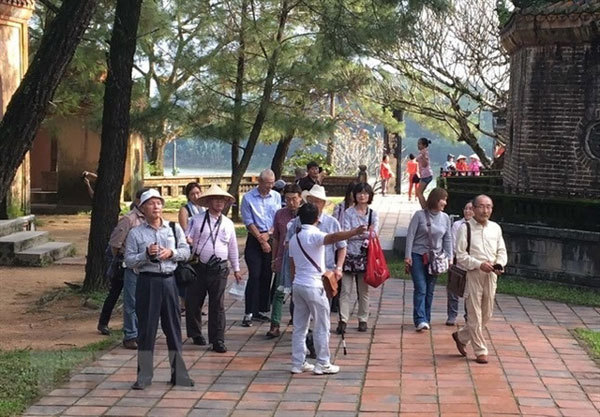 South Korean tourists visit Vietnam. 
Bamboo Airways has cancelled flights from Nha Trang and Da Nang to Seoul indefinitely from February 26.
It currently operates seven flights a week on these routes.
Passengers who have booked tickets during the suspension period will receive full refunds.
Vietnam Airlines has also suspended some flights, though not all, between Seoul and Hanoi.
"We are following the direction given by the authorities on disease control, and so will have plans to suspend or adjust flights accordingly."
The carrier has two return flights between Hanoi and Seoul every day.
According to the Korea Tourism Organisation (KTO) in Vietnam, Korean Air will suspend flights between Seoul and Hanoi from February 25 to March 23.
Air Seoul has announced the suspension of Hanoi - Seoul flights from March 1 to 28.
Its services from Seoul to Da Nang and Nha Trang remain normal.
Asiana Airlines had earlier suspended its Seoul – Hanoi service from February 18 to March 9.
T'Way Air has suspended all flights between Hanoi and South Korea until March 28. It currently operates 12 flights a day from Hanoi, Da Nang, Nha Trang, and HCM City to Seoul, Busan and Daegu.
Tran Phuong Linh of Ben Thanh Tourist said all tours to South Korea in March would be cancelled.
Around 50 per cent of tours to Japan in March will also be cancelled. The remaining await a decision later based on the status of the epidemic.
A representative of Hana Tour, which targets the South Korean market, said the number of visitors between Vietnam and South Korea has plummeted in both directions.
The company has not had any new tours since February, he said.
South Korea is the second largest tourist market for Vietnam after China, with the number of Korean tourists growing steadily by around 20 per cent a year.
With South Korea facing a Covid-19 outbreak, tourism businesses are worried that the number of tourists from there will sharply decline.
The HCM City Department of Health has urged the Ministry of Health to allow it to quarantine people transiting through or coming from South Korea at the airport.
The Ministry of Foreign Affairs and the Vietnamese embassy in South Korea have recommended that Vietnamese citizens should avoid travel to areas affected by COVID-19 and places vulnerable to the disease in that country.
They have also been advised to keep a close watch and follow the instructions of local agencies to ensure they do not contract the illness.
South Korea has announced the highest possible alert, which empowers the Government to lock down cities and take other sweeping measures to contain the outbreak.
The number of novel coronavirus cases in South Korea shot up to 763 and death toll at 7 yesterday, up from only 30 a week ago, YONHAP reports. — VNS

Travellers from South Korea's Daegu and North Gyeongsang will be quarantined for 14 days upon arrival in Vietnam, the Ministry of Health announced on Monday.
Vietnam's Bamboo Airways will suspend flights from the central cities of Da Nang and Nha Trang to the Republic of Korea (RoK)'s Incheon city as from February 26 over coronavirus concerns.