Deputy Prime Minister Pham Binh Minh urged the Ministry of Planning and Investment (MPI) to finalize the draft decree governing Official Development Assistance (ODA) management and utilization, which should be submitted to the government before February 20.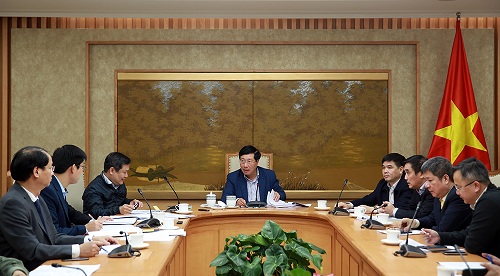 Overview of the meeting. Source: VGP. 
The new decree should ensure consistency with regulations in the Law on Public Investment (2019), the Law on Public Debt Management (2017), the Law on State Budget (2015), and the Law on Treaties (2016), said Minh in a government meeting on February 10.
Under current regulations, the ODA funds and preferential loans from foreign donors are under the category of public investment fund, and therefore, subject to the enforcement scope of the Law on Public Investment.
However, the draft Decree providing specific guidance for the implementation of the Law on Public Investment only applies for programs and projects using public investment funds, not those using ODA funds.
The draft decree on ODA is expected to address pending issues and obstacles existed in current regulations, ensuring high feasibility and reflecting the present situation of using ODA in Vietnam. 
Additionally, the new decree would enhance efficiency in state management and simplify administrative procedures in receiving non-refundable ODA.
Vietnam's graduation from the International Development Association (IDA) in 2017, the World Bank's fund for low income countries, led to less favorable loan terms, Minh expected new regulations on using ODA would create the most supportive environment for receiving and using such fund.
Over the past years, the Vietnamese government has issued a number of laws and regulations for greater efficiency in attracting foreign investment capital, including the Prime Minister's decision setting up visions for attracting and using ODA and preferential loans in the 2018 – 2020 period, with vision to 2021 – 2025, and the revised Law on Public Investment, among others.
The government also requested to transfer funds from projects with low disbursement rate to those in needed to speed up the implementation process; not using loans for regular spending; tightening management of outstanding loans.
In a meeting last June between the Vietnamese government and donors, Asian Development Bank (ADB) country director for Vietnam Eric Sidgwick expressed concern that complicated and time-consuming procedures in implementing projects have led to low disbursement rate of the ODA in Vietnam.
Sidgwick pointed to the fact that Vietnam's average disbursement rate is less than half of the previous periods and slower than other countries that receive ODA from ADB.
Vice Minister of Finance Tran Xuan Ha added low disbursement rate could lead to additional costs and higher commitment fees for the government, which are charged by a lender to a borrower for an unused credit line or unspent loan. 
More importantly, there could be potential contract dispute between project owners and contractors, affecting Vietnam's credibility, Ha said. Hanoitimes
Ngoc Thuy

Starting October 15, the Ministry of Finance is scheduled to disclose the disbursement data on a 15-day basis at http://mof.gov.vn.

Vietnam is striving towards boosting the disbursement and use of ODA and concessional loans as both have become issues in recent times.