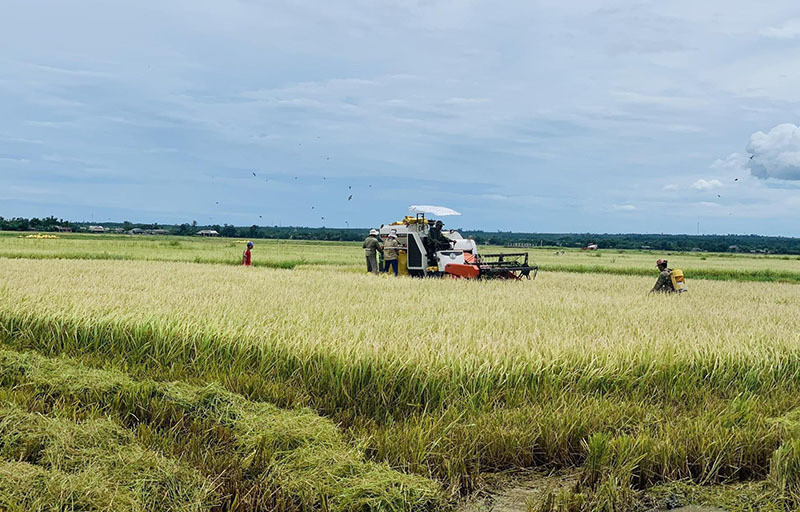 Nguyen Thai Binh, director of Trung An Hi-tech Agriculture JSC, said the company had an order for 8,000 tons of fragrant rice. Earlier, it received an order for 20,000 tons of rice from South Korea.
According to Binh, the 5-percent-broken rice price is high and will increase in the coming time. High-quality rice prices are also high at $750-1,200 per ton.
Choosy markets such as Europe, South Korea, Australia and the Middle East favor Vietnam's high-quality rice products. Binh said that rice exports in 2023 would be good with revenue up by 30 percent year-on-year.
The Vietnam Food Association (VFA) confirmed that Vietnam's rice export prices have been increasing. On December 24, 5-percent-broken rice was offered at $453 per ton, up by $10 per ton over early December, while 25-percent-broken rice was $438 per ton, up by $5.
Some exporters said the price of ST24 and ST25 rice to the Middle East and Europe is more than $1,000 per ton.
Nguyen Duy Thuan, general director of Loc Troi Group, said the company's rice exports to Europe rose by 200 percent in 2022, so revenue increased by 150 percent.
According to the Ministry of Agriculture and Rural Development (MARD), rice export output in 2022 was 7.2 million tons, the highest in the last few years, nearly 1 million tons over the plan, earning $3.49 billion, the highest since 2013.
Exports to the US soared by 85 percent, and to the EU by 82 percent.
Agriculture experts said that Vietnam's rice exports in early 2023 would be good. The quality and safety of Vietnam's rice has improved so it has been chosen by fastidious markets.
MARD wants to prioritize growing short-term high-quality rice, and fragrant rice that fits the tastes of the market, and to reduce the cultivation of medium-quality rice and sticky rice.
Tam An