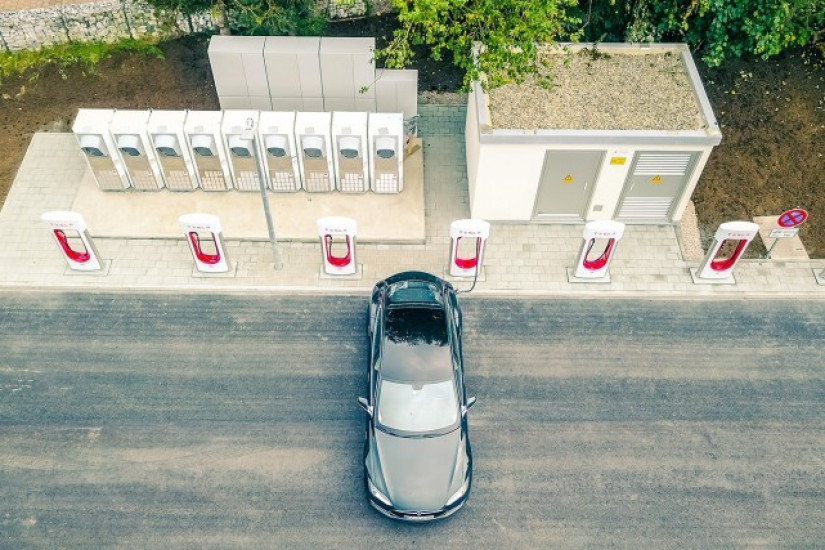 Vietnam, with a population of nearly 100 million, is a promising electric car market in the near future.
Pham Tuan Anh, Deputy Head of the Industry Agency under the Ministry of Industry and Trade (MOIT), said the development of electric cars depends on the legal framework and the country's policies on encouraging the industry development; additional encouragement to protect electric car sales from recession; and the number of electric cars which can be expanded and have low battery prices.
Of these, the legal framework plays the most important role.
Meanwhile, the infrastructure for electric cars in Vietnam is underdeveloped and necessary policies to develop electric car manufacturing do not exist. Electric cars now only enjoy a preferential luxury tax, with the tax rate lower than petrol/oil-run cars.
A representative from the General Department of Standards, Measurement and Quality said Vietnam still lacks standards for electric vehicles and the existing standards do not match international standards. These are obstacles for enterprises that want to develop electric cars.
Truong Ba Tuan, Deputy Director of the Tax Policy Department, said Vietnam has affirmed its determination to develop environmentally friendly vehicles in many Party and State documents and resolutions, including policies on luxury tax, import/export tariffs and other preferential policies. However, the policies need to be adjusted to suit real conditions and turn the dream of making electric cars into reality.
Dam Hoang Phuc from the Hanoi University of Science and Technology said many economies apply policies to encourage electric car manufacturing, which allows the industry to develop rapidly and obtain rising sales.
"The governments provide financial support to selected research projects, as well as define technical standards and the impact on the environment," Phuc said.
The expert affirmed that Vietnam has great advantages in developing electric cars because it 'has fewer things to lose' than other countries, which have been gathering resources on making cars with internal combustion engines.
However, he warned that if Vietnam cannot grab the opportunity immediately, it will become a 'technology dumping ground' for the world.
Phan Thuy Duong from Vinfast, said that countries with strong electric car industry such as China, the US, and in Europe, all have policies giving strong support to the industry, and Vietnam should learn from these countries.
"Vietnam is now having a golden opportunity to develop electric cars. We have many clean sources of power such as wind and solar power. Manufacturing cars is a new field where we are at the same starting point with other regional countries, and we even have some stronger advantages than them," Duong said.
At the workshop, the Vietnam Automobile Manufacturers Association (VAMA) suggested a roadmap for Vietnam's electrified vehicles from now to 2050, comprising three stages.
The first, in 2021-2030, Vietnam would have 1 million electrified cars by 2028.
The second, in 2030-2040, will be a period of high growth, with 3.5 million cars by 2040.
In the third period, 2040-2050, the growth rate would be stable and Vietnam would have 4.5 million cars by 2050.
VAMA said the development orientation and roadmap still depends on the strategies, capability and scale.
The production cost of electric cars is 45 percent higher than internal combustion engine cars. Electric cars will be more expensive if there is no support from the State.
Experts predict that hybrid models (HEV - hybrid electric vehicle - and PHEV - plug-in hybrid electric vehicle) have high development potentials by 2030. After that, BEV (battery electric vehicle) will surpass HEV and PHEV.
Tuan said development depends on the application of luxury tax based on tCO2 emissions; preferential policies to attract FDI projects, and renewable energy to provide clean electricity to recharging stations.
Tran Quang Ha from Ministry of Transport said that standards for electric cars should be set up so that enterprises can calculate their investments.
In Vietnam, Vinfast remains the only electric car manufacturer. A local newspaper reported that it plans to launch three new electric car models, including VF e32, VF e33 and VF e34P, from 2023.
The other electric car models available in Vietnam are imports. But the imports just advertise their brands and technologies, and are not for commercial sale. 
Hoang Hiep

The Ministry of Finance is collecting opinions on a draft decree amending and supplementing a number of articles of Decree 140 of the Government on registration fees.

Billionaire Pham Nhat Vuong's Vingroup Corporation has announced it will contribute 51% capital, equivalent to 510 billion VND, to establish VINES Energy Solutions Joint Stock Company (VinES).