Vietnam has great opportunity to be a global production base
Vietnam is becoming a destination for global manufacturers, an opportunity that needs to be taken full advantage of.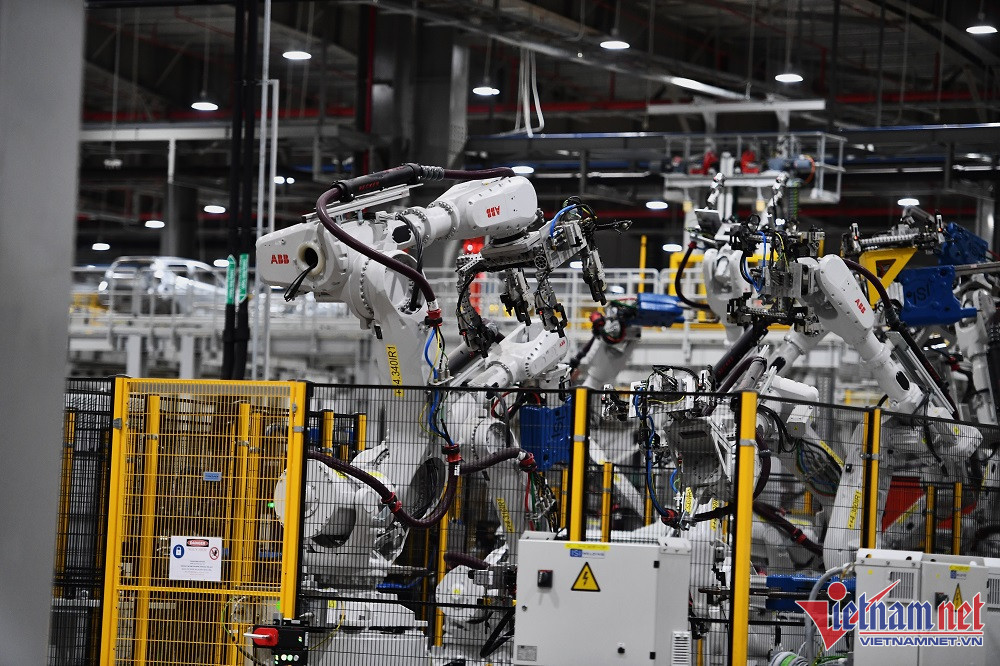 Apple is relocating a production line of MacBook from China to Vietnam with the support of Foxconn. Foxconn leased 50.5 hectares of land in Bac Giang province last August to develop a new project capitalized at $300 million. It is expected that MacBooks will be made in Vietnam from mid-2023.
The move has paved the way for some large manufacturers to come to Vietnam and produce semiconductor chips.
According to the Ministry of Planning and Investment (MPI), in 2022, Vietnam attracted $28 billion of foreign direct investment (FDI) to various business fields, including the processing and manufacturing industry with capital of $16.8 billion, or 60.6 percent of total investment capital.
Vietnam, a member of 15 next-generation free trade agreements (FTAs) that is making a strong effort to reform its business environment, has become an attractive destination for foreign invested enterprises (FIEs) to set up production bases.
The Covid-19 pandemic, trade conflicts and supply chain disruptions all have prompted large manufacturing groups to come to Vietnam, where there is a young abundant labor force.
Vietnam serves as an important link in the global supply and production chain and is believed to be one of the world's large production bases.
Vietnam is the second most attractive production base, after China, in Cushman & Wakefield's annual ranking of global suitable production markets.
The ranking, released in July 2022, was made based on the comparison of 48 countries in Europe, the Americas and Asia Pacific.
In theory, the opportunities for Vietnam are great, but whether it can grasp these is another story. To date, Vietnam is only a place for foreign investors to set up their workshops, import components for assembly, and re-export finished products.
After 35 years of opening its doors to the world, Vietnam has attracted $438.7 billion of foreign investment, of which $260 billion has been poured into the processing and manufacturing industry (nearly 60 percent of total investment).
The processing and manufacturing industry plays a leading role in creating added value for the economy, and serves as a key to prosperity.
However, most enterprises in the industry are foreign invested, while the number of Vietnamese enterprises is modest and they only undertake simple jobs.
Vietnamese enterprises absent in home production base
Apple's list of vendors includes over 200 partners. Of this, only 25 enterprises have factories in Vietnam, and all of them are foreign invested. No Vietnamese company is on the list.
As for Canon, a Japanese multinational which began making printing machines in Vietnam in 2012, only 20 Vietnamese companies have joined its supply chain, and they specialize in making simple products such as packaging and plastics.
The other 155 vendors of Canon are in Japan, China and Taiwan which make products with higher complexity.
The Ministry of Industry and Trade (MOIT) has reported that Vietnam's import-export turnover reached $732 billion in 2022, the highest level so far.
However, a large part of the figure, $522 billion out of the $732 billion, was created by FIEs.
FIEs made up $275 billion out of $371 billion worth of export turnover, and $247 billion out of $361 billion worth of import turnover.
The figures show that FIEs not only created high export turnover, but also imported input materials in large quantities to do outsourcing in Vietnam for re-export.
The trade surplus of $60.9 billion in trade with China and $38.3 billion in trade with South Korea are figures worth thinking about.
The major problem is that Vietnam's supporting industries have remained weak for many years.
The bond between FIEs and Vietnamese enterprises is loose. Vietnamese cannot join FIEs' supply chains, while FIEs simply import components for assembling.
Vietnam lacks enterprises sufficiently capable of joining global supply chains.
FIEs' import-export turnover is very high, but this doesn't make considerable contributions to the economy. The countries which use a lot of input materials from other countries during the production process stimulate output for other countries, thus increasing income for those countries.
How to grasp opportunities?
Economists for years have been worried about the big gap between Vietnam's gross domestic product (GDP) and gross national income (GNI). Most added value doesn't go to Vietnamese pockets but flows abroad.
The government has submitted to the National Assembly a national overall development plan for 2021-2030, striving for the GDP growth rate of 7 percent per annum by 2030, 6.5-7.5 percent in 2030-2050, and GDP per capita of $7,500 by 2030 and $27,000-32,000 by 2050.
Vietnam can obtain a high GDP, but if income continues to flow abroad, the GDP per capita goal will not occur. If it cannot grab opportunities from foreign investment, the domestic economy won't be able to develop.
Tran Thuy