It records contact history, thereby providing early warnings and helping accurately trace people suspected of being infected with Covid-19.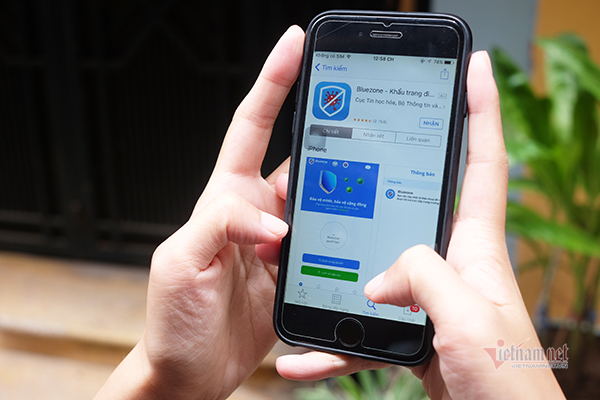 People should install and use the Bluezone app to protect themselves during the Covid-19 pandemic. Photo: Trong Dat
The effectiveness of Bluezone has been proven as this app helps health authorities trace thousands of cases having close contact with infected people or those who are suspected of infection.
The northern province of Bac Ninh has the highest rate of installing Bluezone in Vietnam, with about 46.6% of local people. Other cities or provinces in the top five are Binh Duong in the south (42.4%), Quang Ninh in the north (40.8%), Da Nang in the central region (40.4%), and Hai Duong (40%). These are the 5 localities where Bluezone users account for more than 40% of the population.
In the two largest cities in the country, Hanoi and Ho Chi Minh City, the percentage of people using Bluezone is over 30%, with 36.9% for Hanoi and 35.3% for HCM City.
These are relative numbers because there are people who download and install Bluezone but do not regularly turn on the app and those who downloaded it but then deleted and re-downloaded Bluezone. Thus, it is still a long way for Vietnam to reach the ideal number of Bluezone users for this app to fully take effect.
According to experts, the Bluezone app will only maximize its effectiveness if 60% of the adult population use it. Therefore, forcing people to install and use the app is an extremely necessary measure to effectively trace and prevent the spread of the disease.
In addition to identifying and finding people suspected of being infected with Covid-19, Bluezone is now upgraded with many new features such as electronic medical declaration and QR code scanning. These are all important technological solutions to control the disease.
Instead of being used only as an auxiliary solution to find the source of the disease, local authorities should change their minds and turn Bluezone into the main solution to trace people suspected of being infected with Covid-19 by ordering all people to install and turn on the app.
Trong Dat

The local authorities of many cities and provinces, including Hanoi, Bac Ninh and Quang Ninh, have instructed people to apply technological solutions to fight the Covid-19 pandemic as recommended by MIC.

Along with the 5K message, Vietnam is strictly implementing three counterattacks: large-scale testing; implementation of a vaccine strategy; and application of technology for Covid-19 tracing.