Vietnam heads towards modern, integrated agriculture
Minister of Agriculture and Rural Development Nguyen Xuan Cuong talks about measures to promote modern agricultural development.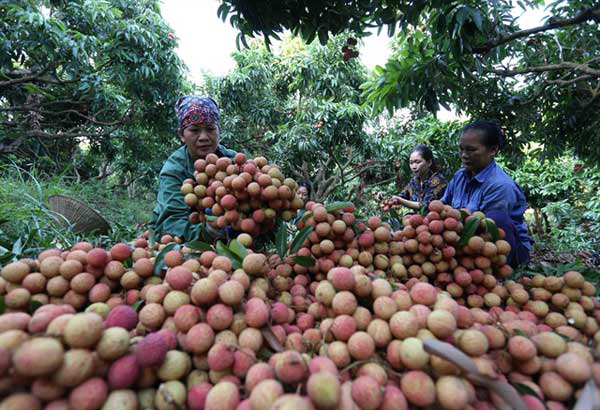 Farmers in northern Bac Giang Province sort lychees into big bundles. 
What measures will be prioritised this year to fulfil the target of developing a modern, integrated, proactive and efficient agriculture?
In 2021, the agriculture sector will continue to focus on two main programmes.
First, the sector will continue restructuring the agricultural economy with the aim of creating modern agriculture with a closed value chain from developing raw materials to processing and trading organisation. This value chain must be formed on the basis of three groups of products which are key national products, including 10 products that have export value exceeding US$1 billion; products of local strengths such as longan in northern Hung Yen Province and lychees in northern Bac Giang Province; and key local-level products which have been developed under the programme known as "One Commune, One Product" (OCOP).
In order to develop these three groups of key products at the same time, we need to focus on directing the development towards efficient commodities on the basis of promoting the application of the 4.0 technology.
Second, the sector will focus on renewing the administration task based on digital platforms and 4.0 technology in order to have proper administration methods, particularly ways of organising production following a smart agriculture. The agricultural sector will also have to pay attention to integration by focusing more on product quality by developing organic agriculture and safe agriculture to make them become more popular.
It is also necessary to develop measures to mobilise the participation of more businesses, making them a core factor in the linkage chain together with setting up more new-style cooperatives. 
In order to fulfil the set targets, it requires professional farmers. What plans are in place to train farmers to reach the goals?
Training human resources must be a key measure among solutions to develop a high-quality labour force for the agriculture sector in line with agricultural restructuring towards a modern agriculture.
The sector has built a plan to promote training centres in both the agricultural sector and of other sectors as well. Vocational institutes and schools should focus on training, including programmes for workers, management and administration staff for businesses and cooperatives.
Only when we train human resources that meet agricultural restructure requirements, can we fulfil the 'mission' to change from traditional production-based agriculture to a modern, integrated and proactive agriculture with high efficiency. 
How will the ministry attract businesses to invest in agriculture this year?
Reviewing the success of agricultural restructure and rural development tasks in recent years, we found that one of key reasons behind the success is the close connection between businesses and cooperatives becoming the core factor in the linkage with famers. This is one of key important solutions and decisive factors for the quality of agricultural restructure.
In 2021, the ministry will continue to carry out solutions to encourage more businesses to invest in agriculture and in rural areas. The ministry will also consult with the Government to continue completing related mechanisms, policies and administrative procedures. It will coordinate with localities to create favourable conditions for businesses to invest in the sector. VNS
The historic EU-Vietnam Free Trade Agreement has been in force for nearly two months now.

Vietnam is working to develop a system of modern agricultural product supply centres to promote the consumption of farm produce, enhance food safety and hygiene, and improve the competitive edge of Vietnamese goods.