VietNamNet Bridge – Vietnam Idol show-runners held auditions in HCM City on Monday, despite the Ministry of Information and Communications' decision last week not to air the show in April as scheduled.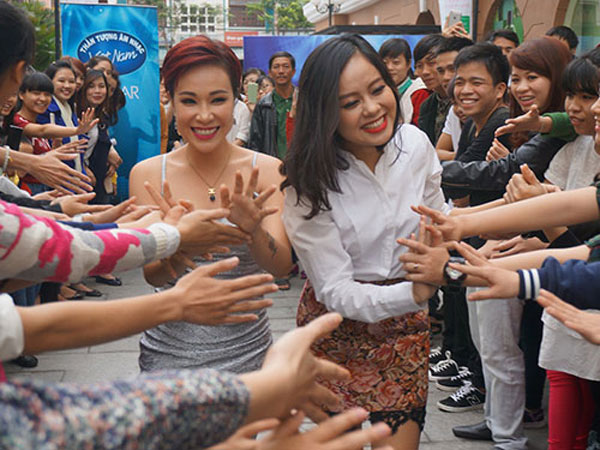 Winner of Vietnam Idol 2010, Uyen Linh (left) and singer Hoang Quyen, who also became famous through the show (2012 season), get a warm welcome from aspirants as they arrive at the audition's venue in HCM City on Monday. — File photo

The show hasn't been officially cancelled, but after repeated slip-ups by the producers, the ministry said Vietnam Television (VTV) needed to take some time to tighten its management of content before airing its shows.
A representative from BHD, the firm that produces the show, said it would continue holding casting events across the country. After that, BHD would send the filmed episodes to VTV so it could ask the ministry to restore its permit.
The ministry's Department of Radio, Television, and Electronic Information notified VTV last week that it would halt the programme licensing process. The move resulted from a slew of blunders on Vietnam Idol 2015 and other VTV shows, including using culturally inappropriate language and images, and violating advertisement rules.
Last year VTV aired several offensive moments, including the beheading of a live turtle during a reality show and a suggestive joke on a quiz show. It also aired a Vietnam's Got Talent contestant mistakenly drinking acid.
On Monday more than 3,000 candidates in HCM City registered to take part in the auditions. The show, which debuted in Viet Nam in 2007, has grown into one of the country's most popular singing contests.
Huy Tuan, the show's music director, said that if Vietnam Idol ended the candidates would suffer the most.
"Producers invested a lot of money and energy to bring a good programme to audiences," Tuan said. "I think it will be a pity if everything has to be stopped. These programmes have done so much to entertain people. Vietnam Idol has trained many talented Vietnamese singers."
Besides Vietnam Idol, the ministry had announced it would not issue permits to several other programmes produced by VTV and its partners. They include Dep Viet (Beautiful Viet Nam), Sang Tao Viet (Creative Viet Nam), Chuyen Dem Muon (Stories at Late Night), and the local version of Asia's Got Talent.
VNS