The Trans Pacific Partnership (TPP), which was concluded in early February, will bring opportunities to Vietnam's businesses, especially those in the textile, garment and footwear sectors, but also barriers that they need to navigate to benefit, experts have said.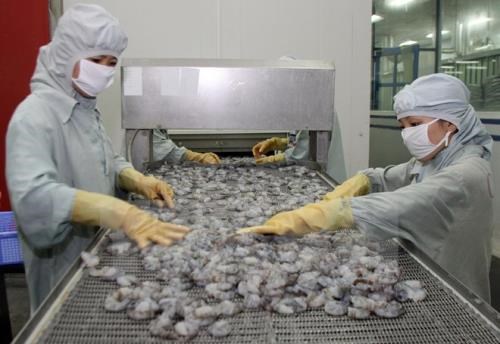 Nguyen Cong Ai, partner of auditing firm KPMG, told participants at a seminar titled "TPP and the Textile, Apparel and Footwear Sectors" held by the Vietnam Investment Review in HCM City on March 24 that Vietnam currently depends too much on imports of raw materials.
"It is estimated that 60-70 percent of inputs are imported, predominantly from China, the Republic of Korea and Chinese Taiwan," he said, pointing out that imports from China account for 48 percent of the textile industry's feedstock.
The industry can source only 2 percent of its cotton needs locally and 12.5 percent of fabrics, and the quality is inconsistent, he said.
Another challenge is the weakness in design, he said, explaining that Vietnamese textile and garment companies are mostly subcontractors for other firms in the region because they do not have the ability to design and develop their own brands.
"Only 2-3 percent of Vietnam's exports is of ODM (original design manufacturing)," he said, referring to products completely made by producers from the design to the finished stage.
The sector's productivity is low at a third of Hong Kong's and a fourth of China's, detracting from its competitiveness, he said, pointing out that Vietnamese garments are 15-30 percent more expensive than the global average.
Weak marketing and distribution worsen the problem, he said.
In the footwear sector, the local content is no more than 45 percent, while it has to import 80-100 percent of leather, chemicals for tanning, soles and buckles, and synthetic rubber from Chinese Taiwan, China, Thailand, and Brazil, he said.
The tanning industry can meet only 10 percent of the demand and operates at 25 percent capacity due to a shortage of materials, he said.
The industry shares the weaknesses of the textile and garment sector with respect to design, marketing and distribution, he said.
He suggested that link between companies in the value chain should be promoted through planning and developing industrial clusters specialising in textile and garment and footwear.
The two sectors should increase investment in producing feedstock, weaving and dyeing, he said.
Supporting industries, especially domestic companies in them, should be provided easy access to credit, he said.
They need to adopt modern technologies to improve design capacity thus add value to their products, he added.
Nguyen Mai, Chairman of the Vietnam Association of Foreign Invested Enterprises, agreed with Ai, saying the textile and garment and footwear associations should strengthen co-operation among their members and help set up specialised industrial parks.
He called on the Government to facilitate the parks and support businesses facing difficulties.
Deputy Minister of Planning and Investment Dang Huy Dong said TPP countries account for 40 percent of global GDP and 30 percent of trade, meaning the deal would bring plenty of opportunities as new supply chains are formed.
"Joining the TPP will give Vietnam the chance to upgrade its investment and business environment, attract foreign investment, speed up its restructuring process and shift its growth model.
"The country will also have more opportunities to spur economic growth and the associated benefits of the partnership will help raise Vietnam's competitiveness and, importantly, boost exports."
Vietnam has around 6,000 companies in the textile and garment industry that employ more than 2.5 million workers. Last year exports were worth 27 billion USD, or 16.6 percent of the country's total exports.
It was the world's sixth largest garment exporter behind China, the EU, Turkey, Bangladesh, and India.
Footwear exports topped 12 billion USD, up 16.3 percent from 2014.
VNA