Vietnam, Laos aiming fo 2 billion USD in bilateral trade
Trade ties between Vietnam and neighbouring Laos have been growing since they established diplomatic relations 60 years ago (September 5, 1962-2022).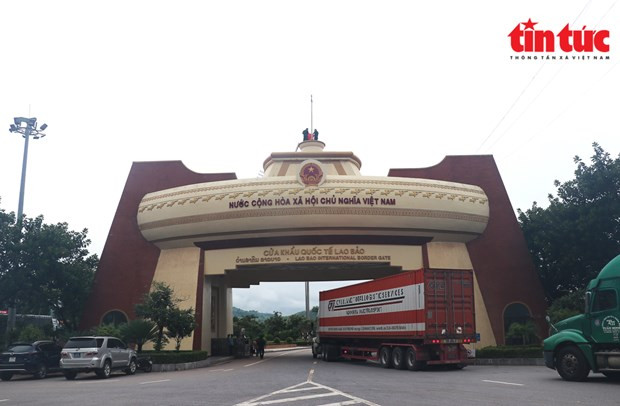 Vietnam and Laos share a borderline of more than 2,300km which runs through 10 cities and provinces on each side. (Photo: VNA)

Laos is currently Vietnam's seventh biggest trade partner in the Association of Southeast Asian Nations (ASEAN) and the two countries are striving to raise two-way trade to 2 billion USD.

Vietnam and Laos share a border of more than 2,300km which runs through 10 cities and provinces on each side. Notably, there are nine international border gates, six main gates, 18 auxiliary gates and many trails, along with nine border gate economic zones.

Vietnam is among the three biggest investors in Laos. Bilateral trade reached 1.37 billion USD in 2021, a year-on-year rise of 33.32%, the highest over the past decade.

Vietnam's exports to Laos reached 594.7 million USD, up 4%,while imports hit 778.2 million USD, up 69.8%.

In the first seven months of this year, trade revenue hit 948.9 million USD, representing an increase of 24.2% from the corresponding time last year, of which Vietnam's exports to Laos were valued at 362.9 million USD, down 1.6% year-on-year, while its imports stood at 586 million USD, up 48.2%.

According to Do Quang Hung, deputy head of the Ministry of Industry and Trade (MoIT)'s Asia-Africa Market Department, the two countries have utilised trade agreements to achieve growth of over 10% over the past nearly decade.

The target of 2 billion USD will be achieved soon, Hung said, urging Vietnamese firms to invest more in building their brands and raising their competitiveness in the host market.

Enterprises should study the trade deals to facilitate customs clearance, and optimise trade promotions, he continued.

Deputy Minister of Industry and Trade Do Thang Hai affirmed that Vietnam stands ready to share its experience and help Laos remove difficulties amid the complex development of the global economic and political situation.

The MoIT will coordinate with its Lao counterpart to roll out measures to boost bilateral trade ties, he pledged.

Hai noted that the two ministries have agreed to complete negotiations and sign a memorandum of understanding on border trade infrastructure development and connectivity between the two countries, and adjustments to the bilateral trade agreement to ensure the interests of Vietnamese and Lao businesses and facilitate their sustainable development.
Source: VNA