VietNamNet Bridge – Vietnam has grown less attractive to foreign investors in the food and beverage (F&B) sector than other regional countries including Thailand, Indonesia and the Philippines, according to Grant Thornton.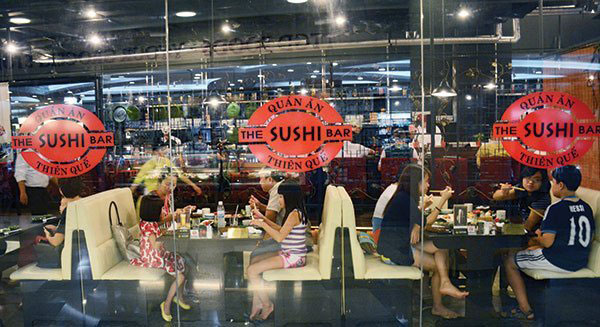 Customers enjoy Japanese dishes at The Sushi Bar in HCMC. More Japanese restaurants have been opened in the city to serve local guests – Photo: Uyen Vien
In a guide book sent to companies in the F&B sector, the company said Vietnam holds huge potential for companies with plans to expand operations in the sector owing to rising demand of local consumers, the number of middle-class and affluent consumers projected to increase from 12 million last year to 33 million in 2020 and a young population.
However, it seems that Vietnam is losing the advantages due to complicated administrative procedures, a lack of skilled workers and inefficient enforcement of regulations on intellectual property rights.
Grant Thornton said foods of Japan, Thailand, Italy and Mexico have attracted more Vietnamese consumers who are looking for quality and organic products. However, the company called for foreign companies to find reliable partners if they want to bank on the opportunities in the F&B sector.
The audit and business advisory services provider noted that international F&B firms want to find long-term partners in the countries which near their home markets. But they are seeking to tap into the potential of emerging markets like China, Brazil, India and Vietnam.
The existence of Starbucks, KFC, Pizza Hut, Burger King and MacDonald is clear evidence. These companies have modified their menus to woo more customers.
SGT