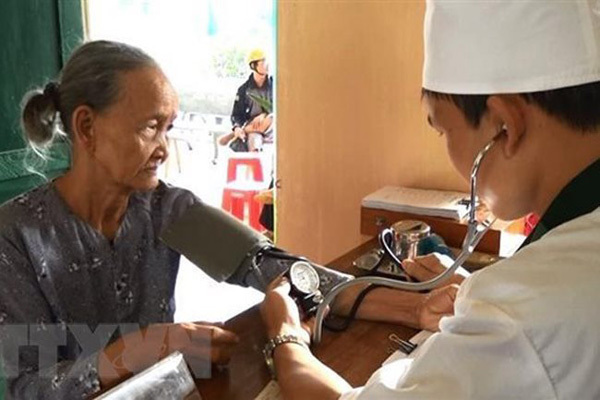 A doctor offers a free health checkup to an elderly citizen in the south central coastal province of Binh Dinh. Vietnam may become a super-aging country by 2050 - Photo: VNA
At an international workshop on strengthening the cooperation of stakeholders in promoting active ageing and mental health in ASEAN held in Hanoi on November 18, Cuong said Vietnam now has 7.4 million elderly people, accounting for 7.7% of the country's population, with over two million aged 80 or above.
By 2050, the number of elderly people in the country will increase to 22.3 million, making up 20.4% of the population.
The ASEAN has the third largest population in the world, after China and India. The region has 45 million people aged 65 or above, accounting for 7% of the bloc's total population, and these figures are forecast to surge to 132 million and 16.7%, respectively, by 2050.
Singapore, Thailand, Vietnam and Malaysia have already been considered aging countries and are expected to be super-aging ones by 2050, Cuong said.
Naomi Kitahara, head of the United Nations Population Fund in Vietnam, attributed the rising aging population in Vietnam to the falling birth rate.
Vietnam should work out a model to develop the socioeconomy while ensuring benefits for the elderly.
The elderly must be a priority in the ASEAN countries' fight against the Covid-19 pandemic to ensure that no one is left behind, Kitahara said, adding that these countries should support the elderly to encourage them to contribute to the society instead of just supporting them. SGT

Vietnam will become a "super-aging" country by 2050, however, the country is not prepared to adapt to the rapid pace of aging and provide good care for the growing elderly population, heard a workshop in Hanoi on December 12.