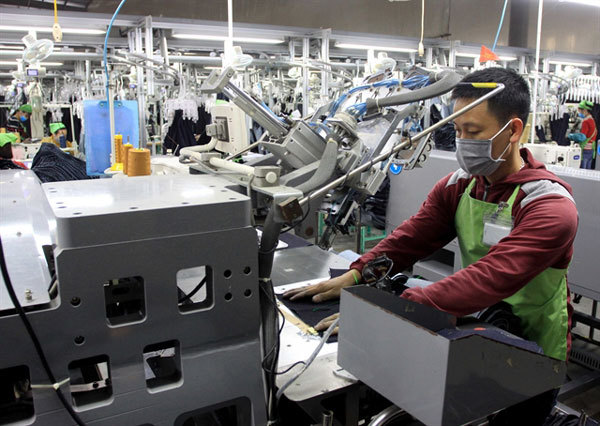 Workers at China-invested Texhong textile manufacturing plant in Thai Binh City, the northern province of Thai Binh. 

Can you tell us about the ministry's main achievements in 2019?
Last year, the industry made great efforts to achieve targets in strengthening institutional building, renovating and improving the quality of vocational education, and forming a synchronous and healthy labour market.
The ministry also focused on caring for those who contributed to the national revolution and protecting and educating children.
The ministry completed all 196 tasks with three very basic targets assigned by the National Assembly, namely poverty reduction, human resource training, and unemployment reduction.
In 2019, the ministry submitted the amended Labour Code to the National Assembly, which was approved last November. In doing so we created a new mindset, orientation, and management method for labour market development.
In addition, the ministry completed all the projects and programmes set by the Government. The poverty rate fell by almost 4 percentage points. Based on the three criteria evaluated by the United Nations, the poverty rate was only 1.45 per cent. This was a spectacular success for Vietnam.
The ministry also helped solve accommodation issues for people who contributed to the national revolution, with 95 per cent now securely housed under the Prime Minister's Decision 22.
More than 1,000 martyrs who sacrificed their lives, mainly during the resistance war against the French, were recognised.
The labour market also made outstanding progress. The ministry advised the Government to organise a forum to improve the quality of Vietnam's human resources as well as productivity.
In terms of employment, the unemployment rate now stands at only 2.2 per cent, and dropped to 1.98 per cent on average last year. Of that, urban unemployment stands at 3 per cent.
Last year, the country sent 152,000 people to work abroad. This is the highest figure in many years. It is worth mentioning that many are potential labour markets that offer high incomes as well as skills and knowledge.
Other areas such as social protection, childcare, gender equality and prevention of social evils were also addressed.
The implementation of some new laws remains slow due to a lack of guidance. What measures will the ministry take to ensure the implementation of the new Labour Code when it comes into effect in 2021?
The approval of the new Labour Code is a very smart, long-term and strategic decision made by the Party and State. Under the new law, the retirement age as well as wages have been adjusted to adapt to new challenges. The law will change two very important things: labour standards and labour relations.
The ministry has drafted decrees to implement the Labour Code, and they have been approved by the Government.
On January 1, 2021 when the Labour Code takes effect, 14 decrees, one Prime Minister's decision and eight ministries' circulars to guide the implementation of the law will be effective.
With the motto "leaving no one behind", how will the ministry reduce poverty?
Although poverty reduction has improved in recent years, the task still poses many challenges.
The fight to reduce poverty will become increasingly difficult. We must drastically and consistently fight against it as only sustainable poverty reduction can help improve people's lives and reduce the rich-poor divide.
With that motto, we definitely need a new mindset this year. First of all, a new poverty line for the 2021 - 2025 period must be built on the basis of income, sanitation, clean water supply, information and education.
We need to work on three fundamental issues. Firstly, we must develop a national programme on sustainable poverty reduction and new rural construction for people in poor and remote areas.
Secondly, we must provide conditional support – not subsidies – and favourable mechanisms for people who are capable of escaping poverty. We have witnessed many examples of this.
Thirdly, we will offer social support to disadvantaged people, and create policies for them to enjoy more social welfare.
I believe the poverty reduction programme will be more effective in 2020 while we will be promoting new rural area construction and improving people's lives.
What solutions will the ministry apply to improve the quality of labour exports?
Labour co-operation between Vietnam and other countries has been quite diverse, improving incomes to enhance the quality of human resources and foreign language training.
We have reduced exports of manual labourers and started to pay attention to skilled workers. I have been working with the Department of Overseas Labor Management on this issue.
The ministry will work with embassies, agencies and unions of other countries as well as Vietnamese business organisations to select potential labour markets that ensure workers' rights and offer chances of advancing language skills and careers. Priority will be given to Europe and Japan.
In addition, the ministry will co-ordinate with domestic and foreign businesses to focus on training labourers before they go to work abroad and policies to welcome them back to the country to start their own businesses. VNS

The Ministry of Labour, Invalids and Social Affairs has set a target to generate jobs for 1.5 million workers, and help some 100,000 labourers to find jobs through the National Employment Fund in 2020.

The Fourth Industrial Revolution brings not only new issues, but also possibilities for Vietnam's education and training sector to improve its quality in order to overcome the thirst for high-level labour.

Many public and private universities throughout the country in the 2020-2021 academic year will launch new majors to meet labour market trends and demands.