Vietnam Marine Police receives advanced patrol boat
A multipurpose patrol boat with number code of CSB 8001 has been handed over to the defence ministry's Marine Police High Command in the northern province of Hai Phong today.
All cosmetic surgery centers in country under inspection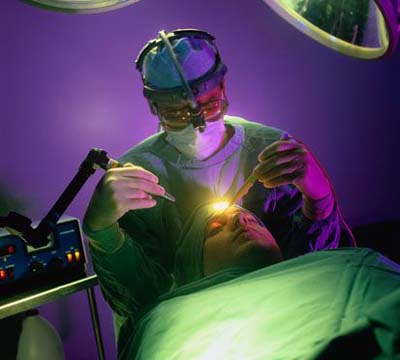 The Ministry of Health has ordered people's committees across the country to tighten inspections on all cosmetic surgery centers.
Deputy Minister of Health Nguyen Thi Xuyen in coordination with related agencies sent a document to municipal and provincial administrators in the country to conduct thorough inspections on all plastic surgery centers.
Inspections should focus on skills, treatment methodologies, surgery procedures, rights and responsibilities of client and cosmetic surgeons, and operation license as per the country's law.
Inspectors must issue proper penalties on centers which offer illegal cosmetic surgery services to earn profits.
The Department of Health in Hanoi has publicized list of 33 beauty parlors and three hospitals that are licensed legally to offer cosmetic surgery services.
However, the department noticed that beauty parlors can only provide simple cosmetic surgery services such as 'double eyelid' surgery or eyebrow tattoo, while complicated surgeries such as abdominal liposuction and breast lift surgery must be performed in hospitals which have professional plastic surgeons and skilled medical workers.
So far the body of the victim of Cat Tuong beauty salon in Hanoi has not yet been found, despite great efforts by concerned agencies and the victim's relatives who have hired motorboats to search for the body in the river.
Vietnam Marine Police receives advanced patrol boat
A multipurpose patrol boat with number code of CSB 8001 has been handed over to the defence ministry's Marine Police High Command in the northern province of Hai Phong today.
Putting the CSB 8001 boat into operation would help improving patrol ability and effect, rescue and aid and the country's sea and island sovereignty protection, according to the Marine Police High Command political commissar major-general Nguyen Van Tuong.
Equipped with advanced technological systems, the boat can work in bad weather condition, especially in offshore areas.
Along with the CSB 8003, 2015 and 2016, the boat is the fourth one equipped to the Marine Police High Command so far.
The Netherlands group of Demen designed boat was built by the Z189 Factory of the ministry's General Department for Defensive Industry.
Asian cities meeting bound for Hanoi in November
Delegates from the Asian Network of Major Cities 21 (ANMC21) will gather in Hanoi from November 17-19 for a plenary meeting to promote cooperation between ANMC21 members.
ANMC21's member cities include Tokyo (Japan), Seoul (the Republic of Korea), Singapore (Singapore), Bangkok (Thailand), Taipei (Taiwan), New Delhi (India), Kuala Lumpur (Indonesia), Jakarta (Indonesia), Manila (the Philippines), Yangon (Myanmar), Ulaanbaatar (Mongolia), Tomsk (Russia), and Hanoi (Vietnam).
Hanoi aims enhance communications, raising its profile as the City for Peace and an ideal tourist destination.
It will host an exhibition featuring ANMC21's joint projects and introducing member cities' achievements.
The exhibition will include pavilions on children's paintings, those on investment, trade and tourism for businesses, tour operators, and hotels, and those showcasing typical products from the member cities.
Outdoor art performances and exchanges will be staged in major venues to celebrate the event.
Illegal mineral exploitation major source of problems in Phu Tho
Rampant illegal exploitation of minerals have been contaminating dozens of thousands of square metres of agricultural land, harming the environment in Phu Tho Province.
Despite having not construction license issued and failing to declare documents of environmental protection plans and mine designs, Viet Phu Tho Mineral Investment and Trading Limited Company has been operating in mineral exploitation in Van Luong Commune, Tan Son District.
Their misconducts were not discovered until the overflow of stone and soil from its deposits from the dam in Dep and Lung Highlands Hamlets, Van Luong Commune. Residents of these areas sent a petition to authorities, who then investigated and found several wrongdoings.
According to residents, since the company started operations in 2010, their lives have been seriously affected by noise and air pollution on a daily basis. Their livelihood was seriously affected after seasonal storms with the most serious case happening in 2011.
"After the fifth typhoon to hit Vietnam in 2011 ravaged though my village, a lot mud and soil from the company's dam flowed into our field from the Dong Tram and Dong Quan streams, harming local rice production," said a local woman from Dep Village.
A report by Van Luong communal People's Committee showed that the incident destroyed 47,638 square metres of rice fields in Dep and Lung villages, causing major loss to local farmers.
After being urged by local residents, the company pledged to give compensation to those who were affected by the incident but they did not.
Recently, the company has agreed to compensate for VND150,000 (USD7.09) per 360 square metres. Seven of the families that were hardest hit were provided with a combined of VND2.5 million (USD118.3). However, locals have come out and said the sums were too modest compared to their losses.
Nguyen Thiet Hai, Vice Chairman of the communal People's Committee said, "The company was not only slow in paying compensations to locals but also in upgrading its dam."
On May 14, local authorities in Tan Son District probed into the case and found that the company was not granted a construction license, but continued to exploit minerals for three years. The company also failed to declare contracts to treat hazardous waste.
The provincial Department of Natural Resources and Environment said that this is not a unique case in the province.
Locals of Tan Minh Commune, Thanh Son District, have continued to complained about crop destruction and environmental pollution caused by Phu Duc Mineral JSC. Mud and waste soil from the mineral exploitation buried 4,300 square metres of cultivation land of 17 local households.
The provincial government forced the company to halt their mineral exploitation in Tan Minh Commune and provided compensation of over VND134 million (USD6,340) to the affected families.
Local authorities in Yen Lap District recently inspected three stone mines by Thang Loi Limited Company, Phu Tho Mineral JSC and Dat Hung JSC, and found that they have violated the laws, including polluting the environment and destroying transportation infrastructure.
The provincial Department of Natural Resources and Environment then conducted an inspection over 487 mineral exploitation facilities and fined 205 facilities a combined VND3.6 billion (USD170,333). Five companies have had their licenses revoked for causing serious environmental pollution.
The provincial government has requested that local authorities increase control over mineral exploitation and apply strict punishments on cases in which there is a violation.
Flood control projects stall despite worsening situation
While HCMC is expected to continue suffering from flood tides twice a month from now to the first lunar month next year, six major floodgate projects in the city have not got off the ground and 34 riverbank plastic sheet piled wall projects have fallen behind schedule.
Speaking with the Daily on Tuesday, Nguyen Minh Giam, deputy director of the southern hydrometerorology station, said that locals in HCMC and other southern provinces would continue grappling with flood tides until early next year.
Giam said there were four reasons for the tidal peak of 1.68 meters recorded on Monday, namely high tides in the East Sea, floods from upstream areas, heavy downpours and strong northeastern winds.
There is a possibility that the land foundation in the city may be sinking, he added.
Although tides turn more unpredictable, key flood control works in the city such as the six floodgates and the riverbank embankment scheme have been lagging.
The city has been unable to operate the Nhieu Loc-Thi Nghe floodgate even though it was completed six months ago due to the lack of a construction site for a transformer station for the floodgate operation, said Nguyen Ngoc Cong, deputy director of the city's flood control center.
Cong believed this floodgate could have helped mitigate the impact of flooding on nearly 300 hectares in Binh Thanh District if it had been put into use to cope with the record flood tide on Monday.
The city has built small flood control gates in districts 6, 4, 7 and Thu Duc among others over the past time but they are only temporary solutions.
To tackle floods caused by high tides, the city will have to inject thousands of billions of dong into the six major floodgates, Cong said. However, he noted, mobilizing capital for them is no easy task at the moment.
They are Ben Nghe, Tan Thuan, Phu Xuan, Song Kinh, Rach Tra and Vam Thuat.
One of the solutions to controlling landslides and flood tides in areas along Saigon, Rach Tra and Cho Dem rivers is to use uPVC plastic sheet piled walls. Saigon Industry Corporation (CNS) deployed the project three years ago by pouring roughly VND100 billion into building an uPVC plastic sheet piled wall manufacturing plant in the outlying district of Cu Chi.
Nguyen Van Tho, general director of CNS, on Tuesday told the Daily that his firm had been unable to move on with the project due
to troublesome procedures for plastic sheet quality certification, so it is already two years behind schedule.
CNS had earlier got a nod from the municipal government to execute 34 embankment projects using uPVC plastic sheets in riverside areas in districts Thu Duc, Binh Thanh, Cu Chi, Binh Chanh and 12 with a total length of 47 kilometers.
Man arrested for selling counterfeit food
Nguyen Duc Binh, a resident of northern Bac Ninh province, was arrested by Hanoi Police on October 24 on suspicion of selling counterfeit foodstuffs.
On October 15, Binh, 30, was detected driving a small truck with 159 counterfeit bottles of soy sauce bearing the labeling of the Japanese Kikkoman brand.
Binh admitted that since September he has sold the soy sauce, bought from a Chinese at border gates in Lang Son and Quang Ninh provinces, to Japanese restaurants based mainly in the south.
Samples of the sauce have now been taken for testing to see if they contain any toxic additives or other harmful substances.
Measures to develop road tunnels discussed in Da Nang
An international seminar highlighting measures to sustainably build and manage road tunnels was held in central Da Nang city on October 24-25 within the framework of the World Road Association (PIARC).
Hosted by the Vietnam Bridge and Road Association and the Vietnam Road Administration, the event focused on environmental issues, methods of designing and constructing road tunnels, and ways to maintain them by responding to natural and human risks.
Road tunnels play an important role in developing transport infrastructures as they can help avoid dangerous intersections, reduce traffic accidents and save time for drivers. However, those in Vietnam have become increasingly affected by air and noise pollution over the last decade.
To minimise environmental contamination, experts suggested the country constantly inspect the quality of the air and review and assess the efficiency of current environmental protection systems in the tunnels.
They also stressed the need to manage transportation activities, including the control of the loading capacity of vehicles across the tunnels, and raise community awareness on traffic safety regulations.
The two-day seminar drew more than 40 foreign delegates from PIARC member countries, including Spain, Norway, France, China and the UK, together with Vietnamese experts in this field.-
Special week to honour national unity
The highly anticipated "Great National Solidarity – Vietnamese Cultural Heritage Week" will take place in November, aiming to strengthen and honour the togetherness of Vietnamese ethnic groups.
The Ministry of Culture, Sports and Tourism and the Vietnam Fatherland Front Central Committee will co-organise the event at the Vietnam Ethnic Culture and Tourism Village in Hanoi's suburban township of Son Tay from November 18 to 24.
The ministry predicted that nearly 400 people from 17 ethnic groups in 13 cities and provinces across the country will take part in the event.
Some of the highlights over the week will include a solidarity exchange programme, a celebration of cuisine from ethnic communities across the country and a recreation of ethnic rituals and festivals.
During the week, a ceremony will be also held to inaugurate a complex of Khmer pagodas at the village.
Over 2,500 farmers join Stewardship Day 2013
More than 2,500 farmers are taking part in the Day for Effective and Responsible Use of Crop Protection Products (Stewardship Day 2013) in six Mekong Delta localities on October 25.
This year's event is organised by CropLife Vietnam, a Sector Committee of European Chamber of Commerce in Vietnam (EuroCham), in collaboration with the Plant Protection Department under the Ministry of Agriculture and Rural Development.
It aims to raise awareness of farmers in An Giang, Can Tho, Dong Thap, Kien Giang, Long An and Tien Giang on the safe and responsible use of crop protection products for their better health and a more sustainable agricultural development for Vietnam.
Under the programme, a seminar to be held across the localities will address five Golden Rules in using crop protection products. They are Exercise caution at all times, Read and understand the product label, Practice good personal hygiene, Maintain sprayers in good working condition, Use appropriate personal protective clothing and equipment.
In addition, there will be hand-on training sessions for farmers with practical examples and lively illustrations.
Pham Van Loi, head of the organising group, said that crop protection product management is the responsibility of all people, starting from research, production, distribution and labeling to using and handling of used bottles.
As Vietnam is one of the major farm produce exporters, farmers should obey basic principles in using agricultural materials to have high-quality products that meet the increasingly strict requirements of the market.
Workshop shares violence prevention experience
More than 90 delegates from 13 provinces and cities in the Mekong Delta region along with representatives from domestic and foreign organisations on October 24 gathered for a workshop in Can Tho city to discuss how to prevent gender-based violence in the region.
The event was jointly organised by the United Nations Entity for Gender Equality and Empowerment for Women (UN Women) and the Department of Gender Equality under the Ministry of Labour, War Invalids and Social Affairs.
It was held to raise public awareness of preventing and reducing violence in Vietnam, while providing references for building a future national draft on gender-based violence prevention.
This was also part of activities to contribute to implementing the target of gender equality in families in Vietnam, thus gradually realising the National Strategy on Gender Equality for the 2011-2020 period.
Participants shared their experience in reducing cases of violence in Vietnam and gave recommendations to help the ministry map out strategies and policies.
On the occasion, the ministry and authorities' initiatives, models and projects in the field that have been implemented in the region, were also introduced to the participants.-
Mekong Delta Master Plan set for November
A seminar will be held on November 18 to collect advice from local authorities of 13 provinces and cities in the region as well as experts on the Mekong Delta Plan in response to climate change for sustainable development in the time to come.
A preparatory meeting for the seminar was held in the southern city of Can Tho on October 24, drawing the participation of scientists from the Can Tho University, Dutch experts and representatives from the World Wide Fund for Nature (WWF).
Martijn Van De Groep, on behalf of the Dutch experts, said they have received advice from local people and experts from Phu Quoc Island and Ho Chi Minh City but there are still many different ideas on the plan.
The experts want to collect public ideas for the last time before submitting the plan to Deputy Prime Minister Hoang Trung Hai in the framework of the Vietnam-Netherlands joint commission meeting in mid-December, he added.
Addressing the meeting, Standing Deputy Director of the Southwestern Region Steering Committee Nguyen Phong Quang spoke highly of the contributions by the Dutch experts to building the plan.
The plan is very important since it will help provinces in the Mekong Delta region to effectively cope with climate change and work together for sustainable development in the coming time, he noted.-
Free check-ups, medicine for Ha Tinh people
Almost 500 people in Son Thinh Commune, Huong Son district, the central province of Ha Tinh on October 24 were provided with free medical check-ups and medicine, aiming to treat digestive disorders, conjunctivitis and fever.
Poor people and those who rendered services to the revolution affected by the recent floods in the locality were the beneficiaries of the support.
All the costs of the medicine, worth 30 million VND (1,410 USD), were funded by the Young Doctors' Association of Ha Tinh General Hospital.
After the floodings in the province, the Ha Tinh provincial Youth Union mobilised more than 1,800 youngsters to help repair and clean houses and schools in the districts of Huong Son, Huong Khe, Vu Quang, Duc Tho and Thach Ha.
Apart from the on-site volunteers, the union also called on nearly 1,000 youths from the provincial organisations, police, universities and colleges in the locality to join hands in assisting people in flooded areas.
According to the union's Permanent Deputy Secretary Nguyen The Hoan, through launching appeals in organisations, enterprises and agencies in the province, the union received donations worth over 1.5 billion VND (70,500 USD), including money, food, clothes and blankets for people in flooded areas.-
National Ophthalmology Conference opens
The National Ophthalmology Conference got underway in Ho Chi Minh City on October 24, attracting 750 doctors, surgeons and technicians nationwide, and several experts from France, the US, Japan, Germany and Singapore.
Held by the Vietnam Ophthalmological Society (VOS) and the Vietnam National Institute of Ophthalmology, the three-day event is a chance for experts to exchange experience as well as announce their latest research successfully applied over the past time.
Several thematic symposia on glaucoma, eye treatment and surgery will also be held on this occasion.
According to VOS statistics, the number of Vietnamese people suffering from blindness now accounts for 3.1 percent of the total population, while 15-40 percent of the population, including about three million children, have refractive eye disorders.
Over the past time, eye care has progressed significantly, including controlling xerophthalmia caused by the lack of Vitamin A, and building a provincial-level blindness prevention system.
The ophthalmological sector has set a target to reduce the rate of blindness in people aged over 50 to 2.35 percent by 2019 and establishing eye care centres for children.
National conference focuses on efforts to reduce blindness
Viet Nam targets to reduce the rate of preventive blindness among people above 50 years old to 2.35 per cent by 2019, according to the National Institute of Ophthalmology.
Do Nhu Hon, director of the institute, said at a national ophthalmology congress held in HCM City yesterday that the rate of blindness among people above 50 years old fell to 3.1 per cent in 2008 from 4.67 per cent in 2002.
He said the national blindness prevention plan for 2014-19 period, which will be submitted to the Prime Minister for approval, targets to reduce the rate of preventive blindness among people above 50 years old to 2.35 per cent by 2019.
Last year, the country performed 2,390 cataract operations per 1 million people, exceeding the targeted rate of 2,000 cases per 1 million per year.
The prevalence of refractive error among school-aged children was high, with around 3 million children between 5-16 years old having refractive error and in need of glasses, he said.
An estimated 200,000 people with trichiasis are in need of surgery. Last year, only 15,000 cases of trichiasis surgery were performed.
More than 409,000 people are blind in both eyes, with more than 270,000 cases due to cataracts, 26,000 blindness cases due to glaucoma and 6,900 due to trachoma.
Seven provinces have not established a community eye care unit, including Ben Tre, Long An, Dong Nai, Dong Thap, Hau Giang, Tay Ninh in the south and Khanh Hoa in the Central.
Subjects such as glaucoma, pediatric ophthalmology, plastic surgery and neuro-ophthalmology are being discussed during the three-day conference.
It is attended by more than 750 ophthalmologists, surgeons and technicians from hospitals and clinics across the country and other countries, including the US, France, Japan, Germany and Singapore.
HCM City job market on road to recovery
The labour market in HCM City is expected to stabilise by year-end as the economy recovers steam, according to the city's Centre for Forecasting Manpower Needs and Labour Market Information.
The centre forecasts that companies and enterprises in the city will need about 60,000 employees in the last quarter.
Most of them are in the fields of retail, marketing, services, food technology, tourism-hospitality, logistics, information technology, engineering and electronics.
Of the 60,000 employees, 10,000 will be for companies and enterprises at the city's industrial parks and export processing zones with most of them being in the fields of garment-footwear, food technology and electronics.
The city will also need 30,000 more employees for seasonal jobs by the end of the year.
According to the centre, the need of human resources at companies and enterprises in the city in the third quarter rose by 11.4% compared to the second quarter.
Increased demand was in many fields, including retail, services, marketing, communications, graphic design, information technology, real estate, logistics and electronics-electricity.
New graduates from vocational schools, colleges and universities in HCM City had many chances to find jobs in the third quarter, said Tran Anh Tuan, the centre's standing deputy head.
The need for employees without work experience in the quarter accounted for 41%, he said.
The salary for employees without work experience was VND4-6 million (US$190-285.7) per month.
Companies and enterprises offered salaries of VND5-10 million ($238-476) per month for employees with less than five years of work experience and VND10 million and above for those with more than five years of work experience.
The initial salary for manual workers was about VND3-4 million per month.
Promoting seafood exports to Brazil
Vietnam's seafood exports to Brazil remain at a modest rate, accounting for 1.8% of its total export volume. Even so many local businesses plan to boost exports to this market which has an average annual growth of 26%.
The Brazilian Government has set a target to raise the seafood consumption power from 9kg to 12kg per person through sales and marketing campaigns.
The General Department of Customs says seafood exports to Brazil from January up to Mid-September increased by 70.6% against the same period last year to US$72.7 million, of which tra fish exports made up US$72.3 million (up 70.5%). Brazil has its highest market growth, but it is still far behind the US (US$273.7 million), the EU (US$267.2 million) and ASEAN (US$86.4 million).
The Vietnam Association of Seafood Exporters and Processors (VASEP) says China, Chile, Vietnam and Argentina are four major exporters of frozen fish fillets to Brazil.
According to the International Trade Centre (ITC), in the first eight months of this year, Brazil imported 118,066 tonnes of frozen fish fillets (worth US$321.4 million), including 51,262 tonnes from China (worth US$108.2 million) and 34,634 tonnes from Vietnam (worth US$70.6 million) and the remaining from other countries.
Vietnam's tra fish exports to Brazil are expected to pick up as the EU and US markets are yet to bounce back, even though export prices continue to drop to a level lower than last year's.
The import price of Vietnamese frozen fish fillets is now US$1.93-2.12 per kilogram, compared to US$2.26-2.41 a year ago.
In 2012, frozen fish fillets exports from Vietnam made up 19.4% of Brazil's import volume while those from China and Argentina accounted for 35.7% and 23%, respectively.
In the list of seafood exporters to Brazil, China is placed second only to Chile and Vietnam sixth fetching US$78.3 million.
Vietnam's earnings from fish fillet products to Brazil have increased significantly to exceed 3-4 digits. They dropped in 2012 but have kept rising since early this year.
Singapore paper: Vietnam's aviation industry takes off
Vietnam will become one of the world's third fastest growing aviation markets, according to Lianhe Zaobao (United Morning) newspaper in its October 23 edition.
The paper reported Vietnam's demand for air travel has achieved two-digit growth in 2013, creating plenty of opportunity for world renowned aircraft manufacturers such as Boeing and Airbus.
Vietnamese aviation companies plan to increase aircraft numbers, open new routes and equitise themselves to mobilise more operational capital.
The domestic aviation market has boomed over the years, attracting considerable interests from concerned parties. The International Air Transport Association (IATA) forecast by 2014 Vietnam would become the world's 3rd fastest growing market for international passengers and freight, just after China and Brazil.
IATA predicted the Vietnamese aviation market would transport 34-36 million passengers and 850,000-930,000 tonnes of cargoes by 2015, and 52-59 million passengers and 1.4-1.6 million tonnes of cargoes by 2019.
Lianhe Zaobao quoted Vietnam's aviation industry statistics, saying the number of passengers on domestic routes will increase 15% in the coming year, tripling 2012's figure.
The burgeoning aviation industry helped fuel Vietnam's economy which has slowed down over the past two years, the paper reported.
Danang hosts int'l road tunnel operation conference
The Directorate for Roads of Vietnam (DRVN) in conjunction with the Vietnam Road and Bridge Association (VIBRA) held an international seminar on Sustainable Road Tunnel Operations in Danang City on October 24.
Present at the event were VIBRA Chairman Ngo Thinh Duc, President of The World Road Association Ignacio Del Rey, Chairman of the Danang City People's Committee Van Huu Chien and nearly 100 delegates and experts from Laos, Cambodia, Thailand, Japan and Norway.
They discussed issues related to road tunnel designing and maintenance work and establishment of a manual for sustainable operation.
The two-day seminar provides a good opportunity for Vietnam to share experiences and get advice from international experts.
Female migrant workers at risk
Women migrant workers are more vulnerable than men to exploitation and abuse, especially domestic workers, said Deputy Minister of Labour, Invalids and Social Affairs Nguyen Thanh Hoa.
At a two-day workshop on the issue, which ends today in the central city of Da Nang, it was reported that women account for an increasing number of migrant workers in Asia.
In Viet Nam, around 30-35 per cent of migrant workers are female.
Participants agreed with the deputy minister that women migrant workers needed legal recognition and protection, gender-responsive policy and more welfare and services.
They also agreed that labour export companies play an important role in protecting workers abroad because so many workers rely on them to make it overseas.
"Viet Nam attaches great importance to protecting the interests of labourers working abroad. The country has actively worked with receiving countries to protect migrant workers," Hoa said.
Many projects have been carried out with the aim of raising public awareness about gender equality, studying the situation of women workers abroad, reviewing related policies and organising gender-sensitive training programmes for migrant workers, he said.
Participants also talked about good practices in protecting women migrant workers and gender-responsive migration services in compliance with the Convention to Eliminate All Forms of Discrimination against Women and the Covenant of Ethical Conduct and Good Practices of Overseas Employment Service Providers, a document in which recruitment agencies agree on across-the-board business standards to protect women migrant workers.
Through this covenant, recruitment service providers commit to provide adequate and accurate information to migrant workers and employers, provide social security and insurance programmes for migrant workers and establish supporting centers in destination countries.
At present, there are about 500,000 Vietnamese people working in more than 40 countries and territories around the world. An estimated 70,000-80,000 labourers go abroad to work each year.
The workshop aims to find ways to improve the situation of women migrant workers and promote ethical conduct on the part of recruitment agencies.
It was part of a regional initiative implemented by UN Women and funded by the Swiss Agency for Development Cooperation in partnership with the Department of Overseas Labourers and the International Labour Organisation.
Last body found in Binh Phuoc motorboat accident
Border police in southern Binh Phuoc Province have found the body of the last victim in the overturned motorboat that left seven dead on Wednesday.
The seven victims, all from the province's Loc Ninh District, were swept away following the boat's overturning. They were among 40 workers traveling by boat along the Mang River in Loc An Commune to Cambodia to work. The old craft suddenly overturned after being hit by a violent torrent of water 50m off the river's shore. Thirty-three people survived the accident by clinging to tree branches along the river bank.
The border police have called upon individuals to donate VND150 million (US$7050) and 140 kilos of rice to the families' of the victims.
Viet Nam Marine Police receives advanced patrol boat
A multipurpose patrol boat with number code of CSB 8001 has been handed over to the defence ministry's Marine Police High Command in the northern province of Hai Phong today.
Putting the CSB 8001 boat into operation would help improving patrol ability and effect, rescue and aid and the country's sea and island sovereignty protection, according to the Marine Police High Command political commissar major-general Nguyen Van Tuong.
Equipped with advanced technological systems, the boat can work in bad weather condition, especially in offshore areas.
Along with the CSB 8003, 2015 and 2016, the boat is the fourth one equipped to the Marine Police High Command so far.
The Netherlands group of Demen designed boat was built by the Z189 Factory of the ministry's General Department for Defensive Industry.
Seminar looks to enforce labour laws
Viet Nam has issued many legal documents guiding the implementation of labour laws, but enforcement poses a steep challenge, agreed participants at a seminar in Ha Noi on Tuesday.
Viet Nam has ratified most of the 17 conventions of the International Labour Organisation and introduced them into its legal system, according to the Ministry of Labour, Invalids and Social Affairs (MoLISA).
These include the Labour Code revised in 1994 and 2012, the 2006 Vocational Training Law, the 2006 Social Insurance Law and the 2012 Trade Union Law.
The country has also implemented projects ensuring sustainable employment and gender equality for labourers.
However, delegates said that the lack of a systemised database on employment, vocational training, wokers' income and standards of living hindered the creation of suitable laws.
Ha Noi creates jobs for disabled people
Ha Noi aims to create jobs for all disabled people of working age by 2020.
To achieve this goal, the city plans to invest VND2-3 billion (US$41,000) annually in vocational training for the disabled and make it easier for them to access information technology, as well as loans from banks and other funds that would help them start their own businesses.
According to the municipal People's Committee, the city will also focus on improving working conditions for disabled people and organising monthly job placement events for them.
Disabled people make up 15.3 per cent of Viet Nam's population of 90 million.
Insufficient education and training prevent them from landing stable jobs and regular incomes. —
Police seize smuggled pig udder in capital
Ha Noi Police and Market Watch officers seized 600 kilos of decomposed pig udder being unloaded from a truck in the city's Gia Lam District yesterday.
The products were packed into 17 cargo containers with Chinese labels.
Trinh Van Nam, 32, of northern Hung Yen Province, failed to show quarantine certificates and legal documents to prove the origin of the organs.
He admitted that he was hired to transport the udder to the center of Ha Noi after receiving it from a 1.25-tonne truck in the northern province of Lang Son.
The organs were destroyed the same day.
Banking official prosecuted for appropriation
The Supreme People's Procuracy has prosecuted former banking manager Huynh Thi Huyen Nhu for allegedly appropriating VND4 trillion (US$190 million) from individuals and banks in 2011.
Nhu has also been charged with counterfeiting official stamps and documents of various organisations.
According to the indictment, the former acting head of the Viet Nam Joint Stock Commercial Bank for Industry and Trade's (Vietinbank) Dien Bien Phu office in HCM City, was found colluding with others to swindle nearly VND4 trillion between March 2010 and September 2011.
During the 20-month period, Nhu allegedly forged seals, documents and contracts to appropriate money from nine companies, three banks and three individuals.
Investigation findings showed that Nhu forged nearly 200 documents, including false contracts between Vietinbank's Nha Be Branch in HCM City and various businesses.
The Asia Commercial Joint Stock Bank, Nam Viet Commercial Joint Stock Bank and the Viet Nam International Bank's HCM City Branch were believed to be those targeted by Nhu's scam.
Along with Nhu, Vo Anh Tuan, a former staff member at Vietinbank's HCM City branch, has been charged for abusing trust to appropriate assets. Tuan reportedly played a key role in helping Nhu move money from banks.
21 other individuals- mostly bank employees - are being charged with fraud, abuse of power, lending violations and dereliction of duty.
The Ministry of Public Security's Investigation Department seized eight counterfeited seals, assets worth more than VND624 billion ($29.7 million), over VND360 billion ($17.1 million) in real estate and more than VND217 billion ($10.3 million) in cash.
The suspects have been temporary detained with the case scheduled to be brought to trial by the end of this year at the HCM City People's Court.
Under the Penal Code, those found abusing a duty of trust to appropriate assets are sentenced to life in prison, depending on the level of infringement and damages incurred, according to lawyer Nguyen Ngoc Quang from Ha Noi-based Hoang Tu Law Company.
'Collective action' can curtail corruption
Collective action is one of the solutions that can be applied to fighting corruption in Viet Nam, experts said at a workshop yesterday.
Nguyen Thi Kim Lien, Governance Adviser with the Department for International Development (DFID Viet Nam, the UK government funded aid organisation), explained that collective action is a "collaborative and sustained process of co-operation among stakeholders" that would "increase the impact and credibility of individual action."
It would also level the playing field among competitors and complement implementation of local laws and anti-corruption practices, she said.
Collective action can prove effective in that it can deal with the "supply side" of bribery, she said, adding that it can also be implemented without the need for legal and administrative reforms.
Forms of collective action could be "principle-based initiatives that engage various stakeholders to promote transparent business conduct, or certifying a business coalition that monitors and certifies compliance of their members with core shared principles against corruption, Lien said.
Integrity pacts – formal contracts that are externally monitored and help increase transparency in projects – can also be a form of collective action, she added.
She cited Saigon High-tech Park (SHTP) integrity pledge with Intel in 2011 as an example.
While the method brings the benefits of fair competition, protection from legal penalties, cost savings, enhanced reputation, and ethical and responsible behaviour of employees and competitors, it also needs consensus to succeed, Lien noted.
Other conditions include the willingness of companies to take part and play by the rules, persistence, and multi-stakeholder engagement, she added.
Le Thanh Nguyen, director of SHTP's Business Incubator Division, said the park has signed MOUs with 13 businesses including Intel Products Vietnam, DGS Electronics Co Ltd and FPT Software HCM City Co Ltd, on "commitment to business ethics and code of procedures to align with regulations."
Nguyen said the action has helped SHTP to gain satisfaction and trust from business, create an "echo value" about a healthy investment environment for businesses and create a critical change in positive perceptions as well as behaviors of civil officers and staff.
The Government should provide the right incentives for fighting corruption, said Helge Schroder, an expert with CleanGovBiz, the Organisation for Economic Co-operation and Development.
It should ensure an enabling business environment and strengthen public-private dialogue on integrity, he added.
The 12th anti-corruption dilogue was organised by the Viet Nam Chamber of Commerce and Industry, the Government Inspectorate of Viet Nam, and the British Embassy in Ha Noi.
Government needs "overarching vision" to bridge development gap
Vietnam must develop a more holistic vision about what government is trying to achieve and the process of change, a new report from the Central Institute for Economic Management has said.
Many reform programmes have not had sufficient impact due to lack of focus in both design and implementation, it said.
Some elements of reform programmes have moved ahead, but other parts have lagged badly behind, retarding overall progress, according to the institute.
The report was released by the institute in co-operation with the Government Office and Institute of State Organisation Science, under the Ministry of Home Affairs. Consultants for the report were Public Administration International/SKL International.
It said that senior government officials must think more holistically about what the goals of the government and have an overarching vision.
Analyzing how different reform strategies are linked is also critical.
The report set out two complimentary tools which could help Vietnam's government generate better recognition of the interconnectedness of the reform programme.
This will help the government to make decision on what it needs to be done and in what sequence.
One of the tools is a Balance Scorecard, a technique to align strategic initiatives, factors in critical successes, and performance measures.
The technique has been used by government departments in many countries, especially in the US at both central and local levels.
Grayson Clarke of Public Administration International/SKL International suggested that the technique should be used for Vietnam's next five-year plan on economic and social development.
Every ministry and different government agency in Vietnam should be encouraged to use it, Clarke said.
He also said that Vietnam should have a better financial planning system and a faster and more efficient legal system.
Paul Collins, an expert on civil service reform and human resources from the Public Administration International/SKL International, said Vietnam should change its methods of recruitment and promotion of civil and public servants at all levels.
Recruitment and promotion should be based on capacity for the job, he said, adding that better qualified people in jobs at all levels will improve the quality of public services and governance.
Ministry reviews counter-terrorism activities
The Steering Committee on Counter-Terrorism of the Ministry of Public Security convened its 12th session in Hanoi on October 24 to review what it has done in 2013 and outline tasks for 2014.
To Lam, Deputy Minister of Public Security and Head of the Committee, said the work of preventing and combating terrorism in the country will meet threats and challenges ahead so due attention and vigilance must always be maintained.
Emphasising its important role in firmly defending a peaceful and stable environment for the country's socio-economic development and people's lives, Lam requested police units and localities unceasingly improve their counter-terrorism capacity to make the task efficient.
In the wake of terrorism developing in a complicated manner in the world and Southeast Asia, and hostile forces increasing sabotage activities against the country in 2013, the Steering Committee has worked closely with ministries, sectors and municipal and provincial people's committees to promptly handle cases in connection with terrorism and security disturbance.
It has broadened cooperation with international organisations and law enforcement agencies of other countries.
The Law on Counter-Terrorism, ratified by the 13th National Assembly, took effect on October 1, 2013. The document specified the Party and State's policies and guidelines on preventing and combating terrorism at a time when the country is integrating globally.
Vietnam is now party to ten international instruments on counter-terrorism, and considering the accession to three other international conventions, namely the International Convention against Taking of Hostages, International Convention on Suppression of Terrorist Bombing, and International Convention for Suppression of Acts of Nuclear Terrorism.
Asian cities meeting bound for Hanoi in November
Delegates from the Asian Network of Major Cities 21 (ANMC21) will gather in Hanoi from November 17-19 for a plenary meeting to promote cooperation between ANMC21 members.
ANMC21's member cities include Tokyo (Japan), Seoul (the Republic of Korea), Singapore (Singapore), Bangkok (Thailand), Taipei (Taiwan), New Delhi (India), Kuala Lumpur (Indonesia), Jakarta (Indonesia), Manila (the Philippines), Yangon (Myanmar), Ulaanbaatar (Mongolia), Tomsk (Russia), and Hanoi (Vietnam).
Hanoi aims enhance communications, raising its profile as the City for Peace and an ideal tourist destination.
It will host an exhibition featuring ANMC21's joint projects and introducing member cities' achievements.
The exhibition will include pavilions on children's paintings, those on investment, trade and tourism for businesses, tour operators, and hotels, and those showcasing typical products from the member cities.
Outdoor art performances and exchanges will be staged in major venues to celebrate the event.
Protecting female guest workers' rights
An October 24 seminar in Danang City heard approximately 30–35% of the 500,000 Vietnamese nationals currently employed in more than 40 countries and territories are female guest workers.
Female guest workers are a major part of rising living standards and developing local household economies, especially in rural and mountainous areas. Their vulnerability to abuse and exploitation demands the most formidable rights protections possible.
Vietnam has actively worked with employer countries to defend its citizens working overseas, including implementing the ASEAN Declaration on the Protection and Promotion of the Rights of Migrant Workers. It also coordinated with regional countries to draft additional ASEAN migrant worker rights regulations.
Since 2009, the Ministry of Labour, Invalids, and Social Affairs (MoLISA) has worked with the United Nations Entity for Gender Equality and the Empowerment of Women (UN Women) on a project empowering female migrant workers under labour contracts. The project helped raise female migrant workers' awareness of their legitimate rights and interests abroad, and propose new policies in line with reality.
The Vietnam Labour Export Association (VLEA) has published a range of training documents for businesses and guidebooks for guest workers. It also drafted a code of conduct for labour export enterprises.
The regional seminar on protecting the rights of female guest workers was jointly collaborated by MoLISA, UN Women, VLEA and the International Labour Organisation (ILO).
It encouraged information sharing regarding overseas employment supply services in the interests of improving rights protections for female workers.
Domestic and foreign experts discussed issues including labour migration trends, the various states of gender equality in different countries and regions, the main challenges for migrant workers in Asia, policies on the role of businesses in protecting migrant workers, gender-sensitive migration policies, support services for female migrant workers, and ways to ensure female migrant worker protection agreements are enforced.
Conference supports low carbon emissions
Thai Binh province hosted an October 24 conference discussing the development of a low carbon emission economy and the goal of creating common foundations for green growth and poverty reduction.
The Central Institute for Economic Management, the Friedrich Ebert Foundation, the Green ID Organisation, and Bread for the World are jointly organizing the three-day event.
It is the first step in one of four international projects promoting low-carbon development strategies.
Conference participants discussed the challenges and opportunities arising out of minimising carbon emissions and pursuing green growth, as well as the combined impact of these targets on Vietnam's poverty reduction campaigns. A project action programme was drafted.
Vietnam wants to reduce its greenhouse gas emissions by 8–10% based on 2010 levels.
Conference helps improve eye care services
More than 750 opticians, surgeons, and technicians representing Vietnam, France, the US, Japan, Germany, and Singapore gathered for the opening of HCM City's National Ophthalmology Conference on October 24.
The annual event, organised by the Vietnam Ophthalmology Association (VOA), the Vietnam National Institute of Ophthalmology (VNIO), and government and industry agencies, reviews Vietnam's blindness prevention programmes, encourages eye health practitioners to share professional experiences, and introduces the field's latest research advances..
Its October 24–26 schedule allocates time to discussing the second Indochinese meeting on eye diseases, the last five years of blindness prevention and future orientations, a technological and scientific programme, and the 35th anniversary of HCM City Eye Hospital.
The conference encompasses professional seminars on cornea health and cataracts, glaucoma, children's eye health, eye trauma, plastic surgery, and refraction.
The VOA puts Vietnamese rates of blindness at 3.1%, equivalent to more than 400,000 people aged 50 or above with blindness of both eyes. Around 15–40% of the population, including 3 million children, suffer from refraction diseases and disorders.
As of December 2012, Vietnam had nearly 1,500 eye doctors, more than 1,800 nurses, and 570 surgeons. There are 21 private eye hospitals and clinics staffed by 100 doctors and 150 nurses. Most eye doctors are in urban areas.
Vietnamese eye care has recorded a range of significant achievements, such as controlling xerophthalmia caused by Vitamin A deficiencies and establishing a blindness prevention system at provincial levels. But seven provinces, mainly in the Mekong Delta region, still have no eye care units.
The ophthalmology sector aims to lower blindness rates for people older than 50 to 2.35% by 2019. It also plans to build eye care centres tailored to children and tackle trachoma.
Source: VEF/VNA/VNS/VOV/SGT/SGGP/Dantri