VIETNAM BUSINESS NEWS FEBRUARY 3/2023
Heavyweight shares help stop market from a fall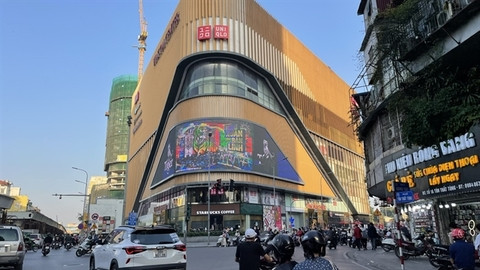 Vincom Pham Ngoc Thach in Ha Noi. Vincom Retail (VRE) and Vincom (VIC) rose 3 per cent and 1.1 per cent, respectively, yesterday. — VNS Photo Mai Huong
The VN-Index edged up slightly on Thursday despite two-thirds of shares dipping in the red, driven by the growth of heavyweight shares.
On the Ho Chi Minh Stock Exchange (HoSE), the VN-Index inched up 0.15 per cent to close the day at 1,077.59 points. The northern bourse's index decreased more than 3 per cent on Wednesday.
Two-thirds of shares on the HoSE lost value, mainly small- and mid-cap shares. From the perspective of industry groups, most of the groups underperformed, except for retail (up 4.2 per cent on average) and banking (0.6 per cent).
Data on vietstock.vn showed 18 out of 25 stock groups recorded losses, led by seafood processing companies (down 2.3 per cent on average), agriculture, logistics, machinery, construction and household appliances with each decreasing more than 1 per cent.
Blue chips were mixed. The market was supported by the growth of five leading stocks – Vietcombank (VCB), Mobile World Investment (MWG), Vingroup (VIC), Masan Group (VIC) and Vincom Retail (VRE) – with a growth rate of between 1.1 per cent and 5.9 per cent.
Increasing cautious sentiment among investors drove liquidity down. Only 635 million shares worth VND11.1 trillion (US$462 million shares) were traded, down around 37 per cent in both volume and value compared to the previous session.
On the Ha Noi Stock Exchange, the HNX-Index dropped 0.32 per cent to end at 215.32 points, expanding the two-day loss to 3.2 per cent.
Nearly 84 million shares worth VND1.2 trillion were exchanged on the Ha Noi Stock Exchange, down 36 per cent in volume and 38 per cent in value compared to Wednesday's figures.
In contrast to domestic investors, foreign traders continued to comb Vietnamese shares. There were responsible for a total net buy value of VND474 billion worth of shares on the two markets on Thursday.
Vietnamese IT firm expands its first footprint in US market
Vietnamese IT firm Rikkeisoft expanded its first footprint in the United States on February 1, by opening RKTech, a US company which is 100% owned by Rikkeisoft.
RKTech Corp, Rikkeisoft's US subsidiary, is located in Plano, Texas, and will contribute by helping the company leverage Vietnamese values globally.
According to the company's official website, Bui Hoang Tung has been appointed as the senior executive vice president of Rikkeisoft Corp. cum CEO of RKTech Corp. He will strive to propel Rikkeisoft to develop and provide high-quality IT services specifically for the US market.
Tung was one of the main pioneers in spearheading the globalisation strategy, as well as directing the expansion of Vietnam IT to the Japanese, Singapore, and the US markets. The vice president had joined the Rikkeisoft team to lead RKTech to become one of the most successful companies in the US and pave the way for Rikkeisoft to become a billion-dollar company.
Choosing the US market as the next destination to provide its technology solutions and services alongside the Asia-Pacific market, Ta Son Tung, president of Rikkeisoft, believes that the expansion can help more Vietnamese employees work in the world's largest technology market.
He noted that the company's establishment and development in the international market is not only based on Vietnamese resources, but also based on global resources.
The number of branches and offices of Rikkeisoft in the US market will therefore continue to increase in the future.
Rikkeisoft was originally founded in Hanoi on April 6, 2012 by six Vietnamese graduates of the Japanese Ritsumeikan and Keio Universities. The company name is derived from these alma maters.
The Rikkeisoft team consists exclusively of graduates from the highest ranking universities in both Japan and Vietnam. On top of this, its team boast a variety of other achievements, including winning the Mathematical Olympiad and IT Olympics.
Food and beverage industry to do well this year despite modest economy
The food and beverage market is forecast to grow by over 18% this year to 720 trillion VND (30.7 billion USD).
A recent report by iPOS.vn said that, after an impressive rebound in 2022, the F&B industry is poised to achieve "sustainable growth".
It predicted the market to top 938 trillion VND (40 billion USD) by 2026.
It expected big players to push strongly this year to gain market share but smaller ones to exercise caution since the economic difficulties would continue in 2023.
New brands like Phe La and Katinat Saigon Kafe would enter, it said.
It forecast some business models to struggle in 2023, including food delivery because sellers would have to reduce their prices to be competitive.
The model developed strongly when the COVID-19 pandemic hit.
A representative of Golden Trust, a company in food and beverage sector, told Vietnam News that he expected "stable development", but brands should ensure quality in all aspects from infrastructure to services.
A report from Momentum Works said Southeast Asia's food delivery spending grew by a modest 5% to 16.3 billion USD in 2022 after a two-year COVID-driven boom.
For the first time in three years, growth was driven by the smallest markets, the Philippines, Malaysia and Vietnam.
Food delivery players in the region, including in Vietnam, exited unprofitable businesses and markets, it said.
Vietnam has around 338,600 restaurants and coffee shops, with Ho Chi Minh City accounting for nearly 49% followed by Hanoi.
The food and beverage market was worth around 610 trillion VND (26 billion USD) last year.
Of the 3,000 restaurants and coffee shops that took part in a survey done by iPOS.vn for its report, over 46% said they do not have online service. But 83% of them have started to digitise and adopt technology.
Do Duy Thanh, F&B director of Horeca Business School, was quoted by markettimes.vn as saying that when an economy faces difficulties, investors flock back to industries that have high demand, and F&B is an example.
He expected that many new high-end restaurants to open this year.
The slump in the property market would cause people owning properties in good locations to invest in F&B hoping that would attract customers and thus push up the price of their property, he said.
According to the survey, Vietnamese consumers are ready to pay 40,000-70,000 VND for a beverage, and 500,000 VND on special occasions.
Over 77% of consumers said they would continue to spend at this rate or more in 2023.
Da Nang sees good signs in MICE tourism
The central coastal city of Da Nang has so far this year welcomed more than 1,200 visitors under the meetings, incentives, conferences and exhibitions (MICE) tourism.
Of the amount, 500 were from the Allybuild Vietnam company and close to 500 from a wedding of an Indian couple.
In the period, foreign MICE groups coming to the city were mainly from India, Indonesia, Malaysia, and the Republic of Korea.
Satish Ramnani, Director of Veydaa Events, an Indian-based wedding event organiser pioneering in bringing their customers to Da Nang, unveiled a plan for two more Indian weddings to take place in the central Vietnamese economic hub this year.
He said the city offers luxurious accommodations and suggested the local authorities issue more support and preferential policies serving this tourism segment.
A representative of Indochina Charmtours travel company said the firm will send more business delegations to Da Nang, because it has all the necessary elements to meet the needs of MICE tourism such as modern facilities, reasonable service prices, convenient transportation, and hospitality.
Mai Thi Thanh Hai, head of the municipal tourism promotion centre, said the city has already issued its support programme for MICE tourists in 2023.
Last year, over 30,000 people from 53 MICE delegations, including 8 international ones, arrived in Da Nang.
Lang Son posts 1.7 billion USD in goods trade via border gates
The value of trade via border gates with China in the northern province of Lang Son amounted to 1.7 billion USD in January.
Of the sum, the value of imports and exports with customs declarations reached 111 million USD, up 27% from last year.
Also in the month, nearly 170,000 tonnes of Vietnamese farm produce were exported through the border. Notably, between January 24 and now, some 1,500 trucks carrying some 20,000 tonnes of exports were cleared.
These numbers sent positive signals particularly as Lang Son's border trade activities are on the rise since China reopened its border.
At the beginning of February, the province saw five border crossings operating. These incuded the Huu Nghi international border gate, Chi Ma bilateral border gate, Tan Thanh and Coc Nam auxiliary border gates, and Dong Dang international railway station border gate.
Currently, trade activities at these border sites are booming, with competent forces actively implementing measures needed to facilitate related customs clearance.
Lang Son has a borderline of 231.7km in 21 communes bordering China's Guangxi Zhuang Autonomous Region.
Vietjet reports over 900 billion VND in profit in Q4/2022
Vietjet Air saw an impressive recovery after the COVID-19 pandemic as it recorded a year-on-year rise of 175% in net revenue to 7.35 trillion VND (313.4 million USD), and earned profit of 902 billion VND in the last quarter of 2022.
The company's revenue in 2022 hit 32.5 trillion VND, while profit was limited, reaching only 215 billion VND.
It also contributed over 4.3 trillion VND worth of direct and indirect taxes, fees and charges to the State budget.
Last year, the carrier transported 20.5 million passengers aboard 116,000 flights, in which domestic transport increased by 20% compared to 2019 before the COVID-19 broke out.
Vietjet opened more than 20 new routes in 2022, mainly to the Indian market. As of December 31, 2022, Vietjet had operated a total of 103 routes.
In 2023, Vietjet expects high revenue growth thanks to the reopening of the Chinese market and the increased exploitation of potential international markets including India, the Republic of Korea, Japan and Australia.
Canada represents potential market for Vietnamese cinnamon
Canada boasts great potential as a market for Vietnamese cinnamon, a product which is expected to account for half of the Canadian market share in the future.
Tran Thu Quynh, commercial counsellor and head of the Vietnamese Trade Office in Canada, said that last year saw the export value of Vietnamese tea, coffee, and spices to this market record strong increases in comparison to 2021.
With regard to cinnamon, large Canadian supermarkets such as Costco and Walmart imported a large volume of the Vietnamese product with a turnover of US$8.6 million, up 43.3% against 2021.
Given the strong growth, Vietnamese cinnamon is anticipated to make up 50% of the cinnamon market share in Canada over the coming years.
Canada boasts a high purchasing power, recording a high import growth rate of 17.5% in 2022. With the incentives brought about by the Comprehensive Partnership and Trans-Pacific Partnership (CPTPP) agreement, Canadian businesses are increasingly focusing on Vietnamese products and their businesses' production capacity.
Cinnamon is a very popular spice product, not only in Vietnam but also around the world. In countries with a developed processing industry, cinnamon and anise make up the main ingredients for producing cosmetics and pharmaceutical products.
Thanks to its aroma and beautiful colour, cinnamon is primarily used in interior decoration, furniture making, and household appliances.
Vietnam makes up the third-largest cinnamon producer and exporter in the world behind Indonesia and China.
The country's cinnamon export value to foreign countries has recorded showed consecutive increases, climbing from US$245.4 million in 2020 to US$274 million in 2021, before reaching US$276 million in 2022.
Vietnamese cinnamon is mainly consumed in India and the United States that spent US$90.7 million and US$54.2 million on the products last year respectively.
Cinnamon is grown mainly in Lao Cai, Yen Bai, and Quang Nam provinces with total output of around 900,000 to 1.2 million tonnes per year.
Bình Thuan to strengthen management of mineral exploitation
Authorities at different levels in the southern province of Bình Thuận have tightened measures to prevent violations related to mineral exploitation.
Titanium reserves in Bình Thuận Province are about 600 million tonnes, accounting for more than 90 per cent of the country's total titanium reserves.
However, after some titanium mining projects were recently licensed, many inadequacies and environmental problems appeared, causing public opinion concern, the Tin tức (News) newspaper reported.
Phan Thị Xuân Thu, deputy director of the Bình Thuận Department of Natural Resources and Environment, said that the province had issued 96 valid licences for mining minerals, of which 22 were construction stone quarries, 20 construction sand mines, 19 brick clay mines and 35 levelling materials.
Fifty-eight of them are in operation and 38 others have stopped or not yet been exploited.
The province has six valid titanium mining licences with a total area of 2,207 hectares. Three of them are being exploited.
It is regulated that the Ministry of Natural Resources and Environment manages titanium mines. Periodically, the ministry will inspect and check the mineral extraction activities.
Thu said titanium ore mining could cause adverse impacts on other economic sectors, such as tourism and agriculture, affecting people's lives and the coastal environment.
Moreover, mining has many potential risks related to labour safety.
Typically, recently, a sand landslide killed four workers at the Nam Suối Nhum titanium mine of the Tân Quang Cường Co Ltd in Thuận Quý Commune, Hàm Thuận Nam District.
Thu said that to overcome the existing difficulties and problems while serving socio-economic development, the province would review all mineral mines that are being exploited and finish exploitation and advise the provincial People's Committee to improve environmental status.
The department would promptly notify localities and businesses when the mining licence expired to request the termination. Mine closure will be conducted for environmental rehabilitation according to regulations.
With the same view, Lương Thanh Sơn, chairman of the Bình Thuận Union of Science and Technology Associations, said that titanium mining and processing projects needed to be further researched.
The research should be about solutions for saving water in exploitation and planting trees, creating a new landscape right in the areas that have been and are being exploited.
Mining enterprises must be responsible for combining mining with environmental protection according to plans approved by the competent authority.
They are also responsible for compensating and supporting organisations and individuals who donated their land to implement mineral mining projects following the Law on Land and other concerned laws.
Some mineral experts from the Bình Thuận Union of Science and Technology Associations suggested the Ministry of Natural Resources and Environment soon build a mineral reserve area in the province to serve economic development projects.
Planning bidding areas to select suitable investors for large-scale projects is necessary.
Binh Phuoc seeks to become modern industrial province

The south-eastern province of Binh Phuoc is seeking to develop its infrastructure and reform administrative procedures to achieve rapid and sustainable development this decade.
To industrialise, it plans to build roads to connect with neighbouring Dong Nai and other provinces in the southern region.
The roads will also be connected with major traffic routes in the region, the Cai Mep-Thi Vai Port in Ba Ria-Vung Tau and the Long Thanh International Airport in Dong Nai Province.
The province also plans to build 35 industrial clusters in its 11 districts and towns by 2030 at a cost of VND5.9 trillion (US$260 million).
Of them, 21 will be built on ​​583ha of land from now to 2025, and the other 14 will be built subsequently on another ​​580ha.
Priority will be given to technology, including information technology, supporting industries, agriculture, environmental protection, culture, sports, tourism, and healthcare, according to the provincial People's Committee.
The industries to be developed include agricultural processing, rubber and plastic, metal, electronics, automobile components, and textiles and apparel.
They are expected to create around 30,000 jobs.
The demand for housing is expected to grow because of the new industrial zones.
Of the planned new residential projects, the Asian Holding Real Estate Company has invested in the 4.7ha Asian Lake View project in Dong Xoai City.
It includes a residential area, shophouses and an area for entertainment.
Another is the 92.7ha Cat Tuong Phu Hung Complex Urban Area in Dong Xoai City at a cost of $70 million.
To create the best possible investment climate, Binh Phuoc has been pushing ahead with administrative reforms, and the time needed to license a project is being cut down to a single day, while the online handling of administrative procedures will make assistance to businesses swift.
It will focus on attracting investments in technology, organic agriculture and processing of agricultural products like cashew, pepper and fruits.
Viet Nam, Netherlands eye further cooperation in sustainable development

Due to their similar geographical features and advantages, the Viet Nam and the Netherlands have increased their sustainable development partnership in agriculture, water management, and climate change adaptation, said Ambassador of the Netherlands to Viet Nam Kees van Baar.
Agriculture plays a pivotal role in the economies of Viet Nam and the Netherlands and is deeply imprinted in the culture and people of the two countries, the diplomat told Dau tu (Vietnam Investment Review).
Close co-operation between the two sides has resulted in new visions and the blooming of business cooperation, with a growing number of the Netherlands' companies doing business and investing in Viet Nam.
The Netherlands is the largest European investor in Viet Nam. With their investments and innovative and sustainable operations, the country's businesses actively contribute to Viet Nam's progress, he said.
He added that but even more significant, Vietnamese companies setting up businesses in the Netherlands as well.
Regarding the two countries' co-operation in green trade, Kees van Baar said that Viet Nam and the Netherlands are delta countries and are vulnerable to rising sea levels resulting from climate change.
The countries also aim to become climate neutral in 2050 by reducing greenhouse gas emissions.
Currently, the EU is developing and implementing new rules and regulations to support its climate ambitions, like the Carbon Border Adjustment Mechanism and Corporate Sustainability Due Diligence Directive.
He said that these new mechanisms will become effective in the coming years and will modernise and strengthen the rules for imports to the EU markets regarding environmental, social, and governance (ESG) criteria.
For companies exporting from Viet Nam to the EU or being in the supply chain of an EU company, he added that there would be strong incentives to invest in ESG reporting to enjoy low tariffs and easy access to EU markets.
Therefore, the Netherlands invests in ESG capacity building for Vietnamese companies. In the framework of the GEFE 2022 event in HCM City, the embassy offered workshops. It will continue to do so in the context of the 'Ready to Export' programme, which is being implemented by the Dutch Business Association in Viet Nam and Vietrade.
Regarding the two countries' hi-tech co-operation, the ambassador said that the Netherlands is a small country in terms of area, but it is the 15th largest economy in the world.
The Netherlands has a rich history of entrepreneurial innovation with world-famous inventions, ranging from microscopes and telescopes to CDs and DVDs, Bluetooth and Wi-Fi.
During his visit to the Netherlands last December, Vietnamese Prime Minister Pham Minh Chinh visited the world-leading production and knowledge economy of the province of North Brabant and the Brainport region in and around the city of Eindhoven.
In response to PM Chinh's wish to strengthen bilateral co-operation in innovation and creativity, the Netherlands is ready to share with Viet Nam the knowledge and experience of our transition from a traditional agricultural and manufacturing industry into a world-leading high-tech hotspot, the ambassador said.
He added that they plan to organise in 2023 a mission of the Netherlands' businesses, knowledge institutes, and other stakeholders from the innovation ecosystem to Viet Nam to exchange ideas and discuss co-operation possibilities.
FTAs provide a push for Viet Nam's exports in 2023

The 15 free trade agreements (FTAs) to which Viet Nam is a member are expected to give a boost to Viet Nam's export activities this year, towards the growth target of 6 per cent.
Phuc Sinh JSC, based in HCM City, has exported 50 containers of coffee, pepper, cashew nut and other products to Europe, the US and the Middle East in early 2023.
The company shipped about US$50 million worth of goods to Europe in 2020 and $63 million in 2021, which grew some 30 per cent last year.
It is among the hundreds of domestic firms that are effectively utilising the FTAs, contributing to raising Viet Nam's agro-export revenue to over $53 billion in 2022.
Chairman and General Director of Phuc Sinh JSC Phan Minh Thong noted that with tax incentives, the deals will help Vietnamese goods compete with those from other countries despite difficulties forecast for this year as many major importers are expected to face inflation.
Import-export was Viet Nam's bright spot in 2022, hitting a record of around $730.2 billion, of which $371.5 billion came from exports, statistics show.
Notably, thanks to the EU-Viet Nam Free Trade Agreement (EVFTA), garment-textile exports to the EU reached $4.46 billion, representing a year-on-year rise of 34.7 per cent.
The sector is projected to rake in $47-48 billion this year, which is within its reach as the FTAs will accelerate the relocation of investment from other countries to Viet Nam, according to Chairman of the Viet Nam Textile and Apparel Association (VITAS) Vu Duc Giang.
Minister of Industry and Trade Nguyen Hong Dien also held that the agreements will further prove their role this year as the market share of many key exports still remains limited in foreign countries.
More realty businesses established, resume operations in 2022

The number of newly-established enterprises and businesses resuming operations in the real estate market saw a remarkable rise last year, said the Ministry of Construction.
As per statistics from the Ministry of Planning and Investment's Business Registration Management Agency, there were 8,593 new enterprises and 2,081 businesses resuming operations in 2022, up 13.7 per cent and 56.7 per cent year-on-year, respectively.
Meanwhile, the number of firms declaring bankruptcy or dissolution also grew by 38.7 per cent against 2021.
The Ministry of Construction said 2022 still saw many challenges facing realty firms and forcing them to change their business and management plans. The changes included debt restructuring, scaling down production and investment, streamlining apparatus, and suspending new projects, among others.
In the face of complicated economic developments, from the middle of the third quarter to the end of last year, the operations of real estate exchanges also showed signs of difficulties. Less transactions were conducted compared to the beginning of the year, leading to a decrease in the scale of the trading floors, whose number is now more than 1,100.
According to the Foreign Investment Agency under the Ministry of Planning and Investment, 103 transactions of capital contribution and share purchase were recorded in the sector in the year as of December 20, with their accumulative value reaching some US$1.6 billion.
More realty businesses established, resume operations in 2022

The number of newly-established enterprises and businesses resuming operations in the real estate market saw a remarkable rise last year, said the Ministry of Construction.
As per statistics from the Ministry of Planning and Investment's Business Registration Management Agency, there were 8,593 new enterprises and 2,081 businesses resuming operations in 2022, up 13.7 per cent and 56.7 per cent year-on-year, respectively.
Meanwhile, the number of firms declaring bankruptcy or dissolution also grew by 38.7 per cent against 2021.
The Ministry of Construction said 2022 still saw many challenges facing realty firms and forcing them to change their business and management plans. The changes included debt restructuring, scaling down production and investment, streamlining apparatus, and suspending new projects, among others.
In the face of complicated economic developments, from the middle of the third quarter to the end of last year, the operations of real estate exchanges also showed signs of difficulties. Less transactions were conducted compared to the beginning of the year, leading to a decrease in the scale of the trading floors, whose number is now more than 1,100.
According to the Foreign Investment Agency under the Ministry of Planning and Investment, 103 transactions of capital contribution and share purchase were recorded in the sector in the year as of December 20, with their accumulative value reaching some US$1.6 billion.
Volatile real estate market puts pressure on business results

A volatile real estate market caused revenues and profits of realty businesses to decrease sharply in the fourth quarter of 2022.
Phat Dat Real Estate Development Joint Stock Company (PDR) reported net revenue of VND14.6 billion (US$622,600) in the last three months of 2022, a sharp decrease compared to the VND1.29 trillion recorded in the fourth quarter of 2021.
The company suffered an after-tax loss of VND229.4 billion in Q4 of 2022, while in the same period in 2021, it reported a net profit of VND751.4 billion. This was considered Phat Dat's "failure" quarter as the company reported a loss for the first time since it announced business results.
Dat Xanh Group Joint Stock Company (DXG) reported a loss of VND460 billion in the last quarter of 2022. During the period, the company's net revenue reached VND984.3 billion, down 56.6 per cent year-on-year. In which, sales of apartments and land plots reached VND400.2 billion; real estate brokerage services reached VND394.8 billion, down 68.8 per cent and 55.9 per cent respectively over 2021.
In the fourth quarter of 2022, LDG Investment Joint Stock Company (LDG) reported a loss after tax of VND38.88 billion and its revenue decreased by 83.7 per cent year-on-year due to high costs.
Although no loss was reported, No Va Land Investment Group Corporation (NVL) announced its business results in the fourth quarter of 2022 with net revenue of only VND3.24 trillion, down 29 per cent over the same period of 2021. Accordingly, profit after tax in the period only reached VND239.4 billion, down 73.5 per cent year-on-year.
For the whole year, this real estate group recorded nearly VND11.15 trillion of consolidated revenue, down 25 per cent year-on-year. Profit before tax decreased by 19 per cent to VND4.11 trillion and profit after tax decreased by 34 per cent to more than VND2.29 trillion. Notably, Novaland's inventory amounted to nearly VND135 trillion.
Nam Long Investment Joint Stock Company (NLG) announced business results with a net profit in the fourth quarter of 2022, down 23.3 per cent over the same period, at VND589.7 billion. Compared to other businesses in the industry, this figure shows the company was least affected in the fourth quarter of 2022.
Specifically, net revenue reached VND1.63 trillion, down 63.1 per cent over 2021. Meanwhile, financial revenue increased 5.4 times, reaching VND306.9 billion. However, selling and administrative expenses of the enterprise reached VND186.2 billion and VND199.1 billion, both down 51 per cent and 10.3 per cent respectively over the same period last year.
Ba Ria-Vung Tau speeds up land clearance for Bien Hoa-Vung Tau expy
Site clearance and technical infrastructure relocation for the Bien Hoa-Vung Tau expressway project are being expedited, said Nguyen Cong Danh, deputy head of the Cai Mep-Thi Vai management board of traffic projects, the investor of the project.
The project will affect over 1,240 households covering more than 138 hectares in Phu My Town and Ba Ria City in Ba Ria-Vung Tau Province, said the investor, adding that work on checking land lots for the project at these affected households was 87% complete.
Phu My Town has paid VND91.4 billion to 16 households in compensation, while Ba Ria City is expediting the site compensation process, the local media reported.
Nguyen Cong Vinh, vice chairman of Ba Ria-Vung Tau Province, asked authorities of the town and the city through which the expressway passes to quickly complete land reclamation to accelerate the site clearance process, which is expected to end by April 30.
Besides, the vice chairman urged the investor to work closely with the authorities of the province to quickly complete the relocation of electricity, water and telecommunications systems.
The Bien Hoa-Vung Tau expressway's total length is around 54 kilometers, with 19.5 kilometers in Ba Ria-Vung Tau and the rest in Dong Nai Province.
Sacombank deputy general director resigns
The Sai Gon Thuong Tin Commercial Joint Stock Bank (Sacombank) has relieved Le Van Ron from his posts of deputy general director and risk management director at the bank following his request, with effect from today, February 1.
Ron has 32 years' experience in finance and banking. He started to work at Sacombank in 2017.
Regarding the commercial bank's business performance, its pre-tax profit in the final quarter of 2022 reached almost VND1.9 trillion, expanding 65% against the same quarter in 2021.
Its before-tax profit in 2022 rose 44% year-on-year at more than VND6.3 trillion and surpassed last year's target by 20%.
As of December 31 last year, the total assets of Sacombank totaled nearly VND592 trillion, up over 13% versus the end of 2021.
State budget revenue reaches over VND165 trillion in January
State budget revenue in January 2023 totaled VND165.7 trillion, meeting 12.1% of the year's estimate and reaching 4.4% higher than the same period last year, according to the General Department of Taxation under the Ministry of Finance.
Of the total, budget revenue from crude oil amounted to VND5.3 trillion, reaching 167.7% over the same period last year.
Revenues from state-owned enterprises were estimated to rise by around 15.3%, while those from FDI enterprises increased by some 18.3% year-on-year.
The tax authority carried out some 795 inspections, 59.6% more than in the same period in 2022, and checked nearly 1,200 tax returns at the tax offices.
The total amount of money gained from the inspections and examinations totaled some VND1.2 trillion, with some VND692 billion submitted to the State budget.
The full-year target of the state budget revenue has been set at over VND1.37 quadrillion, with VND42 trillion from crude oil and VND1.33 quadrillion from domestic revenue.
The General Department of Taxation will continue to improve tax administration procedures, apply e-billing with authentic tax codes, and track foreign suppliers on digital platforms.
Moreover, this department will support taxpayers and enterprises to stabilize production activities, develop a plan to prevent revenue losses, do business on digital platforms and transfer their capital.
Local cooking gas prices soar in Feb
The domestic retail cooking gas price surged by over VND60,000 per 12-kilogram cylinder starting today, February 1, following the soaring global prices of the product.
In Hanoi City, a 12-kilogram cylinder of the Petrolimex cooking gas is priced at VND480,500, up VND62,000 against the January level, the local media reported.
The retail price of the City Petro gas product picked up VND63,000 per 12-kilogram cylinder at VND477,000, while the price of a 45-kilogram cylinder of the product increased by VND235,000.
Similarly, the price of the cooking gas product at Pacific Petro jumped by VND63,000 per 12-kilogram cylinder at VND510,500.
Nghiem Xuan Cuong from Petrolimex Gas Corporation said that a surge in global gas prices pushed up the local retail price of the product. Global suppliers have announced that gas prices in February average out at US$790 per ton, up US$192.5 per ton against the previous month.
Approval of 18 public investment projects behind schedule
The Transport Ministry yesterday informed in the meeting about the progress of public investment projects for the 2021-2025 period that 57/63 projects have their investment policy approved.
Among the 57 mentioned projects, 39 have their investment plan greenlighted while 18 are still waiting for their plan to be approved.
As to the six without an agreement on investment policy, three use the state budget, namely Ho Chi Minh Highway construction project – the section from Chu Market to Trung Son T-junction, Ho Chi Minh Highway construction project – the section from Rach Soi – Ben Nhat, Go Quao – Vinh Thuan, and the railway connection project between Lao Cai Train Station and Ha Khau Bac Train Station.
The other three projects use ODA (Official Development Assistance) capital, consisting of the first stage of the connection road project between Ha Giang Province and Noi Bai – Lao Cai Expressway, the project to expand and repair certain bridges and tunnels on National Highway No.1A, and the renovation project for National Highways No.53, No.62, Nam Song Hau route.
Transport Minister Nguyen Van Thang on the same day directed the acceleration of disbursement of the 2023 public investment plan. In 2023, the public investment for the transport sector is the largest ever, at over VND94 trillion (US$4 billion), which is 2.2 times and 1.7 times as high as the ones in 2021 and 2022 respectively.
The Minister requested that investors and the management board of related projects closely monitor the progress of the project under their responsibility to ensure quality in the stages of investment preparation, design, and cost estimation. Any violations must be strictly handled.
All investors and project management boards must develop a detailed disbursement plan corresponding with the project, which is submitted in January 2023 to be the foundation for administration and result evaluation.
EU removes frequency of control on certain Vietnamese spicy herbs
The European Union (EU) yesterday issued new regulations on official and emergency control measures for the transport of certain merchandise from third countries, including Vietnam, to the EU.
Accordingly, some imports from Vietnam like instant noodles containing spices, seasoning powder or sauce, dragon fruit will apply a pesticide inspection frequency of 20 percent. Ladies finger and Capsicum bell pepper are still under the inspection frequency of 50 percent. The former also needs a certificate of pesticide control issued by Vietnamese functional agencies.
Deputy Director Ngo Xuan Nam of the Vietnam Sanitary and Phytosaniary Notification Authority and Enquiry Point (under the Ministry of Agriculture and Rural Development) said that compared to the EU's regulations introduced in May 2022, four Vietnamese spicy herbs, namely parsley, coriander, basil and mint, are no longer subject to official and emergency control measures of the EU. This has provided a favorable condition for Vietnamese produce to increase its export turnover to this market.
Every 6 months, European Parliament and European Council (EC) holds a meeting to review and evaluate the level of violation on food and animal feed safety of countries exporting goods to the EU, followed by notifications on changes in the regulations on control measures.
Legal framework, policies for stock market development to be completed
Ho Chi Minh City Stock Exchange (HoSE) yesterday held a gong beating ceremony to officially open the first stock exchange session for the new Lunar year.
Mentioning the focused goals of 2023, Chairwoman Vu Thi Chan Phuong of the State Securities Commission said that this industry is going to complete necessary legal frameworks and policies for the growth of the market.
Along with that is the acceleration of restructuring activities and perfecting the market's foundation. More importantly, the Korea Exchange (KRX) trading system will soon be put into operation in order for the domestic stock market to work stably and effectively.
Meanwhile, state management agencies are going to strengthen their inspection, examination, and monitoring tasks so that any possible issues like rumor spreading can be timely addressed, ensuring the rights of investors and consolidate their confidence.
The State Securities Commission and related agencies are going to actively cooperate with international organizations, to promptly propose the Finance Ministry to host discussions with relevant ministries so that the Vietnamese stock market can soon be upgraded from a marginal position to an emerging one as planned.
Source: VNA/SGT/VNS/VOV/Dtinews/SGGP/VGP/Hanoitimes