Deputy Prime Minister Vu Duc Dam requested Ho Chi Minh City continue to tighten management to prevent cross-infection of COVID-19 in quarantine and sealed-off areas at an online briefing of the National Steering Committee for COVID-19 Prevention and Control on July 17.
Dam, who is also head of the committee, urged the city to strengthen transport of newly-infectious cases to treatment facilities, especially those with worsening symptoms.
HCM City needs to ensure the supply of essential goods and food to stabilise people's lives and encourage people to share the immediate difficulties to strictly comply with social distancing regulations, he added.
Deputy Prime Minister Dam requested quicker testing, saying forces need to quickly collect samples, organise testing, and quarantine infection cases.
Also on the day, Deputy Prime Minister Truong Hoa Binh inspected COVID-19 prevention and control of in Dong Thap province.
He underscored the Mekong Delta province's goal of reducing the number of cases and deaths during the social distancing period, while protecting production activities of enterprises to both fight pandemic and develop the economy.
The province needs to focus on mobilising resources for COVID-19 prevention and control, carry out social and security work, and help vulnerable and disadvantaged people, he said./.
HCM City sets up additional medical site to treat severe F0 patients
Ho Chi Minh City has established a 1,000-bed hospital in an effort to treat severe COVID-19 cases, according to information provided by municipal authorities.
This updated was given during an online meeting held on July 17 with Ho Chi Minh City's Steering Committee for COVID-19 Prevention and Control.
During the event, Deputy Prime Minister Vu Duc Dam asked the southern city to strictly follow social distancing measures in line with the Government's Directive 16, along with tightening preventive measures at blockade areas and promoting the supervisory role of community-based teams as part of efforts to prevent cross-infection.
Nguyen Thanh Phong, chairman of Ho Chi Minh City People's Committee, revealed that apart from the establishment of an additional 1,000-bed hospital, the Ho Chi Minh City Hospital for Tropical Diseases and Cho Ray Hospital set up a further 300 beds aimed at treating critically-ill patients.
With regard to the supply source of essential goods, the HCMC Department of Industry and Trade revealed that they have increased the overall quantity of goods in order to serve local residents.
Deputy Prime Minister Vu Duc Dam stated that the Government has also directed relevant ministries to ensure the continued supply of essential goods for local residents, while simultaneously abiding by social distancing measures.
Deputy PM Dam also emphasised the necessity of enhancing transparency and removing hurdles in procuring machines and equipment for the country's ongoing COVID-19 battle.
According to a report released by local authorities, between 6:00 a.m. on July 16 and the morning of July 17, the southern city recorded more than 2,800 new cases of COVID-19, of which more than 80% were in quarantine or in locked down areas.
A further 420 positive cases have been detected through screening tests at hospitals, with the city's health facilities treating 20,800 COVID-19 patients, of which 306 are on mechanical ventilation and eight are relying heavily on extracorporeal membrane oxygenation (ECMO) therapy.
Pilots required to be fully vaccinated to operate flights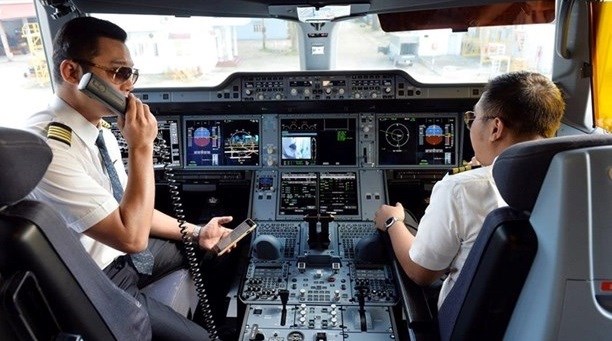 Vietnam Airlines pilots. (Photo: VNA)
Only pilots who are fullyvaccinated against COVID-19 with two jabs are eligible to operate flights, the Civil Aviation Authority of Vietnam (CAAV) said in a new directive on mandatorymeasures for flight safety amid COVID-19.
The policy will be applicable from September 1.

The directive requests the CAAV's flight safety standarddivision to study the COVID-19 Contingency Related Differences (CCRD) of the InternationalCivil Aviation Organisation (ICAO) and issue instructions on the grant ofICAO's Targeted Exemption (TE) this month.

The authority also requires flight operators to strictlyadhere to COVID-19 preventive rules. Vaccination must be prioritized tofrontline workers, including pilots, flight attendants, technical engineers,who are considered high-risk because of regular contact with passengers, it said./.
ASEAN, Czech Republic look to standardise customs procedures
The Association of Southeast Asia Nations (ASEAN) Committee in coordination with the Customs Administration of the Czech Republic has held a webinar to introduce the electronic customs of the European country.
Indonesian Ambassador to the Czech Republic Kenssy Dwi Ekaningsih, who is also Chairwoman of the ASEAN Committee in Prague, and Trousir Jiri, Deputy Director General of the Customs Administration of the Czech Republic, co-chaired the event.
It attracted the participation of more than 30 delegates from six embassies of ASEAN countries in Prague and representatives of the Czech businesses.
Tomaš Kocourek, an expert in charge of customs clearance procedures, gave an overview of the Czech customs system.
He said the customs regulations of the country were unified and complied with that of the EU. However, member countries can decide for themselves on value-added tax (VAT) and special consumption tax.
In his presentation, the expert also introduced in detail customs clearance procedures for export, import, and shipment operations in the Czech Republic, including procedures for registration of electronic signatures, registration for customs inspection.
Only about two percent of customs clearance cases in the country are conducted in the traditional form and the rest are all done through electronic customs, he said.
Participants at the webinar shared opinions on factors such as product standardisation, certification of origin, and freight transport procedures.
According to Vietnam Trade Counselor in the Czech Republic Nguyen Thi Hong Thuy, the workshop aims to establish relationships with local customs authorities, creating information channels and cooperation toward simplifying procedures, facilitating the growth of trade in goods between ASEAN and the Czech Republic.
She suggested that more seminars should be organised with specific themes to connect businesses in member countries as well as other organisations specialising in animal and plant quarantine or trade marks regulations.
She said ASEAN countries are a potential market and a promising investment environment that the Czech state and businesses are interested in the near future.
ASEAN countries recognise that traditional handicrafts, agricultural products, food and essential consumer goods have many opportunities to enter the Czech market, she said, adding that this is also a bridge to penetrate the EU market.
In terms of two-way trade relations, Vietnam is the second largest country in ASEAN after Malaysia in import and export turnover with the Czech Republic.
Thuy also said the EU-Vietnam Free Trade Agreement (EVFTA) brings many benefits to Vietnam and the EU, including the Czech Republic, one of the first countries to ratify it.
One of the biggest benefits of the EVFTA is the elimination of 99 percent of tariffs, which saves costs for Vietnamese, Czech and EU exporters and importers. This creates opportunities for Czech businesses to export goods in areas where the country has strengths such as textile-garment industry, glass, automobile, mechanical engineering, food, and chemical.
Vietnam has an action plan to implement the binding provisions of the free trade agreement, including a commitment to sustainable fisheries management, Thuy said, adding that the country has made great efforts in combating illegal, unregulated and unreported (IUU) fishing to meet standards relating to the environment./.
President chairs third meeting of Council of National Defence and Security
President Nguyen Xuan Phuc on July 17 chaired the third meeting of the Council of National Defence and Security.
Delegates looked into the National Assembly's resolution on the relief of a number of council members and other personnel issues for the 2016-2021 tenure, along with documents regarding the operation of the council.
In his remarks, Phuc, who is also Chairman of the council, stressed the importance of the meeting which reviewed the council's performance in the tenure while creating a basis for its activities in the new term.
Apart from traditional challenges, there are non-traditional security ones, notably the COVID-19 pandemic, the leader pointed out.
Despite efforts by the Government, the pandemic is still developing complicatedly, he said, highlighting the important role of the army, public security forces and diplomacy in the COVID-19 fight./.
Vietnam calls for protection of humanitarian workers in armed conflicts
Ambassador Dang Dinh Quy, Vietnam's Permanent Representative to the United Nations (UN), has emphasised the important role of humanitarian workers and UN staff in reducing humanitarian burdens and assisting people in the context of prolonged conflict which seriously threatens the life of civilians.
He made the statement at a ministerial meeting of the UN Security Council on the issue of protecting humanitarian workers in armed conflicts held on July 16.
Jean-Yves le Drian, Foreign Minister of France, which holds the presidency of the UN Security Council in July, chaired the meeting.
It was also attended by Foreign Ministers of Kenya, Mexico, Tunisia, and India. UN Deputy Secretary-General Amina Mohammed, Executive Director of the International Committee of the Red Cross (ICRC) Robert Mardini.
Ambassador Quy condemned acts of assault and violence against humanitarian and UN personnel, calling on all parties to armed conflicts to comply with their obligations under international humanitarian law to protect civilians and essential infrastructure facilities, as well as keep humanitarian workers safe, and ensure unimpeded humanitarian access.
It is also necessary to uphold the core humanitarian principles of neutrality, impartiality and independence in order to build trust within host communities and among conflict parties, he said, adding similarly, the principles of sovereignty and non-interference, along with domestic law, must be fully respected.
He emphasised that the primary responsibility to protect civilians rests with the state, while calling for efforts to enhance local resilience, reduce the humanitarian need and address the root causes of armed conflicts.
Addressing the meeting, Amina Mohammed, Deputy Secretary-General of the United Nations, said 99 humanitarian workers were killed and many more were attacked, kidnapped, detained, and threatened in 19 countries with conflict last year.
According to the World Health Organisation (WHO), in early 2021, in 14 conflict zones, there were 568 cases of attacks on health facilities and staff.
The UN Deputy Secretary General said that the best way to protect humanitarian workers is to end violence and conflict, and ensure compliance with humanitarian law.
He announced that the Secretary-General of the United Nations has decided to appoint a special adviser on the preservation of humanitarian space and access to strengthen negotiations on these issues.
At the meeting, Robert Mardini, Executive Director of ICRC expressed his concern about politicisation of humanitarian aid by State and non-State armed groups that made humanitarian workers victims.
The diplomat said that the key principle of humanitarian action is neutrality, calling on countries to transform their commitments into actions and that humanitarian organisations should be the front line who reach and support people in the conflicts.
UNSC member states affirmed their commitment to ensuring the safety of humanitarian personnel, urging the creation of unhindered humanitarian access as well as the investigation and jurisdiction of violations of the humanitarian law.
They also exchanged opinions on the situation of some conflict zones and measures to strengthen the role of the UN Security Council there./.
Stronger social protection reform needed to prepare workers for crises
With the second COVID-19 support package from Government being disbursed for a wide range of recipient groups including informal workers, vendors like Nguyen Thi Chien is counting the days for the money to arrive.
For her, the relief can't come soon enough.
Chien, a resident of Nam Dinh province who moved to Hanoi in 2000s, has collected used plastics and paper to resell for more than 10 years.
Travelling around the city for up to eight hours a day pushing her old bicycle in all weather conditions, the single mother could still manage to support her family of three with a monthly income of 4 million VND (170 USD). But things have been much tougher since the pandemic hit.
Informal workers like Chien, who work for themselves and have no contract are not eligible for social protection and suffer hard because of COVID-19.
"When the social distancing measures were made stricter and restaurants close, I come home earning nothing," she said, adding that her main collecting places include restaurants where she can find used plastics and offices where used paper stuff is given free or sold.
Less income made her more creative in cutting spending.
As her only daughter, a university student, has shifted to online classes due to COVID-19, she sent her back to the hometown with her grandmother to save money.
"I save money on whatever I can, whether it's food or accommodation," the 49-year-old said, adding that going vegetarian turns out to have double benefits, helping her skip meats and saving money in times of crisis.
Though economic growth picked up to some extent in the second half of last year, and more strongly in the first half of 2021, it has not been sufficient to fill the job creation gap. As a result, employment quality has been deteriorating, according to the International Labour Organisation (ILO) in Vietnam.
Since the beginning of 2020, the informal employment rate has been on an upward trend both in manufacturing and in market services, the organisation said.
According to the latest report by the General Statistics Office, the number of informally employed workers in the country in the second quarter of 2021 was 20.9 million, up 1.4 million over the same period last year.
Valentina Barcucci, ILO in Vietnam's Labour Economist and Officer in Charge told Viet Nam News: "It can be easy to see how informal workers will be significantly affected by the current wave, and possibly, even more in the second half of June and this month, as the virus spreads and businesses and services are closed in large affected areas."
Informal workers are not just limited to street vendors, they also include employees of businesses, who have an agreement with an employer but do not exist in the employer's books, she said.
"Employers experiencing economic hardship might have to resort to retaining a worker without paying social protection contributions, for example," the economist said.
With the drop in earnings, no support sources and no savings at all, Chien had to resort to borrowing money from her friends, relatives and fellow workers.
Barcucci added: "In a way, cash transfers can play a double role of supporting families maintain their consumption levels through a crisis, but at the same time mitigate the drop in demand for goods and services faced by companies.
"More than a cost, such a package can be an investment in stabilising the economy, keeping families away from poverty, and thus leaving no one behind."
Vietnam has approved a package worth 26 trillion VND (1.13 billion USD) for labourers and businesses affected by the pandemic, in which informal workers will be a beneficiary.
One of the updates in the new package compared to the previous one is local authorities will directly allocate funds to informal workers.
Cities and provinces will set up their own categories to recognise this group of workers, who will receive at least 1.5 million VND each.
In April last year, the Government approved the first support package worth 62 trillion VND (2.7 billion USD).
According to the Ministry of Labour, Invalids and Social Affairs, by May this year, the package had disbursed just 13.1 trillion VND, equivalent to about 22 percent
The number of beneficiaries receiving cash from this package was nearly 13.2 million.
According to an assessment from labour experts, groups of policy beneficiaries and poor households were paid quickly and on time due to the available lists and standard data systems while for the remaining target groups, especially workers without labour contracts and household businesses, the support was slow due to many administrative procedures and regulations on conditions and standards to receive the assistance.
Delivery and implementation of the second package is a great challenge that needs to be addressed to ensure the support is delivered timely to those desperate for cash assistance like Chien.
Barcucci said: "Ideally a relief package should identify those that need government support the most, and be tailored and delivered to them. However, this is a very complicated, time-consuming and resource-heavy task, particularly in a country with high levels of informality.
"There will always be a trade-off between the fairness of support provided, the speed of implementation, and the fiscal space needed for each different COVID-19 support package.
"It is up to the State to discuss and decide where optimal balance lies between these different dimensions."
Stronger social protection reform needed
After the first round of support was offered, there were a number of allocation problems that arose.
Barcucci added: "From the experiences with the first package, there are clear challenges of the existing social protection system which should be addressed."
They include the "fragmentation, limited coverage and adequacy" of the social protection schemes that lead to the "limited ability" of the social protection system to act as an automatic stabiliser in case of shocks.
The 'missing middle' is also a challenge that needs to be solved as they are mostly workers in informal economy who are in need of immediate support but are not covered by any existing social protection mechanisms, she said.
Besides, the current emergency support mechanisms are not prepared to respond to large scale co-variant shocks and are neither linked to the regular social assistance schemes nor to social insurance, thereby they fail to serve as an automatic stabiliser in a shock-resilient social protection system, she said.
"The Government should take into account the lessons learned from the limitations of the previous package, to accelerate the reforming of social protection system towards a more shock-responsive social protection system that will allow to protect affected people in the COVID-19 and future crises."
She said there is no single winning approach to the informal economy that a country can learn from others and apply directly.
"Rather, it is necessary to understand in detail the drivers and characteristics of informality in each specific context, before moving on with a response," she added.
Chien doesn't not know if, or when, she will be given any government assistance. She plans to contact her local authorities to see if she is eligible.
In the meantime, she continues to take inspiration in life from her daughter, a fourth year university student who will graduate soon. When that happens she will no longer have to worry about paying the huge tuition fee.
"I hope she can find a good job after graduation and have a better life than me," the single mother said./.
Pathet Lao newspaper spotlights close-knit Vietnam-Laos ties
The Pathet Lao newspaper of the Lao News Agency (KPL) has recently run an article featuring the special solidarity, comprehensive cooperation and close-knit ties between Vietnam and Laos.
The article was published to mark 44 years since the signing of the Vietnam - Laos Treaty of Amity and Cooperation (July 18, 1977 – 2021).
It said the friendship, special solidarity and comprehensive cooperation, which was nurtured by Presidents Ho Chi Minh and Kaysone Phomvihane and consolidated by generations of leaders and people of the two countries, has become a rare model and an invaluable asset of the two peoples.
Vietnam is now one of the major economic and trade partners in Laos, and the third largest investor in the neighbouring country, according to the article. The bilateral cooperation in national defence and security has also made progress, helping to ensure political stability and social order and safety in the two countries.
The article also highlighted the bilateral diplomatic ties, saying that the regular exchange of visits demonstrates both sides' resolve to strengthen the relationship, making it match the latest situation in each country, as well as in the region and the world.
The two sides have also maintained the sharing of information and experience, which reflects their responsibility for preserving and enhancing the bilateral ties, the article said.
It also commended achievements in cultural, educational and scientific collaboration, and cooperation between ministries, agencies and localities of the two countries.
As ASEAN members, Vietnam and Laos have closely coordinated and provided mutual support in the grouping's activities.
Reviewing the official visit to Vietnam by Lao Party General Secretary and State President Thongloun Sisoulith late last month, the article said this is the first overseas trip by Thongloun Sisoulith after he was elected as Lao Party General Secretary and State President.
The visit re-affirmed that the Vietnam-Laos great friendship, special solidarity and comprehensive cooperation is a model in international relations, and momentum and a decisive factor to the success of each country's revolution, the article said./.
Gov't issues State Administration Reform Master Programme for 2021-2030
The Government has issued Resolution No. 76/NQ-CP approving the Master Programme on State Administration Reform for the 2021-2030 period.
Under the resolution, the Government will focus on the following six areas, namely institutional reform, administrative procedure reform, organisational reform of the State administrative apparatus, civil service reform, public finance reform, and development of e-Government and digital government.
For administrative procedure reform, the Government targets to cut or simplify at least 20 percent of procedures and 20 percent of the compliance costs regarding to business-related procedures by 2025, reported the Vietnam Government Portal (VGP).
At least 80 percent of administrative procedures of ministries, agencies and localities are provided online at levels 3 and 4.
By 2030, at least 90 percent of ministries, agencies and localities will be provided online at levels 3 and 4.
The Government seeks to ensure that Vietnam enter the top 30 countries in terms of business environment.
The Master Programme on State Administration Reform is renewed every ten years, with the previous one was implemented from 2011-2020.
According to Permanent Deputy Prime Minister Truong Hoa Binh, administrative reform is a prerequisite for the success of the country's socio-economic development in the context of globalisation and international integration.
As of November last year, it has reduced and simplified more than 1,000 administrative procedures. As many as 3,893 out of 6,191 business conditions and 6,776 out of 9,926 of goods subject to specialised inspection have been cut. These reductions have saved about 18 million working days per year or over 6.3 trillion VND (272 million USD) a year for society, people and businesses.
The Public Administration Reform Index, first introduced in 2012, has become an important tool to measure the progress of public administration reform at ministries, agencies and localities./.
Will remote work trend prevail after COVID-19 in Vietnam?
With the development of technology and Internet connectivity, remote work has become popular during the COVID-19 pandemic. Employees can work anywhere, at any time instead of being at the office for eight hours.
Hoang Nam Tien, Chairman of the FPT Telecom Joint Stock Company, said that businesses have got used to working from home over the past year. Currently, thousands of the company's employees are teleworking or work from home.
Remote work will be common even after the pandemic. This is an inevitable trend, he said. Therefore, businesses should make preparations for necessary things right now.
Ha Lam Tu Quynh, Director of Communications and Public Relations in charge of Vietnam at Google Asia Pacific, said like FPT or many other businesses, that remote work was implemented when the start of COVID-19 pandemic and everyone got used to this over the last 18 months.
Whether remote work or work from home, Google has only a system of evaluating employee performance based on the progress and quality of the work they complete.
Lu Thanh Long, Chairman of the Board of Directors of Misa Company, said that the company does not only have tools for staff to work remotely, but also builds a platform to help more than 12,000 businesses doing so.
However, he said, it is a challenge when the whole company has to work from home or remote working as telework requires the availability of infrastructure, effective interaction of teams and labour efficiency. Ensuring security in some industries, especially software intellectual property, is also a problem.
Experts, as well as businesses, believe that working remotely will prevail even after the pandemic as it is an inevitable trend. Thus, businesses should invest in adequate tools, protocols and processes so that many job positions can work remotely.
For employees, working remotely helps save time on commuting and people have more time for their family.
Researches show that individuals obtain up to 70 percent of their knowledge from job-related experiences. When not being able to communicate, work side by side with more experienced people and without the guidance of managers, it will be difficult for employees to learn and do better.
Therefore, creating an environment for employees to work together in the office, interact and learn from each other is very important.
From the perspective of the representative of Google Vietnam, it's time for managers to change their mindset. The problem is not working remotely or from home, but management needs to shift its focus from relying on staff's physical presence at work to their work quality.
For those, who work from home, this is an opportunity to demonstrate their ability to learn and adapt to changing circumstances, Quynh said./.
Communications contest against plastic waste launched
The Green Development Support Center (GreenHub) in collaboration with the For Vietnamese Stature Foundation (VSF) have recently launched the Plastic Talk contest that seeks innovative communications products aiming to promote plastic waste reduction.
Vietnamese citizens aged between 16 and 30 are eligible to submit their works between July 15 and August 31. Submissions can be made in the forms of short films, comics, posters, and podcasts, among others.
Winning works will be used in non-profit communications activities for environmental protection and sustainable development.
GreenHub Deputy Director Nguyen Thi Thu Trang said the contest is part of the Local Solutions for Plastic Pollution project for 2020 – 2023 funded by the US Agency for International Development (USAID).
According to a survey by GreenHub in 10 coastal provinces and cities of Vietnam, the top 10 waste leaked into the environment include soft plastic pieces (decomposed pieces from plastic bags); plastic bags; Styrofoam food containers; hard plastic pieces; plastic straw; food packaging; confectionery packaging and other plastics./.
NA leader stresses application of Ho Chi Minh's thoughts in legislation
President Ho Chi Minh's thoughts on the state and law, including that on legislative activities, which were continuously supplemented and developed by the late leader, have served as a foundation, a theoretical basis and a guideline for the building and improvement of the legal system in Vietnam since the country gained independence.
National Assembly (NA) Chairman Vuong Dinh Hue made the statement in an article on the occasion of the review of the 5-year implementation of the Politburo's Directive 05-CT/TW dated June 15, 2016 on "Promoting the studying and following of President Ho Chi Minh's thoughts, morality and lifestyle".
In the article, published on July 16, Hue, who is also a Politburo member, emphasised Ho Chi Minh's thoughts on legislative activities, including inviolable national sovereignty and the sacredness of national independence.
The reality of the Vietnamese revolution showed that his thoughts on national sovereignty and national independence have increasingly promoted its value, the top legislator said, adding this is an important ideological basis for all activities of state agencies and for the will and aspirations of the entire people, and is the foundation, goal and motivation of legislative activities today and in the future.
Regarding the people's mastery, President Ho Chi Minh said that all power belongs to the people and the State is of the people, by the people and for the people. The late leader also upheld the supremacy of the law.
Hue said President Ho Chi Minh soon realised the organic, flesh-and-blood relationship between the people's right to social mastery, democracy and freedom, and the Constitution and laws. He clearly recognised the role of the Constitution and laws in changing the nature of a political regime.
Ho Chi Minh's thoughts on the requirements and purpose of the law is to be humane and for the people, to ensure democracy in the law-making process, as well as to respect international law, Hue noted.
Respecting international law is a very far and wide vision of President Ho Chi Minh. He said "To all countries in the world, the Democratic Republic of Vietnam earnestly wishes to maintain friendship and sincere cooperation on the basis of equality and mutual assistance to build a long-lasting world peace".
His views are the ideological foundation for the foreign policy of the Vietnamese Party, State and people, and the basis for countries with different political regimes in the world to recognise and establish diplomatic relations with Vietnam. This is also the guideline and basic principle for building and improving the legal system on foreign affairs and integration of Vietnam.
According to the top legislator, studying and applying President Ho Chi Minh's thoughts, morality and lifestyle in legislative activities in the current period play a very important role as the whole Party and people are taking active and proactive steps to successfully implement orientations, key tasks and strategic breakthroughs identified at the 13th National Party Congress on completing the legal system and building a socialist rule-of-law state.
In addition, to ensure effective international integration, Vietnam must have legislative solutions to build and perfect the legal system that both promotes domestic advantages and strengths and is harmonious and compatible with the common standards of international law, thus demonstrating its role as a reliable and reputable partner in the international community, the NA Chairman concluded./.
Southern localities asked to maintain safe areas, prepare for worse situation
Deputy Prime Minister Vu Duc Dam, head of the National Steering Committee for COVID-19 Prevention and Control, on July 16 requested southern localities to further improve prevention and control measures, maintain safe areas, and prepare for a worse situation.
Speaking at a teleconference with leaders of the localities, Dam stressed that besides measures such as tracing possible contacts, conducting screening testing and stamping out current outbreaks, the localities should have better plans to maintain safe areas.
He also asked all provinces and cities to urge locals not to go out if unnecessary.
The Government official noted that the pandemic continues developing complicatedly and may spread to other localities.
At the meeting, the local leaders informed the Deputy PM of their difficulties in pandemic prevention and control, and asked for the Government's support in biological products, medical equipment, and anti-pandemic materials, and in removing obstacles, and ensuring the circulation of goods between localities.
Deputy PM Dam said that the Government decided to assign the Ministry of Health to focus on purchasing biological products, medical equipment and supplies to help localities stay more proactive in pandemic prevention and control./.
Workshop discusses gender equality in Vietnam's social insurance
The Vietnamese Women Union (VWU) and the International Labour Organization (ILO) held a workshop on July 16, in both in-person and virtual forms, to discuss gender equality in social insurance policy of Vietnam.
The event was a chance for the two organisations to introduce their new quantitative and qualitative reports which provide a gender assessment of the social insurance system in Vietnam and present recommendations on how to promote gender equality within the framework of the ongoing revision of the 2014 Social Insurance Law.
Addressing the workshop, VWU Vice President Tran Thi Huong said social security and human security are identified as important factors in the development process of the country.
She noted that over the past years, Vietnam's social insurance policy has been gradually improved, aiming to expand its coverage, making an important contribution to the implementation of the United Nations Sustainable Development Goals and targets on gender equality to which Vietnam is committed.
Valentina Barcucci, Acting Director of ILO Vietnam, stated as a long-term partner of Vietnam, the ILO will continue supporting the nation in building and consolidating its social security system across various aspects in a more gender-sensitive and responsive manner to make practical progress in gender equality promotion and renovation of the social insurance system./.
Outcomes of 13th National Party Congress informed to Germany's SPD
Vice Chairwoman of the Communist Party of Vietnam (CPV) Central Committee's Commission for External Relations Nguyen Thi Hoang Van chaired a teleconference on July 16 to inform the outcomes of the 13th National Party Congress, held earlier this year, to the Social Democratic Party of Germany (SPD) – the European country's oldest political party.
Van briefed participants on the main contents of the 13th National Party Congress's documents in the fields of socio-economic development, Party building and political system, foreign policy and development goals of Vietnam in the coming time.
Affirming that Vietnam attaches importance to its relations with Germany, she expressed her hope that the relationship between the Communist Party of Vietnam and the Social Democratic Party of Germany will continue creating a firm foundation to develop the two nations' relations in a more positive, practical and effective manner, especially in the context that they are about to celebrate the 10th founding anniversary of their strategic partnership.
Speaking at the event, Alexander Schweitzer, member of the SPD Central Committee and Minister of Labour, Social Affairs, Transformation and Digitalisation of the State of Rhineland-Palatinate, congratulated the Communist Party of Vietnam on successfully organising its 13th National Congress as well as its achievements in socio-economic development and COVID-19 pandemic response.
He showed his belief that Vietnam will gain national development goals and visions set out by the 13th National Party Congress.
Speaking of the reliable and efficient cooperation with the CPV, he affirmed that the relationship with the Vietnamese party is an important part in the SPD's external relations.
The German side also informed the Vietnamese counterpart of the German political situation ahead of the German federal election in September this year and the pandemic situation in the country.
The two sides also discussed measures to promote bilateral relations between the two parties and countries. They agreed to make joint efforts to organise the seventh dialogue between the two parties in 2021and consider theoretical dialogue as an important mechanism to promote effective cooperation between the CPV and SPD./
Vietnam beefs up defence ties with RoK, India
Sen. Lieut. Gen. Nguyen Tan Cuong, Chief of the General Staff of the Vietnam People's Army and Deputy Minister of National Defence, received Ambassador of the Republic of Korea (RoK) to Vietnam Park Noh-wan and Indian Ambassador Pranay Verma in Hanoi on July 16.
Welcoming the Korean diplomat, Cuong thanked him for contributing to promoting Vietnam-RoK defence ties.
The two sides appreciated the recent new, practical developments of the bilateral defence cooperation within the framework of the two defence ministries' Joint Vision Statement on Defence Cooperation until 2030, particularly in non-traditional security collaboration, settlement of post-war bomb and mine consequences, UN peacekeeping, and defence industry.
They agreed to continue deepening collaboration in defence industry and technology transfer, and discuss to soon establish a defence diplomatic dialogue mechanism in the coming time.
During his reception for the Indian Ambassador, the Chief of the General Staff of the Vietnam People's Army thanked the Indian Defence Ministry for helping the Vietnamese ministry in human resources training as well as providing non-refundable aid and preferential credit packages to improve the Vietnamese army's capacity.
Sharing the losses caused by the COVID-19 pandemic to the Indian people, Cuong said that the Vietnamese Government and agencies, including the army, are also mobilising all resources to combat the pandemic.
Both host and guest spoke highly of the outcomes of defence cooperation over the past time, reflected through regular phone talks and webinars amidst the pandemic.
They agreed to continue fostering defence cooperation on the basis of implementing signed agreements, with the focus on speeding up the implementation of the Indian Government's non-refundable aid and preferential credit packages./.
Lao newspaper highlights long-lasting Laos-Vietnam relations
The Pathet Lao newspaper of the Lao News Agency (KPL) on July 16 run a front-page article on the long-lasting friendship, special solidarity and comprehensive cooperation between Laos and Vietnam.
Published to mark 44 years of the signing of the Vietnam - Laos Treaty of Amity and Cooperation (July 18, 1977 – 2021), the article wrote that the two neighbouring nations share over 2,340km of border and a longstanding relationship and cooperation.
They stood side by side during their struggles for independence, with their traditional ties nurtured by late Vietnamese President Ho Chi Minh and his Lao counterparts Kaysone Phomvihane and Souphanuvong, and maintained and developed over the years. After the two countries were liberated, their relations have been deepened, reaping fruitful outcomes across fields and recording regular exchanges of meetings by their leaders and officials at different levels.
The article affirmed such special solidarity is key to the success of the revolutionary cause in each country and it is a rare model among relations worldwide and an invaluable legacy of both nations.
The year 2021 marks the 59th founding anniversary of diplomatic relations and the 44th anniversary of the signing of the Vietnam - Laos Treaty of Amity and Cooperation, it said.
Over the past 59 years, political and diplomatic ties between the two countries have continuously obtained significant achievements, with their economic relations playing an important role as they share similar expectations and goals toward prosperity.
Over the past time, the Vietnamese Party, Government and people have offered prompt, valuable, and effective assistance to Laos annually and whenever needed, the article noted, adding that Vietnam was the first nation to lend a hand to Laos in curbing the spread of COVID-19, which reflected their special cooperation.
It said high-ranking leaders of the two countries have always drastically directed their competent agencies to strengthen the connection between the two economies, especially regarding their infrastructure, transport, as well as exploration and development of energy resources. They have also paid attention to solving existing problems to deepen the bilateral collaboration toward effectiveness in line with the strengths of the two countries.
Currently, Vietnam is one of the leading investors in and a major trade partner of Laos. Their cooperation in the field of defence-security continues to reap achievements in various aspects. The two sides are further coordinating and effectively implementing their signed agreements on border issues, promptly preventing transnational crime, handling violations in boder areas, and promoting the signing of cooperation pacts in the fields of defence and security, while cooperative ties in culture, education, and science and technology have seen positive results.
The article concluded by saying the estblishment of diplomatic relations and the signing of the treaty was an important historical event of both nations./.
VFF leader extends greetings to Muslims on Eid al-Adha holiday
President of the Vietnam Fatherland Front (VFF) Central Committee Do Van Chien on July 16 extended his best wishes to all Muslim dignitaries and followers in Vietnam on the occasion of the Eid al-Adha, Feast of the Sacrifice, which will take place from July 19-23 this year.
In his letter, Chien said he wishes the Vietnamese Muslims a lot of joy, peace and happiness during the holiday.
He affirmed that in the past year, the community has strictly followed the Party's guidelines and the State's policies and laws; actively stepped up economic development, poverty reduction and national building; and voluntarily participated in patriotic emulation movements launched by the VFF.
The VFF leader also hailed their engagement in the elections of deputies to the 15th National Assembly and all-level People's Councils for 2021-2026, and in the fight against the COVID-19 pandemic.
He said he hopes they will continue taking drastic pandemic prevention and control measures with the spirit of 'fighting the pandemic like fighting the enemy', and remain united to boost production and poverty reduction for a happier life./.
Ambassador's visit strengthens Vietnam's ties with US state
Vietnamese Ambassador to the US Ha Kim Ngoc paid a working visit to Utah on July 13-14 to discuss ways to enhance cooperation between this state and Vietnamese partners and seek support in COVID-19 vaccine supply.
During the trip, Ngoc met with Utah officials, local businesses, leaders of the Church of Jesus Christ of Latter-day Saints, along with representatives of the Brigham Young University and Vietnamese students there, and local media.
At the meetings, he affirmed that Vietnam treasures the cooperation with the US, highlighting the all-round strides in the two countries' comprehensive partnership.
He noted the mutual assistance in the COVID-19 combat and thanked the US for providing ventilators and, most recently - on July 10, two million doses of the Moderna vaccine for the Southeast Asian nation.
Vietnam attaches importance to relations with Utah and other US states and considers this one of the nine pillars in the comprehensive partnership, the ambassador emphasised.
He expressed his hope that Utah will keep seeking and optimising new and creative forms of cooperation in the areas it has potential for such as aviation, medicine - pharmacy, automation, high technology, and renewable energy so as to bring its relations with Vietnam to a new height.
For their part, Utah leaders, enterprises, associations, and organisations welcomed Ngoc's visit, which coincided with the 26th anniversary of the countries' diplomatic ties (July 12), noting that this was the first trip by an international partner to this state in 18 months since COVID-19 broke out in the US.
Lieutenant Governor of Utah Deidre Henderson and other representatives of the state's administration spoke highly of Vietnam's development achievements, noting that Utah pays attention to developing its relations with the country, a gateway linking it with Asia-Pacific and Southeast Asia.
She asked both sides to soon resume exchange and trade promotion, firstly via online, and consider tourism and aviation cooperation such as opening a direct air route between Vietnam and Salt Lake City International Airport.
Highly valuing Vietnam's development potential, some Utah businesses voiced their hope for partnering with the country in restoring marine ecosystems, installing detection and early warning systems for vessels at sea and in large rivers, and opening "business incubators" to connect financial and technological companies of Utah with Vietnam.
Meanwhile, the Brigham Young University (BYU) shared the encouraging outcomes in the educational cooperation with Vietnamese partners, including a memorandum of understanding with the Vietnamese Government's Committee for Religious Affairs, adding that it is ready to welcome more students from Vietnam.
Leaders of the Church of Jesus Christ of Latter-day Saints thanked the Vietnamese Government for facilitating its activities in the country, affirming that its followers have complied with the religious doctrine as well as the Constitution and law of Vietnam and contributed to the society.
They added that they will work to help seek vaccine supply for Vietnam.
In an interview granted to the BYU Radio in Provo city, Ambassador Ngoc underlined efforts to turn Vietnam and the US from former foes into friends and partners, affirming that Vietnam always wants peace, independence, self-reliance, territorial integrity, self-determination and is also ready to share its reconciliation experience with other countries./.
Vietnam believes in Cuba's success in overcoming difficulties: Spokesperson
Vietnam believes that Cuba will overcome current socio-economic difficulties resulted from COVID-19 pandemic and embargo consequences thus successfully implementing its socio-economic model updating process and promoting the country's great achievements in education, health care and science-technology, stated Foreign Ministry's Spokesperson Le Thi Thu Hang.
Answering reporters' queries on Vietnam's stance on the recent disorder in Cuba, Hang said that Vietnam has learnt that the situation in Cuba has become stable again right after the disorder that was caused by protests on July 11.
She stressed that Vietnam calls on the US to end hostile policy and unilateral economic and financial embargo against Cuba. The US's blockage and embargo measures against Cuba, which has lasted for nearly 60 years and been tightened in recent time, have worsened socio-economic difficulties facing Cuban people, said Hang.
She said that the US should take specific steps towards normalisation of relations with Cuba for the interest of people in both countries and contributing to peace, stability and development in the region and the world.
The Foreign Ministry's spokesperson stated that Vietnam always remembers the solidarity and specious support that Cuba has given to Vietnam in hardest times. Vietnam will always stand side by side with the Cuban people and give them the best possible support, Hang added./.
Books distributed to residents in HCM City quarantine facilities
A programme to distribute books to people in quarantine or locked down areas was launched in Ho Chi Minh City on July 16.
Co-organised by the Ho Chi Minh City General Publishing House, the Ho Chi Minh Communist Youth Union (HCYU) of Phu Nhuan district and the Voiz FM app, the programme is part of a campaign launched by the municipal HCYU, the Vietnam Youth Federation and the Vietnamese Students' Association of the city to expand areas free from COVID-19.
In Phu Nhuan district, the organising board will hand over 500 books to residents in locked down areas.
In concentrated quarantine facilities, residents could register for free e-book reading for three months and listen to 2,000 audio books during 30 days.
Up to 1,000 free vouchers for film watching on Galaxy Play app will also be given.
Director and Editor-in-Chief of the Ho Chi Minh City General Publishing House Dinh Thi Thanh Thuy said the programme is expected to spread reading culture in the community. Following Phu Nhuan district, it will come to District 5./.
Latest COVID-19 resurgence sees rapid spread of Delta variant: minister
The fourth wave of COVID-19 infections is witnessing the rapid spread of the Delta variant, at a speed twice or thrice as fast as that in the previous outbreaks, Minister of Health Nguyen Thanh Long said.
Vietnam recorded 38,726 domestically infected cases in 58 provinces and cities between April 27, when the ongoing virus resurgence began, and July 17 morning. They included nearly 22,000 cases in Ho Chi Minh City.
Long told a national teleconference on July 16 that many localities, especially HCM City and other provinces in the south, are facing extremely complicated outbreaks. The numbers of new cases and fatalities are likely to keep increasing on the coming days.
He blamed the fast spread of the Delta variant partly on the fact that certain localities have failed to enforce the Prime Minister's Directive 16 in a serious manner.
Localities need to review their COVID-19 scenarios and gear up for more complex situations, the minister said, asking them to ready quarantine sites in which cross infection must be minimised as the Delta variant is highly transmissible.
Regarding COVID-19 vaccination, he said Vietnam has successfully negotiated for about 170 million vaccine doses supplied by different sources.
Due to the global vaccine shortage, although some purchase contracts were signed in November 2020 and some agreements made even in September last year, it is not until now that the country can receive vaccines. Late deliveries are forecast to continue until September this year, according to him.
In the short term, vaccines will be prioritised for the provinces and cities currently hit by the pandemic, along with major socio-economic hubs, so as to concurrently curb the outbreaks and maintain economic development, Long added./.
Italian surgeons' book inspired by Miracle Boy Thien Nhan
An autobiography has been co-published by two Italians, recalling their humane and professional journey as voluntary surgeons, and telling an inspiring story on how they met Vietnamese boy Thien Nhan who was abandoned in a deserted plantation for three days after birth.
The book entitled "Il bimbo e le belve" (The child and the beasts) was written by Roberto De Castro and William Amighetti to look back on their years of humanitarian mission across Italy, the United Kingdom, the United States, Saudi Arabia, Bangladesh, Syria and Vietnam.
Doctor De Castro has performed pioneering surgical techniques for effective treatment of malformations and genital mutilation of boys and girls in these countries to allow them to live and lead a full life. He has also trained local medical workers on these techniques.
Doctor Amighetti, meanwhile, has brought artificial limbs to Vietnamese children with disabilities.
"The book tells stories about Roberto De Castro taking humanitarian journey over 15 years in Vietnam," Amighetti told Vietnam News Agency correspondents in Italy. "It is also my journey during the years of helping unfortunate children disabled by birth defects or accidents in Vietnam and all over the world."
One of De Castro's success stories is "Miracle Boy" Phung Thien Nhan, who was abandoned by his biological mother at birth in the central province of Quang Nam. When Nhan was found three days later, he was barely alive and suffered a total loss of genitals and one leg due to a brutal attack by wild animals.
The baby infant resiliently survived the incident and was subsequently adopted by Tran Mai Anh, coming to live happily with his new family in Hanoi. With the support of the Italian surgeon, Thien Nhan received a successful reconstructive surgery in January 2011.
Nhan's story is an inspiration for the two surgeons to pen the autobiography.
His foster mother Mai Anh later became the founder of the Thien Nhan and Friends programme, and together with Greig Craft, president of the Asia Injury Prevention Foundation, the programme raises funds for surgeries for poor Vietnamese children suffering from genital defects or loss of genitals and related diseases./.
Phu Quoc an ideal destination for visitors
Phu Quoc island in the Mekong Delta province of Kien Giang is an ideal destination for tourists to explore after it becomes the first tourist site in Vietnam to re-open for visitors soon.
Recently, local authorities have proposed to receive foreign visitors who have COVID-19 vaccination certificates from October. Visitors, mostly come to the island via charter flights, are restricted from visiting the mainland.
Phu Quoc is a tropical island resort off the southern coast of Vietnam.
Travel website TheTravel.com suggested that Phu Quoc is a good choice for those who are looking for a stunning island paradise in Southeast Asia.
The website noted that the island is serviced by an international airport that hosts direct flights all the way from Europe, and SIM cards are sold at the airport.
It also gives recommendations for visitors on where to visit during a 7-10-day trip in the island.
On the north side of the island is Starfish Beach. This is a must-see for every visitor on the island and is quite possibly the most beautiful beach on the island, it said. "Here you can order food and enjoy all manner of alcohol and tropical fruit juices, but be sure to start your day here with a coconut," TheTravel advised.
There are a number of Buddhist temples and monasteries on the island, but one of the must-sees on the island is the Truc Lam Ho Quoc Zen Monastery on the southern end of the island, the website noted, adding that this is a stunning monastery and a great day trip. It is perched upon a hill overlooking the sea and a great place to relax.
According to the website, the historical relic site will be a less joyous visit but it is highly educational and interesting. Built in the 1950s, the site gives an insight on the horrors of war.
Another destination on the island that TheTravel recommended is Duong Dong Market, which is busy at night. It is full of souvenirs and restaurants, it said, commenting that the atmosphere is very chill and quiet./.
Quang Nam looks to profit from reforestation efforts
The central province of Quang Nam has asked the government to approve a plan to export 2.5 million carbon credits for an amount of 110 billion VND (4.7 million USD) to 130 billion VND (5.6 million USD).
Chairman of the Provincial People's Committee Le Tri Thanh has said it is part of a larger plan to establish a carbon market to help protect forests and conservation areas, while reducing greenhouse gas emission.
This would help Vietnam to meet the requirements of the global Reducing Emissions from Deforestation and Forest Degradation (REDD ) agreement.
If implemented, the plan would see the province export 800,000 carbon credits, the equivalent of 0.8 million tonnes of carbon emission each year. This figure would increase to 1.2 million carbon credits by 2026.
The province said at least 1.2 million tonnes of carbon, or 1.2 million carbon credits, had been saved from 2018-20.
It said the carbon credit export plan would help the province boost protection of over 460,000 hectares of forest with a goal to growing that area by an estimated of 20 percent over ten years.
Quang Nam plans to replant just over 50,000 hectares reducing 14 million tonnes of carbon emissions which will then provide seven million cubic metres of timber in 2030.
Last year, Quang Nam promoted the Song Thanh Nature Reserve to a National Park to conserve its rich biodiversity. It covers nearly 77,000 hectares, of which more than 58,000 are tropical, evergreen primary forest in the districts of Nam Giang and Phuoc Son.
The park area is one of the region's biggest carbon stores and home to 831 species of flora and fauna, including the critically endangered grey-shanked douc langurs and the endangered red-shanked douc langurs.
Up to 19,000ha of critical habitat in Nong Son district is also planned as a protection area for groups of the endangered Asian elephant. This would be funded by the United States Agency for International Development (USAID) Green Annamites Project.
The province also plans to allocate funds of 4.4 million USD to restore a 100 hectares of forest as a safe habitat for a herd of grey-shanked douc langurs (pygathrix cinerea) living in Tam My Tay commune of Nui Thanh district./.
Two men in Cao Bang jailed for brokering illegal exit
The court of the northern border province of Cao Bang has sentenced two local men to a total 20 years and 6 months in prison for organising illegal exits.
At a trial on July 15, Trieu Viet Dung, a resident in Ha Lang district, was given 12 years and six months behind bar and Nong Van Minh from the same district 10 years in prison.
According to the indictment at the trial, in September 2020, a Chinese man contacted Trieu Van Dung through the chat app WECHAT and asked Dung to arrange for people to go to China, promising to pay him 100 yuan for each people. Dung agreed and invited Minh to join him.
In October 2020, Dung and Minh arranged for 17 people to cross the border to China illegally, and received a total 1,800 yuan (278.4 USD) in payment. They were caught red-handed on October 28.
Meanwhile, the Central Highlands province of Gia Lai has fined three companies a total 345 million VND (nearly 15,000 USD) for illegally employing foreign workers./.
National women's footballers aim to progress to 2023 World Cup
The Vietnamese women's national football team are aiming to secure a place at the 2023 FIFA Women's World Cup, according to Tran Quoc Tuan, vice president of Vietnam Football Federation (VFF).
The goal of the national team is to top Group B during the regional qualifiers, thereby progressing to the final round of the 2022 Asian Football Confederation (AFC) Women's Asian Cup, and securing a ticket to the 2023 Women's World Cup.
The VFF will adjust the domestic competition so that the national squad's footballers will have more time to prepare for upcoming international fixtures, Tuan said.
A total of 34 footballers have so far been selected for a training course which is due to start on July 17. Head coach Mai Duc Chung will continue to choose the best players to compete in the qualifiers of the Asian Cup which will be held in Tajikistan between September 7 and October 12.
A total of 28 teams have been divided into eight groups, with Vietnam in Group B alongside the Maldives, Afghanistan, and the hosts Tajikistan.
The best 12 teams will compete in the final round of the AFC Women's Asian Cup, which is set to take place between January 20, 2022, and February 6, 2022, in India.
Following this, the top five team's will go on to represent Asia at the 2023 FIFA Women's World Cup.
Binh Dinh asked to welcome return of foreign tourists under pilot scheme
Property developer FLC Group has put forward a proposal that the south-central coasta province of Binh Dinh should consider a pilot plan aimed at welcoming the return of international tourists with vaccine passports via charter flights to the province.
The move comes amid Phu Quoc island city and Khanh Hoa province planning to deploy a pilot project that will see the return of foreign tourists who have valid vaccine passports ahead in the second half of the year.
In line with the scheme, international tourists to Binh Dinh province must have a certificate stating that they have received two shots of the COVID-19 vaccine, along with a negative PT-PCR test within 72 hours ahead of departure.
The formulation of a pilot plan can be considered as one of the important solutions in realising the dual goal of containing the pandemic outbreak whilst simultaneously developing tourism within the locality.
FLC also revealed that it has closely co-ordinated efforts alongside other travel operators, along with preparing relevant accommodation infrastructure and aviation transport ahead of the return of international guests through the pilot scheme.
A synchronous ecosystem, including aviation transport and high-end accommodation facilities such as FLC Quy Nhon, are anticipated to help FLC to quickly deploy charter flights, whilst launching unique tourism products for Binh Dinh province in particular and the tourism market in general.
Most notably, local airline Bamboo Airways has officially co-operated alongside the International Air Transport Association (IATA) to launch the IATA Travel Pass digital health certificate on a trial basis, thereby marking a solid step forward to restore international routes moving forward.
The pilot plan can be considered an important strategy aimed at restoring the international tourism market, which has been severely impacted by the pandemic, especially Europe, America, and Asia.
Ashui Awards 2021 to honour best Vietnamese architects
The annual 2021 Ashui Awards was launched virtually on July 15 with the purpose of honouring local architects who have designed outstanding structures, as well the Vietnamese architecture' contributions to the country.
The 10th version of the awards will feature a total of 10 categories, including the best Architect, Building, Contractor, Developer, Engineering, Future Project, Green Build, Housing, Interior, and Joint Effort Project of the Year.
The nominations for the awards opened on July 15 and will last until September 30. They will be judged by a council consisting of prestigious architects and experts, who will be responsible for selecting the official nominees.
The final results will then be announced on December 31 at the awards' official website https://ashui.com/awards/.
The annual awards were first given out back in 2012 to honour local architects and their contributions to the sustainable development of the construction sector.
Vietnam successfully negotiates 170 million doses of COVID-19 vaccine
The nation has successfully negotiated the purchase of 170 million doses of COVID-19 vaccines from a variety of sources as part of efforts to fast-track the national vaccination campaign, said Minister of Health Nguyen Thanh Long.
Minister Long unveiled the information during a July 16 online meeting on the COVID-19 pandemic prevention and control measures, with the event connecting with nearly 130 locations nationwide.
The Ministry of Health (MoH) representative said that despite the country signing contracts to purchase vaccines last year, the nation has just begun to receive batches of vaccines under the commitments due to the global scarcity of vaccines, adding that the limited supply sources are likely to continue until September.
He emphasised that the MoH will prioritise allocating vaccines to the provinces and cities worst hit by the pandemic, especially major hubs that serve as locomotives of socio-economic development to ensure the effective implementation of dual goals of containing the pandemic and developing the local economy.
Minister Long noted that provinces and cities are therefore requested to immediately carry out the vaccination plan and select priority groups in line with Resolution No 21 regarding COVID-19 vaccine purchase and use, and other vulnerable groups according to the current situation.
29 people arrested in Cao Bang after illegal border crossing
Border guards operating in the northern province of Cao Bang said on July 16 that they have successfully detained 29 people who illegally entered the country from China.
This comes after the police discovered a group of 29 Vietnamese citizens on July 15 as they were attempting to cross the border and enter Vietnam at national border milestone.
When questioned by the authorities, the citizens confessed to illegally exiting China in order to seek employment elsewhere. However, due to the complicated developments relating to the COVID-19 pandemic and the major crackdown taking place on undocumented migrant workers in China, they were forced to return home via trails and crossings.
Upon detection, the entrants were immediately placed into quarantine in an effort to prevent the potential spread of COVID-19.
New anti-pandemic plan underway as southern localities take brunt of COVID-19 wave
The latest wave of COVID-19 is anticipated to last longer than previous outbreaks, thereby adversely affecting the livelihoods of citizens and socio-economic development, particularly in the southern region, said Minister of Health Nguyen Thanh Long.
In his remarks during a regular meeting on nationwide COVID-19 prevention and control efforts, Minister Long warned of the growing number of new local infections and fatalities regarding COVID-19 in Ho Chi Minh City. The southern city, currently the nation's largest hotspot for the epidemic, along with eastern and southwestern provinces, is seeing the pandemic evolve in a very complicated manner.
According to the Minister of Health, the previous outbreaks lasted for only up to eight weeks, but the ongoing wave may last longer due to the Delta variant spreading rapidly, with the infection rate up to three times higher than previous outbreaks.
"Due to the adhesion speed of the Delta mutant to host cells, the ability to multiply rapidly in large numbers in cells leads to the destruction of cells and the spread of pathogens to the surrounding environment in a short time. The current infection cycle is only two days, not five days like before," Minister Long analysed.
New anti-pandemic strategy
The Ministry of Health has made changes to its anti-pandemic strategy regarding isolation, testing, and treatment to fall in line with the actual pandemic situation.
Minister Long went on to say that shortening the isolation period, despite the potential risks, can be accepted as a low level of danger. Simultaneously, F1 isolation at home can be applied according to the guidance of the Ministry of Health, providing relevant criteria are met during its pilot run.
Regarding COVID-19 treatment, the Ministry of Health has set up treatment areas for mild and asymptomatic patients, while those with symptoms will be transferred to medical facilities for treatment. In terms of severe and critically-ill patients, they will be sent to general hospitals or field hospitals with intensive care units (ICU).
If asymptomatic patients have twice tested negative for SARS-CoV-2 or twice tested positive, but their virus concentration index is low, they can be discharged from hospital because the possibility of community transmission will be virtually nonexistent. However, these cases will still be subject to medical observation and supervision at places of residence for a 14-day period.
The Ministry of Health has also noted that more than 400 relapse cases following hospital discharge had led to no cases of community transmission. Therefore, relapse cases in the community must continue undergoing medical monitoring.
"These changes reduce the length of hospital stay for asymptomatic and mild patients in order to focus on treating severe patients at treatment facilities," Minister Long added.
Local community takes lead in protecting Bình Định's coral reefs
In a bid to protect coral reefs and marine ecosystems, authorities in Bình Định Province, last year, set aside four areas of coral reefs to be managed by local organisations and communities.
Climate change, over development, and seafood exploitation are threatening the life of coral reefs in a number of coastal areas in the province.
Dứa Beach in Nhơn Lý Commune, for example, is well known for its diverse and distinct coral reefs. It covers a total area of over eight hectares, however, only one hectare is strictly protected by local authorities due to a lack of resources.
To ensure the remaining seven hectares are protected from damage caused by fishing vessels and tourists, and to raise public awareness of the threats coral reefs face among the local community, the Quy Nhơn City's People's Committee, last February, decided to hand over management of the area to the Group of Seafood Resources Protection (GSRP), a local community group.
Members went to work almost straight away and zoned off the areas with coral reefs by installing buoys to monitor and alert fishermen and tourists of their location so that they are able to avoid making contact.
Nguyễn Việt Xuân, a member of the group, said the group also regularly organises patrols to educate people on how to interact with the coral reefs safely and avoid damaging the fragile ecosystem. This includes not stepping on or collecting coral to take home and not throwing rubbish into the sea.
Furthermore, the group has banned fishermen from using explosives to catch fish in areas with coral reefs, he said, and regularly organises patrol in these areas to ensure the ban is enforce.
Vice chairman of Nhơn Lý Commune's People's Committee Nguyễn Thành Danh, said the group members' activities have helped to raise people's awareness of dangers facing the maritime ecosystem and the coral reefs and how to better protect them.
"Over the past year, the coral reefs in Dứa Beach have developed well thanks to the group's protection. We hope the city's authorities will continue to authorise the local community to manage and protect the coral reefs," he said.
The city's People's Committee has done just that.
The GSRP, in conjunction with Nhơn Châu Island Commune, has been entrusted to manage and protect 12ha of coral reefs in the west of Hòn Khô island and a 20ha area of coral reefs near Tước beach.
Nguyễn Tôn Xuân Sáng, a member of the GSRP, said a number of proactive steps have already been taken to ensure the protection of the area.
Buoys have been planted and vessels have been banned from exploiting fisheries in this area in order to protect the coral reefs and allow aquatic resources to breed and regenerate.
When the coral reefs are better protected, it will help to attract more tourists, Sáng said.
Apart from supporting these groups to protect the coral reefs, local officials are also regularly monitoring the health of the marine ecosystem by utilising local communities who are most familiar with the areas.
Nguyễn Hải Bình, vice chairwoman of the Seafood Association of Bình Định Province, local people assigned to protect the coral reefs know how the coral reefs in their areas are developing.
Coral reef ecosystems are a habitat for marine species, and help keep marine ecosystems in balance. They provide habitats and food for fish and their destruction may lead to the extinction of some species, scientists have warned.
The Bình Định Fisheries Association, in 2018, introduced a project titled "Management and conservation of coral reef ecosystems associated with ecotourism development in Nhơn Hải Commune" to help raise awareness of the threats posed to coral reefs. It encourages local communities to become involved in their protection and promotes sustainable ecotourism to ensure coral reefs can be enjoyed long into the future.
HAGL coach vows full support to Việt Nam national team
Hoàng Anh Gia Lai (HAGL) coach Kiatisuk Senamuang has pledged his full support to the national team, saying that HAGL will release their players whenever needed for national team duty.
In the second round of 2022 World Cup qualifiers, HAGL had seven players called up to the national team, namely Lương Xuân Trường, Nguyễn Tuấn Anh, Vũ Văn Thanh, Nguyễn Phong Hồng Duy, Nguyễn Công Phượng, Nguyễn Văn Toàn and Trần Minh Vương.
Currently, the team is training daily at Hàm Rồng sports training centre as HAGL has a full squad after the players returned from the national team.
"We are ready to provide players whenever coach Park (Hang-seo) needs them," Kiatisuk told Thanh Niên (Youth) newspaper.
"HAGL has many footballers playing for the national team so it is very important to maintain training because it is our responsibility that whenever the team needs us, we will provide players in the best possible condition.
"HAGL's dream is to compete in the AFC Champions League. But it all depends on reality, first of all, that the COVID-19 pandemic must be controlled so that football can return.
"I think it will be better if the V.League 1 can organise one or two matches in August. If the organisers allow it, we will train until the league can continue."
In the second round of the 2022 World Cup qualifiers, HAGL's players were key members of coach Park's squad.
Phượng, Thanh and Vương all scored in the campaign, while Toàn won the match-winning penalty against Malaysia.
It is expected that the national team will gather in Hà Nội on August 24 to prepare for upcoming qualifiers.
Việt Nam will play the opening match in the final round of 2022 World Cup qualifier against Saudi Arabia on September 2.
Artist opens space to preserve and develop dó painting
Artist Vũ Thái Bình has launched an art space in hopes of preserving the art of dó (poonah) painting in Hà Nội.
Entitled Dó Space, it will be a place for artists and fine arts lovers to gather and dive into traditional dó painting.
Dó paper has been used in Việt Nam since the 13th century for painting and writing.
The paper was used for the renowned Đông Hồ folklore paintings, calligraphy and documents.
The paper comes from the bark of the poonah tree in northern provinces such as Yên Bái, Lào Cai, Thái Nguyên and Cao Bằng.
Creating dó paper involves several complicated and precise processes, including selecting the material, soaking it in water, pounding and flattening the poonah pulp into paper and drying it inside the house.
"Dó is an amazing material and a traditional symbol in modern society," said Bình. "It is valuable to be honoured and preserved. But it is not easy to paint on dó paper because the thin material can tear easily."
Bình, a graduate from the Hà Nội Academy of Theatre and Cinema's Fine Arts Department, has achieved success with oil and acrylic painting.
He studied dó paper in 2013 while identifying his own style and was fascinated by the traditional material.
He had his first solo exhibition in Hà Nội with dó paper making a milestone in his career in 2016. Early this year, he also displayed dó paintings at Việt Nam Museum of Fine Arts.
His skill of using watercolours has been recognised at solo and group exhibitions and at National Fine Arts Festival last year.
Located at 51 Hoàng Ngân Street, Nhân Chính Ward, Thanh Xuân District, Dó Space will help Bình have his own space for dó paper. It will open for all people who want to get to know more about dó painting.
Contest for innovative environmental audio-visual messages opens
For Vietnamese Stature Foundation and the Centre for Supporting Green Development have launched a contest for innovative environmental communication on the theme of reducing plastic waste.
PLASTIC TALK solicits short films, comics, posters, and podcasts with messages related to this theme from Vietnamese aged 16-30, and offers prizes worth VNĐ42 million (US$1,826).
They can send in their entries from now to August 31.
The contest is sponsored by the United States Agency for International Development, Bắc Á Bank, Tetra Pak Vietnam Joint Stock Company, and others.
It seeks to raise awareness among young people and the community about reducing plastic waste, and encouraging practical actions for environmental protection.
A survey by the Centre for Supporting Green Development (GreenHub) in 10 coastal cities and provinces found 93.6 per cent of waste discharged into the environment is plastic.
The 10 most common types were soft pieces from plastic bags; pieces of net, lure, fishing lines, hard plastic buoys, floating foam buoys, and foam boxes; Styrofoam containers; hard plastic pieces; plastic straws; food packaging; packaging for confectionery products; and other plastics.
Nguyễn Thị Thu Trang, deputy director of GreenHub, said: "We hope that through various forms of communications, the message of reducing plastic wastes and securing Việt Nam's green development will be spread widely in the community. A greener Việt Nam will no longer be a dream."
Fourth wave of COVID-19 in Việt Nam longer and much more serious than previous ones: Health Minister
Health minister Nguyễn Thanh Long has said the ongoing fourth wave of COVID-19 infections is much more serious than any before it.
Speaking at a national online meeting about COVID-19 on Friday morning, Long said despite drastic actions, localities, especially HCM City and southern provinces, were facing very complex COVID-19 outbreaks, with much more negative impacts on daily life as well as socio-economic development than the previous waves.
In the coming days, they would see more new infections and deaths relating to COVID-19, he said.
Long said the three previous waves of COVID-19 were brought under control within a month to a month and a half, but the Delta variant present in the fourth wave could spread two to three times faster than the original coronavirus.
The Delta variant could attach tightly to host cells, rapidly multiply in large numbers in the cells and then destroy the cells, and spread pathogens to the environment in a short time, Long explained, adding that a person could now infect others only two days after catching the virus, not five as before.
Meanwhile, people were not strictly following social distancing measures and health recommendations, Long said.
"It's difficult to stop infections when people still flock to markets, industrial zones, and still fail to meet preventive rules," Long said, adding that some localities had yet to prepare for the worst-case scenario.
At the meeting, Long also highlighted basic changes in responding to COVID-19 outbreaks.
For example, home quarantine is being piloted for close contacts of COVID-19 cases.
Quick tests would be used predominantly rather than PCR tests so positive SARS-CoV-2 cases would be detected and isolated sooner.
The health ministry also recommended using pooled sample testing with 3-5 samples per test.
The ministry also changed its COVID-19 treatment strategy so that patients with light illness or asymptomatic patients are treated in primary healthcare facilities designed to receive COVID-19 patients.
Patients with symptoms would be transferred to health facilities and those with serious illnesses would be taken to general hospitals or field hospitals.
Asymptomatic patients who tested positive for SARS-CoV-2 twice but have a low viral load, known as a cycle threshold (CT) below 30, can be discharged from the hospital without 14 days of quarantine due to the low likelihood they will spread the virus to others. The patients are asked to monitor their health at their residence for 14 days.
SARS-Cov-2 positive cases detected in the community with a CT value of at least 30 will be re-tested after 24 hours. If their CT value remains over 30 after the second test, they don't need to stay in the hospital but can monitor their health from home.
According to the ministry's statistics, of more than 400 people who tested positive again after being declared cured, none infected others. So, health authorities recommend localities don't need to isolate the areas which report re-positive cases.
"Such changes in treatment help reduce the number of inpatients and medical workers can concentrate on patients with critical health problems," Long said.
Regarding COVID-19 vaccinations, Long said Việt Nam had successfully negotiated for the delivery of about 170 million doses.
However, due to limited supply, the arrivals of vaccines to Việt Nam would be slow until September this year, he said, adding that some deals were made last September but vaccine delivery had only been made recently.
"The health ministry will give priority to provinces/cities with COVID-19 outbreaks or those that are socio-economic drivers of the country first to help them soon achieve the twin goals of disease prevention and control alongside socio-economic growth," he said.
As soon as receiving vaccines, localities must implement vaccination plans, he said.
New COVID-19 prevention and control directive proposed
The Ministry of Health has asked for a new Prime Minister's Directive on COVID-19 prevention and control to respond to new developments of the pandemic in Việt Nam.
Currently, COVID-19 prevention and control measures are regulated in Directives 15, 16 and 19 which were issued early last year by then-Prime Minister Nguyễn Xuân Phúc.
However, outbreaks in industrial parks, markets and crowded residential areas during the fourth wave have revealed the limitations of current measures. For example, many localities have faced difficulties in dealing with a high number of infections reported at the same time.
Meanwhile, after Việt Nam successfully controlled the third wave, people seemingly lost vigilance against the disease as they ignored or did not strictly follow preventive rules, the ministry said.
According to the ministry's proposal, all resources must be used to control the disease as soon as possible, helping people return to normal daily life.
Prioritised groups will be adjusted in line with the development of outbreaks at a particular time and after Việt Nam achieves herd immunity, the vaccination programme will be expanded.
The proposal also said that depending on the pandemic's development, the country may have to choose between the dual goals of disease prevention and control and economic growth.
In the proposal, the ministry introduced four levels of risk compatible with four areas – an area in the new normal, an area with risks, an area with high risks and an area with very high risk.
In areas under the new normal, people must still follow the health ministry's 5K message: Khẩu trang (face mask) – Khử khuẩn (disinfection) – Khoảng cách (distance) – Không tụ tập (no gathering) – Khai báo y tế (health declaration). Businesses are also required to take preventive measures.
In areas with very high risks, concentrated quarantine areas would be set up in locations with many suspected cases.
A 14-day lockdown would be imposed on the areas. During the lockdown, people must stay at home and only go out if very necessary. Non-essential businesses and public transportation would be suspended from operation. 
US to donate another 3 million Moderna vaccine doses to Việt Nam
A further three million doses of the Moderna COVID-19 vaccine will be donated to Việt Nam by the US.
The announcement was made by Christopher Klein, Charge d'Affaires, of the US Embassy in Hà Nội via the Ministry of Foreign Affairs.
The delivery date is not yet known, but the donation will give a huge boost to Việt Nam's inoculation efforts given its current shortage amid a worsening fourth wave of infections that have resulted in 43,000 infections just since late April.
The vaccine assistance will be provided via the COVAX's dose-sharing mechanism, similar to the shipment of two million doses, also donated by the US, that arrived in Việt Nam on July 9.
The mRNA vaccine, with product name Spikevax, was given conditional approval for use in Việt Nam on June 29.
A total of 4,233,896 doses of COVID-19 vaccines have been administered in Việt Nam as of Friday, with AstraZeneca accounting for the majority of them, according to the National Expanded Programme on Immunisation.
Up to 298,177 people have received the full two doses. 
Source: VNA/VNS/VOV/VIR/SGT/Nhan Dan/Hanoitimes

Vietnam's largest waste-to-energy plant to become operational next month