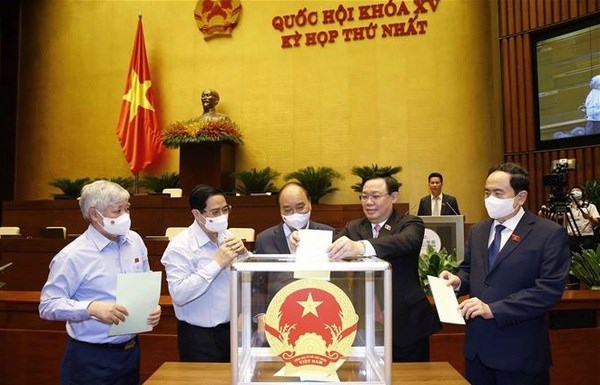 NA deputies cast their votes to elect a number of important positions of the NA on July 21 (Photo: VNA)
The 15th National Assembly elected the General Secretary, Chairpersons of the NA Council for Ethnic and NA committees and the State Auditor General in the morning of July 21, as part of the on-going first session of the 15th legislature.
The NA adopted a resolution on the election of Bui Van Cuong, a member of the 13th Party Central Committee and General Secretary of the 14th NA, as the General Secretary of the National Assembly (NA) in the 15th tenure.
Another resolution was also adopted on the election of Y Thanh Ha Nie Kdam, Secretary of the Party Committee of Central Enterprises' Bloc, as Chairman of the NA Ethnic Council, along with the elections of chairpersons of committees of the legislature.
Also on July 21, the NA passed a resolution on the election of Tran Sy Thanh, member of the Party Central Committee and State Auditor General in the 14th tenure, as the State Auditor  General in the 15th tenure./.
China's wanted man arrested in Vietnam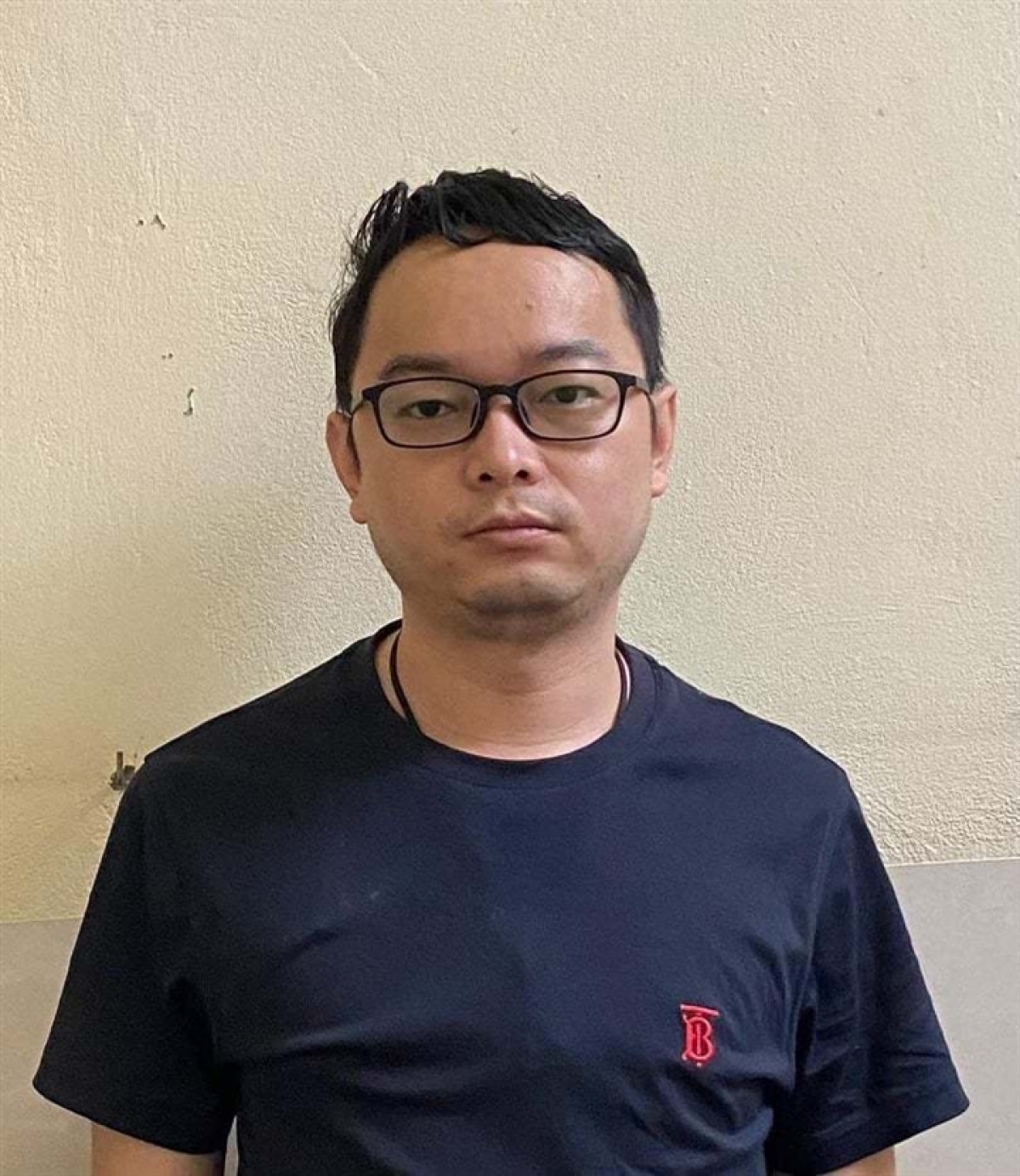 Chen Guang Fei, born in 1984 and wanted by China, has been arrested in Vietnam. (Photo: police)
A Chinese citizen wanted by the Chinese police has been arrested at an apartment building in Hanoi, the capital of Vietnam, the local police said on July 20 evening.

Chen Guang Fei, born in 1984 and wanted by China, has been arrested in Vietnam. (Photo: police)
During a search operation on July 13, the police of Thanh Xuan District of Hanoi discovered Chen Guang Fei, 37, illegally residing at block R5B of Royal City.
Chen confessed to illegally entering Vietnam via a land route in April through a Chinese broker.
Upon his arrival, Chen constantly changed several places of residence to conceal his whereabouts.
Through verification, the Chinese man is wanted by the Ministry of Public Security of China for tax evasion.
The police are completing procedures to hand over Chen to the Chinese side.
COVID-19: 2,787 new cases raise national count to over 65,600
Vietnam reported 2,787 new COVID-19 cases, including 12 imported, over nearly 12 hours to 6am on July 21, raising the national total to 65,607, according to the Ministry of Health.
Ho Chi Minh City remained the country's largest hotspot detecting 1,739 cases, followed by its southern neighbouring province of Binh Duong with 657 cases.
They also included 85 in Dong Nai, 65 in Tien Giang, 39 in Vinh Long, 38 in Khanh Hoa, 35 in Ben Tre, 18 in Ba Ria-Vung Tau, 16 in Can Tho, 13 in Dak Lak, 12 each in Kien Giang and Binh Phuoc, nine in Hau Giang, eight in Long An, six in Ha Giang, five in Phu Yen, four each in Dak Nong and Hanoi, three in Quang Ngai, two each in Binh Dinh, Nghe An and Lam Dong, and one in Gia Lai.
The number of cases reported since the fourth coronavirus wave hit the country late April reached 61,940, 8,669 of whom have been given the all-clear. The total recoveries stood at 11,443.
A total of 123 patients with severe COVID-19 are being treated in Intensive Care Units (ICUs). Eighteen are in critical conditions and receiving ECMO support.
On July 20, 26,355 more people received COVID-19 vaccine shots, bringing the total doses administered in the country to over 4.33 million. A total of 317,672 people have been fully vaccinated with two jabs.
In HCM City, a new centre designated for COVID-19 treatment has been put into operation at 175 Military Hospital, offering 200 beds. Thu Duc City's medical centre has started instructing local people to conduct coronavirus self-tests on a trial basis.
The southern province of Dong Nai is piloting a self-quarantine scheme for close contacts with COVID-19 patients, or F1 cases, in the cities of Bien Hoa and Long Khanh and the districts of Vinh Cuu and Trang Bom until August 23./.
French parliamentarians vow to continue support, assistance to Vietnam
France will continue to support and assist Vietnam in dealing with difficulties caused by the COVID-19 pandemic as well as promoting bilateral relations in many fields, including economic cooperation, education and training, and health care, a French Senator has said.
Catherine Deroche, Chairwoman of the France - Vietnam Friendship Parliamentarians' Group in the Senate of France, made the statement during her reception on July 20 for newly-appointed Vietnamese Ambassador to France Dinh Toan Thang.
Deroche expressed her interest in and sympathy with Vietnam's response to the COVID-19 pandemic and the challenges that the country has been facing.
She also reaffirmed France's strategic support to Vietnam in calling for respect for the United Nations Convention on the Law of the Sea and the right to freedom of navigation in the East Sea.
On this occasion, Deroche asked the ambassador to convey an invitation to the Vietnam - France Friendship Parliamentarians' Group to pay a working visit to France, considering it an opportunity to further develop the bilateral cooperative relations between the two countries.
For his part, Thang thanked Deroche and the France - Vietnam Friendship Parliamentarians Group for actively coordinating in organising activities regarding Vietnam in the Senate in the past time, supporting the enhancement of relations between the National Assembly of Vietnam and the French Senate, and promoting relations between localities of the two countries as well as contributing to consolidating the Vietnam - France strategic partnership.
The Ambassador also expressed his hope that the France - Vietnam Friendship Parliamentarians' Group will keep on assisting Vietnam in bilateral relations as well as in the Vietnam-EU relationship, and promote the ratification of the EU-Vietnam Investment Protection Agreement (EVIPA).
During the meeting, Thang and Deroche reviewed the cooperation between the two countries in the past time and highly appreciated the recent online conversations between leaders of the two countries, considering them as important milestones in creating momentum for the development of Vietnam-France relations.
The two sides agreed to continue coordinating in organising joint activities, making efforts to promote the exchange of high-level visits and delegations between the National Assembly of Vietnam and the French Senate, and prepare for the 12th Vietnam - France locality cooperation conference slated to be held in Hanoi in 2022.
The France - Vietnam Friendship Parliamentarians' Group in the French Senate, which consists of 30 members, is one of the largest friendship groups with countries in France. The members of the group have carried out many valuable activities to support Vietnam./.
 Transport ministry approves pilot opening of Phu Quoc island to foreign visitors
The Ministry of Transport has basically agreeing to the Ministry of Culture, Sports, and Tourism's draft pilot plan on welcoming international tourists to Phu Quoc island in the Mekong Delta province of Kien Giang.
However, the ministry noted the need to work out thorough measures of COVID-19 prevention and control to ensure safety for locals and prevent the spread of the virus from foreign visitors to the local community.
The ministry also proposed giving priority to vaccinating local residents in Phu Quoc against COVID-19, monitoring international tourists throughout the duration of their stay, and putting in place plans to prevent infections among service providers.
Currently, the Ministry of Culture, Sports, and Tourism is collecting feedback on its draft pilot programme, which aims at opening the island to international visitors with vaccine passports for six months beginning in October.
Under the scheme, Phu Quoc is expected to welcome 2,000 to 3,000 visitors per month via charter flights in a limited number of locations during the first phase, which will last three months.
In the second phase, also lasting for three months, the island will host 5,000 to 10,000 visitors per month./.
Hanoi prepares 5,000 hospital beds to treat COVID-19 patients
Hanoi is working to ready 5,000 hospital beds for COVID-19 patients as the pandemic is developing complicatedly and unpredictably in the city.
Chairing an online meeting of the city's Steering Committee for COVID-19 Prevention and Control on July 20, Chairman of the municipal People's Committee Chu Ngoc Anh stressed that the capital has carried out strong and drastic measures to fight the pandemic, as clearly shown in the People's Committee's recently-issued Dispatch 15.
The effective implementation of the dispatch requires the engagement of the entire political system and the high consensus and support of citizens, he stated, emphasising the need for strict punishment of any violations.
Tran Thi Phuong Lan, Acting Director of the Department of Industry and Trade, affirmed Hanoi ensures the supply of goods, food and food stuffs, so people do not need to stock up on them.
She said that the department has instructed businesses to stock up on goods three times higher than usual within three months, while working to ensure the smooth circulation of commodities.
According to the municipal Steering Committee for COVID-19 Prevention and Control, the city has recorded 725 cases, including 296 detected in the community, and 198 in centrally-run hospitals in the fourth wave of the pandemic since April 27./.
New programme launched to reduce accidents, injuries among children
Vietnam expects to reduce the rate of fatalities caused by accidents and injuries among children to five per 100,000 by 2030, according to a programme newly approved by Prime Minister Pham Minh Chinh on prevention of injuries and accidents among children for the 2021-2030 period.
The programme aims to minimise accidents and injuries among children, particularly drowning and traffic accidents, in a bid to protect their health and well-being.
It is also expected to decrease the rate of children suffering from accidents and injuries to 500 per 100,000, to cut the rate of children who die from and are injured by traffic accidents by 5-10 percent per year, and to have about 15,000 schools certified as safe by 2030.
The programme strives to have 95 percent of children aged 6 – 16 educated about road safety rules and 60 percent of them able to swim and aware of water safety rules; while 100 percent of village- and school-based medical workers will be trained about first aid techniques for children.
All centrally-run cities and provinces must start collecting information and data on children's accidents and injuries; and at the same time, pilot and scale up projects offering lessons on how to avoid accidents and injuries, stay safe in the water, and swim for children.
Accidental injury amongst children is a pressing problem in Vietnam. Among the sources of fatalities and injuries are drowning, traffic accidents, falling from a height, severe burns, being bitten by animals, being cut with pointed objects and suicides. Drowning and traffic accidents are the most common./.
Hanoi hands down five-year imprisonment to anti-State Facebooker
The Hanoi People's Court on July 20 opened the first-instance trial involving Tran Hoang Minh, 31, residing in Thanh Xuan district, Hanoi on charge of "taking advantage of the rights to freedom and democracy to infringe upon State interests, legitimate rights and interests of organisations and individuals" in accordance with Article 331 of the 2015 Penal Code.
According to the indictment of the Hanoi People's Procuracy, via the personal Facebook account named "Tran Hoang Minh" and Facebook group "Chủ nghĩa xã hội không có gương mặt con người" (Socialism without human face), Minh posted articles blackening the Party and State, slandering and insulting leaders of the Hanoi police.
The court said Minh's behaviours directly violated the State administrative management order, affecting the leadership, legitimate rights and interests of the Communist Party of Vietnam, breaching the interests of the State of the Socialist Republic of Vietnam, and harming political security, social order and safety.
At the court, he admitted the violations as shown in the indictment and expressed remorse for his behaviors. Therefore, the board of judges agreed to reduce his sentence to five years behind bars./.
Vietnam hopes to access Cuba's COVID-19 vaccines: Minister
Minister of Public Security Gen. To Lam has proposed Cuba facilitate Vietnam's access to the former's COVID-19 vaccines and support the transfer of vaccine production technologies to the Southeast Asian country.
Lam made the proposal during his reception on July 20 for Cuban Ambassador to Vietnam Orlando Nicolás Hernández Guillén, which also saw the presence of representatives from the Cuban Ministry of the Interior.
The Minister said he is delighted to know that Cuba is developing five types of COVID-19 vaccines, which will be administered to all Cubans and exported to several countries.
Stressing the significance of intensify bilateral cooperation in ensuring national security and maintaining social safety and order in each country, he suggested the Vietnamese Ministry of Public Security and the Cuban Ministry of the Interior continue supporting each other in all fields in which they have strengths.
The Cuban diplomat affirmed that in his position he will work as a bridge contributing to deepening the traditional friendship and collaboration between the two countries./.
Deputy PM requests increasing oxygen production for COVID-19 treatment
Deputy Prime Minister Vu Duc Dam highlighted the importance of increasing the capacity of oxygen production to treat COVID-19 patients while visiting the Viet Nga Special Gases Joint Stock Company in the southern province of Binh Duong on July 20.
Dam, who is also head of the National Steering Committee for COVID-19 Prevention and Control, asked Binh Duong's authorized agencies to coordinate with the gas producer to provide sufficient oxygen for COVID-19 treatment facilities in the province.
He suggested Binh Duong prepare medical resources, hospital beds and oxygen supplies for not only the province itself but also Ho Chi Minh City – Vietnam's current largest COVID-19 hotspot.
Right after the pandemic is put under control in the locality, Binh Duong can support Ho Chi Minh City and other provinces and cities in the southeastern region, he added./. 
Quang Binh aids Lao locality in livestock protection
Authorities in the central province of Quang Binh on July 20 presented medicines and medical supplies to help Laos' Khammouane province, which is plagued by the lumpy skin disease (LSD).
The medical aid was worth 550 million VND (23,880 USD). It came with a training session on LSD for local medical workers.
At the handover ceremony, Vice Chairman of the Quang Binh People's Committee Doan Ngoc Lam lauded the friendship between the Vietnamese and Lao Parties, States, and people as well as the special solidarity and comprehensive cooperation between Quang Binh and Khammouane.
The official hoped the disease will soon be controlled so that the locals can stabilise their life and production.
The deputy governor of Khammouane said the support reflected the close ties shared between the two localities./.
PM extends thanks to Cambodian counterpart over help to HCM City
Prime Minister Pham Minh Chinh on July 19 sent a letter to his Cambodian counterpart Hun Sen to express thanks to the Cambodian Government and people for providing help to Ho Chi Minh City in the fight against COVID-19.
The Vietnamese Government leader said the practical and timely assistance that PM Hun Sen, the Government and people of Cambodia have given to HCM City has effectively contributed to the pandemic prevention and control work of the southern hub as well as of Vietnam.
The assistance is even more precious when the Cambodian Government and people are also exerting efforts to cope with the pandemic, and is evidence of the friendship, solidarity and noble tradition of mutual support between the two nations, especially at times of difficulties, Chinh wrote in the letter.
PM Chinh also thanked the Cambodian PM and Government for their care for the community of Vietnamese and Cambodians of Vietnamese origin during the implementation of COVID-19 response measures in the recent past.
He expressed a belief that with the resolve and coordination between the two governments and the support of the people, Vietnam and Cambodia will early win the fight against the pandemic, quickly recover their economy and resume sustainable development.
Earlier on July 17, Cambodian PM Hun Sen sent a letter to PM Chinh to inform that Cambodia would present Ho Chi Minh City with medical supplies, including 1 million medical masks, 100,000 N95 masks, 100 oxygen generators and 200,000 USD in cash. The Cambodian Red Cross Society also presented 100,000 USD and the Cambodia-Vietnam Friendship Association 100,000 USD.
A flight transporting the medical supplies arrived at Tan Son Nhat airport in HCM City on July 19. Youk Sambath, Secretary of State under the Cambodian Ministry of Health handed over the aid to Vice Chairman of HCM City People's Committee Duong Anh Duc./.
Pilot programme helping to ease burden on health sector
Duc Giang General Hospital in Hanoi is piloting a programme, in which COVID-19 patients with mild symptoms are encouraged to support medical staff in taking care of other patients and monitor their health through the application of QR codes. The move is expected to ease the burden for the health sector while helping reduce infections at quarantine sites. 
Mild patients have been instructed on how to make health declarations via QR code. Any sign of worsening health is reported to medical staff immediately.
Duc Giang General Hospital provides treatment to 89 COVID-19 patients, nine of whom are in a serious condition. Others with mild symptoms such as fever, coughing, and aches and pains have been assigned to carry out the "F0 take care of F0" pilot programme.
With considerable experience in providing treatment to nearly 300 COVID-19 patients, the hospital leaders said the programme helps doctors keep a close watch on patients' health and be warned quickly if necessary.
The application of IT in monitoring the health of "F0" patients will be especially effective when these patients are quarantined at home. No symptom will be missed./.
Check-up before vaccination 
Over 70 pct of workers in Quang Ninh's IPs vaccinated
Over 70 percent of workers in industrial parks (IPs) in the northern province of Quang Ninh have been vaccinated against COVID-19, said the management board of the provincial IPs.
Within more than a week as of July 18, over 21,700 workers in IPs received the first shots.
Quang Ninh is now home to five IPs with around 30,500 workers.
In the fifth vaccination roll-out, the province gave priority to workers in Hai Ha Seaport IP in Hai Ha district, Hai Yen IP in Mong Cai city, Dong Mai IP in Quang Yen town and Viet Hung IP in Ha Long city.
One of the vaccine types given to workers in IPs, especially in Hai Yen and Hai Ha Seaport IPs, is Sinopharm as suggested by the Chinese Government and instructed by the Health Ministry.
In order to ensure production safety at IPs and economic zones, the provincial Steering Committee for COVID-19 Prevention and Control asked heads of the management board of the provincial IPs. and production facilities to raise the sense of responsibility for health management and ensuring the safety of workers and employees, mostly in Mong Cai, Ha Long, Quang Yen, Uong Bi and Dong Trieu. IPs and industrial clusters must conduct comprehensive and periodic testing in a close-ended process, targeting 20 percent of workers per week.
The province consistently followed the principles of preventing, discovering, tracing, quarantining, zoning off and eliminating infections, quickly stabilising the situation.
Thanks to efforts to achieve the dual goal of fighting the pandemic and restoring socio-economic development, Quang Ninh drew over 22.4 trillion VND in investment in IPs and EZs in the first half.
During the period, Quang Ninh's economy grew by 8.02 percent, ranking fourth among cities and provinces in the Red River Delta. Its manufacturing and processing sector expanded by 38.95 percent year-on-year, or 17.6 percent higher than the target, offsetting contraction in services, especially tourism caused by the pandemic, as well as coal and electricity sectors.
The province is also striving to give vaccination to 70-80 percent of local residents by April 2022 in order to reach herd immunity against COVID-19.
According to head of the provincial Health Department Nguyen Trong Dien, to this end, the locality is speeding up COVID-19 vaccination campaign.
Recently, the province has administered tens of thousands of Sinopharm COVID-19 vaccine doses to workers in Chinese-invested firms in Quang Ninh and border residents, he said.
Meanwhile, Hoang Ba Nam, Secretary of the Party Committee of Mong Cai city, said that the city has received 31,000 doses of Sinopharm COVID-19 vaccine. With a capacity of injecting 4,000-5,000 doses per day, Mong Cai plans to finish the administration of 31,000 doses by July 20.
So far, Quang Ninh has received about 260,000 COVID-19 vaccine doses of different kinds, with 60,000 doses administered. The province expects to inject the rest in July and August while waiting for more vaccine delivery.
The province hopes to become one of the first localities in Vietnam to reach herd immunity. It is planning to build a vaccination database and start the use of vaccine passport. The locality has also allocated personnel to deliver COVID-19 vaccines to locals in ethnic minority-inhabited, mountainous, islands and hard-to-reach areas.
COVID-19 vaccination is viewed among important and necessary solutions to create a safe environment serving local economic development, especially the border economy, said Vice Chairwoman of the Mong Cai city People's Committee Nguyen Thu Huong.
People who have received the first jab this time are scheduled to get the second one between August 1 and 11.
Sharing more than 118km of land border and 191km of sea border with China, Quang Ninh is located at the start of the countries' "Two Corridors, One Belt" economic cooperation zone, in the Nanning - Singapore Economic Corridor, and the expanded Gulf of Tonkin inter-regional cooperation area within the ASEAN - China Free Trade Area./.
Association provides free wifi transmitters for Vietnamese athletes at Tokyo Olympics
The Vietnamese Association in Japan (VAIJ) has provided free wifi transmitters for all members of the Vietnamese sports delegation to the Tokyo 2020 Olympics.
The association said it hopes that the support will serve as a source of encouragement for the delegation, given the limited contact in response to the COVID-19 pandemic.
The delegation arrived at Narita International Airport of Japan on July 19 to take part in the Tokyo Olympics, slated for July 23 - August 8.
During their stay, athletes are only allowed to travel between the village and the training and competition venues while sports officials have to move on only the routes they registered before entering Japan. They are banned from leaving the athletes' village or going to tourist sites, restaurants, or bars, according to Olympics and Paralympics organisers' regulations.
Athletes will also have samples taken for COVID-19 testing every day. In case of a positive test result, they will be hospitalised or sent to a hotel outside the athletes' village for quarantine.
The 43-strong delegation of Vietnam is led by Deputy General Director of the Vietnam Sports Administration Tran Duc Phan.
They comprise 18 athletes competing in 11 sports, namely Nguyen Huy Hoang and Nguyen Thi Anh Vien (swimming), Thach Kim Tuan and Hoang Thi Duyen (weightlifting), Nguyen Thi Thanh Thuy (judo), Hoang Xuan Vinh (shooting), Nguyen Tien Minh and Nguyen Thuy Linh (badminton), Nguyen Thi Tam and Nguyen Van Duong (boxing), Le Thanh Tung and Dinh Phuong Thanh (gymnastics), Truong Thi Kim Tuyen (taekwondo), Do Thi Anh Nguyet and Nguyen Hoang Phi Vu (archery), Quach Thi Lan (athletics), and Luong Thi Thao and Dinh Thi Hao (rowing)./. 
Social security sector makes efforts to support pandemic-hit labourers, bussinesses
Vietnam Social Security (VSS) has reduced the rate of premiums for the labour accident and occupational disease insurance fund to zero percent as part of efforts to enable enterprises to support their employees amid the COVID-19 pandemic.
Total cut amount from July 2021 to June 2022 following the scheme is about 4.32 trillion VND (187.9 million USD).
As of July 16, the VSS branches in cities and provinces nationwide had completed procedures and sent notifications on the reduction to 375,335 employers with over 11.2 million labourers.
Ho Chi Minh City has the highest number of enterprises and labourers benefiting from the scheme with 101,356 firms and 2.3 million workers, with the total amount of over 1 trillion VND. The city is followed by Hanoi with 87,000 firms and over 1.4 million employees.
At the same time, the sector has applied various measures, including simplifying administrative procedures, diversifying ways for submitting insurance-related dossiers and strengthening online transactions to make the Government support policies more accessible for employers and employees amid the pandemic.
VSS General Director Nguyen The Manh said that the agency has set up a steering committee for the implementation of the Government's Resolution No. 68/NQ-CP and supporting policies for pandemic-hit labourers and enterprises.
Manh affirmed that the sector has spared no effort to optimise support policies for in-need companies and labourers, contributing to overcoming the pandemic and completing the dual targets set by the Government in effectively preventing the pandemic and promoting socio-economic development at the same time.
Resolution No 68 on a number of policies to support employees and employers affected by COVID-19 pandemic is expected to contribute to recovering production and business and mitigating the adverse impact of the pandemic.
In the document, some basic principles are set out, such as ensuring timely support, to the right people, publicity and transparency, simple and easy criteria and procedures for employees and employers to access. There are 12 supporting policies introduced in the recently-issued Resolution./.
Hanoi to restore lake inside Temple of Literature
The management board of the Temple of Literature in Hanoi has announced plans to restore the cultural values of a lake known as Literature Lake within the historic site.
US human trafficking report biased, missing key information: MOFA
The 2021 Trafficking in Persons Report, released by the US Department of State, that continues to list Việt Nam on its watch list, is biased and does not reflect the reality of the situation in Vietnam, according to the Ministry of Foreign Affairs.
The Ministry of Foreign Affairs notes that the report fails to mention that Việt Nam is located in a human trafficking "hot spot".
The UN Office on Drugs and Crime and the International Criminal Police Organisation (Interpol) has said human trafficking is complicated in the Asia-Pacific region, especially the Greater Mekong Sub-region, including Việt Nam.
The Vietnamese Foreign Ministry's spokeswoman, Lê Thị Thu Hằng, reaffirmed that the Vietnamese Government advocates for legal, safe and orderly migration while resolutely fighting illegal immigration and human trafficking.
Việt Nam is working to build a programme on human trafficking prevention and control for the 2021-2025 period, Hằng said, adding that Việt Nam needs support and collaboration from countries and international organisations amid rising crimes in the region and the world.
The spokesperson said in order to develop bilateral ties effectively, the two countries need to show goodwill and foster efforts for the well-being of people in each country.
The Party and State of Việt Nam have consistently attached importance to ensuring and enforcing human rights, in which the fight against human trafficking has always received special attention, with the engagement of the entire political system and all-level administrations and agencies, the department said.
Over the past two years, the Party, National Assembly, Government, ministries, agencies and localities have made human trafficking prevention and control a key task.
The Prime Minister established a steering committee on crime prevention and control while ministries, central agencies and mass organisations have stepped up public awareness campaigns to fight against various forms of human trafficking.
The public security forces have also collaborated with border guards to launch annual crackdowns on human traffickers nationwide and worked with counterparts in neighbouring countries to fight cross-border trafficking.
Việt Nam has also refined laws and enhanced international cooperation in the effort to rescue and assist victims.
From 2010 to June 2021, Việt Nam uncovered nearly 3,500 cases involving 5,000 traffickers and some 7,500 victims in all 63 cities and provinces.
Since the normalisation of diplomatic ties in 1995, Việt Nam and the US have seen their relationship continue to grow stronger. 
HCM City receives additional medical equipment worth over 400 billion VND
The Vietnam Fatherland Front Committee of Ho Chi Minh City announced that the city had received 1.409 trillion VND (61.3 million USD) in support of local COVID-19 prevention and control efforts.
The figure includes nearly 400 billion VND worth of goods and medical equipment donated by agencies, organisations, enterprises and individuals at home and abroad as well as a number of provinces and cities across the country on July 19.
Thien Tam Fund of Vingroup donated 2 million sets of Invitro diagnostic biological products for antigen testing, while the Asia Commercial Bank 10,000 PCR test kits and 15,000 SARS-CoV-2 rapid test kits.
Also on July 19, the committee received 492 million VND in cash from organisations and individuals supporting the city's COVID-19 vaccine fund.
The committee and the municipal board for mobilisation, reception and distribution of COVID-19 epidemic prevention and control fund have so far distributed more than 1.266 trillion VND, including over 612 billion VND worth of goods and equipment to frontline forces at hospitals, medical centers, quarantine and sealed-off areas, units performing the task of epidemic prevention in the border, and those affected by COVID-19.
So far, 105 businesses and individuals in Ho Chi Minh City have registered to contribute more than 2.293 trillion VND to the COVID-19 vaccine fund, with nearly 286 billion VND in cash received by the municipal Vietnam Fatherland Front Committee./.
Contest spotlights life and career of General Vo Nguyen Giap
A contest on the life and career of General Vo Nguyen Giap will be organised from July 30 to August 25 for Vietnamese citizens at home and abroad on the occasion of the late General's 110th birthday (August 25, 1911-2021).
Co-held by the Ho Chi Minh Communist Youth Union (HCYU) Central Committee and the General Department of Politics under the Vietnam People's Army, the contest will take place under the two forms of online interactive quiz and writing.
It aims to educate the young generation and people from all walks of life about the life, career, and great contributions of General Giap to the country's revolution, his noble morality, and affection of people of all strata, especially youths, teenagers and children, toward him.
An awarding ceremony is scheduled for December 22, 2021, on the occasion of the 77th founding anniversary of the Vietnam People's Army.
General Vo Nguyen Giap, whose real name is Vo Giap (alias Van), was born in Loc Thuy commune, Le Thuy district, the central province of Quang Binh on August 25, 1911. He passed away in Hanoi on October 4, 2013 at the age of 103.
He once served as a Politburo member, Secretary of the Central Military Commission, Standing Deputy Prime Minister, Minister of National Defence, Commander-in-Chief of the Vietnamese People's Army and a National Assembly deputy from the first to seventh tenures.
The General led the Vietnamese people to victory over the French colonialists and then the American imperialists./.
Vietnam futsal team calls up 22 players to prepare for the 2021 FIFA Futsal World Cup
The Vietnamese futsal team has announced a list of 22 players to prepare for the 2021 FIFA Futsal World Cup.
The players are scheduled to undergo training with head coach Pham Minh Giang in Ho Chi Minh City from July 20 to August 25, before leaving for Spain for further training.
It is to compete at a futsal tournament, together with Japan, Guatemala and host Spain, which is slated for August 28-31.
The Vietnamese team is set to play a friendly with Spanish club Cordoba on September 3 before travelling to Lithuania to play at the World Cup, which will be held from September 12 to October 3.
Prior to the start of the global futsal event, Vietnam may join another friendly with Morocco on September 6.
Vietnam clinched a berth at the 2021 Futsal World Cup after beating Lebanon in the Asian playoff.
Vietnam will face Brazil in its first match on September 13, Panama on September 16 and the Czech Republic three days later.
All players of the team have been fully vaccinated./. 
Nghe An: Anti-State Facebooker receives nine years' imprisonment
The People's Court of the central province of Nge An on July 20 sentenced Nguyen Van Lam, born in 1970 and residing in Vinh city, to nine years in prison for "making, storing, spreading information, materials and items for the purpose of opposing the State of Socialist Republic of Vietnam" under Point a, Clause 1, Article 117 of the Penal Code.
Before being brought to this court, Lam had had a long criminal history of stealing property, prostitution brokering, drug smuggling, and deliberately inflicting bodily harm upon
According to indictment by the provincial People's Procuracy, on September 21, 2020, the police of Nghe An received reports about Facebook account "Lam Thoi" at https://www.facebook.com/thoi.lam. 9659 posting and sharing many videos, photos and stories with illegal contents.
Investigation results showed that Lam opened account called "Lam Thoi" in 2014 and added 5,000 friends. From 2017 to November 2020, Lam posted many articles and photos with contents going against the law, including three live streaming videos, 13 shares from other accounts, and 18 articles. All aimed at inciting people to oppose the State and the Communist Party of Vietnam, slandering the institution and leaders, and distorting information on Vietnam's situation. Lam's posts drew a large number of likes and comments.
At the court, representatives from the provincial People's Procuracy held that Lam's activities went against people's interest and harming people's trust in the administration. His acts are extremely dangerous and serious, harming the existence and growth of the State, they said.
Therefore, the court decided to give him nine years' imprisonment./.
HCM City to reopen wet markets to ease pressure on supermarkets
Many wet markets in Ho Chi Minh City will be reopened, while ensuring all COVID-19 preventive measures in place, Deputy Director of the municipal Department of Industry and Trade Nguyen Nguyen Phuong.
Priority will be given to those selling fresh foods, vegetables and fruits, Phuong said in a press conference on July 19 updating the COVID-19 situation in HCM City, the country's current largest hotspot.
The city has closed down three wholesale markets and two-third of wet markets as part of its effort to intensify COVID-19 response after dozens of coronavirus cases linked to the local traditional markets were found, according to the official.
The city has then shifted to modern retailers, such as supermarkets and convenience stores, to supply goods to its residents, causing mounting pressure on these channels and an increasing risk of infection, he said.
To fix the problem, he continued, the Department of Industry and Trade is considering reopening multiple wet markets, identified as safe, to ensure adequate and prompt supply of necessities and effective fight against COVID-19, he noted, adding that 5K message must be followed and direct contact must be minimised between customers and shopkeepers.
Thirty-nine wet markets remained open in the city, mostly in Thu Duc City, and the districts of Go Vap, Binh Chanh, Can Gio and Cu Chi, while three others have been allowed to reopen, including Phu Tho in District 11, An Dong in District 5 and Kien Thanh in Binh Tan District. Plans are being crafted for more markets to open.
About 40 wet markets will be soon made available again if all requirements are met, Phuong said.
Besides, the department has worked with the municipal People's Committee to prevent price hikes and protect rights of customers. It plans to meet with the city's market surveillance force on July 20 to strengthen supervision of retailing systems and get tougher on speculators who take advantage of the pandemic to buy goods in bulk and resell them at unreasonably high prices, he said./.
Health department proposes reduced hospitalisation time for mild COVID-19 cases
The HCM City health sector has proposed reducing the time of hospitalisation for COVID-19 patients who are asymptomatic or have mild symptoms to ten days to reduce hospital overcrowding amid the surging number of cases in the city.
Nguyễn Tấn Bỉnh, director of the city Health Department, has proposed specific testing conditions for F0 cases (COVID-19 patients) and F1 cases (close contacts of F0 cases) to the Special Standing Department for COVID-19 Prevention and Control.
Under the proposal, F0 cases would be discharged from the hospital on the 10th day from the day of their positive test results if their RT-PCR test results are negative or positive but with a low viral load (CT>= 30) on the eighth day.
With the positive RT-PCR test results with a high viral load (CT< 30), the patients need to have an antigen rapid test on the 10th day. If the test is negative, they can be discharged from the hospital. If positive, they need another RT-PCR test for confirmation.
F1 cases (close contacts of F0) who have had either a negative RT-PCR test result or a positive result but with a low viral load (CT>= 30) would be discharged on the eighth day from the day they had contact with an F0 case.
For severely or critically ill COVID-19 cases, the regulations remain the same as prescribed by the Health Ministry. The patients remain in the hospital until recovery.
F1 cases who are under centralised quarantine are eligible for a 14-day home quarantine if they have a negative RT-PCR test result or a positive RT-PCR test but with a low viral load (CT>= 30) on the seventh day from the day they had contact with the F0 patient.
During the 14-day home quarantine, F1 cases will be tested on the seventh day, and on the 14th day they will have an antigen rapid test before the home quarantine ends.
As for COVID-19 vaccinations, the health department said that people over 65 years old or with underlying medical conditions must be vaccinated at hospitals and carefully screened after immunisation. Post-injection monitoring will last for 30 minutes.
For younger people, people with no medical conditions and others, the vaccination screening process will only include a check of body temperature and blood pressure. The post-injection monitoring for these groups will last for 15 minutes.
People of all ages will be asked if they have allergies or a history of anaphylaxis.
The department is currently planning the fifth round of vaccinations, providing more than 1.1 million doses, including to those who have received the first dose. The vaccines for the fifth round include AstraZeneca, Moderna and Pfizer. The dates for the vaccination round have yet to be announced.
Nguyễn Hoài Nam, deputy director of the Department of Health, said the city has developed a four-level COVID-19 treatment model (from asymptomatic to mild, severe and critical symptoms).
Critically ill patients will be treated at one of four hospitals in the city: Oncology Hospital 2, Chợ Rẫy Hospital, Hospital for Tropical Diseases and Hospital 175.
Asymptomatic patients will be treated at field hospitals while cases classified as mild, moderate or severe will be treated at hospitals across the city.
"The city has enough ventilators and ECMO machines for treatment at the moment," Nam said.
A number of companies have sponsored ventilators for the health sector. "One business funded hundreds of ventilators," he added.
The city is currently treating more than 30,000 COVID patients. The health sector has prepared a scenario for 100,000 COVID-19 patients and plans to expand facilities for treatment.
The city has converted empty resettlement buildings into field hospitals to help cope with the surging numbers of COVID patients. More than 2,600 resettlement apartments are being used in the Thủ Thiêm New Urban Area in Thủ Đức City.
It has also set up an additional 24 field hospitals to ease the pressure on city hospitals. The Military Hospital 175 under the Ministry of National Defense on Monday opened a 200-bed centre for COVID treatment for moderately and severely ill patients. The centre has 42 doctors and 65 nurses and medical technicians.
Speaking at a meeting with the National Steering Committee for Covid-19 Prevention and Control on Monday, Health Minister Nguyễn Thanh Long said the number of severe and critically ill patients was expected to rise over the next five or seven days.
Prime Minister Phạm Minh Chính has ordered cities, especially HCM City, and provinces to continue to impose strict measures under Directive 16.
"People have been told to stay home unless extremely necessary, and do not gather with more than two people in public," PM Chính said.
PM Chính earlier asked seven ministries to establish special working groups to support HCM City and southern provinces in their fight against the virus.
The seven ministries are National Defense, Industry and Trade, Agriculture and Rural Development, Transport, Construction, Information and Communications, and Labour, Invalids and Social Affairs.
HCM City has recorded more than 35,000 locally transmitted cases, the highest number in the country, since the end of April.
HCM City and 18 southern provinces are applying strict measures under Directive 16, which requires closure of non-essential businesses. Public transport has been suspended.
Language school runs free webinars on teaching English to non-natives
The Vietnam-USA Society English Centers are organising free webinars on teaching English to speakers of other languages.
The 2021 VUS TESOL Webinars began on July 1 and are being held on Tuesdays and Thursdays at 3-4 pm, with sessions delivered by English language teaching experts from VUS and other well-known educational organisations, until August 3.
They have attracted 4,294 attendees, both local and foreign.
The sessions until July 15 were on using online classroom presentation tools to get students motivated and engaged, using different instructions in English classrooms and helping learners think creatively, critically and deeply, and develop the habits of observing, analysing and questioning.
In upcoming sessions, Dr Jing Xu from Cambridge Assessment English will speak about the rapid advances in speech recognition and machine learning technologies fostering automated assessment of speaking, and a teacher, Gregg Sotiropoulos, about how fostering social and emotional well-being of students is an important factor in their positive development and accomplishments at school.
HCM City hotels offer free rooms to frontline medical staff
More than 20 hotels in HCM City are offering free accommodations and meals for frontline doctors and other medical staff fighting the pandemic.
According to the HCM City Department of Tourism, about 50,000 free nights are reserved, indicating the sector's effort to join hands with authorities in COVID-19 prevention and control.
Specifically, the Saigontourist Group has provided 6,150 free nights and three meals per day for doctors at Phạm Ngọc Thạch Hospital, Cần Giờ COVID-19 Treatment Hospital and HCM City University Medical Centre while also planning to help 3,000 doctors, nurses and medical staff who will participate in disease prevention and control in HCM City in the near future.
Six hotels are now providing free accommodation and meals for about 650 doctors in hospitals with COVID-19 treatment for at least one month.
Another 11 hotels have agreed to serve as isolation points with thousands of free nights in 14- or 21-day isolation rooms for doctors and nurses involved in the treatment of COVID-19 patients.
"About 100 hotels have offered free support and discounts of 30 to 70 per cent for some people who are entering the country, F1 cases that cannot afford the quarantine fee, and locals with extremely poor backgrounds. Many others have become 'community hotels' for people with poor backgrounds who cannot return home," a representative of the HCM City Department of Tourism said.
Meanwhile, travel firms such as Vietravel Tourism Company, Saco Transport and Tourism Company, Fiditour Travel Company and others have provided hundreds of vehicles to hospitals offering COVID-19 treatment and the HCM City Centre for Disease Control.
These vehicles specialise in transporting doctors and medical staff to vaccination points and carrying F0 (infected patients) and F1 (close contacts of patients) cases to isolation areas.
Some hotels and the Chefs Association under the HCM City Tourism Association have prepared thousands of meals and desserts for the poor in quarantined areas and anti-epidemic forces.
Director of the HCM City Department of Tourism Nguyễn Thị Ánh Hoa said these small actions were full of love and gratitude from the tourism industry to medical teams on the frontline.
HCM City sets up special team to regulate seriously ill patients
HCM City authorities have set up a team that helps to regulate and transfer serious Covid-19 patients on July 20 as many have experienced suddenly worsened health.
The team has 15 members including 115 Emergency Centre and the Department of Health. The number of patients at the local hospitals has reached 35,295 and has continued to rise. Even though more people have been cured and discharged, there are also many people suddenly falling into critical condition and should be transferred to hospitals with better equipment and expertise.
According to the Department of Health, 38 hospitals are treating Covid-19 patients at full capacity. It's necessary to have a team to help regulate patients who are in different conditions in order for them to be admitted to the most suitable hospitals.
The team will collect data and timely know the demands to transfer seriously ill patients from field hospitals. They will also check and know which hospitals are ready to receive patients and urge hospitals to quickly upgrade their infrastructure.
The team will circulate the work of individuals and organisations with effective Covid-19 treatment and preventive methods to popularise their methods.
Colombian, Vietnamese paint murals together
Colombian and Vietnamese artists will coordinate on the project "Columbian-Vietnamese mural painting" at the two locations of the Complex 01 in Hanoi and the Hanoi University of Culture from next August, according to information from the Ministry of Culture, Sports and Tourism.
In early July, the Vietnam Institute of Culture and Arts Studies (VICAS) had a meeting and worked with the Embassy of Colombia on the implementation of a Vietnam - Colombia mural painting project for an outdoor public area in Hanoi. When completed, the mural paintings are expected to become a symbol of the friendship, understanding and close relationship between the two countries.
The Embassy of Colombia hopes the project will be an opportunity to promote the cultural and artistic values of the two countries, while at the same time bringing positive solutions and messages to improve the ecological environment, and increase the attraction for public spaces in Hanoi.
The Ministry of Culture, Sports and Tourism said the project will ensure compliance with regulations on Covid-19 prevention and control. In terms of funding, the Embassy of Colombia in Vietnam will pay for the construction and composition costs of the Colombian artist. The VICAS will pay the composition fees of the Vietnamese artist from its service revenue.
It is expected that the project will be implemented at Complex 01 in Hanoi in August and that at the Hanoi University of Culture will be implemented in November. 
AFF Cup 2020 set to take place this December, draw slated for August 10
The ASEAN Football Federation (AFF) has confirmed that the 2020 AFF Cup will go ahead this December as previously planned despite the impact of the COVID-19 pandemic, with the group stage draw slated for August 10.
Specifically, the regional championship is scheduled to take place from December 5 to 31, with its format possibly moving from home and away matches as usual to being held at centralised venues, in order to ensure safety amidst COVID-19 fears.
The tournament was originally scheduled to run from November 23 to December 31, 2020, but was then rescheduled at least twice due to the pandemic - first postponed to mid-April 2021 and later pushed back further to December.
AFF President Sameth Khiev said: "We are aware of the need to be prepared for the impacts of COVID-19 on the tournament. Changes can happen and we have to stand ready to play in centralised venues because safety is a top priority. Organisational plans for the tournament will be announced later this month."
The draw for the 2020 AFF Cup is expected to be held on August 10. Accordingly, 10 teams will be drawn into two groups of five teams. There will be five seeding pots for the draw, with Pot 1 featuring reigning title holders Vietnam and 2016 champions Thailand.
2018 runners-up Malaysia join Indonesia in Pot 2, while the Philippines and Myanmar make up Pot 3. Pot 4 consists of Singapore and Cambodia, with the last pot featuring Laos and Timor Leste or Brunei.
Tien Giang reports three more Covid-19 deaths
The steering committee for Covid-19 infection prevention and control of the Mekong Delta province of Tien Giang has announced three Covid-19 deaths, including one found to be infected in a test after death.
One of the deceased was a 54-year-old patient in My Tho City, who was transferred from the My Tho Medical Center to the field hospital No. 2 on July 11, Tuoi Tre Online newspaper reported.
The patient died on July 19.
Another case was a 72-year-old patient in Chau Thanh District. The Tien Giang General Hospital transferred the patient to the field hospital No. 2 on July 19. The patient died on July 20.
The other case was a woman, aged 59, who died at her home in Cho Gao District on July 19.
She was later found to be infected with Covid-19.
It was reported that her daughter was a trader at the Binh Dien wholesale market in HCMC's Hoc Mon District. Due to the suspension of the market, she returned home. She has also tested positive for the coronavirus and is being quarantined at the Cho Gao Medical Center.
The competent agencies of Tien Giang Province have locked down her neighborhood and traced those in direct contact with her.
Thus, the province has recorded 19 Covid-19 deaths so far. 
HCMC chairman calls on residents to unite in Covid-19 fight
HCMC chairman Nguyen Thanh Phong issued a letter on July 19 calling on all the people in the city to unite to fight off the Covid-19 pandemic, especially as the number of new infections remains high.
"Our beloved city is experiencing a very difficult time as the trajectory of the Covid-19 pandemic is very unpredictable, with all aspects of life affected," Phong said.
The city government is taking strong measures and addressing shortcomings in its Covid battle.
"Imposing citywide social distancing following the prime minister's Directive No. 16 from 0 a.m. on July 9 was a tough decision for the city government as this measure severely affects economic development, especially people's livelihoods," the city chairman said.
However, the health of the people must be the top priority. Therefore, the city has to take stricter Covid-19 containment measures to prevent the pandemic from spreading further and bring it under control.
The city has promptly supported people affected by the pandemic, especially those in difficult circumstances, increased the supply and distribution of goods for citizens and stabilized the prices of goods.
Besides the determination and unity of millions of its citizens, the city has also received support from local and foreign individuals and organizations, the central Government, other cities and provinces and overseas Vietnamese.
After 10 days of carrying out the stay-at-home order, the city has made significant progress in the fight against the pandemic thanks to the great efforts and sacrifices of frontline workers and most importantly, the unity of the people.
However, there are still a number of issues that need to be resolved, such as violations against social distancing regulations, the shortage of goods in some areas, price increases and fake news that causes anxiety and panic among the community.
In the coming time, the city will continue to deploy various solutions such as increasing testing efficiency, strengthening control over compliance with the shelter-in-place order, providing support for people in areas on lockdown and enhancing the Covid-19 treatment capacity.
The city will also accelerate the Covid-19 vaccination so that two-thirds of the population will be vaccinated by the first quarter of 2022.
During the fifth round of vaccination, HCMC will give priority to people with underlying health conditions, those aged over 65, the poor and policy beneficiaries as well as employees working at enterprises, production facilities, utility services, food, healthcare and a number of other industries.
The citizens can call the hotline 1022 or contact the local authorities if they need support.
The city is promoting e-commerce and online shopping to restrict direct contact, while gradually resuming traditional markets under strict surveillance. To ensure a sufficient supply of goods for residents, the city is also organizing mobile goods stores and zero-dong mini marts.
"To successfully put the pandemic under control, bring the city back to the new normal, protect citizens' health and contribute to the city's development, on behalf of the municipal government, I call on all people and soldiers to continue trusting, supporting, sympathizing and sharing with the city, and strictly comply with social distancing regulations, especially in areas on lockdown," Phong said.
"I believe that with our joint efforts, unity and determination, we will definitely win this fight, facilitate socioeconomic development and bring peace, prosperity and happiness to the citizens," he concluded. 
Hospitals in HCMC ordered not to deny Covid-19 patients
HCMC Chairman Nguyen Thanh Phong has asked field hospitals to admit and treat Covid-19 patients, while ordering Covid-19 treatment hospitals not to deny treatment to severely-ill patients.
The leader of the HCMC government also tasked the municipal Department of Health with regularly checking and monitoring the Covid-19 admission and treatment at hospitals citywide and imposing harsh sanctions on individuals or units violating the regulations.
Phong also assigned the city's 115 Emergency Center to evenly and suitably send Covid-19 patients without symptoms to field hospitals and critically ill patients to hospitals specializing in Covid-19 treatment.
Besides, the HCMC Department of Transport was told to work with transport firms to provide 30- or 40-seater coaches installed with a Global Positioning System (GPS) device for the 115 Emergency Center to transport Covid-19 cases.
The municipal Department of Health and the 115 Emergency Center are in charge of mobilizing all ambulances of hospitals in the city and drivers for Covid-19 patient transport. These vehicles must be installed with a GPS device.
Healthcare centers, field hospitals and Covid-19 treatment hospitals were asked to regularly stay updated on the number of Covid-19 patients at temporary quarantine facilities in districts to triage and transfer them to hospitals for treatment appropriately and in a timely manner.
Earlier at a meeting when the city had undergone seven days of strict social distancing, Chairman Phong said that the health sector should quickly handle the shortcomings over delays in transporting Covid-19 cases to hospitals for treatment.
The city is seeing over 31,000 Covid-19 patients receiving treatment, including 423 critically ill patients put on a ventilator and 11 others relying on an extracorporeal membrane oxygenation machine. As many as 251 Covid-19 deaths have been reported in HCMC.
The city to date has undergone 12 days of the social distancing period under the prime minister's Directive 16. 
Mekong Delta provinces rushing to build field hospitals as Covid cases soar
Many provinces in the Mekong Delta are racing against time to set up field hospitals to cope with the rise in Covid-19 cases.
Long An Province has detected 824 domestic infections since the latest outbreak began on April 27. The province already has nine field hospitals for Covid-19 treatment, with a total of 1,500 beds, but it is preparing to convert a high school dormitory in Tan An City into a field hospital with 700 beds.
Long An has recently decisded to convert the Hau Nghia General Hospital in Duc Hoa District into a 200-bed Covid-19 hospital in charge of treating patients in critical condition.
Dong Thap, the Mekong Delta's worst-hit province with 1,379 locally-infected cases since June 24, has completed setting up two field hospitals in Cao Lanh City with over 400 beds, while the Dong Thap Military Hospital now functions as a Covid-19 treatment hospital with 300 beds, reported Tuoi Tre newspaper.
As for Can Tho City, the local health authorities are reportedly having a hard time tracing contacts of the confirmed cases as many infections were detected in crowded places such as wholesale markets, residential areas, companies and supermarkets.
With 170 cases reported, the 100-bed Covid-19 treatment zone at the Can Tho Tuberculosis and Lung Disease Hospital is now fully occupied, while another field hospital with 100 beds in Binh Thuy District has received 70 coronavirus patients just after two days of being put into operation.
Can Tho plans to use the local hospitals in Cai Rang and Thoi Lai districts along with a military hospital to receive and treat Covid-19 patients, if the coronavirus situation worsens.
Besides, efforts to estimate the materials and biological products needed for testing cannot keep up with the spread of the disease. The city has 18,000 PCR test kits and 65,000 quick test kits left and has continued to propose an additional supply of protective gear, N95 face masks and face shields for medical workers, said Pham Phu Truong Giang, deputy director of the Health Department in Can Tho.
In Vinh Long Province, the provincial Department of Health said that it is coordinating with local authorities to survey and request the provincial government to establish more quarantine centers and convert local medical centers into Covid-19 treatment units.
The department also planned to send Covid-19 testing systems to other qualified medical facilities and call for the participation of private medical units, aimed at improving the province's testing capacity, with 3,000 samples expected to be processed per day.
By yesterday afternoon, July 19, Vinh Long reported 40 new cases, especially, after 25,269 workers in the industrial parks of Hoa Phu and Binh Minh underwent screening Covid-19 tests, 13 tested positive for the virus through PCR tests and 19 others tested positive through quick tests.
Bac Lieu Province reported 14 cases as of this morning. Yesterday, Thanh Vu Medic Hospital in Bac Lieu put into operation a field zone, which is located at the Judo stadium in Bac Lieu City, to conduct Covid-19 quick tests and RT-PCR tests for local residents. 
All BOT tollgates in virus-hit southern region suspended
The Directorate for Roads of Vietnam has ordered a suspension of all tollgates in the Covid-19-hit southern cities and provinces from July 20 to support the fight against the pandemic.
The directorate has written to investors of the BOT traffic projects and the governments of these southern localities telling them to close the toll stations to aid the Covid combat. Toll collection will resume when the local governments lift their stay-at-home orders, the local media reported.
At the tollgates in the areas unaffected by the pandemic, fee exemptions should be extended to vehicles transporting medicines, machines, medical equipment and cargo.
Vehicles transporting medical workers to coronavirus-hit areas and people from coronavirus hotspots to other localities are also exempt from toll fees.
The Directorate for Roads of Vietnam has asked local road management departments to monitor the toll collection suspension.
Vietnam, UK beef up cooperation in security, home affairs
Vietnam stands ready to share information and boost comprehensive, effective and intensive cooperation with the UK in security and home affairs, Ambassador Nguyen Hoang Long told UK Home Secretary Priti Patel in London on July 19.
Long spoke highly of collaboration between the two countries over the past time, with cooperation in security and home affairs the main pillar as stated in the "Joint Statement on the Vietnam-UK Strategic Partnership: Development Orientation in the Next 10 Years" in 2020.
Patel thanked Vietnam for its cooperation in handling specific issues to facilitate people-to-people exchanges and raise mutual understanding, for the sake of the two peoples.
She stressed the need to officialise cooperation activities between the two countries, and improve capacity and skills of relevant agencies in the implementation of joint cooperation programmes.
Long suggested the minister create optimal conditions for the Vietnamese community and students to live, work and study in the UK, and make more contributions to the bilateral friendship and collaboration.
Patel pledged support to Vietnam, the Vietnamese Embassy and the ambassador in realising concrete measures to step up the strategic partnership./.
No COVID-19-free document required for drivers transporting goods within 19 southern localities
Drivers transporting goods within 19 southern localities undertaking social distancing measures are allowed to operate without showing their COVID-19-free document, agreed participants at a meeting held by Ministry of Transport (MoT) on July 19.
According to the MoT, the new rule aims to ensure smooth and fast goods transport among the localities.
However, drivers wishing to travel from the 19 localities to other regions with lower level of anti-pandemic measures must provide a negative COVID-19 test certificate conducted within 72 hours.
Transport facilities and associations were requested to educate drivers in strictly implementing regulations in pandemic prevention and control.
Reporting on the prolonged traffic congestion in the gateway to Hai Phong on July 18-19, leaders of the northern city said that on July 17, the city discovered two drivers who were travelling from the south to the city positive for SARS-CoV-2. After that, the city has classified vehicles into two groups of high risk and low risk of COVID-19 spreading for easier management.
Transport Minister Nguyen Van The said that the ministry has formed a special working team, along with four inspection teams to ensure transportation activities are conducted in line with COVID-19 prevention and control regulations in 19 southern cities and provinces. He asked the localities to work closely with the teams to deal with emerging problems.
According to the Directorate for Roads of Vietnam, on July 19, four inspection teams of the ministry examined activities at checkpoints in roads and seaports as well as internal water ports in six provinces. No serious congestion or violations were reported./.
Level-2 field hospital No.4 staff under training stage
An online training course on international humanitarian law and identification of explosives for staff of the Level-2 Field Hospital No.4 opened on July 19.
The event, which will last to July 23, is held by the Vietnam Department of Peacekeeping Operations in conjunction with the Military Medical Department, the International Committee of the Red Cross (ICRC) and relevant agencies.
This is the first profession training course for the hospital's staff within the framework of UN peacekeeping training activities before they perform their mission in Bentiu, South Sudan.
During the course, ICRC experts provide trainees with basic and essential knowledge on international humanitarian law, and guide them to handle some situations relating to explosives left by conflicts./.
Additional medical equipment for HCM City's COVID-19 fight
A group featuring 105 collectives, businesses, and individuals in Ho Chi Minh City have registered to contribute more than VND2,293 billion in support of the purchase of COVID-19 vaccines and medical equipment in the southern city's ongoing battle against the virus.
This comes after the southern metropolis received goods and medical supplies worth VND400 billion on July 19 from relevant stakeholders, enterprises, individuals both at home and abroad, along with a number of provinces and cities nationwide.
Most notably, Vingroup's Thien Tam Foundation has donated two million sets of Invitro diagnostic biological products used in antigen testing, while the Asia Commercial Joint Stock Bank has presented 10,000 PCR test kits and 15,000 SARS-CoV-2 rapid test kits.
Furthermore, Duy Tan Plastic Company have also granted a PCR testing system, along with a specialised ambulance and cars.
Dragon Capital VietFund Management Joint Stock Company has donated three specialised ambulances, while Hung Thinh Group Joint Stock Company has given support by offering 5,000 powder coated metal hospital bed.
Ho Chi Minh City's Vietnam Fatherland Front Committee has also received a sum of VND492 million in cash from numerous organisations and individuals for the purchase of COVID-19 vaccines.
The southern city has so far distributed over VND1,266 billion, including medical equipment and goods to hospitals, medical facilities, and quarantine areas, while supporting the poor and individuals negatively impacted by the COVID-19 pandemic.
The latest donations come in response to calls made by the President and the Central Committee of the Vietnam Fatherland Front to support the nation's ongoing battle against the pandemic.
Source: VNA/VNS/VOV/VIR/SGT/SGGP/Nhan Dan/Hanoitimes

HCM City prepares for 60,000 COVID-19 case scenario