Vietnam offers free treatment to all Covid-19 patients

People infected with the new coronavirus in Vietnam have been covered by the health insurance fund, while quarantined cases are being given free-of-charge essential items for their daily activities in isolation wards.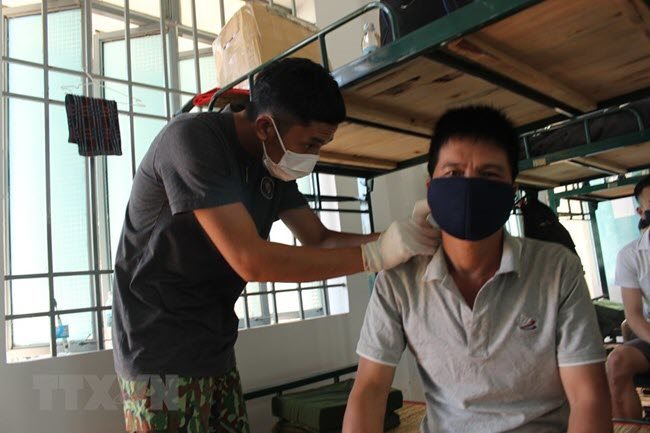 A soldier checks temperature of a man who is placed in quarantine. Quarantined cases in Vietnam are being given free-of-charge essential items for their daily activities in isolation wards - PHOTO: VNA

Nguyen Nam Lien, head of the Health Ministry's Planning-Finance Department, confirmed that Covid-19 sufferers in the country will be treated for free, reported Nguoi Lao Dong newspaper.
If test results are negative, the cost of the tests is covered by health insurance, he remarked.
According to Le Van Phuc, a Vietnam Social Security official, the health insurance fund covers the entire medical bill for people who get checkups after developing symptoms such as fever, cough and shortness of breath and then test negative for the virus.
If people are confirmed to have caught the flu-like virus and need extra treatment, their treatment and test fees will be covered by the State budget, Phuc added.
Further, people will not be charged for medical fees when they undergo mandatory quarantine at healthcare centers, border gates and other isolation facilities. They will also be transported to isolation wards for free and receive free drinking water, towels, face masks, hand sanitizers, mouthwash and other daily necessities, according to the Finance Ministry's Circular 32/2012.
Regarding food at isolation wards, quarantined people will be offered meals at their request, but these should be appropriate to the capacity of each isolation facility, and these individuals will have to pay for the meals. Poor people will have meals subsidized by VND40,000 per day during their quarantine period.
However, most of the isolation facilities nationwide such as military schools and camps have used their own budgets or their localities' funds to prepare high-quality meals for the quarantined.
Meanwhile, in some countries, people sickened by the new coronavirus face high fees for medical treatment.
A woman living in Denver, the capital city of the U.S. state of Colorado, had to pay a medical bill of US$4,500 for Covid-19 testing after she showed signs of influenza. In Singapore, foreign coronavirus patients are offered free Covid-19 testing but have to pay US$4,300-US$5,800 for the treatment.
 
Over 115,000 health declarations filled out on NCOVI app
More than 115,000 voluntary health declarations have been filled out on the app – NCOVI as of March 13, according to data by the group of app developers.
Of the number, 693 declarants said they contacted COVID-19 cases, more than 1,000 said they returned from epidemic-hit areas, and 890 others reported that they had contacts with people from epidemic-hit areas.
Meanwhile, over 680 people gave feedback on the NCOVI app.
As many as 120,000 and 30,000 downloads of the app from the Android and iOS operating systems, respectively, were reported.
The app development is the latest effort by Vietnam in the fight against the acute respiratory disease caused by SARS-CoV-2 (COVID-19).
Data collected through the apps will enable the health sector to learn about cases in need of medical support in the fastest and most effective manner.
The Ministries of Health, and Information and Communications have suggested all Vietnamese use NCOVI to report their health status, while getting updated on relevant information.
Meanwhile, passengers entering Vietnam are recommended to use the "Vietnam health declaration" app for the same purposes.
As of March 13, Vietnam had reported 44 COVID-19 cases, 16 of them were discharged from hospital after their complete recovery. SGT/VNA

Time is now to stay on top of your health, and anyone coming into Vietnam must fill out a detailed declaration before setting foot in the country. Watch our guide on how to fill in your forms here.  

Vietnamese citizens and passengers entering Vietnam are now able to declare their health status via two applications, namely "NCOVI" and "Vietnam health declaration" that were launched in Hanoi on March 9.