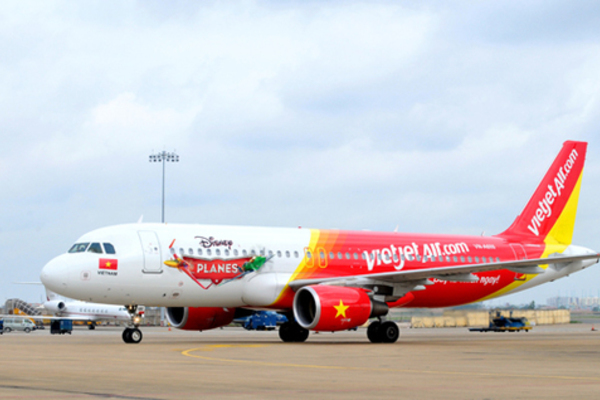 A Vietjet airplane. The aviation firm shares have dropped 24.5 per cent to end Thursday at VND139,500 per share from its peak of VND184,840 per share in early April 2018. — Photo vietnamnet.vn
VOF said in its August report that it sees the risk and reward to be balanced given the company's (Vietjet) valuation and growth prospects.
Vietjet made its IPO in December 2016 by selling 44.8 million shares to institutional investors at VND84,400 (US$3.63) per share.
The total value of the deal was VND3.78 trillion ($162.5 million).
The company then started listing its 300 million shares on the Ho Chi Minh Stock Exchange on February 28, 2017 at VND90,000 per share.
The volume of listing now is 541.6 million shares, of which 523.8 million shares are outstanding.
Vietjet shares reached the highest price of VND184,840 per share on April 2, 2018 – only a week before the benchmark VN-Index hit its record peak of 1,204.33 points.
Vietjet shares have fallen a quarter to end Thursday at VND139,500 per share.
VOF invested in Vietjet before the aviation firm went public and listed on HoSE. The investment fund has added and subsequently trimmed its holding over the past three years in line with market valuation and business fundamentals, VOF said.
The fund initially invested over $20 million into Vietjet shares and then accumulated $18 million worth of additional shares. After three years, VOF earned $80 million in proceeds from dividend and sales proceeds with internal rate of return (IRR) of the investment being 86 per cent, it said.
Vietjet shares had accounted for 2.3 per cent of the VOF portfolio, valued at $21.4 million.
After exiting Vietjet, shares of steel maker Hoa Phat (HoSE: HPG) is the top investee company, accounting for 11.1 per cent of VOF's total net asset value (NAV).
Other stocks in the top 10 investee company include realty firm Khang Dien House (HoSE: KDH), Airports Corporation of Vietnam (UPCoM: ACV), Phu Nhuan Jewellery (HoSE: PNJ) and dairy producer Vinamilk (HoSE: VNM).
Real estate and construction is the fund's biggest allocation by sector, taking 18.9 per cent of all investments. It is followed by construction materials (15.5 per cent), food and beverage (14.4 per cent) and financial services (12.3 per cent).
As of August 31, VOF recorded its NAV per share was $4.97, down 1.2 per cent monthly. Total NAV was $918.7 million at the average share price of $4.21. The total value of investee companies was $778.7 million. — VNS