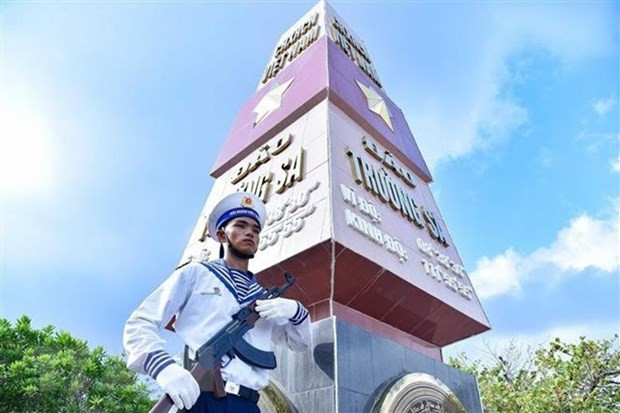 At a flag raising ceremony in Truong Sa, Khanh Hoa province (Photo: VNA)
Hang made the statement in response to queries about China's recent illegal opening of a hot pot restaurant on Hoang Sa's Phu Lam island, at the ministry's regular press conference on the day.
She emphasised that Vietnam has full legal basis and historical evidence to assert its sovereignty over Hoang Sa in accordance with international law.
Regarding information about Chinese research vessels operating in Vietnam's exclusive economic zone, the diplomat affirmed that Vietnam has sovereignty, sovereign rights and jurisdiction over the waters in the East Sea determined in accordance with the provisions of the 1982 United Nations Convention on the Law of the Sea (UNCLOS).
"As for cases of violating of Vietnam's sovereign rights and jurisdiction, the Ministry of Foreign Affairs and Vietnamese competent agencies have been implementing measures in line with international law and Vietnamese law to ensure the country's legitimate rights and interests," stated Hang.
Concerning reporters' information on the Philippines' announcement on May 14 of its placing of navigation buoys in the East Sea's waters, the deputy spokesperson again made clear that Vietnam has full legal basis and historical evidence to affirm its sovereignty over Truong Sa in accordance with the provisions of international law. Vietnam resolutely opposes actions that infringe on Vietnam's sovereignty and related rights over Truong Sa.
Vietnam requires relevant parties to respect its sovereignty, international law, and the Declaration of the Conduct of Parties in the East Sea (DOC); to make positive contributions to maintaining stability in the waters; and to create a favourable environment for the negotiation of a Code of Conduct in the East Sea (COC), she said./. VNA