VietNamNet Bridge – Vietnam is considering offering unilateral visa exemptions for more countries and simplifying visa procedures in order to woo more international visitors.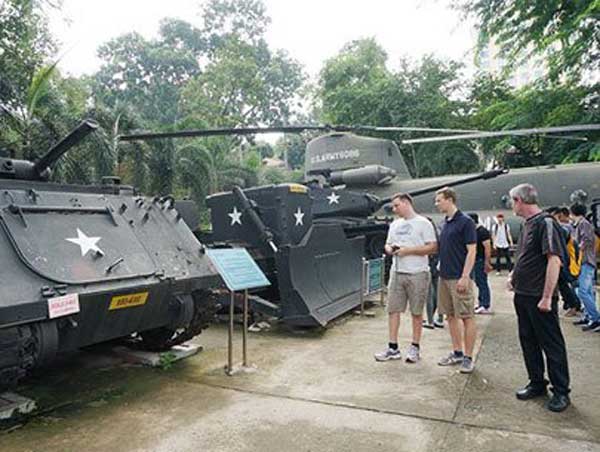 Foreigners visit the War Remnants Museum in HCMC's District 3
The Prime Minister has told the Ministry of Public Security and relevant agencies to propose a list of new countries whose residents can make short visits to Vietnam without a visa or go through much streamlined visa procedures to visit the country.
Vietnam has exempted visas for visitors from 17 countries, including ASEAN nations. In recent times, local tourism authorities have suggested visa waiver for visitors from more countries such as France, Germany, the UK, Spain, Italy, Australia, New Zealand, India and Canada to help prop up the tourism sector due to month-on-month declines in international arrivals.
The Government has required the tourism sector to expand markets and reduce heavy dependence on some major markets.
In the past years, Vietnam has concentrated on attracting travelers from certain major markets, including Chinese-speaking ones. As a result, any incident that occurs in connection with one of those markets can cause catastrophic consequences.
For instance, visitors from mainland China and Taiwan accounted for 2.4 million out of 7.5 million international arrivals last year. The East Sea tensions last May led to massive bookings cancellations from these markets, spelling great trouble for local tour operators.
To back development of the tourism industry and travel enterprises, the Prime Minister has urged relevant agencies to propose and adopt more incentives, including land tax and rent reductions for accommodation and tourist site projects.
Figures of the Vietnam National Administration of Tourism showed the country attracted more than 7.2 million foreign visitors in the year to November, a year-on-year rise of 5.4%. Despite month-on-month drops in the number of visitors in the past six months, the tourism sector still expects to lure more than eight million international travelers this year.
SGT/VNN