Vietnam presents Friendship Order to Pyatigorsk State University

Pyatigorsk State University (PGU) of Russia has been presented with a Friendship Order by the Vietnamese State for its contributions to training generations of Vietnamese students since 1968.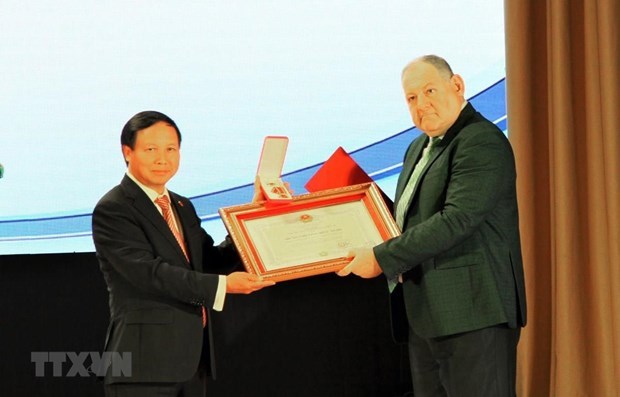 Vietnamese Ambassador to Russia Ngo Duc Manh handed over the Friendship Order to rector of  the Pyatigorsk State University Alexander Gorbunov
Onbehalf of General Secretary of the Communist Party of Vietnam and PresidentNguyen Phu Trong, Vietnamese Ambassador to Russia Ngo Duc Manh handed over theFriendship Order to representatives of the university at a ceremony in Pyatigorsk city on October 11, which was heldto celebrate its 80th founding anniversary.
Over the last 51 years, many generationsof Vietnamese students have studied at the university. Many of them have holdhigh-level positions of the Party and State of Vietnam. PGU graduates haveworked in 120 countries around the world.
In his speech at the event, Manh emphasised the university's invaluable help toVietnam, especially when the Russian educational institute has helped Vietnamtrain many ambassadors, generations of highly qualified teachers who dedicatedto the cause of education in Vietnam.
He showed his hope that PGU would continue to reaping more successes on thedevelopment path, including its cooperation with Vietnam in training humanresources.
In the morning of the same day, Manh had a working session with Deputy Governorof Stavropol province Alexander Boiko, during which the two sides affirmedtheir desire to push Vietnam-Russia cooperation, especially in economy, tradeand education.
The ambassador suggested the local government create favorable conditions forthe Vietnamese community in Pyatigorsk to integrate well in society./. VNA