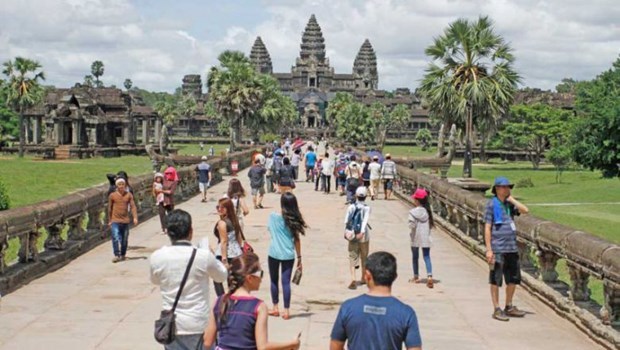 Visitors at Angkor Wat in Cambodia (Photo: phnompenhpost.com)
According to the latest report from the Cambodian Ministry of Tourism, more than 3 million tourists arrived through one of Cambodia's three international airports in Phnom Penh (1.5 million passengers), Siem Reap (1.2 million) and Sihanoukville (549,481).
The Ministry of Tourism's spokesman Top Sopheak told Khmer Times this week that China continues to be the most important market for the local tourism sector due to the availability of direct flights to dozens of destinations in China.
The Chinese are followed by Vietnamese visitors as the main nationalities visiting the country, he noted.
The spokesman said the sector is experiencing healthy growth and there is no concern about the possibility that the number of tourists might decrease in the future. The Ministry of Tourism continues to work to attract more tourists by creating new tourism products in the main destinations, he added.
In 2018, 6.2 million foreign holidaymakers visited Cambodia, a year-on-year rise of 10.7 percent.
Cambodia is expected to attract 7 million foreign tourists in 2020, including 2 million visitors from China, generating a total of 4.3 billion USD for the "non-smoking" industry./. VNA

Vietnam was among the top ten investors in Cambodia as of 2018, with US$3 billion registered in more than 200 projects, according to data released at a press briefing yesterday in Can Tho City.

Over the past three decades, many Vietnamese women officers have volunteered to work in Cambodia, contributing significantly to the reconstruction and development of the country.