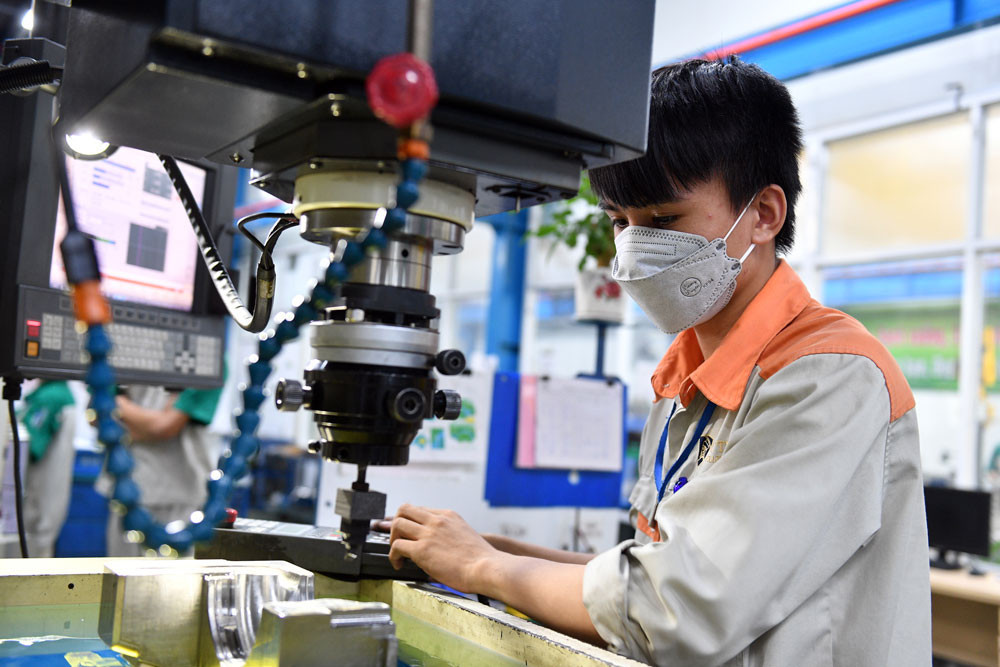 According to HSBC, the Vietnam economy stands out in the region in terms of GDP growth, with a predicted growth rate of 6.9 percent for 2022. It is expected to become the 10th largest global consumer market by 2030, surpassing Germany and the UK.
The positive assessment takes place amid the risk of recession faced by some large economies and global financial market uncertainties, with soaring inflation and a fall of value of currencies against the dollar.
CEO of HSBC Vietnam Tim Evans said at a workshop about market prospects in 2022, held by HSBC recently, that unlike one year ago, Vietnam is witnessing bustling life with heavy traffic and new hopes.
Earlier, many institutions and leading experts in the world also gave positive remarks about Vietnam's economy.
At the 2022 Socio-economic Forum, Francois Painchaud from the International Monetary Fund (IMF) said that Vietnam's economy has recovered well with the highest GDP growth rate among Asian economies. It is the only country with a predicted GDP growth rate that has been raised from 6 percent to 7 percent.
The Financial Times listed Vietnam among seven economies performing well this year, which includes Indonesia, India, Greece, Portugal, Saudi Arabia and Japan.
Rockefeller International's President Ruchir Sharma in the Financial Ttimes cited the relatively high growth rate and moderate inflation rate in Vietnam compared with other economies.
EuroCham Chair Alain Cany said Vietnam's prospects are positive with the young, dynamic and tech-savvy workforce as the major driving force. Vietnam's exports have surpassed Malaysia and Thailand, accounting for 19 percent of GDP (under 1 percent in 2010). Big investors like Lego, Pegatron and Foxconn have committed hundreds to billions of USD of investment in Vietnam.
The World Bank's (WB) Chief Economist Andrea Coppola commented that Vietnam's economy has recovered very quickly. The institution has predicted the high 7.2 percent GDP growth rate for Vietnam in 2022, highly appreciating the strong recovery of domestic demand and firm export-oriented processing and manufacturing industries.
UOB has also raised its predicted GDP growth for Vietnam from 7 to 8.2 percent.
Bright sport in global economic picture
The positive forecasts about Vietnam come amid the US Federal Reserve's (FED) decision to raise the interest rate for the fifth time, increasing the interest rate by 300 percentage points so far (from 0.25 percent to 3.25 percent). Analysts predict that the US interest rate may rise to 4.6 percent in 2023.
A number of currencies have lost 10-25 percent of value against the US dollar, including the Japanese Yen (JPY), British Pound (GPB), Korean Won (KRW), Euro, Thai Baht (THB), Taiwanese dollar (TWD) and PHP.
The GPB has fallen to a 40-year low, the euro to a 20-year low, the JPY a 24-year low and the KRW a 13-year low.
Meanwhile, VND decreased by 4 percent only in the first nine months of the year.
Vietnam's inflation rate was 2.89 percent as of the end of August, while it was 8.3 percent for the US. The inflation rate in August in Europe was 9.1 percent and 10 percent in September.
The global GDP growth rate in 2022, according to the World Bank, will be 2.8 percent, while Vietnam is expected to maintain a high growth rate of 7.2 percent as predicted by the World Bank, or 8.5 percent as predicted by Moody's.
Vietnam's monetary and fiscal policies have been applied in a flexible way. SBV has handled uncertainties well and succeeded in curbing the inflation rate and maintaining a stable exchange rate.
Meanwhile, the government has cut many kinds of taxes and sped up public investments to control inflation and maintain macroeconomic stability.
However, the liquidity of the banking system has shown signs of rapid decline since early October, and deposit interest rates have increased since late September.
Tran Dinh Thien, a respected economist, former Director of the Vietnam Economics Institute, recently mentioned the 'erosion of enterprises' strength', implying 'latent worrying problems'. He urGDP growth rate, economic recovery, financial market, ged 'pump blood' to the economy which is thirsty for capital.
Manuela Ferro from WB said that Vietnam needs to pay attention to debt settlement, and apply a reasonable fiscal policy to make public investments more effective.
Duy Anh