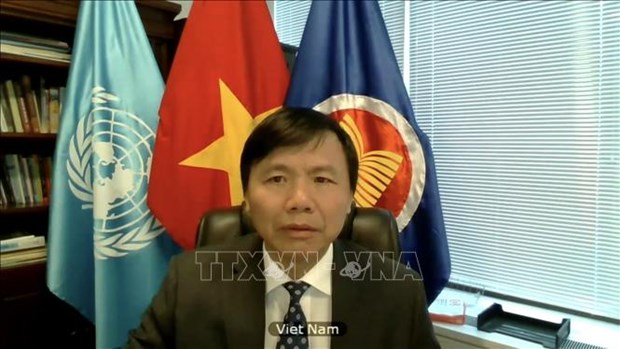 Dang Dinh Quy, head of the Vietnamese Permanent Mission to the UN (Photo: VNA)
In his remarks at the function, Dang Dinh Quy, head of the mission, delivered the summarisation.
Accordingly, the committee organised two official regular meetings, and six dialogues with UN member states and organisations. ASEAN delivered 36 joint speeches, highlighting the bloc's achievements and stances on a host of issues at the UN's key forums.
Following a Vietnamese initiative, the ASEAN-UN cooperation was discussed for the first time at a UN Security Council meeting, Quy noted.
Vietnam also initiated, negotiated and pushed for the UN General Assembly's approval of a resolution on ASEAN-UN cooperation, with a record number of 120 UN member nations backing the decision, he said.
Participating representatives of ASEAN member states congratulated Vietnam on its successful chairmanship of the ASEAN committee this year despite COVID-19, saying the nation has coordinated the bloc's operations well via creative and effective suggestions.
They said the ASEAN solidarity and cooperation have been strengthened as member states have stepped up engagements as well as backed each other's initiatives and candidacies for posts at UN organisations.
They lauded the performance of Vietnam and Indonesia as non-permanent members of the UN Security Council and their joint work to boost the image of ASEAN at the forum.
Brunei, the Chair of the committee in 2021, said it will build on progress achieved this year following the country's theme of "We Care. We Prepare. We Prosper" set for its ASEAN chairmanship the same year./.VNA