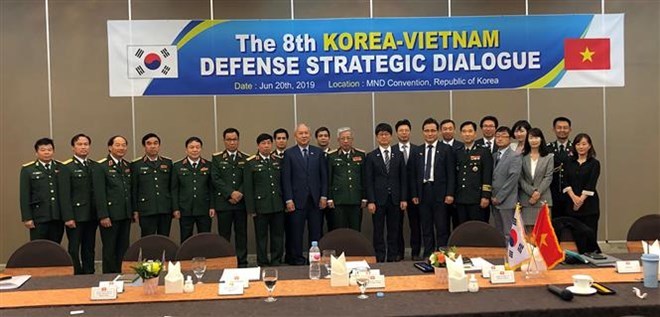 Participants at the dialogue
At the event, the two sides exchanged views on the global and regional security situations and international issues of common concern.
They shared the satisfaction at the bilateral defence cooperation in the recent past, and agreed to build on the outcomes, with a focus on mutual high-level visits, defence industry, settlement of war consequences, maritime security and United Nations peacekeeping activities.
The deputy ministers agreed to promote joint work on several new aspects, such as cyber security, cultural and art exchange, and military and high-performance sports.
The two sides reached consensus on enhancing information exchange, consultation and coordination at multilateral forums such as the ASEAN Defence Ministers' Meeting Plus (ADMM+), ASEAN Regional Forum (ARF), East Asia Forum (EAF), Shangri La, Seoul Dialogue and ASEAN-RoK deputy defence ministers' meeting.
Vietnam reiterated its support of the RoK's responsible participation in multilateral security mechanisms, thus contributing to peace, stability and development in the region and the world.
The RoK pledged support for Vietnam in preparing for and organising defence-security events in 2020 when the country serves as Chair of the Association of Southeast Asian Nations (ASEAN).
During the five-day trip to the RoK for the defence policy dialogue, Deputy Defence Minister Nguyen Chi Vinh paid a courtesy visit to the RoK Defence Minister Jeong Kyeong-doo, during which he extended to the host an invitation to visit Vietnam from Vietnamese Defence Minister Ngo Xuan Lich.
Vinh also met with the head of the Defense Acquisition Program Administration (DAPA) and the President of the Korea International Cooperation Agency (KOICA), and visited a peacekeeping training facility.-VNA