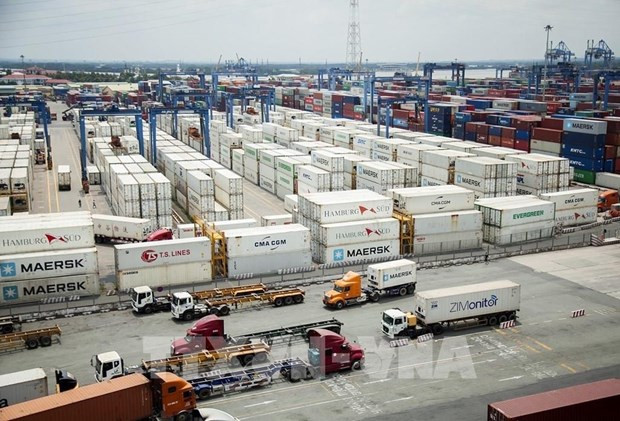 At Saigon New Port (Photo: VNA)
Of the export revenue, 19.26 billion USD was contributed by the domestic economic sector and the remaining from the foreign-invested sector, marking a respective annual decrease of 17.4% and 10%.
During the period, four types of goods earned over 5 billion USD, accounting for 52.8% and 14 others raked in more than 1 billion USD, making up 77.4%.
The domestic sector also spent 26.03 billion USD in imports, down 13.3% while the foreign-invested sector poured 49.07 billion USD or a 15.4% drop. Most of the imports were materials for production, equivalent to 93.5%.
The US remains the biggest importer of Vietnam with a turnover of 20.6 billion USD, followed by China with 23.6 billion USD. Vietnam's trade surplus with the US was estimated at 17.5 billion USD, down 23.4% year-on-year while that with the EU reached 6.9 billion USD.
In a scheme on restructuring the industry and trade sector till 2030, the sector targets maintaining annual trade surplus growth of 6-8%.
To that end, the sector looks to continue diversifying export markets and goods, developing export via e-commerce, digitalising trade promotion activities, and popularising Vietnamese trademarks./.VNA