Vietnam's tourism forecast to strongly rebound in five years
In 2024, Vietnam's tourism revenues are expected to reach US$11 billion, which will surpass the pre-pandemic amount of $10.8 billion in 2019.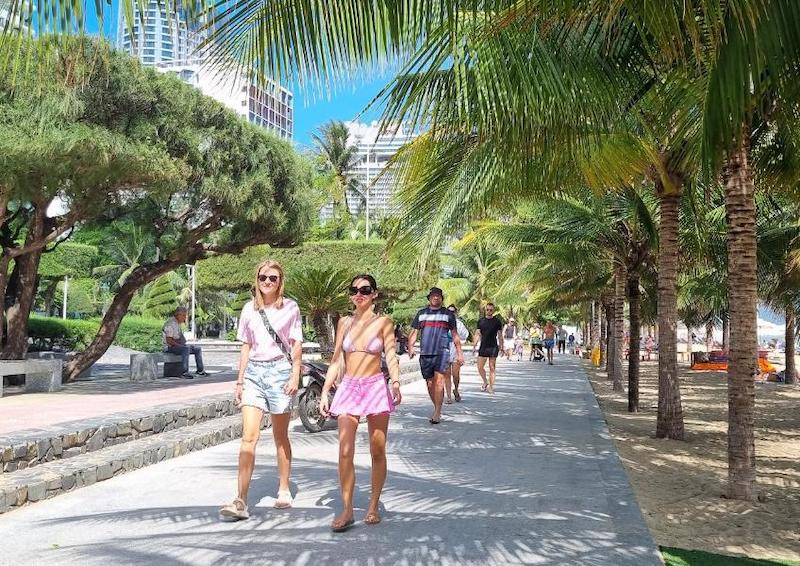 Vietnam's tourism industry is forecast to strongly grow in the coming five years, with more than 22 million foreign visitors and total revenue of US$13.2 billion.
The prediction was made by Fitch Solutions' latest report.
"It's a rosy outlook for a country that's heavily dependent on international travelers and their spending," the report noted.
The British market research firm reckoned that by 2024, revenue from tourists in Vietnam is expected to reach $11.1 billion, which will surpass the pre-pandemic levels of $10.8 billion in 2019.
The report is based partly on positive Vietnam's tourism performance last year, local insiders said.
Stronger breakthroughs
The year 2022 marked the spectacular return of the tourism industry after a long period of impacts from Covid-19. Revenue from tourists was estimated at VND495 trillion ($20.9 billion), up 23% from the year's plan and equivalent to 66% of the 2019 amount, according to the Vietnam National Tourism Administration (VNAT).
This year, the country aimed to welcome 110 million visitors, including 102 million domestic visitors and eight million foreign arrivals. Its revenue is estimated at VND650 trillion ($27.5 billion).
To reach the goal, the sector will continue to restructure regional linkages that connect Vietnam with other countries in the region, ensuring synchronization, sustainability and international integration, attaching importance to linkages between the tourism industry and other sectors in the value chain, forming diverse and unique tourism products on the basis of historical values, culture, and typical natural conditions.
The sector will also focus on promoting the construction and development of new tourism products, and nighttime activities, contributing to positioning the national tourism brand.
The Vietnamese tourism sector will focus on exploiting traditional tourism markets, refining policies to facilitate the entry, exit and movement of international tourists, and creating conditions for domestic and foreign airlines to open new routes and directly connect Vietnam to key and potential tourism markets.
In addition, it will improve policies, including supporting small and medium-sized enterprises and tourism business households to acquire new technologies, digital skills and access to finance.
VNAT Deputy Director General Ha Van Sieu said that despite forecasts of a positive outlook for 2023, the tourism sector continues to face difficulties, namely the downturn of the global economy, increased risks of financial instability, currency, public debt, energy and food security. Meanwhile, Vietnam's current visa policy is less competitive than other countries in the region.
As one of Vietnam's largest travel agencies, Saigontourist also had the same concern. However, the company is optimistic about the prospects for 2023, saying the year will be very active in terms of tourism activities, especially in the inbound segment.
Mai Thuy Hang, deputy general director of Sun Group, believed Vietnam has many advantages for tourism recovery and spectacular growth in 2023. Recently, the number of travelers from India to Vietnam increased significantly, promising continued growth in 2023, she added. "The tourism industry will experience a strong breakthrough this year in terms of domestic and foreign arrivals," she said.
Hanoi with highlights
Contributing to the impressive rebound of the whole sector, Hanoi tourism has defined its missions and recovery plans.
Director of the Hanoi Department of Tourism Dang Huong Giang stated that one of the key tasks of the tourism sector is to focus on planning and investing in infrastructure development in a professional, modern and environmentally friendly manner.
She added the department has actively collaborated with embassies and Vietnam's missions abroad to organize tourism promotion programs, such as JATA Tourism Expo Japan and IFTM [International and French Travel Market] Top Resa, the multi-purpose trade show for tourism and travel in France.
At the same time, the city will implement reciprocal tourism promotion programs to member countries under the Framework Agreement on Facilitation of Cross-border Paperless Trade in Asia and the Pacific (CPTA), Tourism Promotion Organization for Asian-Pacific Cities (TPO), and the Lancang-Mekong Tourist Cities' Alliance, according to the department.
Giang said another issue of focus is human resources. Accordingly, the department has worked with training facilities to improve manpower at three levels including state management, corporate governance, and workers with the application of national standards and international standards as well.
In 2023, the city is expected to welcome 22 million arrivals, a surge of 17.6% on year. Among them, the number of domestic visitors would be about 19 million, up 10.5% from 2022.
Tourism revenue is expected to hit VND77 trillion (US$3.26 billion), an annual rise of 28.2%. The average occupancy rate of accommodation establishments and hotels would reach 45%, up 5% year-on-year.
To achieve the target, Hanoi has focused on implementing a plan to improve the quality of tourism products and places of interest associated with heritage, relics, and handicraft villages in districts and towns with an emphasis on four main itineraries, including those from the city center to Bat Trang pottery village of Gia Lam District, Huong Son of My Duc District, the districts of Thach That, Quoc Oai, Son Tay, and Ba Vi.
The municipal Department of Tourism plans to launch a series of events such as the Hanoi Tourism Program to welcome the Lunar New Year in January 2023, the Hanoi Tourism Gift Festival in the second quarter of this year, and the Hanoi Ao Dai Festival in the fourth quarter.
In addition, it will promote cooperation with key provinces and cities in the Northern region, Ho Chi Minh City, and Southern provinces, the Central Highlands region for more attractive programs. It will also organize a series of promotion activities in key markets, including Northeast Asia, France, European countries, the US, and India.
Hanoi welcomed 18.7 million domestic and international visitors in 2022, including 1.5 million international tourists and 17.2 million domestic travelers. The arrivals in 2022 soared 4.7 times over 2021 and equal to 64.7% of 2019. Its revenues were estimated at VND60 trillion ($1.9 billion), 5.3 times higher than the previous year.
Source: hanoitimes