Vietnam seeks new-generation ODA from Japan
Prime Minister Pham Minh Chinh suggested Japan provide Vietnam with new-generation official development assistance with maximum incentives and the simplest procedures.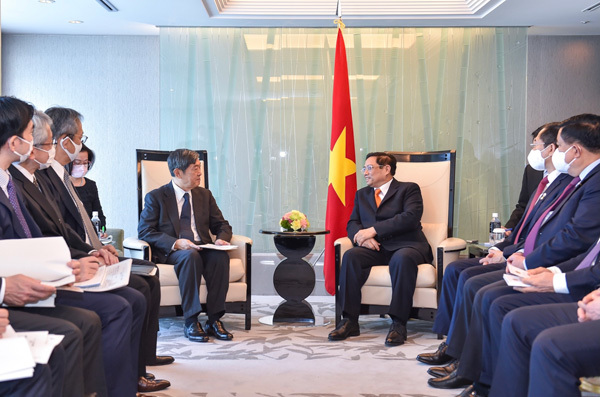 Prime Minister Pham Minh Chinh hosts reception for President of the Japan International Cooperation Agency (JICA) Kitaoka Shinichi, Tokyo, Japan, November 24, 2021. Photo: VGP
The Vietnamese Government chief made the suggestion on November 24 in Japan while receiving President of the Japan International Cooperation Agency (JICA) Kitaoka Shinichi as part of his ongoing tour to the Land of the Rising Sun.
Pham went on to say that the new-generation ODA will be steered to the following six fields: (i) healthcare capacity improvement, especially grassroots health care and preventive medicine; (ii) emission reduction and response to climate change in the Mekong Delta, Central and Northern mountainous areas; (iii) digital transformation; (iv) sustainable development; (v) social welfare in the COVID-19 pandemic time; and (vi) strategic infrastructure development.  
PM Pham extended sincere thanks to the Government of Japan for active provision of ODA provision over the past nearly 30 years and spoke highly of JICA's role and contributions to the implementation of ODA projects in Vietnam.
He also appreciated JICA's assistance for Vietnam's fight against the COVID-19 pandemic, especially its donation of more than 4 million doses of vaccine and medical supplies.
Speaking to VGP ahead of PM Pham's official visit to Japan, Chief Representative JICA Vietnam Office Shimizu Akira said the visit will surely enhance the friendship and partnership between Vietnam and Japan.
The relationship between the two nations has been and is now at the highest stage with mutual trust, Shimizu said.
JICA has been cooperating with Vietnam since 1992 with more than JPY 3,000 billion (equivalent to VND 600,000 billion) in financial assistance, dispatching some 15,000 Japanese experts and training about 27,000 Vietnamese personnel to realize the sustainable economic growth, response to fragility, and good governance in Vietnam through various projects.
With the strong cooperation with Vietnamese counterparts, JICA's projects have made great achievements such as more than 3,000 kilometer of roads, 250 bridges, five international ports and 10 power plants with the total capacity of 4,500 MW. This has contributed to the sustainable growth in Vietnam as well as strengthened the connectivity and development in the whole ASEAN.
In the upcoming time, JICA will promote projects to balance responding to health crisis with bolstering economic recovery and support the socially vulnerable people in accordance with Free and Open Indo-Pacific (FOIP), human security and utilizing digital transformation aligning with Vietnamese policy which reinforces partnership between Vietnam and Japan based on mutual trust.
In addition, JICA will also focus on supporting Vietnam in spheres of the development of urban transportation networks for sustainable and efficient growth in major cities, sustainable energy supply to meet the increasing energy demand needed for Vietnam's economic growth, improving basic infrastructure, agriculture and maritime security for strengthening connectivity and security especially in the Mekong Delta region.
Source: VGP

Prime Minister Pham Minh Chinh met with former Japanese PM Suga Yoshihide and Chairman of the Japan - Vietnam Parliamentary Friendship Alliance Nikai Toshihiro in Tokyo on November 23.

Vietnamese Prime Minister Pham Minh Chinh has granted an interview to the Japanese media ahead of his official visit to the Northeast Asian country, saying that Vietnam wishes to bring bilateral relations to a new height.