VietNamNet Bridge – Experts and investors at a conference in HCMC on May 25 said Vietnam is poised to become a major base for manufacturers around the world.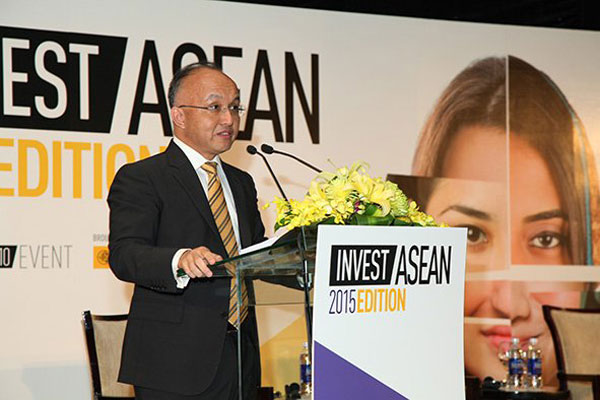 John Chong, CEO of Maybank Kim Eng Group, speaks at the Invest ASEAN conference in HCMC on May 25
John Chong, chief executive officer of Maybank Kim Eng Group, told the Invest ASEAN conference that Vietnam is an emerging middle-income economy with immense potential for growth and faster structural reforms.
"We are very positive on the Vietnamese economy which we expect will grow more than 6% this year. And we think the establishment of the ASEAN Economic Community (AEC) as a single marketplace will further solidify Vietnam's position as the region's manufacturing hub," Chong said.
Chong said Vietnam possesses many of the fundamentals for prosperity. They are a strategic location near global supply chains; a low-cost, youthful, educated and diligent workforce; a burgeoning consumer class and political and macroeconomic stability.
"Vietnam's labor costs are half the rates in China, Thailand and the Philippines, making it an exceptionally competitive economy in an already attractive region," Cong said.
Since the 1990s, foreign manufacturers have considered Vietnam as a key part of their China-plus-one strategy to hedge the risks of their investments in China and they include giants Samsung Electronics of South Korea, Toyota of Japan and Ford Motors of the United States.
"These companies and others have created a booming manufacturing hub in Vietnam," Chong said.
Vietnam's exports obtained average annual growth of 19.6% in the 2005-2014 period, far surpassing that of other ASEAN nations such as Indonesia, Thailand, Malaysia and the Philippines. Notably, Vietnam has shipped more value-added and hi-tech products including machinery transport and electronic items to the world.
"Catering to the upcoming surge in ASEAN consumption will require not just in-depth local knowledge but also significant production capacity and that is where Vietnam comes in. In many ways, Vietnam's growth story mirrors that of the wider ASEAN region," Chong said.
Vu Minh Khuong, a professor of Lee Kuan Yew School of Public Policy, shared Chong's view, saying Vietnam's strong growth in exports in the past years is one of the drivers for the country to become a manufacturing hub for foreign companies.
Huynh Quang Hai, deputy general director of Vietnam-Singapore Industrial Park Joint Venture Co. Ltd., said more foreign companies have come to Vietnam to enjoy low labor costs and at the same time take the opportunity to join the world's value chains.
"Vietnam has become a top destination for electronics and technology corporations with multi-billion-dollar projects. A new wave of foreign investment is expected after the Trans-Pacific Partnership (TPP) is signed," Hai said.
Nguyen Van Dung, deputy head of the Foreign Investment Agency under the Ministry of Planning and Investment, said more opportunities are opening for Vietnam from the AEC and TPP. The Vietnamese Government is streamlining administrative procedures as a measure to improve the business environment.
However, experts urged the Government to prioritize infrastructure development. In addition to training more skilled workers, it is important for the country to make preparations for rising competition from regional economies.
SGT