Vietnam plans to more than triple the amount of electricity it produces from renewable sources and push for a 26% increase in household solar energy usage by 2030, Prime Minister Nguyen Xuan Phuc told Reuters in an interview.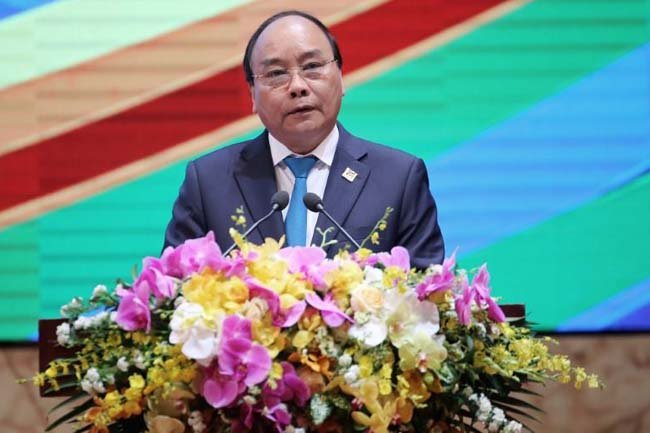 Prime Minister Nguyen Xuan Phuc delivers a speech at the sixth Mekong Greater Sub-Region Summit (GMS-6) in the National Convention Center (NCC) in Hanoi, Vietnam March 31, 2018
Speaking ahead of Vietnam's participation in the expanded G7 summit that will be held in Canada from June 8 to 9, Phuc also said he hopes the country can utilize its roughly 20 million tons of rare earth reserves, which he said are the world's third-largest, in building new energy technologies.
"Vietnam is blessed with immense potential for clean renewable energy development," Phuc said in a written response to questions from Reuters.
"We wish to cooperate in research and development and transfer of advanced technologies in mining and in-depth processing of rare earth in order to create high value-added and environment-friendly products," Phuc said.
Vietnam's largest rare earth mine is located in the northern province of Lai Chau, near the border with China. The metallic minerals are essential for technologies such as wind turbines, electric car batteries, solar panels and smartphones.
Vietnam has been seeking to promote renewable energy development to reduce its increasing reliance on coal for electricity generation.
According to its Strategy of Renewable Energy Development, by 2030 Vietnam plans to reduce its use of coal products by 40 million tons, Phuc said.
Vietnam will consume 156.6 million tons of the fuel by 2030, according to a forecast in a 2016 report on the Ministry of Industry and Trade's website.
By that time, coal-fired power plants will account for 53% of Vietnam's total power generation capacity, compared with the current level of 45%, the ministry said.
The country's hydropower potential has almost been fully exploited and its oil and gas reserves are running low amid stalled efforts to tap new fields in the East Sea, where Vietnam has maritime disputes with China.
Vietnam will "increase the electricity output produced from renewable sources from approximately 58 billion kWh (kilowatt hours) in 2015 to 101 billion kWh by 2020, and 186 billion kWh by 2030," Phuc said.
In 2015, just 4.3% of households in Vietnam were equipped with solar energy equipment, Phuc said.
Solar-powered water heaters have enjoyed fairly widespread use in Vietnam over recent years, although solar panel usage is far less common.
Vietnam is aiming to increase the use of household solar energy equipment to 12% by 2020, and 26% by 2030, according to Phuc.
"It is important that we will not pursue economic growth at the expense of the environment," said Phuc.
Reuters