Vietnam shifts policies to prepare for new ASEAN economic group
VietNamNet Bridge – Deputy Minister of Industry and Trade Nguyen Cam Tu spoke with Nhan Dan (People) newspaper about getting ready for the establishment of the ASEAN Economic Community (AEC).
VietNamNet Bridge – Deputy Minister of Industry and Trade Nguyen Cam Tu spoke with Nhan Dan (People) newspaper about getting ready for the establishment of the ASEAN Economic Community (AEC).
The AEC is considered a historic milestone in ASEAN regional integration that will lift the region's economic connectivity to new heights. Can you discuss how Viet Nam is preparing for this significant turning-point?
Viet Nam has prepared policies, mechanisms, and a legal and technical framework in preparation for the establishment of the AEC.
After the ASEAN Charter came into effect in 2009, the Vietnamese Government signed Decision No.142/QD-TTg stipulating working regulations and co-ordination between Vietnamese agencies participating in ASEAN.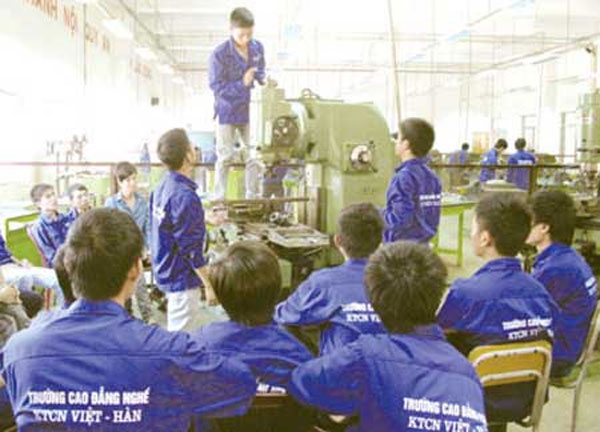 Illustrative image -- File photo
Under the decision, the Ministry of Industry and Trade (MOIT) was assigned as the leading agency in co-ordinating Viet Nam's activities in the ASEAN economic pillars and the AEC Council. Other Vietnamese ministries and sectors are actively co-ordinating with the ministry to implement AEC contents and other ASEAN agreements.
Viet Nam has been an earnest member in implementing AEC commitments since 2008, having completed 85-95 per cent of commitments. It sits with Singapore and Malaysia as the countries with the highest completion rates.
Remaining measures that Viet Nam and other ASEAN countries need to fulfil are mainly related to trade facilitation, services, investment and transport. Viet Nam and ASEAN member countries are in the process of building a post-2015 AEC vision which requires a specific strategy to address the issues.
The AEC will not only open the goods and services market, but also the labour market, attracting much attention from the public. Labour agreements under AEC commitments will affect the employment of Vietnamese workers. Could you please share your views on how the AEC will affect the labour market?
Like trade liberalisation, the gradual opening of the labour market will help ASEAN countries to better utilise their human resources. Vietnamese workers will have more opportunities to find jobs abroad. At the same time, Viet Nam's labour market will also be open to foreign workers to supplement areas facing labour shortages.
In the framework of ASEAN free-trade agreements, the transfer of labour between member countries will be governed by commitments to open service sectors and mutual recognition agreements. Such agreements will create more favourable conditions for skilled workers to work in the region.
I emphasise that commitments within the AEC framework will impact the movement of skilled workers rather than unskilled workers.
As we lack skilled workers in many sectors, an open ASEAN labour market will help us address the problem thanks to labour forces from neighbouring countries, supporting industrialisation and modernisation.
In addition, opening the ASEAN labour market will facilitate the mobility of workers amongst ASEAN member countries. However, the mobility is not free and without regulations. Each nation, through its specialised management agencies and professional associations, will have appropriate measures to manage the labour force and direct it in line with the country's development targets.
For the long term, the Government has sought synchronised solutions on improving the quality of the country's labour force. Employees should improve their professional capacity, foreign language skills, life skills and health. These issues are being studied as part of the Government's renewal of education and vocational training.
The AEC's establishment will bring both opportunities and challenges to businesses. What solutions does the Government have to support them?
Businesses are both objects and subjects in international and AEC integration. The Community's success in Viet Nam depends on how businesses take advantage of opportunities brought by the process.
To help local production sectors with poor competitiveness have more time to prepare, the MIT is working with ministries and agencies to explain Viet Nam's situation to ASEAN member countries.
This includes obtaining flexibility for Viet Nam in implementing open-door commitments on several sensitive products, together with extended deadlines, 2018 instead of 2015, to implement the commitments for more developed member countries.
To help businesses understand the situation of negotiations and open-door commitments, agencies are regularly consulting and communicating through various means on the commitments' contents.
Trade facilitation is considered a key solution to improve business competitiveness and help them take advantage of opportunities brought by the AEC. As tariff and non-tariff barriers are lifted, innovation and modernisation of procedures related to imports and exports are significant in helping businesses cut costs and time, contributing to improving their competitiveness in the region.
In that spirit, the Government has asked the General Department of Customs (GDC) to work with agencies and ministries to implement a "national one-stop shop" to digitalise import and export procedures of ministries and agencies, and connect them to the GDC's hub. ASEAN member countries will link the national one-stop shops together to form an ASEAN one-door mechanism.
The mechanism's implementation is a breakthrough in the country's administrative reform process, significant to both ASEAN and international economic integration for Viet Nam.
The AEC follows the ASEAN Free Trade Agreement (AFTA) and will facilitate ASEAN regional connectivity to continue to develop at higher levels. Opportunities and challenges brought by the process have generally been addressed. Vietnamese businesses have become familiar with the regional economic environment during nearly two decades of AFTA implementation.
I believe that with the national tradition of creativity and resilience to overcome difficulties, Vietnamese businesses will make appropriate preparations and continue to achieve further success in regional co-operation.
VNS