Vietnam steel producers face anti-dumping lawsuits

The local steel industry is dealing with an increasing number of tax evasion and antidumping lawsuits in other countries, due to the allegedly fraudulent origins of steel exports, according to the Vietnam Steel Association (VSA).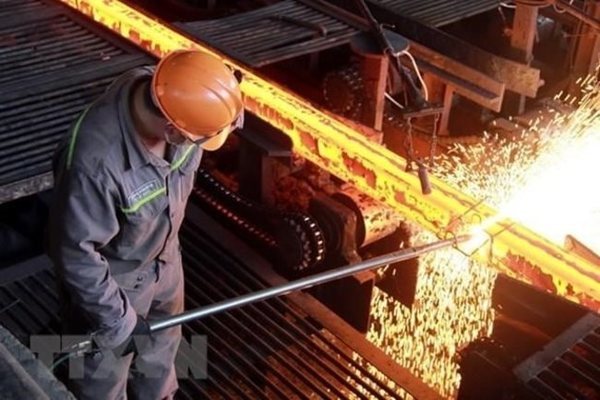 A worker is on a steel ingot line at a local firm. The past few months have seen a number of investigation initiatives and preliminary conclusions being reached on Vietnamese steel producers accused of having evaded taxes and engaged in dumping
The VSA said that the past few months had seen a number of investigation initiatives and preliminary conclusions reached on Vietnamese steel producers that have allegedly evaded duties and engaged in dumping.
For example, the U.S. Department of Commerce in July announced three preliminary affirmative circumvention rulings involving steel imports from Vietnam.
The circumvention rulings cover certain steel products that were first produced in South Korea and Taiwan and then shipped to Vietnam for minor processing, before being exported to the United States as corrosion-resistant and cold-rolled steel.
Recently, the VSA and the Ministry of Industry and Trade's Trade Remedies Authority of Vietnam warned of the likelihood that Canada could apply measures to probe tax circumvention involving steel imports from Vietnam.
VSA President Nghiem Xuan Da told the Vietnam News Agency that Vietnamese steel exports are now subject to more trade remedies, such as antidumping, safeguard action, antisubsidies and anticircumvention, making it difficult for local steel producers to operate.
Data from the association showed that finished steel products in August reached more than two million tons, down 1.15% against the previous month.
Meanwhile, the amount of steel products sold in August fell 10.3% month-on-month and 4.4% year-on-year at some 1.8 million tons, only 355,000 tons of which was shipped abroad, down 2.7% and 9.3%, respectively.
Several local steel brands have seen their products being counterfeited, according to the Trade Remedies Authority of Vietnam.
For instance, the Hanoi police department recently initiated legal proceedings against two executives of a local steel firm for the manufacture and sale of counterfeit products such as steel pipes bearing the labels of the country's leading steelmaker Hoa Phat Group.
A representative of the group was quoted by the Vietnam News Agency as saying that the counterfeit practice in the country may not be as worrisome as businesses faking the origins of their exports and declaring fake goods codes.
The source stressed that this practice would damage the competitiveness and reputation of the Vietnamese steel industry, leading to more trade defenses from other countries.
VSA Vice President Nguyen Van Sua said many of the recent lawsuits facing the industry have originated from the practice of foreign investors sending their products to Vietnam for minor processing and then labeling them as originating in Vietnam.
The fraud has had a severe impact on Vietnam's exports, narrowing the export markets of Vietnamese goods. As such, fraudulent exporters are receiving an unfair advantage, while firms conducting their business honestly are losing some of their prestige, according to Sua.
He added that due to tax circumvention, a large number of steel imports into Vietnam are also being sold at prices much lower than their local equivalents.
The senior expert stated that authorities should adopt measures to safeguard the domestic market and limit the import of products already being made in the country.
He also suggested they should resort to more instruments of trade protectionism to prevent low-quality imports, which could be sold at low prices, to protect local manufacturers. SGT
 

Global steel capacity is forecast to be excessive so steel has been pouring into the Southeast Asia region. 

Escalating trade tensions and rising protectionism have caused a formidable pressure on Vietnamese steel sector, according to insiders.  

Vietnamese companies filed complaints against Chinese steel products, accusing them of being sold at prices below the fair market value in Vietnam with dumping margin at 21.3%.